When my 16-year old tastes a new recipe and comments, "Is this hard to make?" I know I've hit a home run. Such is the case with today's Ham and Egg Muffin Cups. We take all of the ingredients for a crave-worthy savoury breakfast and combine them in one delicious, nutritious, easy-to-eat-on-the-go, hand-holdable package. What's in them? Good Italian bread, ham, egg, peppers, and onions, and a few spices for good measure. Ham and Egg Muffin Cups will tide you over no matter which meal you're making them.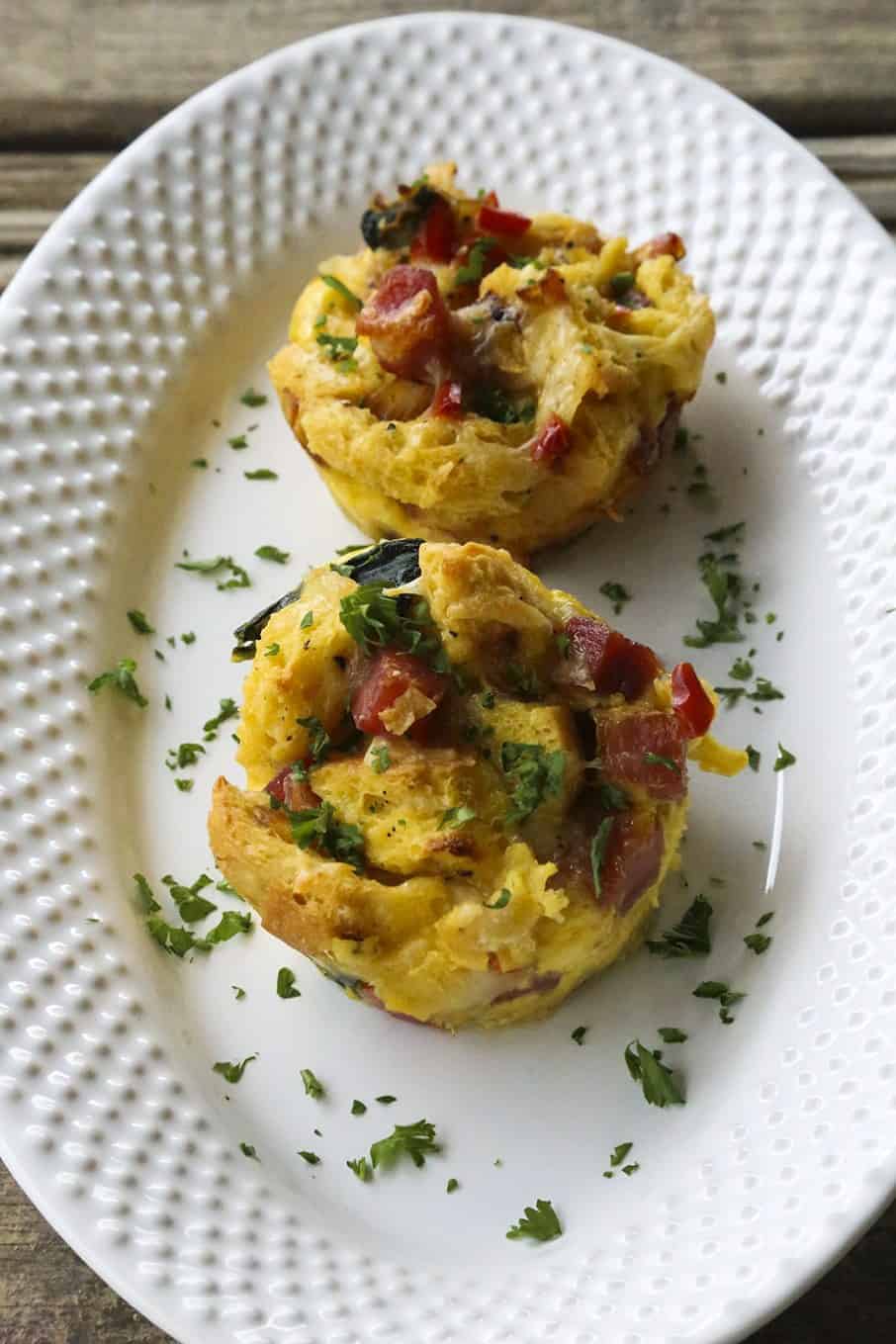 Obviously these Ham and Egg Muffin Cups make a killer breakfast. If, unlike me, you're not feeding a small regiment, they're a lovely make-ahead option to help reduce the morning rush and keep a nutritious breakfast on hand because they store well and reheat beautifully. You know… assuming you don't have human vacuum cleaners teenagers on hand who inhale eat everything within mere minutes of it being removed from the oven. Not much of a breakfast person? Serve it for lunch with a salad, or for dinner with a salad and some soup. My kids also liked these for afternoon snack. Truth? My kids ate them all day long until they were just plain gone.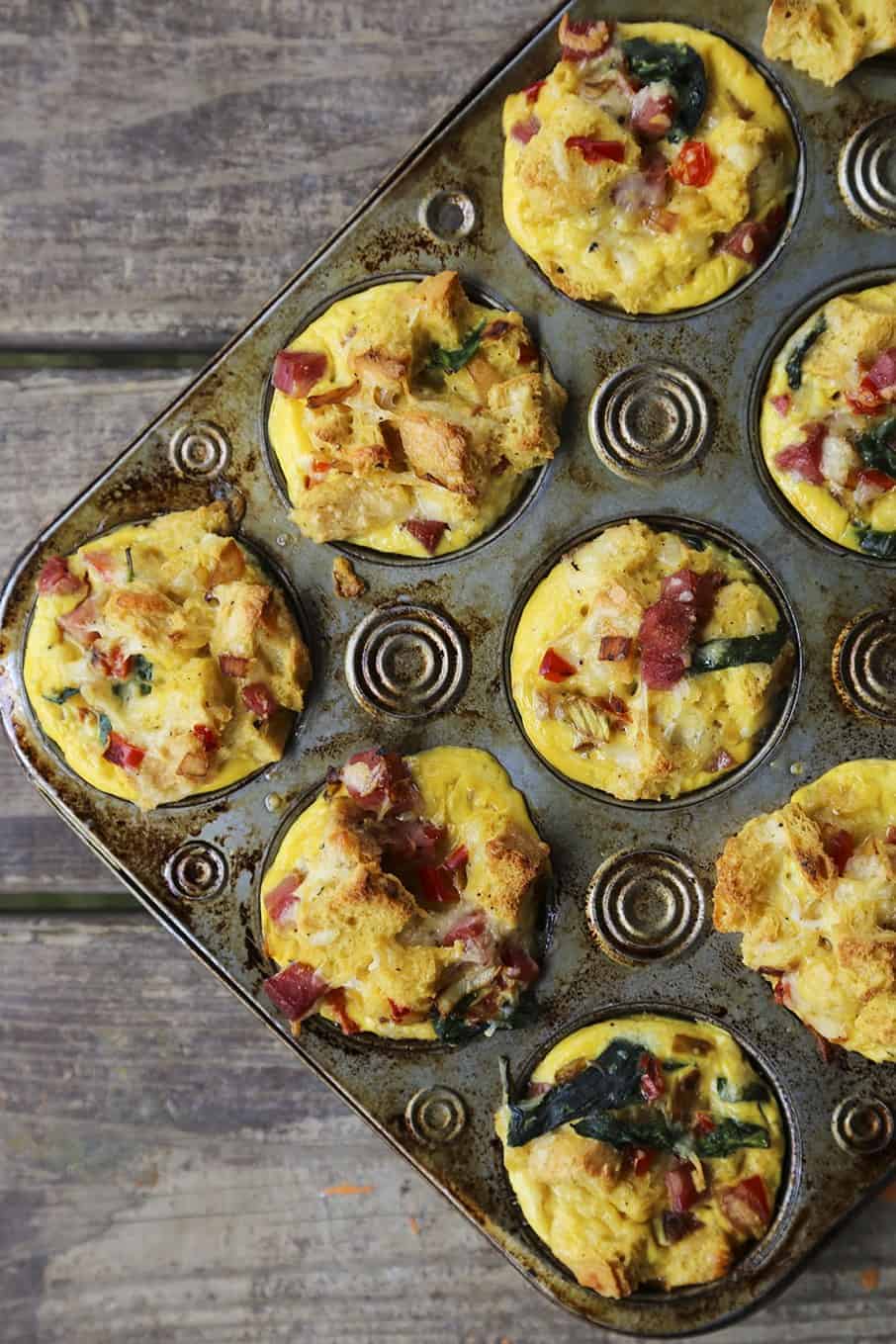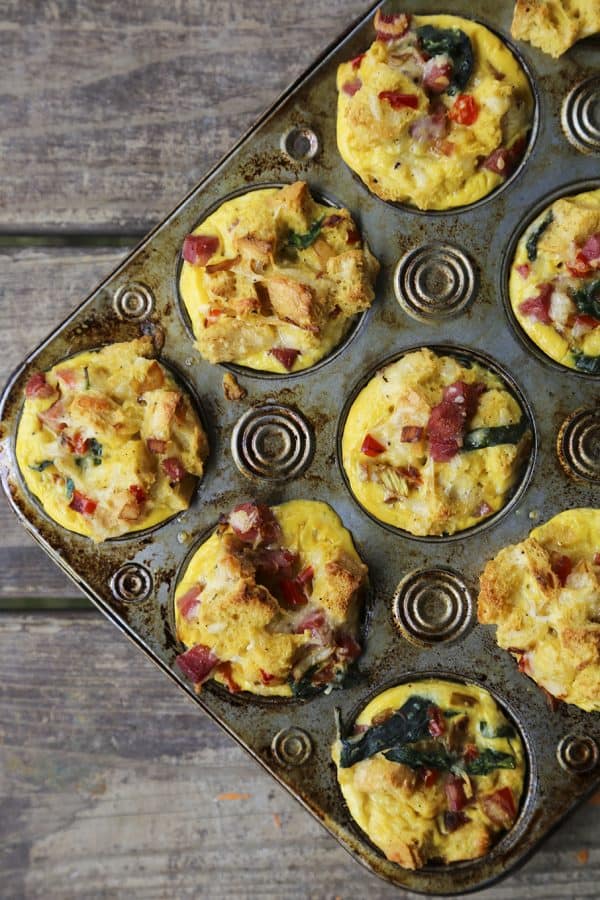 Cook's Notes
For this recipe, I usually purchase pre-sliced Italian bread from Wegman's. If your store doesn't offer pre-sliced bread, or if you prefer to use homemade bread, make 1/2-inch thick slices of the bread before stacking, slicing into long strips, then slicing across those strips to create small cubes.
If you're lucky enough to have some Ham and Cheese Muffin Cups leftover, simply place in a container with a tight fitting lid and stash in the refrigerator for quick breakfasts or light lunches (paired with a salad) or hearty snacks for the next 5 days. If you plan to store it longer than that, see the next note…
To store longer than 5 days, individually wrap the cooled Ham and Egg Muffin Cups and place on a sheet pan in the freezer. When they are solid, transfer to a large, labeled, zipper top freezer bag and store up to 3 months. To reheat, unwrap one Ham and Egg Muffin Cup at a time and place on a plate. Cover the plate with plastic wrap or a paper towel, leaving one corner well vented. Heat for 1 minute in the microwave. If additional heating is needed, heat in 15 second bursts until hot through and through.
Since Ham and Egg Muffin Cups store so beautifully, that makes them an ideal make-ahead option for houses full of company over the upcoming holidays.
Everyone in our house agreed that the Ham and Egg Muffin Cups were fantastic just as they were, but most of us enjoyed a goodly dose of hot sauce along with them, too. If hot sauce is your thing, you'll love it on these.
In case you're wondering whether you can simply cook the mixture in a loaf pan and serve in slices, the answer is yes. We did that, too, and loved it.
Connect with Foodie with Family
facebook | pinterest | instagram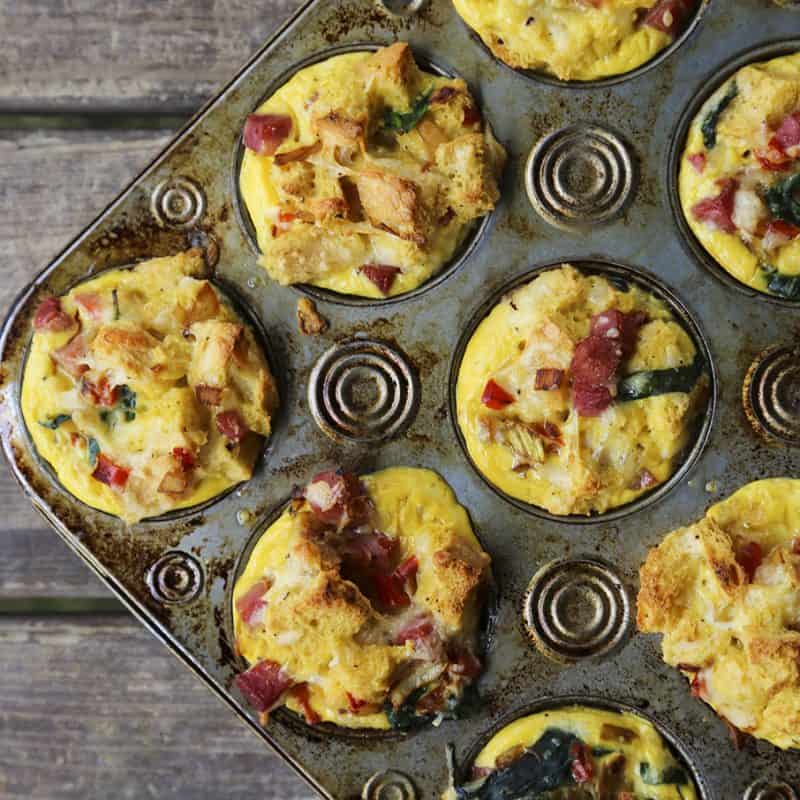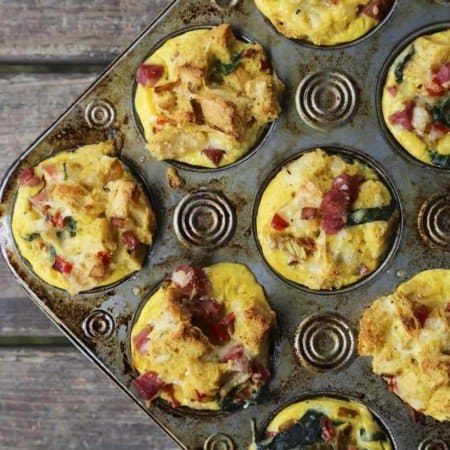 Ingredients
15

slices Italian bread

1/2-inch thick, cut into small cubes

2

cups

cubed ham

1

teaspoon

olive oil

1

small onion

peeled and finely chopped

1

bell pepper

any colour, stem and seeds removed, finely chopped

about 5 ounces baby spinach

6

large eggs

beaten

2

cups

milk

1 1/2

teaspoons

kosher salt

3/4

teaspoon

dried mustard

1/2

teaspoon

ground black pepper

8

ounces

Swiss cheese

grated
Instructions
Preheat the oven to 350F. Scatter the bread cubes into a single layer on a rimmed sheet pan. Toast for about 8 minutes, shaking the pan from time ti time, or until the bread has dried out to the touch and may have hints of golden brown at the edges of the pan. Take the pan from the oven and let the bread cool on the sheet pan.

Place a heavy-bottomed cast-iron or stainless steel frying pan over medium high heat. Toss in the ham cubes and let the ham cubes sit and fry in the dry pan for about 1 1/2 minutes without stirring. After the 1 1/2 minutes, stir occasionally and fry until the ham is fragrant and has some caramelized edges. Transfer the ham to a plate. Return the pan to the heat and swirl in the olive oil. Add the onion and bell pepper and a pinch of kosher salt. Fry the onions and peppers, stirring frequently, until fragrant and crisp tender. Add the spinach all at once and toss the onions, peppers, and spinach together just until the spinach has wilted and is bright green. Transfer the vegetables to the plate with the ham and allow to cool for about 5 minutes.

Spray a 12-cup standard muffin tin generously with non-stick cooking spray. Set aside.

In a large mixing bowl, beat the eggs, milk, salt, dried mustard, and black pepper together with a whisk until the mixture is an even colour. Switch to a sturdy spoon and mix in the Swiss cheese and cooled bread cubes. Toss in the cooled ham and vegetables until evenly distributed. Use a couple of spoons to divide the soaked bread, ham, vegetables, and cheese between the muffin tin cups. There will be liquid left in the bowl after doing that, so divide that between the muffin cups, too. Bake for 25 to 35 minutes, or until puffed and golden brown on top. The top of the Ham and Egg Muffin Cups should spring back when pressed lightly with your finger.

Let the Ham and Egg Muffin Cups rest for at least 3 minutes before using a thin, flexible spatula or knife to run around the edges of the cups and easing them out. They can be eaten right away or cooled, and stored in the refrigerator for up to 5 days.

For longer storage:

Individually wrap the cooled Ham and Egg Muffin Cups and freeze. Transfer the wrapped, frozen muffins to a zipper top bag. The frozen Ham and Egg Muffin Cups can be reheated by unwrapping, placing on a plate, covering the plate with plastic wrap (leaving a corner vented), and heating for 1 minute in the microwave. If additional heating is needed, heat in 15 second bursts until hot through and through.
Nutritional information is an estimate and provided to you as a courtesy. You should calculate the nutritional information with the actual ingredients used in your recipe using your preferred nutrition calculator.


Save