Happy Friday, everyone! I have such a treat for you today!
We are a granola family. I've been making homemade granola for years upon years. My second born son has a real thing for it; he doesn't like breakfast cereal, but he adores granola. I try to keep it on hand for him at all times. This is something of a task since I'm feeding a small regiment who likes to squirrel away fistfuls of granola in their jeans/shorts/shirt/jacket pockets and nibble on the stuff constantly.
I used to buy chewy granola bars to supplement their snacking but stopped when a.) I realized how much money I was spending in granola bars alone to keep up with five boys' stomachs and b.) I looked at the ingredients list. You know that sound on Popeye? The aaaaaaaaaaaaaahhhhhOOOOOOOOOgah! sound? Yeah. That's what happened when I read that list and saw three of the ingredients I try very hard to avoid feeding my family in a granola bar -A GRANOLA BAR, PEOPLE! What?!? I put my eyeballs back in my head and the box of granola bars back on the shelf and vowed to learn to make it myself.
A couple years passed (I was busy, what can I say?) and I saw these chewy granola bars from my friends Maria and Josh. "Oooooh, yeah," said I to myself. I thought I might change it up a bit, amp up the nutritional value and toss a little dried fruit in there. As the mother of the honyaks I have, I knew my choices were limited. One child ONLY likes dried bananas while another just doesn't like any dried fruit at all unless it's minced to the point of disappearing in something. Since it was bananas or nuthin', I decided to go the Chunky Monkey route: banana, toasted walnut and chocolate. You know, because if there are nuts and fruit in it it's healthy even if you cover it in chocolate, right? It's dark chocolate. That's practically health food by itself. Ahem.
I whipped up a batch. As soon as I transferred them to my cutting board there was a SWOOOOOSH and five boys materialized behind me: "What are you doing?" "What are those?" "Can I have one?" "Is dere fwoot in dose?" "Are those GRANOLA bars?" Then came the silence when five hands conveyed five granola bars to five mouths.
Then five hands reached back toward the cutting board for more. I call that a win. A big win. Big bonuses: the granola bars are simple to make AND they end up cheaper than the ones you purchase. Easy, cheaper AND better for you? Sign me up. These will be a regular at our home. Thanks for the inspiration, Maria and Josh!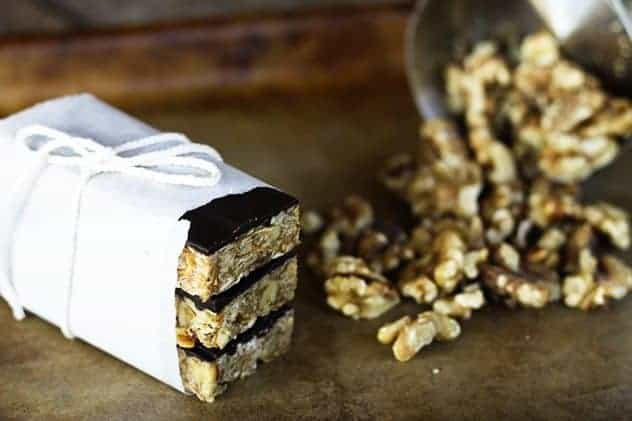 These banana, toasted walnut and chocolate granola bars are fabulous. They're chewy, sweet, crunchy, and satisfying. They're everything a purchased granola bar SHOULD be but isn't. Besides, I dare you to find Chunky Monkey granola bars on the shelf. Can't be done! Not even in Vermont! Inspired by Maria and Josh from Two Peas and Their Pod
Ingredients
1/4

cup

butter

1/4

cup

brown sugar

1/4

cup

honey

1/4

cup

creamy peanut butter or sunflower seed butter

1

teaspoon

pure vanilla extract

2

cups

quick oats

1/2

cup

crispy rice cereal

3/4

cup

chopped toasted walnuts

3/4

cup

chopped dried banana chips

Store bought or homemade chips can be used.

3/4

cup

cup dark chocolate chunks or chocolate chips
Instructions
Place an 8-inch by 8-inch square of parchment paper into the bottom of a pan of the same size.

Stir together the oats, crispy rice cereal, walnuts, and banana chunks in a large mixing bowl. Set aside.

In a medium saucepan, melt the butter then stir in the brown sugar, honey, and peanut or sunflower seed butter. Bring to a boil. Once it's bubbling hard, let it boil for 2 minutes. Remove the pan from the heat and stir in the vanilla. Be careful, it will bubble up crazily when you add the vanilla!

Immediately pour over the dry ingredients and gently but quickly stir it in thoroughly. Turn it into the parchment lined pan right away and press into the pan evenly. Sprinkle the chocolate chunks or chocolate chips over the pan and let stand, undisturbed, until the chocolate looks shiny, about 5 minutes. When the chocolate looks very shiny it should all be melted and can be spread evenly with an offset or silicone/rubber spatula. Let stand until the chocolate has firmed back up.

Run a knife around the edge of the pan to loosen any chocolate that stuck to it, then turn the large block of granola bar onto a cutting board. Flip it chocolate side up and cut into bars of your desired size. Store in an airtight container at room temperature for up to a week... not that they'll ever last that long!
Nutritional information is an estimate and provided to you as a courtesy. You should calculate the nutritional information with the actual ingredients used in your recipe using your preferred nutrition calculator.