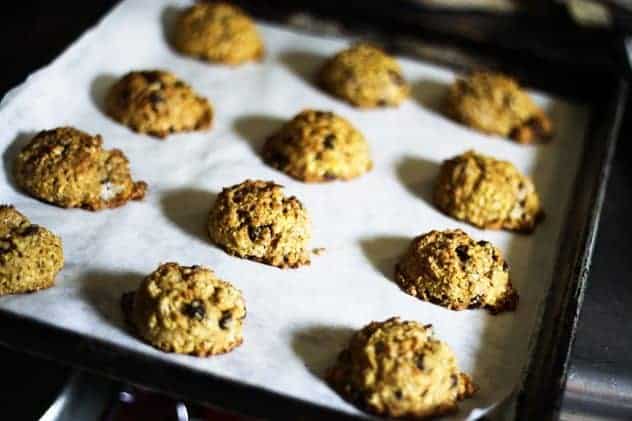 There is nothing like a warm cookie on a cold day. While my husband and I play our annual game of "just how long can we wait to fire up the wood stove", the days are getting cooler and the nights are colder yet.
We try to eek as many days wood stove-free as we possibly can out of each year and steadfastly refuse to start a fire at least –AT LEAST- until fall has officially started. It's ridiculous. It's petty. It's stupid… we march around in so many layers that we look like the baby brother in 'A Christmas Story'. We wear gloves in the house. I bake like it's my job. In a way, I suppose it actually is, considering how many mouths we feed.
Baked potato lunches are had for no reason other than I want to warm the darned place up a bit. Bread is baked for anyone who looks like they might have ever been hungry just because. The boys check on the progress of whatever is in the oven even more than they usually do because, well, they want to warm up as much as I do. No soufflés this time of year, no sireebob. The oven door is opened too many times for something as delicate as that.
But cookies… Cookies get the most play of everything. Cookies are the almost instant gratification of the baking world. You whip the dough together and then you wait about twelve minutes. Sure, you probably oughta wait at least until they cool down enough not to take the skin off of the roof of your mouth, but let's not kid each other. I bite into a cookie as soon as it holds together long enough for me to get it to my maw from the pan.
Since we've already established my bonafide obsession with all things pumpkin, you probably shouldn't be surprised that one of my favourite cookies at this, the very cookie-est time of year, is a pumpkin one. It's not just any pumpkin cookie, though. Oh no. It's a pumpkin chocolate chip cookie. Hallelujah! It's everything wonderful all at once.
I have to confess, I roast the pumpkins to make the pumpkin puree for these bad boys. I do it for two reasons (one of which I'm sure you've already sussed out.)
While the pumpkins are roasting, the house is warming. Heck yes.
I like homemade pumpkin puree better. I just plain do.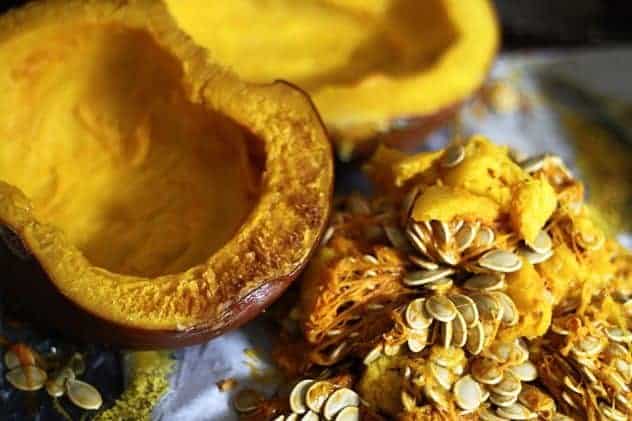 Now, if you don't have access to sugar pumpkins or don't feel like roasting your own or aren't as dogged and stubborn as I am and have a plenty warm house, by all means, use canned pumpkin puree. And I like my cookies made with white whole wheat flour (King Arthur, thankyouverymuch), but you're more than welcome to substitute all-purpose flour in equal amounts if that doesn't float your boat. Just think, though… pumpkin, whole wheat, oats and chocolate? That's practically a health tonic. Right? RIGHT?!?
I'm partial to using Nestlé TollHouse SemiSweet Morsels here. Honestly, who doesn't get excited when they see that yellow bag of sweet goodness? You know it's going to be good when you see that! Pumpkin and chocolate were meant to be together. Truly.
One more thing, and then I'll leave you to cookie baking; if you have kids at home, please get them involved in baking these. Taciturn teenagers (and I am NOT saying mine is one),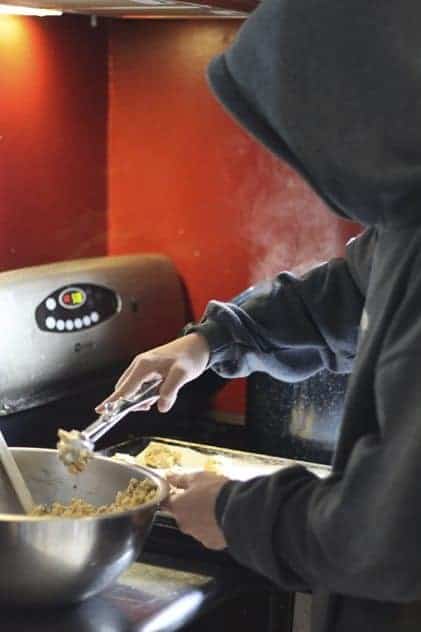 silly sweet eight year olds,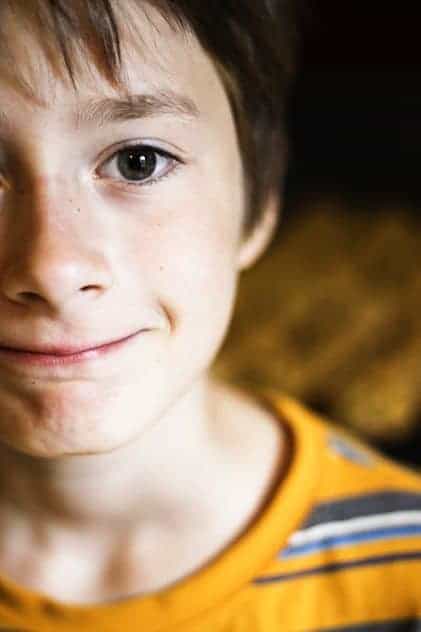 and every age in-between and above and below love having a hand in making cookies. If they balk, go all Little Red Hen on them and inform them that they have to make 'em to eat 'em. I guarantee they'll enjoy it once they get started. And when they get to eat the fruits (or the cookies, rather) of their labours, they'll be so proud.
What I especially love about these cookies is that they have a little bit of an identity crisis. Like me. Hello, I'm the girl who equally loves Downton Abbey, Dr. Who, Tommy Boy, The Godfather, Babette's Feast, Punk, Gospel Music, Bluegrass, and Classical. I can't make up my mind! The cookies almost act like little hand held cakes. But then they're like oatmeal cookies. And then they're ever so slightly pumpkin-y. But no! They're a chocolate chip cookie. Oh geez. Whatever. They're just wonderful!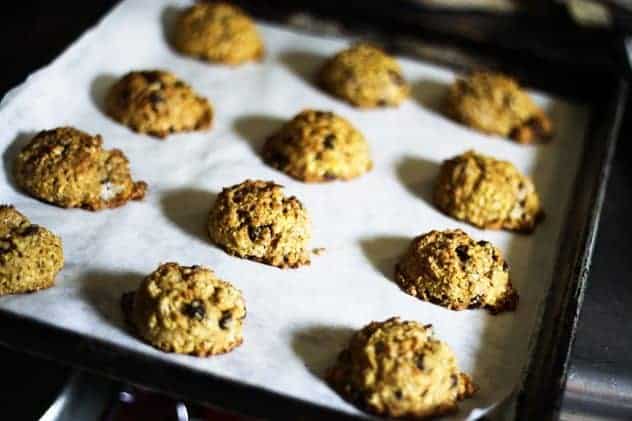 Indulge in this taste of the season -Pumpkin Chocolate Chips Cookies- all you want; they're made with real pumpkin and oats. You'd never know how healthy they were to taste them!
Ingredients
1 1/2

cups

white whole wheat

or all purpose flour

1

cup

sugar

3/4

teaspoon

ground cinnamon

1/4

teaspoon

freshly grated nutmeg

1

teaspoon

baking soda

3/4

cup

chilled butter

1

egg

1

cup

fresh or canned pumpkin

or butternut or acorn squash puree

1 3/4

cups

rolled or quick oats

1

cup

chocolate chips or chocolate chunks

preferably semi-sweet
Instructions
Preheat oven to 375°F.

Whisk together the flour, sugar, cinnamon, nutmeg and baking soda in a large mixing bowl. Using a pastry cutter or two butterknives, cut in the butter until it the butter is pea-sized or smaller.

In a separate bowl, whisk together the pumpkin or squash puree and the egg until smooth. Add that into the dry ingredients along with the oats and chocolate chips until the mixture is evenly combined and there are no dry pockets.

Scoop onto a parchment or silpat lined baking sheet by rounded tablespoons (or with a cookie scoop/disher.) Bake for 12 minutes or until the cookies are set and lightly browned around the edges. These cookies will not flatten as they bake.
Nutritional information is an estimate and provided to you as a courtesy. You should calculate the nutritional information with the actual ingredients used in your recipe using your preferred nutrition calculator.
All opinions are -as always- my own.
This post is sponsored by Nestlé®
Toll House® Morsels, the perfect special ingredient for all of
your family's favorite treats!