Ah, the holidays. A time for getting together with long lost and far flung family members, running thither and yon and to Grandma's house whether via the river and woods or not, and eating your emotions. Sweet, sweet, self medication.
There are those times when the line between functioning at a holiday level and locking yourself in the linen closet is very fine indeed. Do I go to the blahblahblah event or do I stay home in my yoga pants and puffy socks and watch "Pitch Perfect" again? Well, darn. I know what I want to pick, but I also know perfectly well that my choice is not socially acceptable more often than not. Enter a spoon and a jar of Gingersnap Cookie Butter.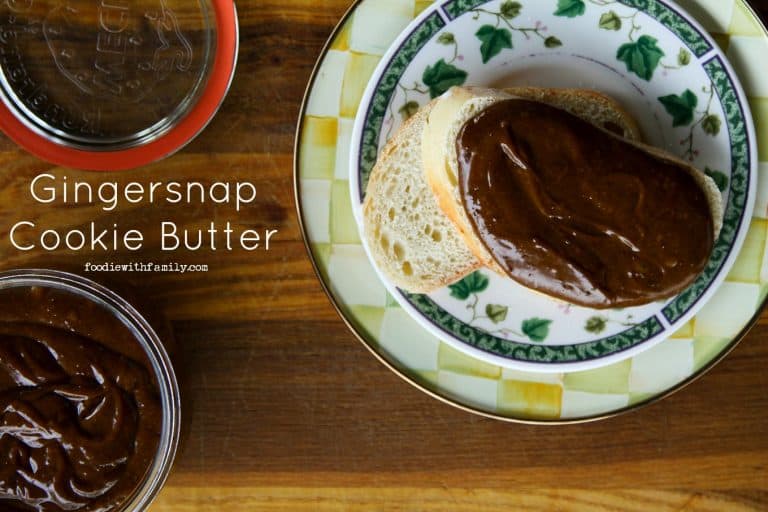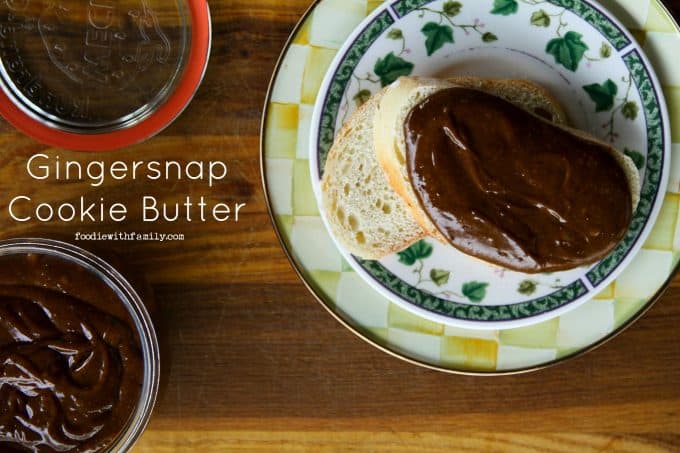 Until I had tried a jar of Biscoff Cookie Spread, I had a hard time wrapping my head around why anyone would want spreadable cookies. Biscoff cookies were alright, but I wasn't quite as over the moon about them as many folks I knew. Then I grabbed some as a treat for my sons, dipped a spoon in to see what all the brouhaha was about, and the proverbial coin dropped. Dang. SPREADABLE COOKIES. Of course! Why WOULDN'T you want to spread cookies on bread? And ice cream? And in milkshakes? My word.
Then I got to wondering about what a cookie butter would taste like if it was made from cookies I really and truly loved: like gingersnaps. I bought a box of nice, crisp gingersnaps at the store, dropped it into my food processor and blitzed the tar out of it. That left me with some lovely fine crumbs, but I needed to get it to the spreadable stage. I put a little water in it to soften the cookies, some good oil to make it luscious and velvety, and some confectioner's sugar to hold it together and boost the sweetness just a wee bit. The final Gingersnap Cookie Butter was everything gingery and molasses-y I love about gingersnaps in a spreadable form. It went on a piece of bread like silk. I warmed some of it and poured it over vanilla ice cream (HOLY COW! INSANELY GOOD!), and let the boys clean the walls of the food processor bowl of the remaining Gingersnap Cookie Butter with fingers and crisp apple wedges. Don't worry! I took the blade out before they did that. (And surreptitiously and carefully licked it over the sink while they were otherwise occupied.)
Gingersnap Cookie Butter is a great hostess gift for the holiday party circuit, if you can keep yourself from eating it on the way to the fete while mourning your lost movie marathon evening.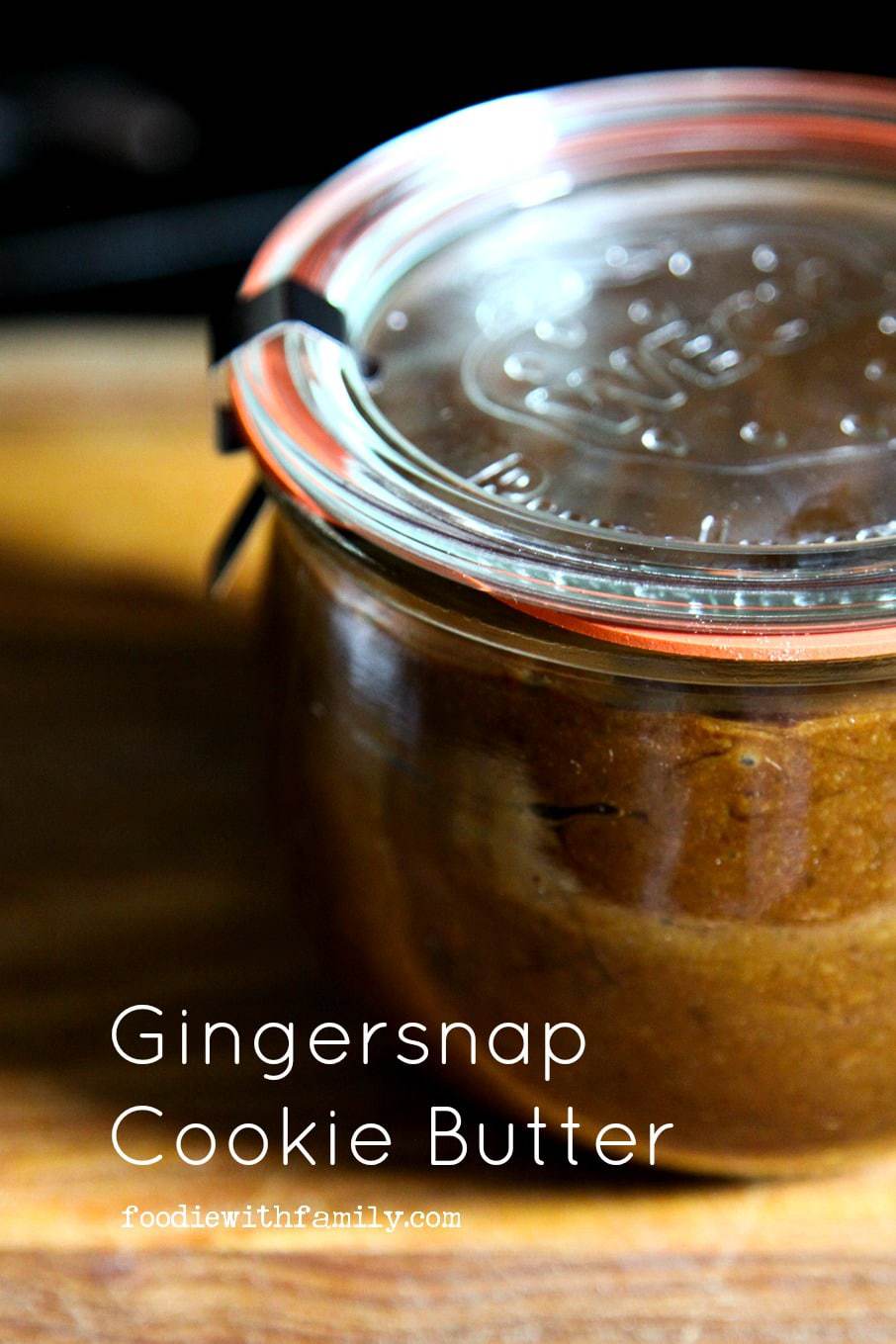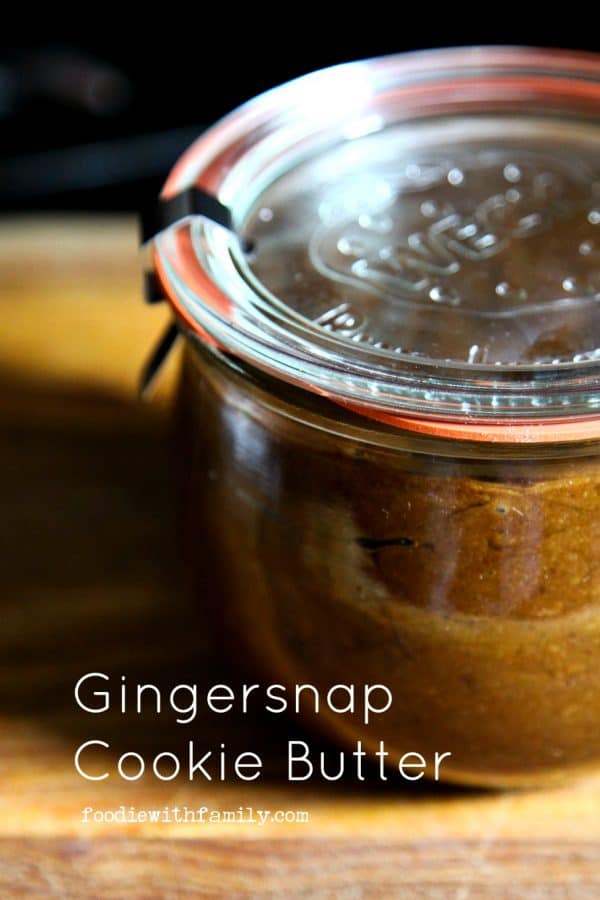 Cook's Notes
Any good crisp gingersnap will do the job well. The stronger the flavour of your cookies to begin with, the more oomph your finished Gingersnap Cookie Butter will have.
Be sure to grind your cookies to a fine powder before starting to introduce the liquids to the party. This is your best guarantee of a silky smooth Gingersnap Cookie Butter.
Please store your Gingersnap Cookie Butter in a tightly covered container in the refrigerator. It should last up to two weeks if you can eke it out that long!
Need some ideas for how to consume the Gingersnap Cookie Butter that don't involve a spoon and a hearty dose of shame over having eaten the whole jar by itself? Warm it up and drizzle over ice cream, pound cake, coffee cake, pancakes, or waffles. Dip pretzels, (I know this sounds crazy, but try it!) vegetable sticks like carrots or celery, or even other cookies! While you're at it, use it as a spread for sandwich cookies! Cookies on cookies, could it get better than that?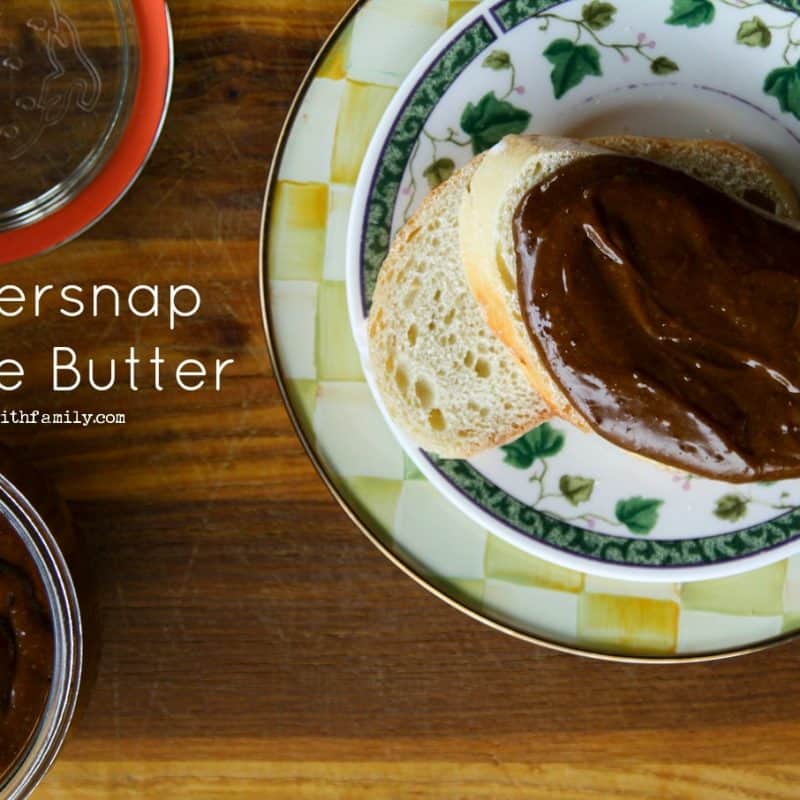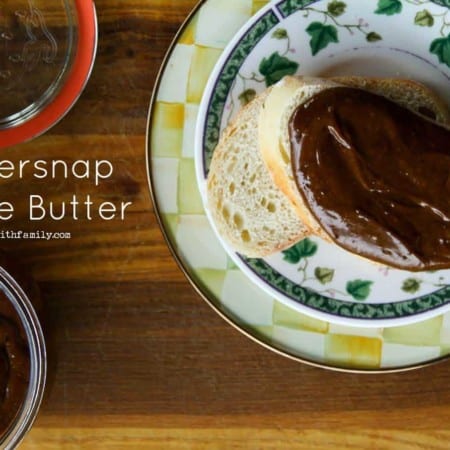 Ingredients
1

pound

gingersnap cookies

1/2

cup

water

1/3

cup

neutral oil

vegetable, canola, or grapeseed

3

to 8 tablespoons confectioner's sugar
Instructions
Add the gingersnap cookies to the bowl of a food processor fitted with a metal blade. Fix the lid in place and process until you've finely powdered the cookies. Remove the feed tube from the food processor and while it's still running, drizzle in the water and oil. Stop the machine, scrape down the sides, and add 3 tablespoons of confectioner's sugar. Process until fully incorporated. Test the Gingersnap Cookie Butter for thickness and sweetness. If you like it, scrape into a jar with a tight fitting lid and refrigerate for up to 2 weeks. If you'd like it a little sweeter, add confectioner's sugar, 1 tablespoon at a time, processing after each addition, until it is as sweet as you'd like it. Store as described previously.
Nutritional information is an estimate and provided to you as a courtesy. You should calculate the nutritional information with the actual ingredients used in your recipe using your preferred nutrition calculator.
This is my twenty third post in my commitment to post every. single. day in November for NaBloPoMo (National Blog Posting Month), or NaBlahBlahBlah as I prefer to call it. Follow the craziness all month as I share recipes, family anecdotes, and throw a couple of giveaways in for good measure!