It's that time of year! Every manufacturer and his brother is gearing up the marketing push to convince you that they have the latest gizmo, widget, or gadget that will get you in and out of the kitchen more quickly. So many blindingly shiny, pretty, expensive things are out there taunting you with promises of no more garlic smells on your hands, easier onion chopping (and no tears!), tidier kitchens, and whatnot. What do you choose? Fear not, intrepid frugal friends. I have compiled a list of the 15 Must-Have Kitchen Items that every efficient cook TRULY needs. The rest? Well, the rest is gravy so to speak.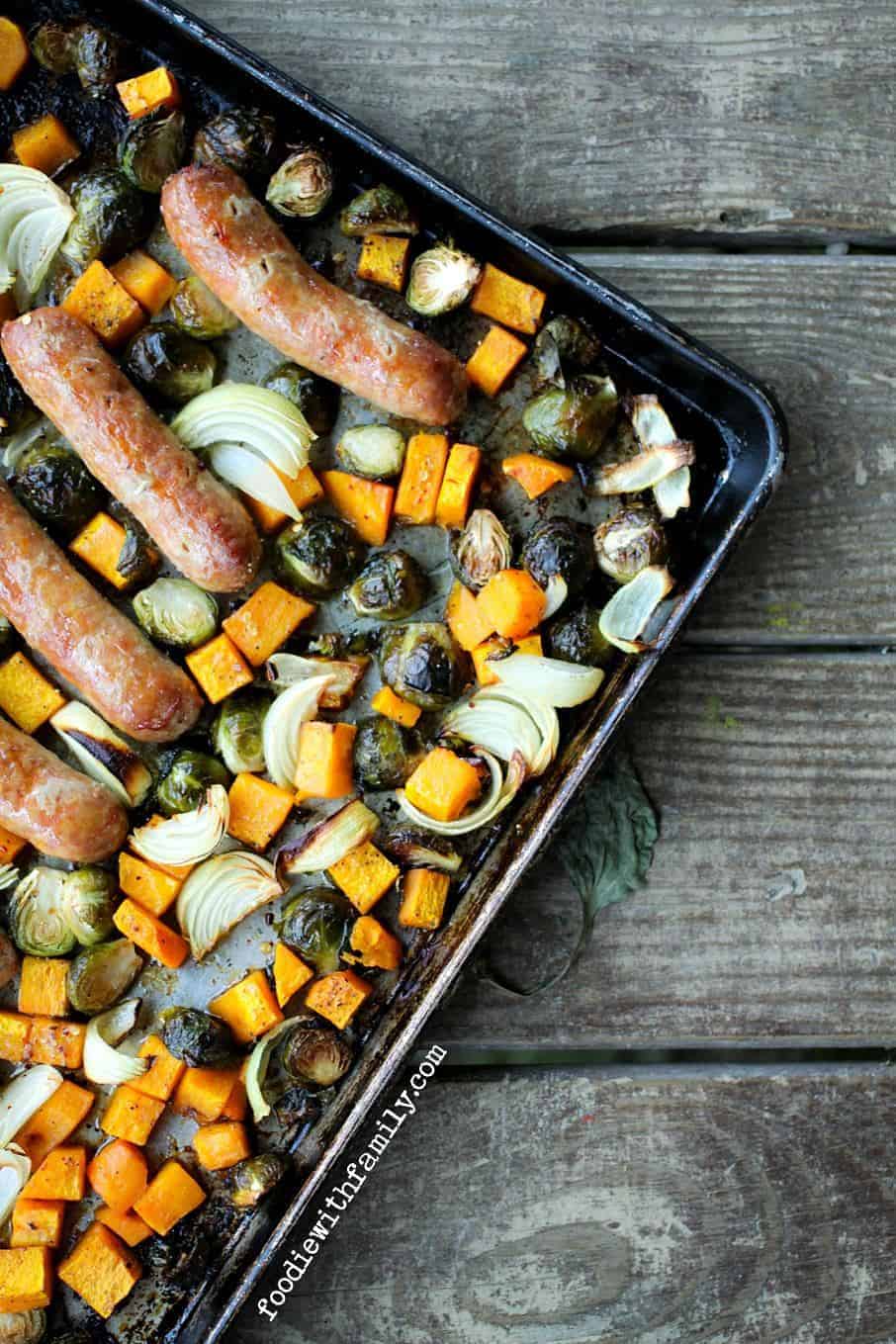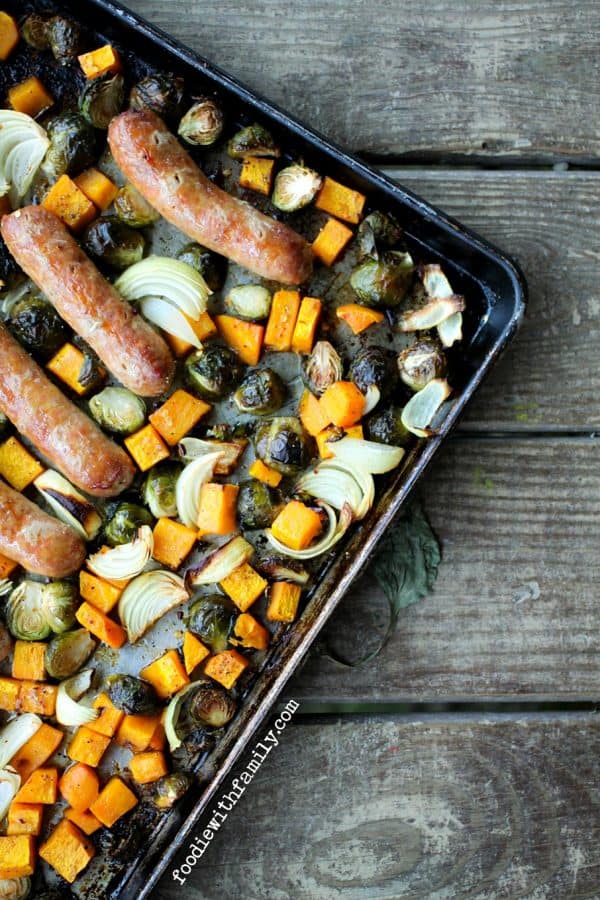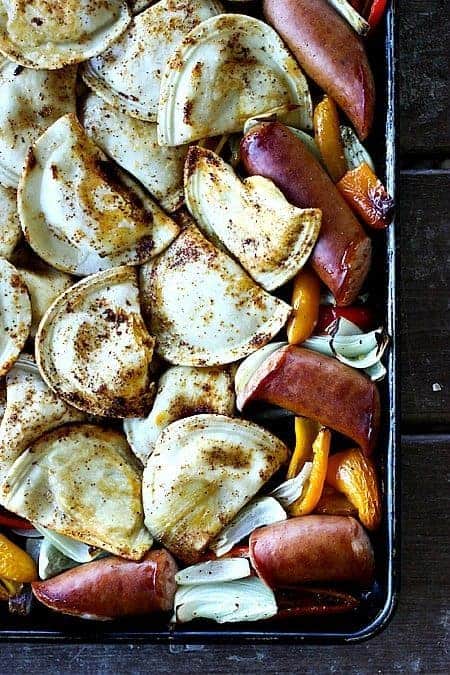 If you asked me to keep just one baking pan from my entire collection, it would most certainly be a half-sheet pan. Inexpensive, sturdy, and perfectly sized for prep-work, baking cookies, sheet cakes, roasting vegetables, making one-pot sheet-pan meals, and -in short- doing it all. I'd take this over a fancy-pants pan any day of the week.
Must-Have Kitchen Item #2: Whisk

Whisks are my thang, people. They're a marvel of efficiency. With a whisk in your hands, it only takes a couple flicks of the wrist to mix up a fabulous salad dressing or a pan sauce. If you're feeling ambitious, you can use a whisk to whip whipped cream or make homemade mayonnaise. If you combine a whisk with the stainless steel mixing bowls below, you don't have to have a sifter! Hooray for multi-taskers!
Must-Have Kitchen Item #3: Cutting Board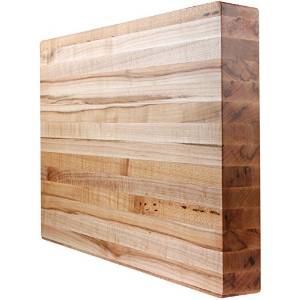 Oh my gosh, folks. I can't stress this one enough. It can be fancy like the one shown above, or more humble like these, but EVERY kitchen needs a cutting board. Wood or plastic is fine, but for the love of Pete, do NOT use glass. Why they market those little countertop savers as cutting boards is something that perpetually boggles my mind. Glass is one of the worst possible surfaces you could choose for cutting food. It dulls your knives dreadfully and is prone to breaking even if it IS tempered. My preferred cutting board is made of wood.
Must-Have Kitchen Item #4: Chef's Knife


There's no getting around it. If you want to cook efficiently, you're going to need a good chef's knife. Note I didn't say 'expensive' chef's knife, because this is one item where the price tag doesn't necessarily reflect the value of the item. You want to buy a knife that's rated well, with reviews that say it holds its edge well. Don't get me wrong. I'm all about a bling knife from time to time (and I own a couple of them) but it's not necessary and this list is about what you NEED.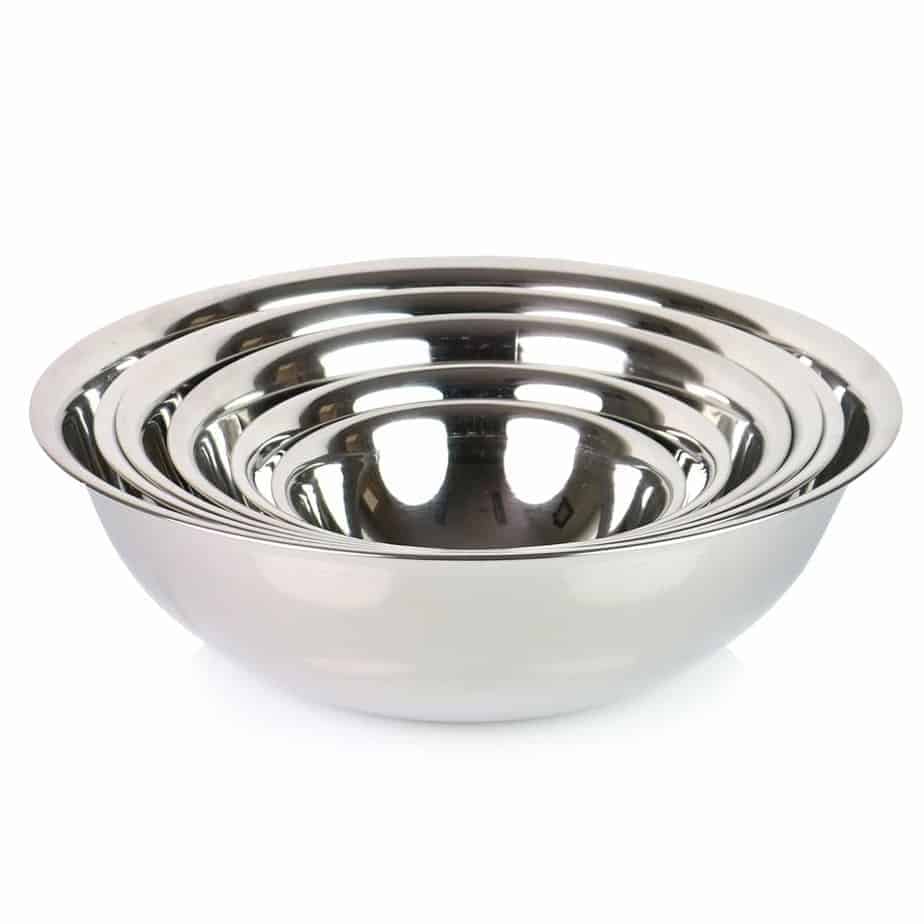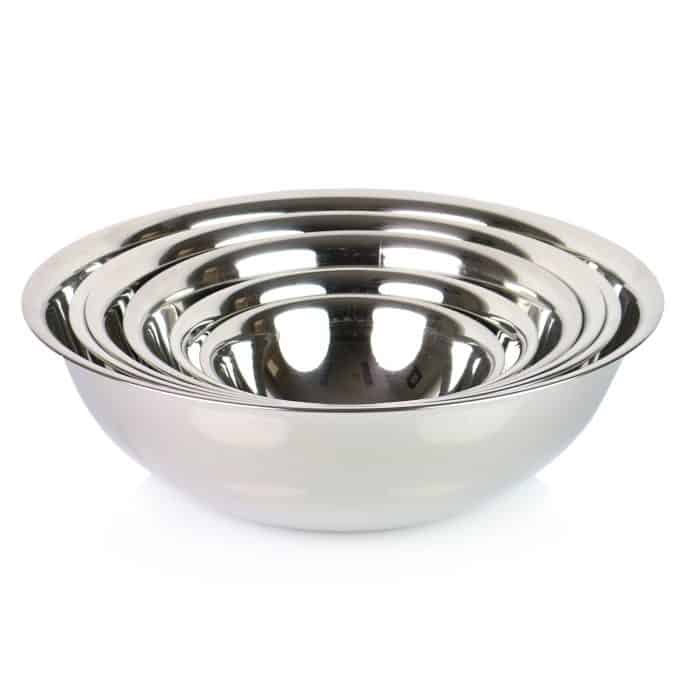 THESE are the BEES KNEES! Everyone needs a set of stainless steel mixing bowls in various sizes. You can have multiple projects running simultaneously and you can even bake in these in a pinch! Stainless steel for the win, friends!!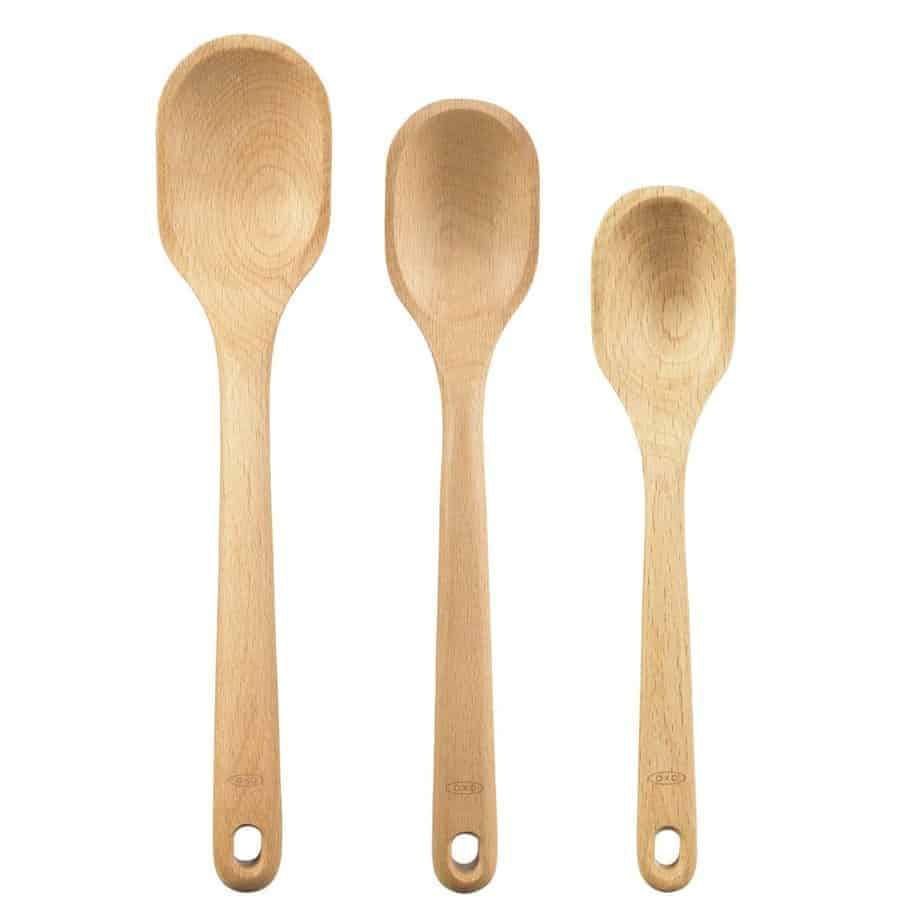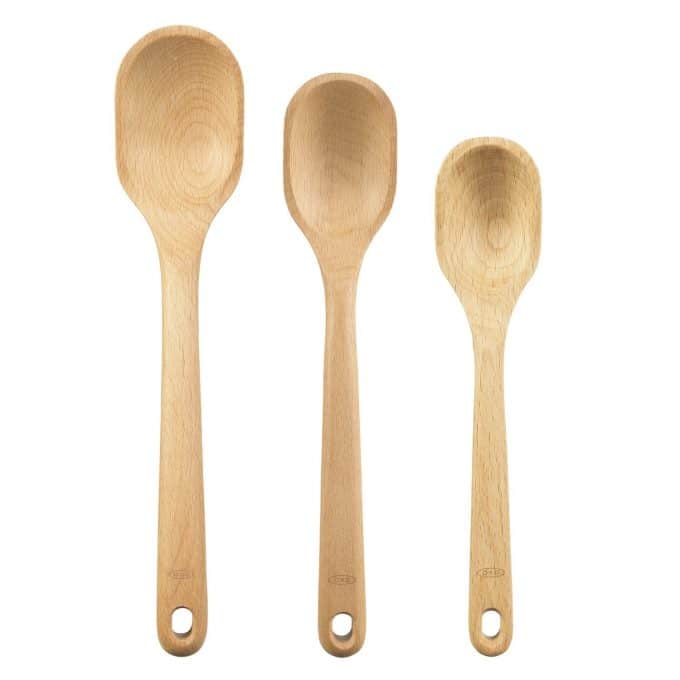 Sturdy Wooden Spoons are the workhorse of the kitchen. They mix, they scrape, they smoosh things, they do it all. They're gentle on whatever cookware you use, too. If you have anything you cook in that's non-stick, these are non-negotiable. Get 'em.

A ladle has clear uses -scoop soup, ladle juice, pour sauces over things- but it has some less obvious uses, too, that make it an indispensable part of any efficiently functioning kitchen. Use a ladle to skim fat from broth, scoop large amounts of ingredients, and invert it to pour liquid over it for aerating and cooling purposes.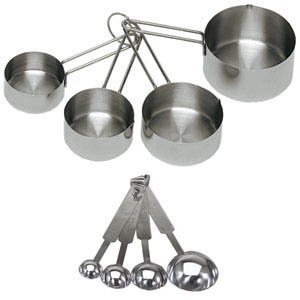 If you want to make food that consistently turns out the same way and have the ultimate control over your results in the kitchen, you need to measure your ingredients. This is most especially true of baking, where guesstimating can have either wonderful or abysmal results from batch to batch. As usual, I favour stainless steel for dry measuring cups and spoons for it's durability and dishwasher friendliness. And yes, I said DRY measuring cups. These cups are made especially for measuring dry ingredients (flour, grains, sugar, etc…) For our liquids, we have another kind of measuring cup entirely!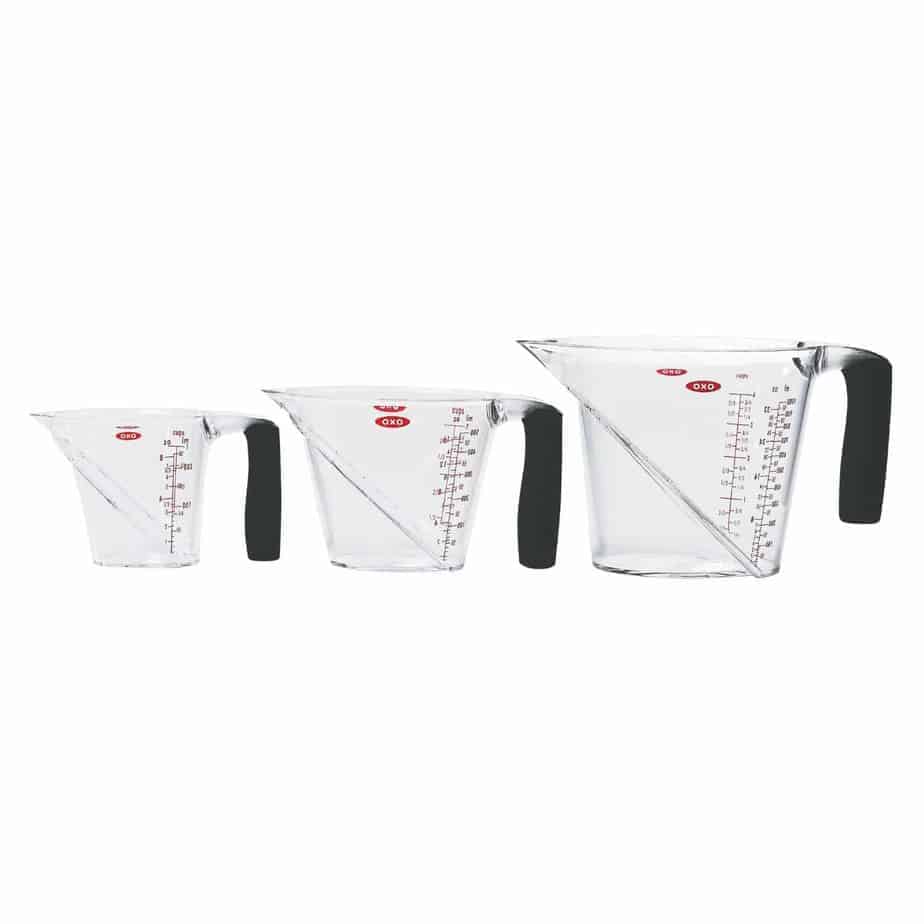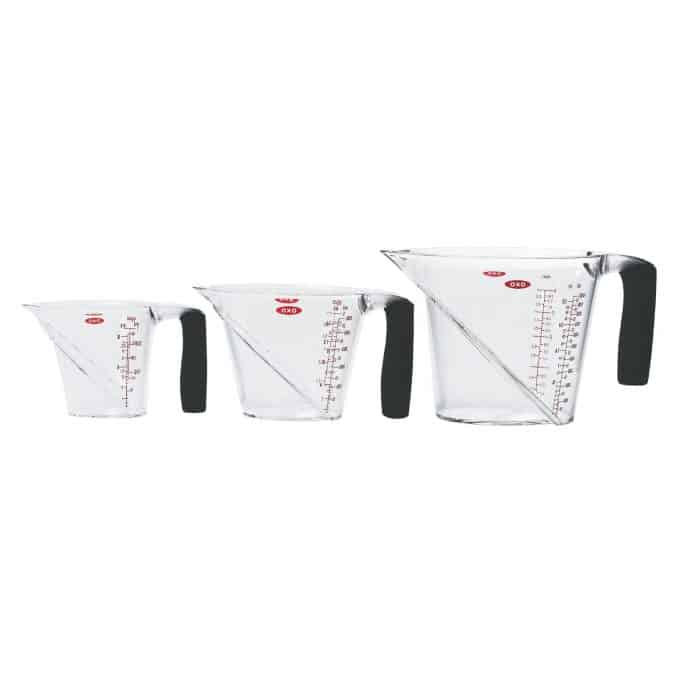 I'm as fond of multi-taskers as anyone could be, but sometimes you just need a certain tool for the job. Dry measuring cups don't accurately measure liquids. Why? Because you have to fill to the edge of a dry measuring cup to accurately measure that amount. It's pretty tough to do that because of the (nerd alert) surface tension of liquids. So yeah, in short? Get liquid measuring cups. If you have a nifty set like the ones pictured above, you can measure more than one liquid at a time. I love these.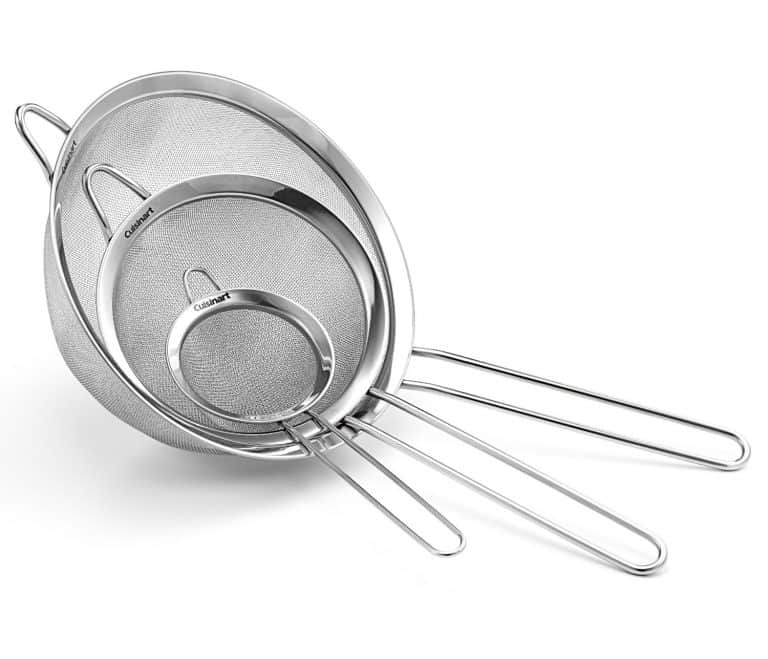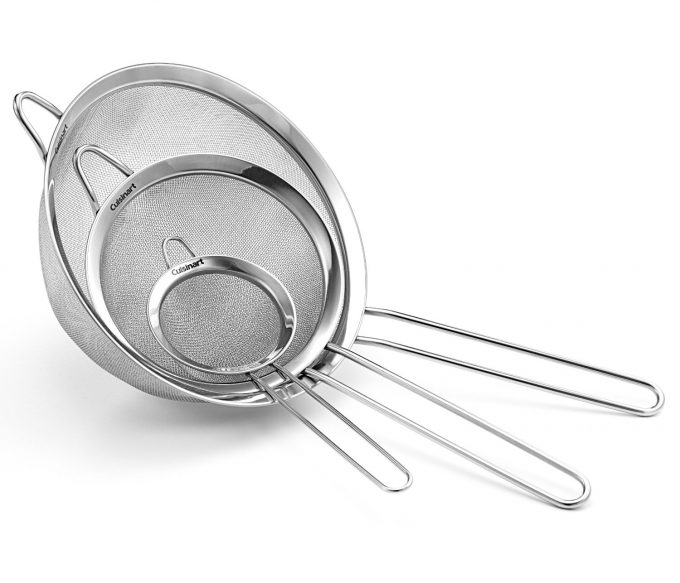 The day I bought a large, fine-mesh sieve was the day I threw away the clunky old sifter that was rattling around in my cabinet and only used twice annually. The fine mesh sieve does the job as efficiently and is a mighty multi-tasker, standing in for a colander, holding back lemon or lime seeds when I squeeze the fruit over it, and allowing me to dust the tops of foods with confectioner's sugar, cinnamon, or cocoa powder. Fine-mesh Strainers are worth their weight in gold.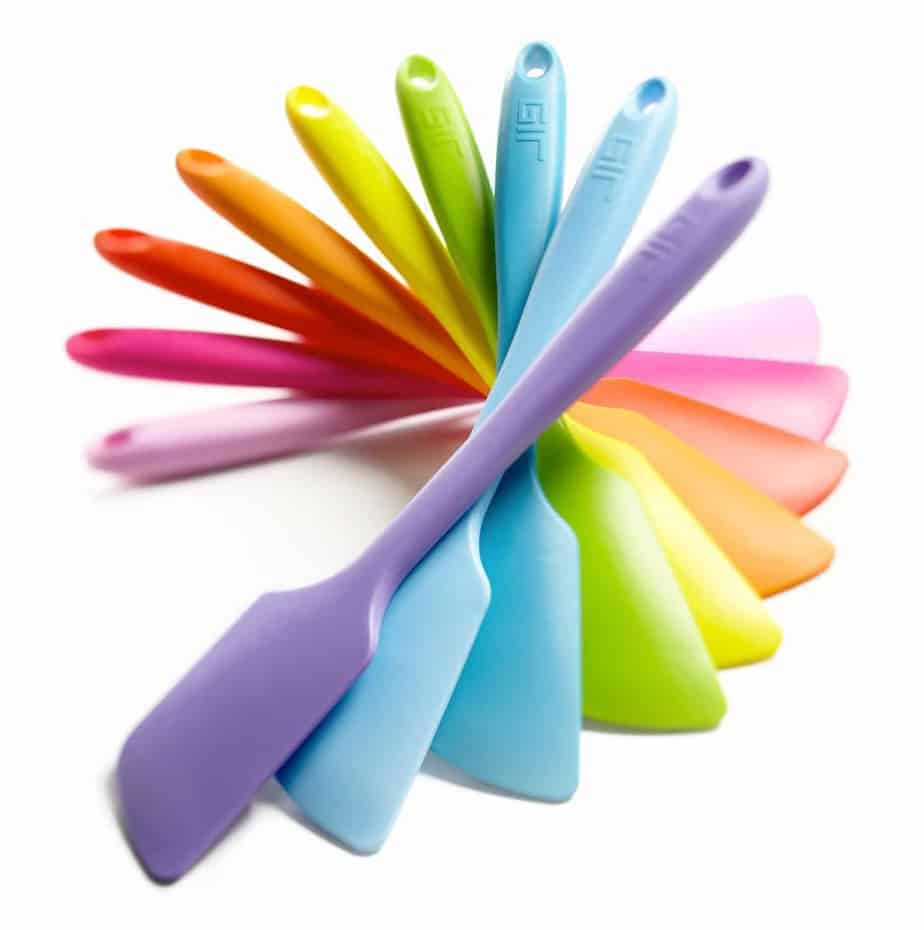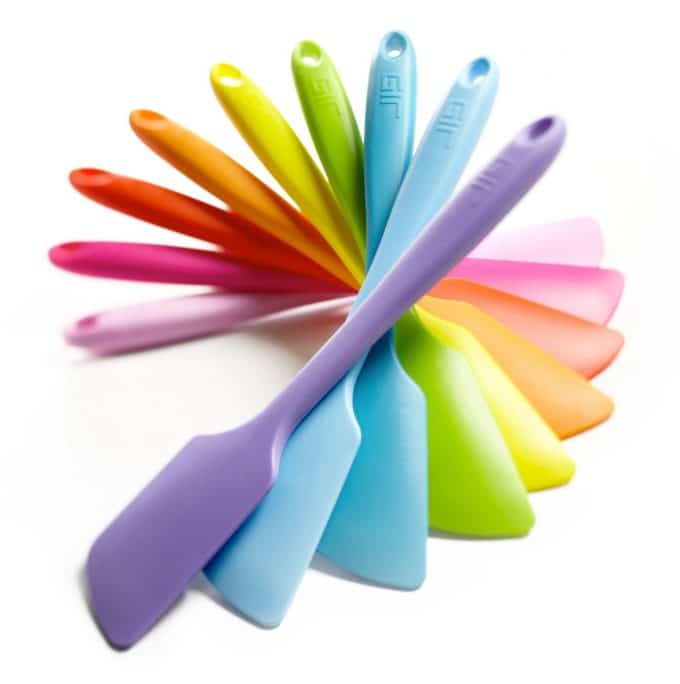 When I was first given one of these GIR silicone spatulas, my thought was, "Oh big deal. It's a silicone spatula. How good can it be to justify the $15 price tag?" I am not too proud to admit I was way wrong. GIR Silicone Spatula/Scrapers are easily the best ones out there. They're heat resistant to 464°F, dishwasher safe, and sturdy as heck. They won't crack or melt in the dishwasher, and likewise, won't melt to the side of your pan when you're stirring something hot. I use them for candy making, spreading batter in pans, transferring batters and doughs from bowls, scraping the contents from jars, and much more. The one I have has been getting major daily use for over 2 years and shows no signs of deterioration! Oh, and it doesn't hurt that they come in just about every colour of the rainbow!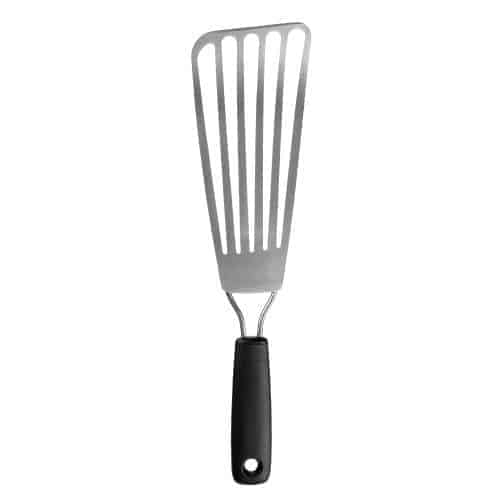 Nine times out of ten, when I have to reach for a spatula in my kitchen, I reach for the Flexible Metal Fish Turner Spatula. That doesn't mean that nine times out of ten I'm cooking fish, it simply means this spatula is the most flexible (proverbially and literally) one in my kitchen. The fine edge of the spatula makes it easier to slide under delicate things like eggs and (shazaam) fish, but it's also sturdy enough to hold those items together while turning them over. It has a very pleasant feeling in the hand, so I tend to reach for it for grilled sandwiches, prying pizzas from pans, and anything else where you want brawn AND finesse.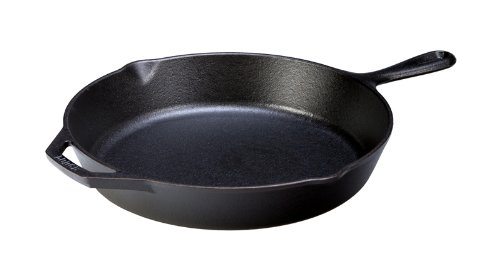 This is the original kitchen multi-tasker. You can cook on the stove-top, bake in it, and even cook a roast in a Cast-Iron Skillet. If it's properly seasoned, it's non-stick without any of the worries that accompany non-stick cookware and without any of the need to handle-with-kid-gloves. You can use metal utensil on these pans, and even use them in camp fires. It's inexpensive and can be passed down from generation to generation. There's a reason these pans have been around for generations; they're fabulous. And should you find yourself in need, Cast-Iron Skillets make one heckuva home defense weapon, too.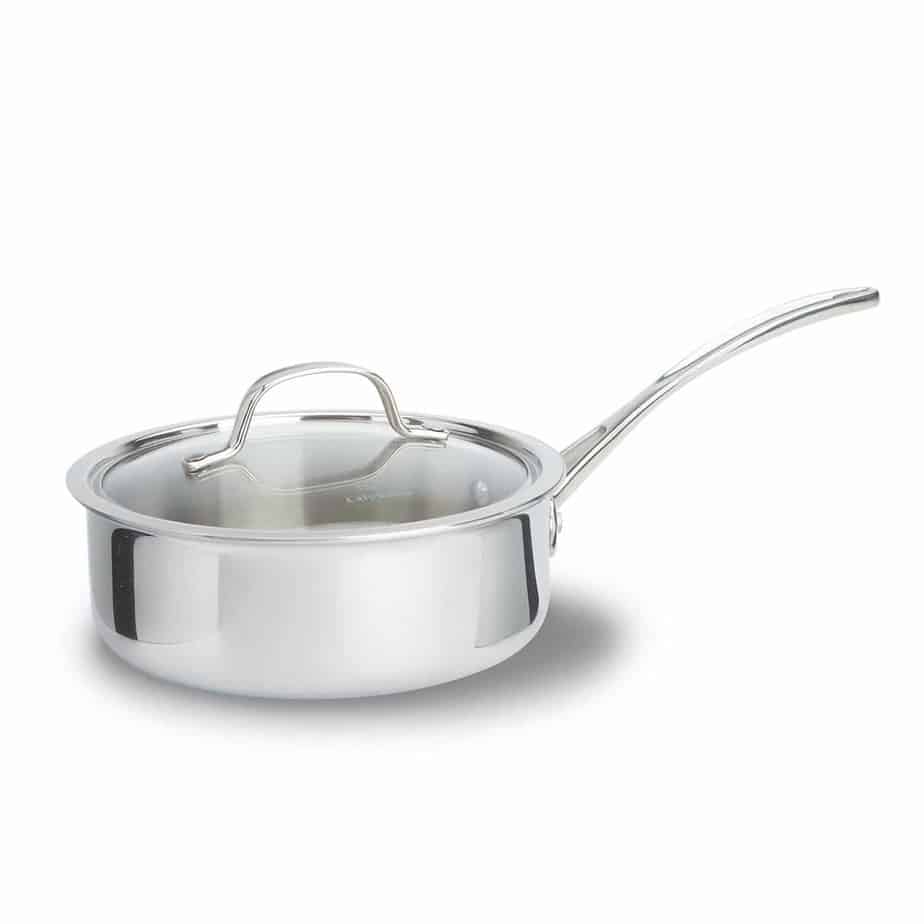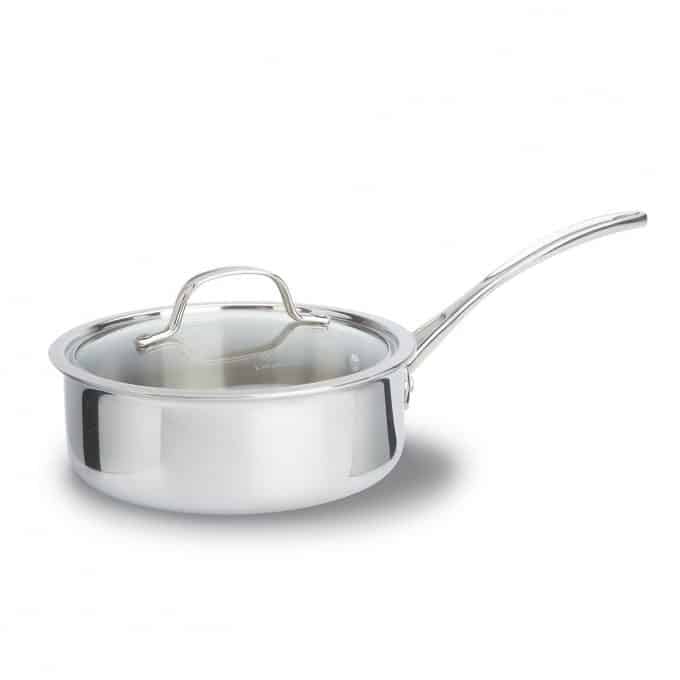 A good, heavy-bottomed saucepan (again, it doesn't need to be expensive!) is a must-have in any kitchen. The heavy-bottom part is crucial because that allows the heat to disperse more evenly, making your food cook more evenly. A thinner bottomed saucepan has a tendency to have hot spots and has no ability to retain and release heat evenly. Stainless steel is always my choice for saucepans because it doesn't react with any acidic foods (meaning impart a weird flavour or colour like some aluminum pans do). This one is a great mid-sized pan for making sauces, small batches of soup, some candies, and reheating things.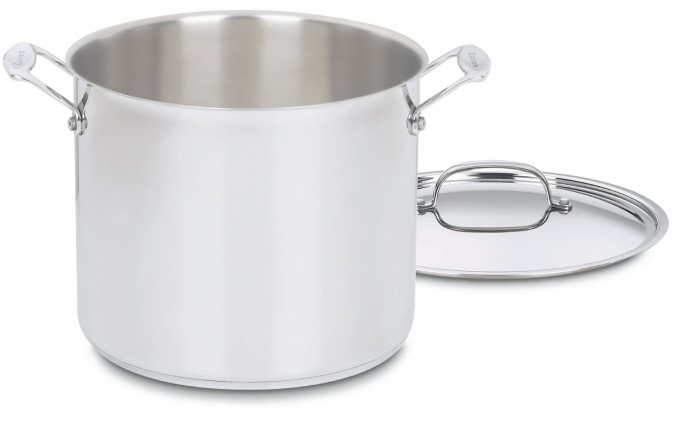 A heavy-bottomed stockpot is another mainstay of my kitchen. There is simply no substitute in the world for a big pot when you need one. I use my stockpot for making (duh) stock, soup, gravy for Thanksgiving (we eat a LOT of gravy, people), and when I'm running low on canner space, I put a washcloth on the bottom of my stockpot and process jars in it making it yet another culinary multi-tasker! Yay! The heavy-bottom is stupendously important on a stockpot. A thinner stockpot will have hot spots, and when you have a deep pot full of stuff, you want it to be even heat just in case you miss stirring a spot a time or two. There's nothing more disappointing than scorching a gigantic pot full of soup because your pan just isn't up to the task.
So there you have it! My own 15 Kitchen Must-Have Items List. Do you have everything on this list? Do you think I missed anything that is important?
This is my twenty second post in my commitment to post every. single. day in November for NaBloPoMo (National Blog Posting Month), or NaBlahBlahBlah as I prefer to call it. Follow the craziness all month as I share recipes, family anecdotes, and throw a couple of giveaways in for good measure!