There are quite a few comfort foods in my repertoire, but there are few -if any- that parallel risotto. Creamy, substantial, filling, heart-warming; risotto is pretty much irresistible.
I can't even explain how much I love it. When people ask me what makes it so perfect, I draw a blank. I just want to make guttural noises and lick a bowl or chew a wedge of Parmesan.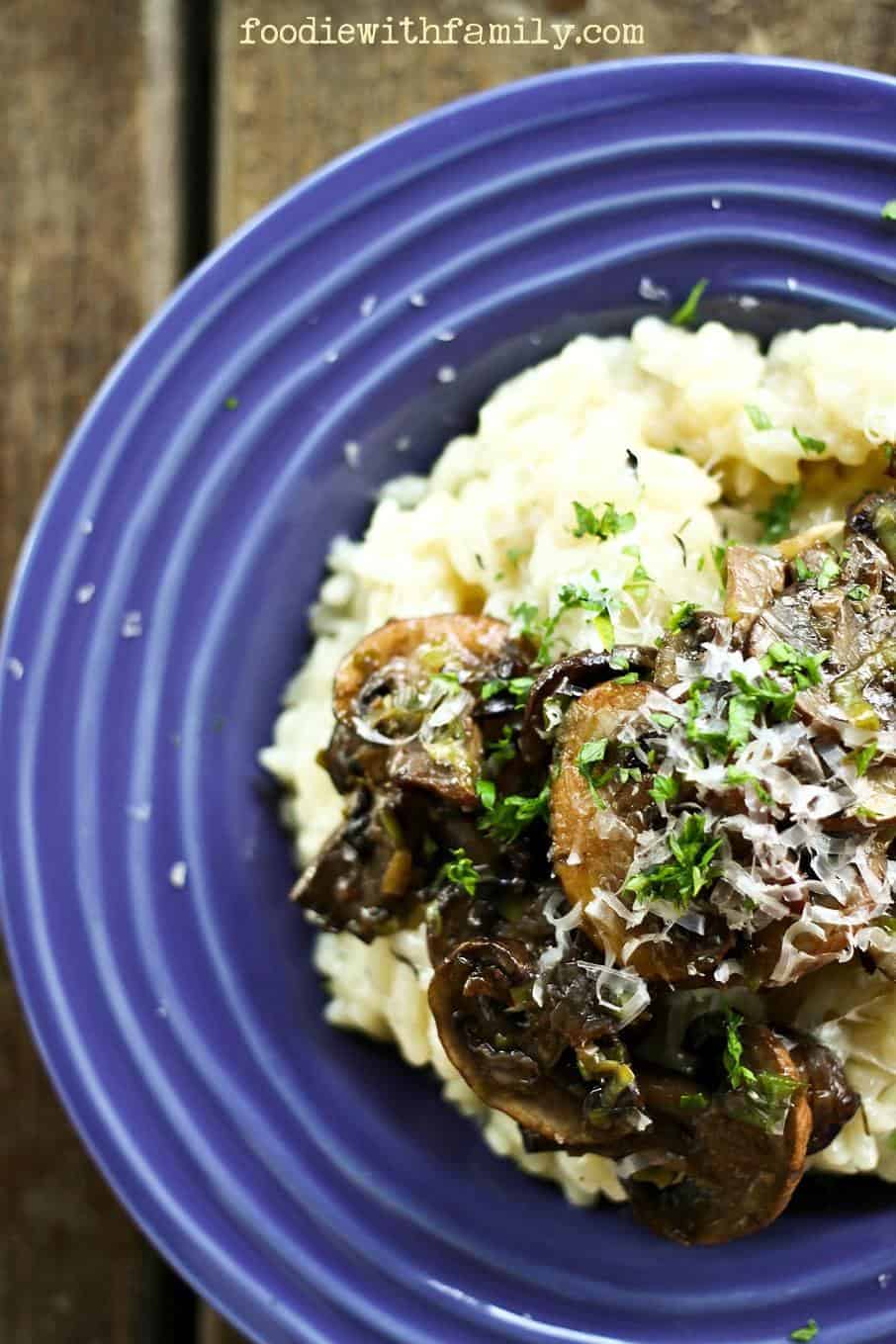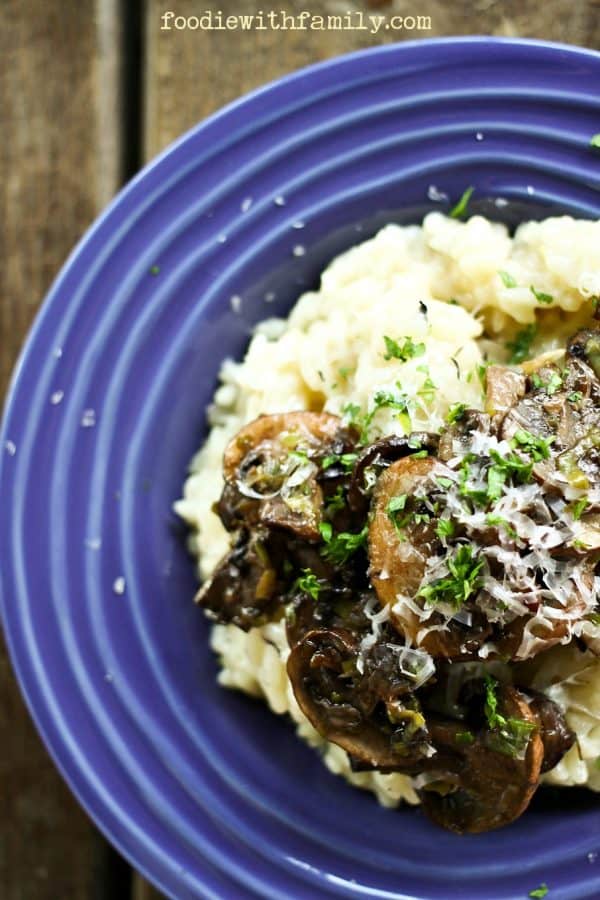 Somehow or another, risotto got a bum rap for being excessively difficult and fussy to make. I'm not sure HOW it happened because it's just about the easiest 'impressive' dish to make that I can conjur up with my feeble brain.
What I adore about risotto could take up way more space than would be appropriate here, so I'll try to make it concise. It's a concept rather than a hard and fast recipe.
Once you get the technique (which should take about 1 time through it) you can customize it to any old flavour profile you like. The concept -condensed- is sweat some onions and garlic in olive oil and butter, add the rice, toast it 'til opaque, add some white wine, cook 'til absorbed, then add small amounts of chicken stock, stirring frequently, until the rice is tender and there's a creamy sauce built around it.
Once you reach that point, stir in the cheese. El-done-o.
If you make a basic risotto (which stands beautifully by itself) you can top it with any number of things. My all time best-beloved topping for risotto is mushrooms.
While I usually opt for Seared Mushrooms, I also love Roasted Mushrooms. Not a mushroom fan?
Not a problem. Simply top with grated Parmesan or shredded chicken in gravy or leftover shrimp or thinly sliced beef, or… you get the idea. Pretty much anything.
Risotto is equally at home as a side dish and a stand-alone entrée.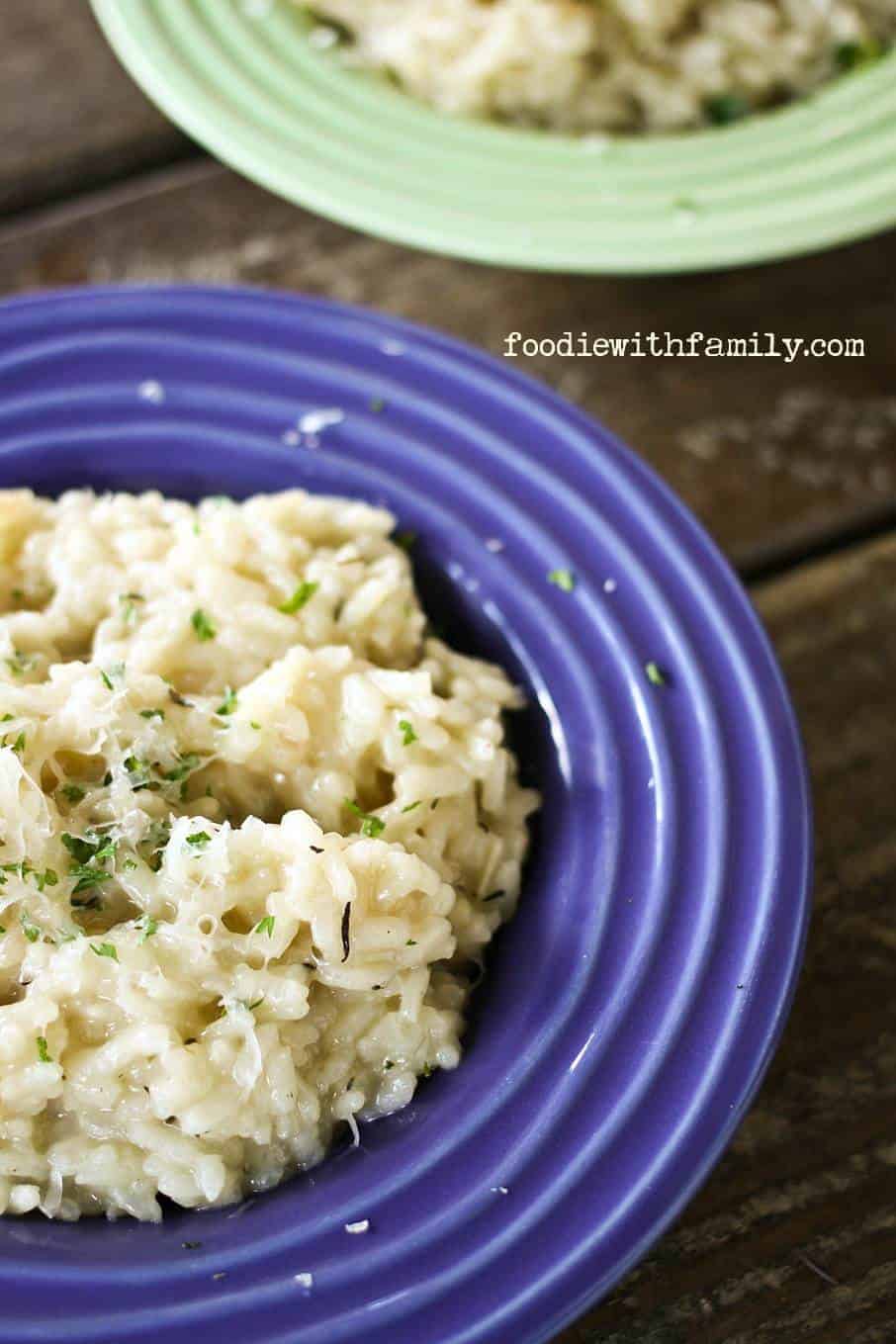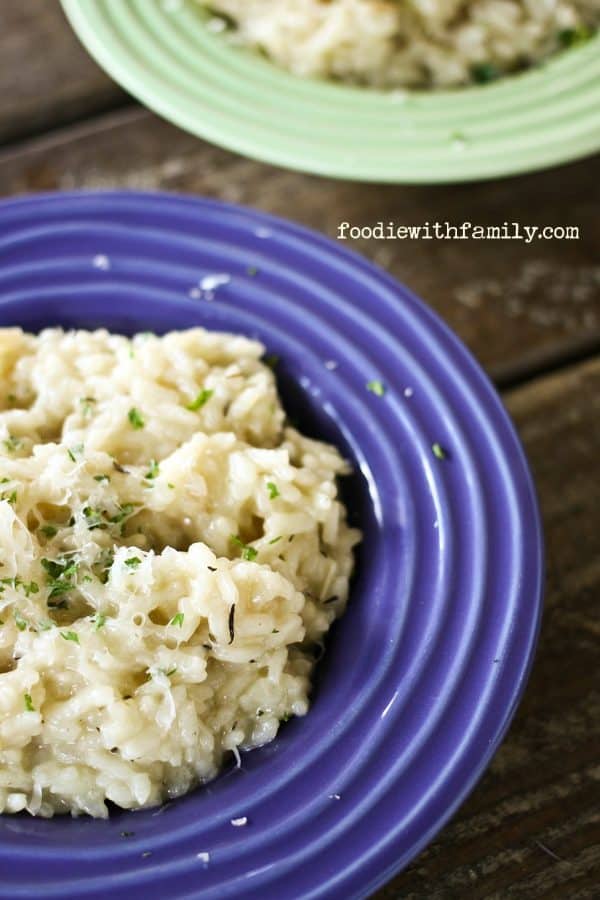 Here's the deal. You're basically using the starch of the rice to form a creamy sauce around it that clings to it.
It's NOT hard. I promise. You really can't mess it up to the point of inedibility unless you actually make a concerted effort to do so.
Also? I'm planning on knee-capping whoever the dingdong was who made everyone think it was so hard and complex. My thoughts are that it could only be excused by being one of those situations like the one in the Rice Krispie Treats commercial where the woman reads then poufs flour on her face and slumps out of the kitchen sighing like she just worked hard.
In that case, I give them some grace. Otherwise, it's some prima donna who wanted all the risotto glory to herself.
The point is, don't fear the risotto. Embrace it.
It's all about patience, not difficulty. You can do this. I'll be standing behind you cracking lame jokes to make sure you don't take it too seriously.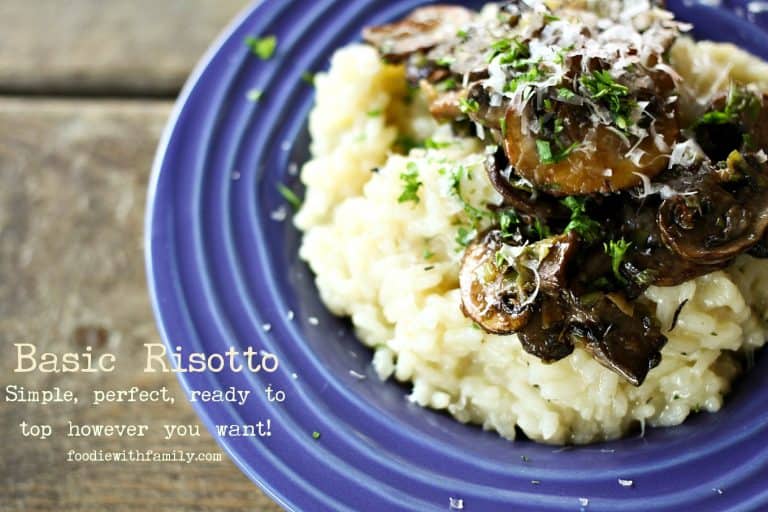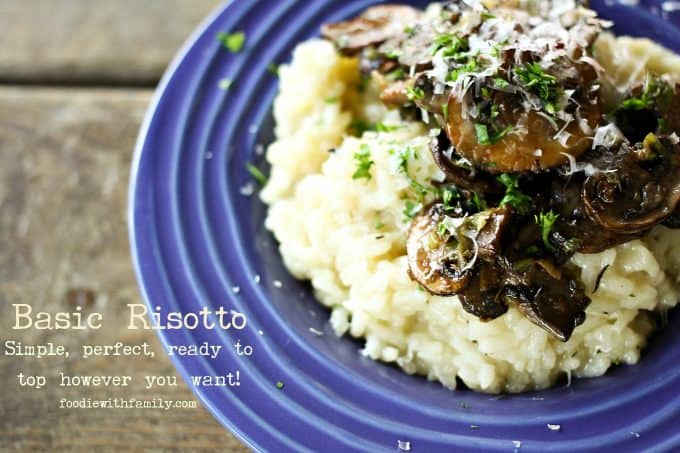 Cook's Notes
Risotto IS NOT FUSSY, but you do need to make sure you adjust the heat a couple of times. When you're sweating the onions and garlic, you want that burner as low as you can go.
When you add the rice, you bump it up to medium. When you add the wine, you want to go to medium high.
When you add the stock, you want to bump it back down to medium low. If you can manage that, you can make perfect risotto.
Choose a wine you'd be happy drinking to add to the risotto. If you're not a drinker, it's fine to ask the liquor store clerk for a decent dry white.
Don't make the mistake of using a sweet wine here. You'll be sorry if you do.
If you're categorically opposed to having wine in the house, proceed straight to the stock/broth portion of the programme. No worries. It's Italian, chill, baby!
Want a vegetarian risotto? Sub veggie broth in for the chicken stock. EASY, right?
Don't adhere too closely to the stock/broth amount. The given amount is the base level.
All sorts of variables apply to how much stock/broth goes into the final amount. This is a dish where you'll want tasting spoons handy.
Dip in from time to time and ask yourself if the rice is done to your liking. If not, keep adding liquid and simmering down.
That's why you only add a bit at a time. There have been times I've needed to add almost twice the amount specified in the recipe, and times that has been perfect, so use your eyes and your mouth to tell when it's done and has enough!
Save a bit of stock/broth for the end so you can make sure it's saucy. Remember the rice will keep absorbing liquid almost ad infinitum, so adding that wee splash at the end will keep it loose instead of stodgy on the plate.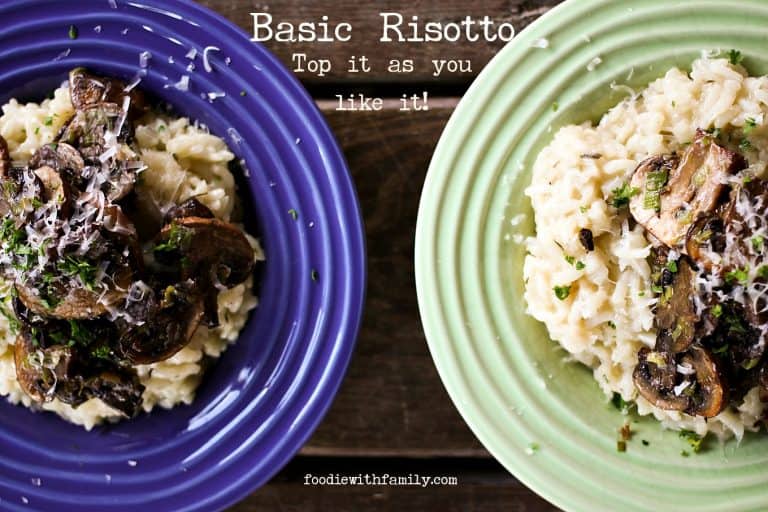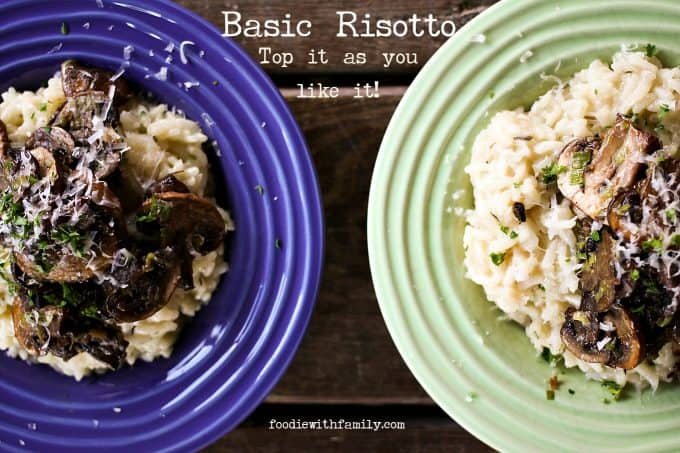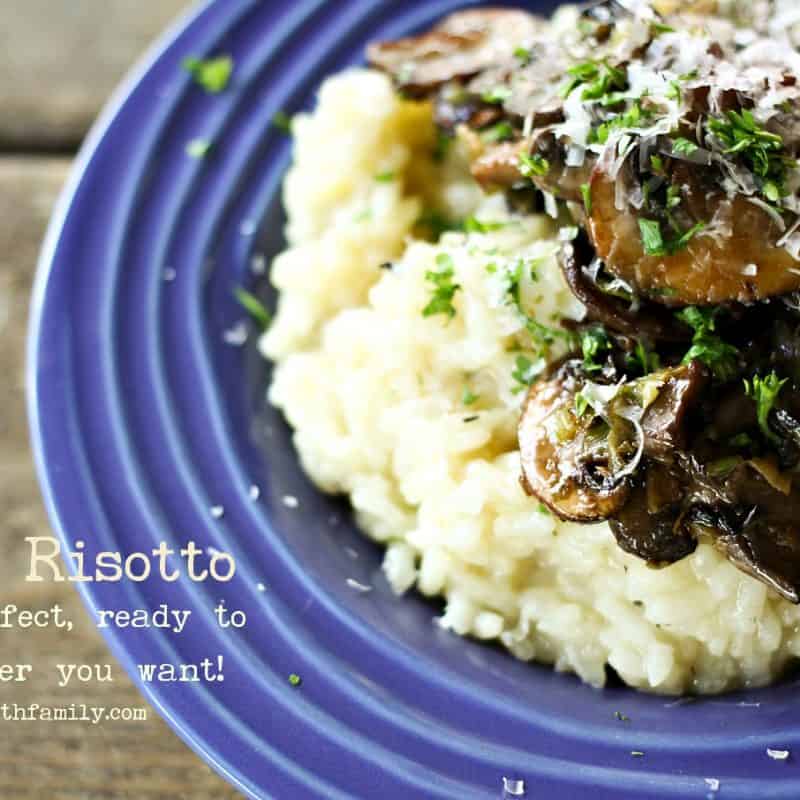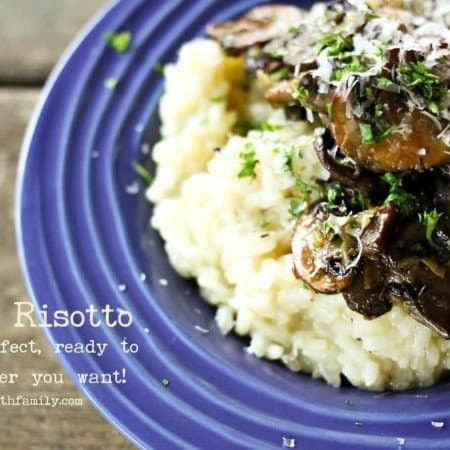 Ingredients
2

tablespoons

extra-virgin olive oil

2

tablespoons

butter

1

medium onion

peeled, trimmed, and diced finely

4

cloves

garlic

peeled and minced or pressed

pinch of thyme

3 1/2

cups

chicken stock

plus extra if needed

1

cup

arborio rice

1/2

cup

dry white wine

1/2

cup

freshly grated Parmesan cheese

plus extra for garnish
Optional:
Seared or Roasted Mushrooms for topping
Instructions
Melt the butter with the olive oil over medium low heat in a large skillet or saucepan. Add the diced onion to the pan and drop the heat to LOW, stirring frequently until the onions are translucent but not browned. This should take about 8 to 10 minutes. Add the garlic to the onions and stir until fragrant. Stir in the rice with a wooden spoon until toasted and opaque, 3 to 4 minutes.

Add the wine to the pan, and let it bubble up and absorb. Add the thyme, and start adding the stock - 1/2 cup at a time- and cook, stirring, until it is absorbed. Continue adding the stock 1/2 cup at a time, waiting until the liquid is almost entirely absorbed before adding more. Cook until the rice is tender and creamy but still a little al dente, about 15 to 20 minutes. Add the cheese to the rice and mix well until melted. Serve hot or warm, topped or naked as desired.
Nutritional information is an estimate and provided to you as a courtesy. You should calculate the nutritional information with the actual ingredients used in your recipe using your preferred nutrition calculator.