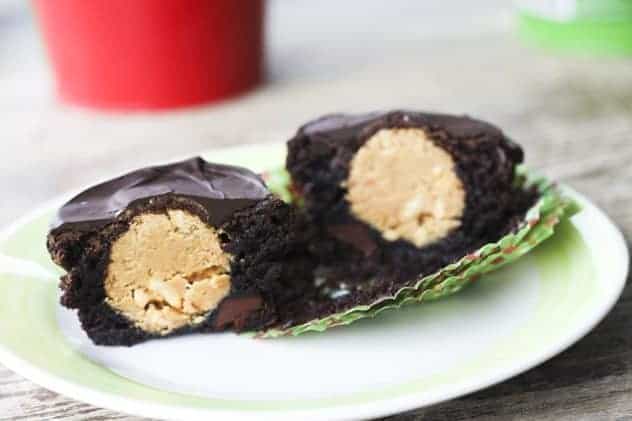 On Father's Day, I told my husband I was making him a healthy dessert. Then he went fishing and I accidentally made these.
I guess that makes me a liar. But at least I'm a happy, belly-rubbing, satisfied liar.
Here's what happened…
I had a brownie mix that was rattling around in the cupboard for a long, long time. Usually, I'm a homemade brownie snob, but the siren song of sales and a rare coupon put a box of Ghiradelli Dark Chocolate Brownie Mix into my cart and there it sat, languishing, on my shelf for just such an occasion.
The brownie mix caught my eye as I was shoving pantry items around and I figured I'd throw together a few brownies to have with our One-Ingredient Banana Ice Cream. I grabbed the box and in pulling it forward, a jar of peanut butter fell out and onto my foot. If that isn't a hint from God I don't know what is!
The next thing I knew, I was scooping the brownie batter into muffin tins, shoving peanut butter balls down into each one, adding more brownie batter and banging the whole pan into the oven.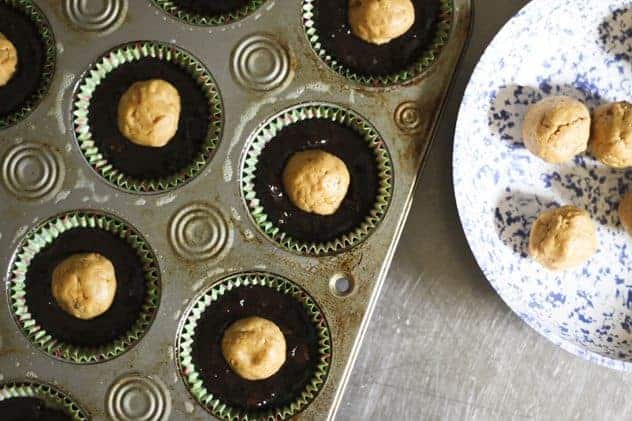 They came out of the oven looking like this.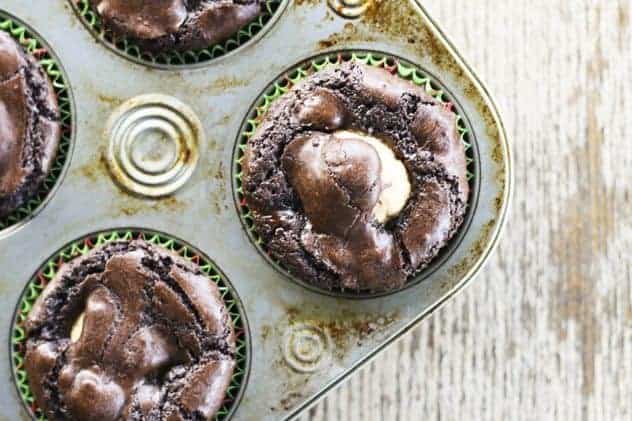 Hot dang, people.
Then I went and did this.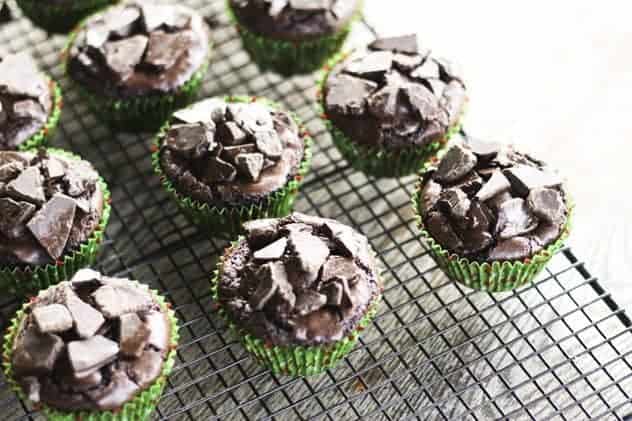 Those are dark chocolate chunks covering the tops of the hot brownie cupcakes. Yes, they are. When they melted, I gave them a little touch up with a butter knife.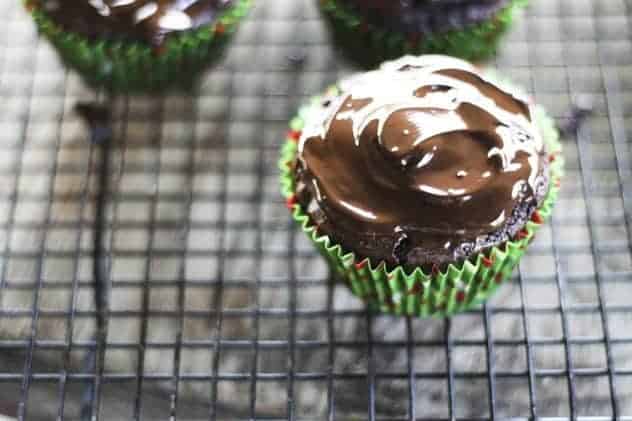 The only thing left to do after this point was wait for the chocolate to firm up. Did I wait? Well, I tried. I really did. Could you wait to eat a dark chocolate brownie cupcake that was stuffed with a creamy peanut butter ball and topped with melted dark chocolate?
Yeah.
Eat them warm for a messy, chocolatey, gooey treat that practically needs a spoon or wait until they come to room temperature and the chocolate firms up for a slightly tidier but no less indulgent brownie cupcake.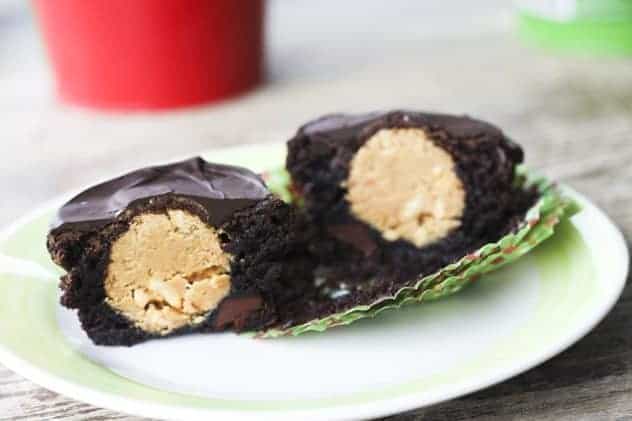 Individual dark chocolate brownie cupcakes stuffed with creamy peanut butter balls and topped with melted dark chocolate are rich and indulgent treats that are easy enough to whip up any time!
Ingredients
1

package

20 ounces brownie mix (or 1 batch of basic homemade brownies)

1

batch of peanut butter balls

made without chocolate chips

non-stick cooking spray

1

cup

chopped dark chocolate
Instructions
Preheat the oven to 350°F. Prepare the brownie batter (either according to package instructions or recipe).

Line a 12-cup muffin tin with double paper liners. Spray the liners lightly with non-stick cooking spray. Divide the brownie batter between the liners (filling no more than 2/3 full.) Gently push one peanut butter ball down into the center of each well. Use a spoon to smooth a little brownie batter over the top of each peanut butter ball. Bake for 28-32 minutes, or until the brownies are set.

Let the brownies rest in the pan for 1 minute before carefully transferring to a cooling rack. Cover the tops of the hot brownies with a single layer of dark chocolate chunks. Let it sit for about 5 minutes, or until the chocolate is shiny (which means it is melted.) Use a butter knife or small offset spatula to gently spread the melted chocolate.

Let the brownies rest at room temperature to allow the chocolate to firm back up ~or~ DIVE IN!

Store leftovers, covered, at room temperature for up to a week.
Nutritional information is an estimate and provided to you as a courtesy. You should calculate the nutritional information with the actual ingredients used in your recipe using your preferred nutrition calculator.