Hi friends! The last few weeks have been maddeningly busy. We've done a lot of work on our house and property, camped, traveled, been visited, and had animal crises. I hope I have a chance in the next couple of weeks to settle back into a regular blogging routine. With all the fresh produce hitting the markets, I have so many delicious recipes to share with you. Until then, please enjoy this short but sweet (har har. I crack me up.) recipe. And the sweet quick giveaway at the end. Read on!
Peanut butter + Chocolate= Bliss
I cannot think of a combination that makes me happier. There's just something about the salt and the sweet and the creamy and the crunchy all together that makes my heart go pitter pat. And making Peanut Butter Balls is one of my favorite ways to get that peanut butter and chocolate fix. Chocolate chips, peanut butter, condensed milk and confectioner's sugar all in one happy little portable package? It's like an inside-out Reese's Peanut Butter Cup. Oh baby. Since it's made with peanut butter it's healthy, right? (Don't you DARE tell me it's not healthy. Please don't mess with my happy thoughts…) Even better, these little babies don't melt in your hands!
This is one of the foods that we take camping with us every single time without fail. It just wouldn't be a family camping trip for us without the ubiquitous Peanut Butter Balls. They are the perfect camping snack fare since they are high-protein and easily transportable. It's not just camp food, though. It makes the perfect summer snack, too, since it requires zero cooking, and can be safely transported without a cooler.
Make these. Today. And then make another batch to fill the bowl since you hid in the broom closet so you could eat the entire first batch by yourself. No. Wait. That was me. Sorry.
For a photo-free, printer friendly version of this recipe, click here!
Peanut Butter Balls
For a healthier version of the recipe, use the honey and non-fat instant dry milk.
Ingredients:
1 cup creamy or crunchy style peanut butter (I prefer all-natural peanut butter)
1/2 cup sweetened condensed milk or honey
1/2 cup powdered sugar or non-fat instant dry milk
1/2 cup semi-sweet chocolate chips
Add all ingredients together in a large mixing bowl.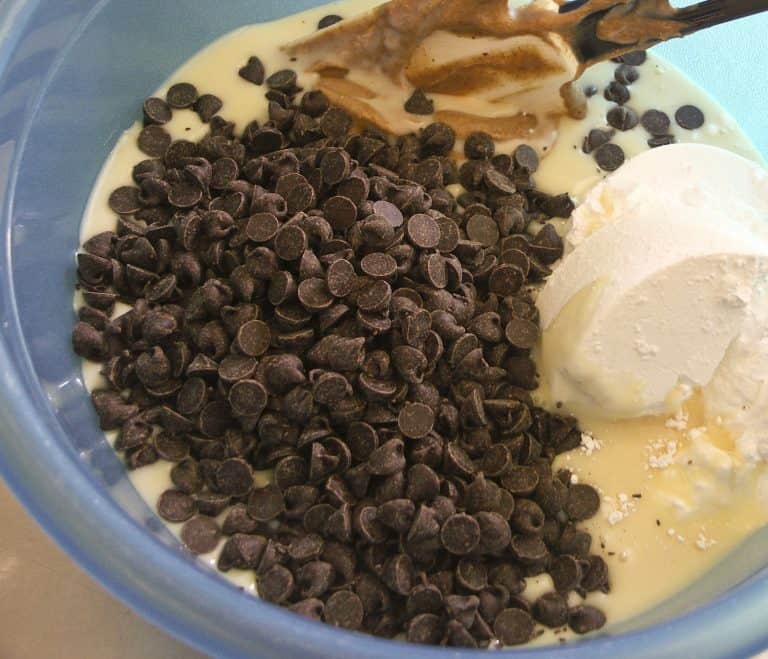 Stir well until evenly combined. At first you might think it'll never come together…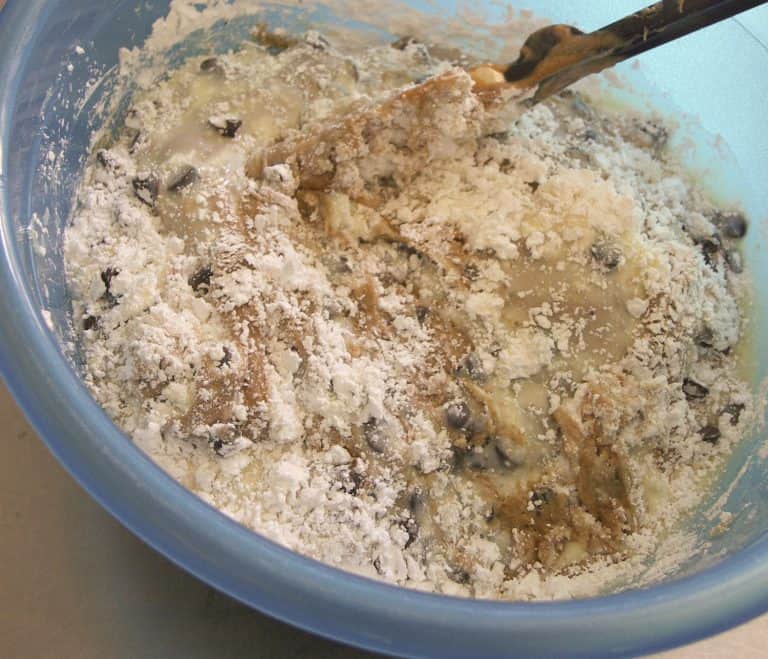 Just when you've decided that you measured wrong, ("I mean, really, how am I supposed to roll THIS stuff?")  it'll come together and look like this!
Do you have a disher laying around? (In other words, a scoop.)
Is this crucial to the recipe? Certainly not, but it definitely makes the process go a little quicker. If you don't have one you can just scoop up portions of the peanut butter mix with a serving spoon. No harm, no foul!
Scoop a teaspoon of the mixture into the palm of your hand. Use both hands to roll lightly until it forms a ball. Set onto a plate or into a container.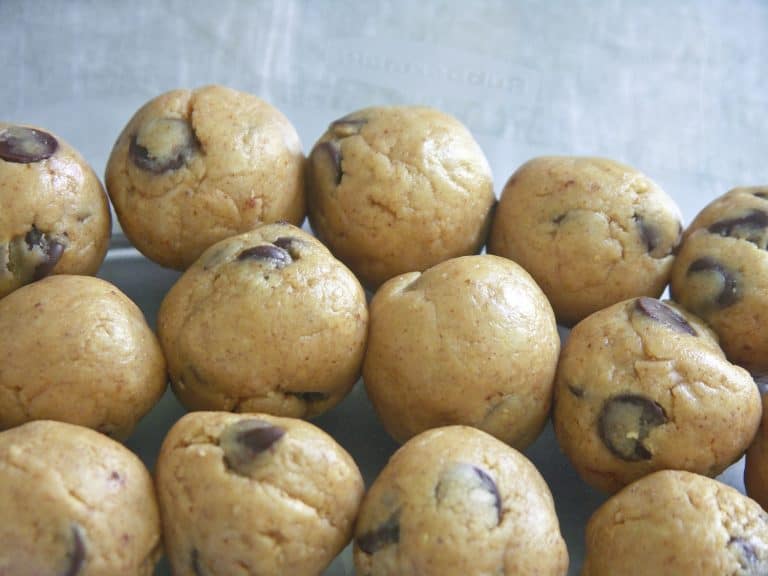 Repeat with the remaining peanut butter mixture until you have used it all.
Store uneaten peanut butter balls in a tightly lidded container in the refrigerator. Can be left out at room temperature for several hours without problems! Like they'll last that long…
But wait! I mentioned a giveaway, right? I love my disher. I use it all the time. It scoops cookie dough, meatballs, peanut butter balls (washed between each use, of course) and anything else I can think of that I want in adorable little scoops. I love it dearly. And I want you to have one if you don't already. So just because I'm feeling full of beans today and also because my birthday is this week I'm giving away a small scoop disher like the one I used above. Specifically, this one:
Do you want it? Here's what you do. Just leave a comment below. Tell me what you'd make using one of these. If you wouldn't use it but would give it as a gift, let me know that, too. Or if you have no idea what you'd use it for just say something silly. Preferably in the form of a haiku. Because after Peanut Butter Balls and dishers, haikus are my favorite.
Da Rules and Da Info:
Please have a continental U.S. shipping address handy. I can't ship this to Alaska, Hawaii, Canada or Mexico. Sorry to my far away and/or cross-border friends.
Please don't be my relative if you enter. (Well, shoot, if you want to join the family we'll welcome you. We just won't give you a disher. Or maybe we will… Just not 'til Christmas.)
You can comment as often as you like, but there will only be one entry per person. I mean it.
Contest is open until Wednesday, 12 EST.

This is a contest sponsored by yours truly. No corporations were exploited, harmed or otherwise injured in the course of this contest.