When I eat spicy food, I want to feel a sweat break out on my forehead. I want it to be an experience. But I also want it to taste good. I'm not one of those chile-heads who wants pain with no payoff. It has to be delicious to be worth it! Last week I was on a Carnival cruise to the Western Caribbean with my hubby and we found ourselves over and over again at the Blue Iguana Cantina on board. Breakfast? Huevos Rancheros. Lunch? A burrito please! Afternoon snack? Fish tacos, por favor! And each time we nabbed some of their goodies, we marched ourselves right over to the salsa bar and drizzled a hearty spoonful of their Fruity, Fiery, Smooth Habanero Salsa over the top. It was spicy, no doubt, but it was all those other things, too! It had TASTE! It didn't scorch you without giving you something delicious in return. Habanero peppers are fruit and they have that fresh, light, vibrant flavour that backs the heat up with substance. Toward the end of the week, I started worrying what I would use to top all my goodies at home. How could I go on without my Fruity, Fiery, Smooth Habanero Salsa?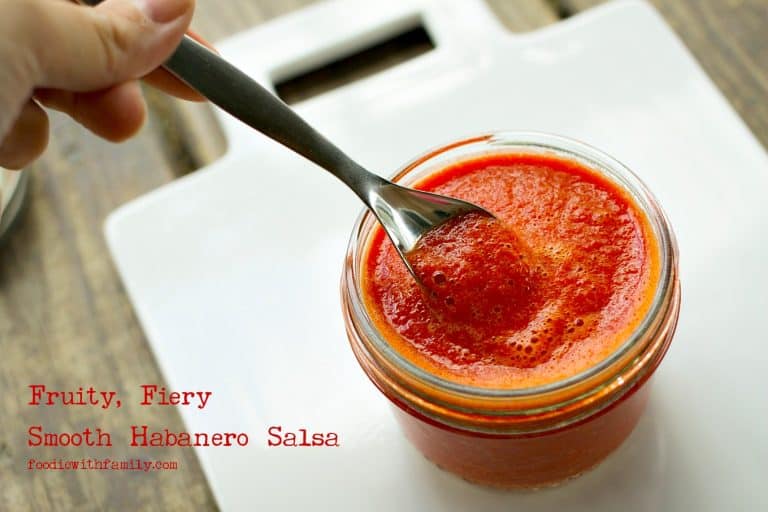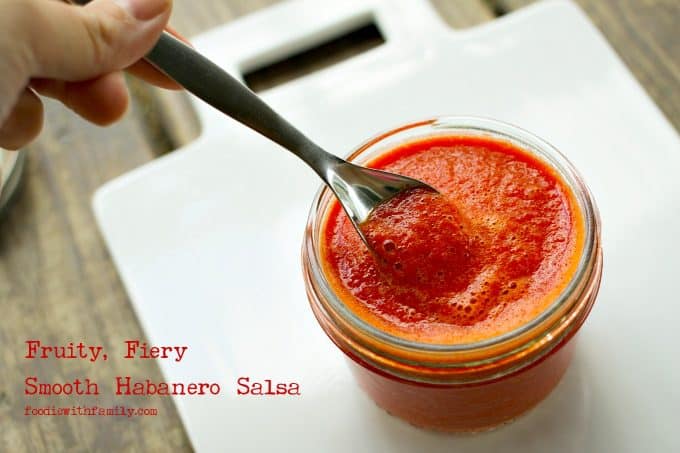 The last day on board, I asked the chef if he could share the recipe with me. "Oh sure!" he said, "It's just habaneros, Sprite, fresh lime juice, and salt." "Excuse me," I asked, "Did you say Sprite?" He responded, "Yes."
Oooooooooookay. Sprite. I honestly didn't see that one coming. I walked over to the salsa bar and poured a little cup of the Fruity, Fiery, Smooth Habanero Salsa and walked back to the table. I dunked a spoon in and tasted and it all made sense. Lemon and lime and a little lightness of texture borrowed from the carbonated Sprite. Whodathunkit?
We stopped at the grocery store on the way home from the airport to grab all the ingredients for our salsa because I was serious people. I did not want to go without my dream sauce.
Into the blender went stemmed, seeded habaneros (trust me, they're hot enough without the seeds!) and salt… WHIRRRRRRRRRRRR… Next came the juice of one lime and enough Sprite to loosen things up nicely. Now here is where I made my only  mistake in the whole process. After blending, I lifted the lid and sniffed to test my results. Big no-no unless you'd like to remove one of your lungs by way of coughing. Blerg. Don't do that. Far better to taste than sniff it. Trust me.
So what to do with your cup of luscious, spicy, flavourful, Fruity, Fiery, Smooth Habanero Salsa? Put it on tacos, burritos, enchiladas, burgers, eggs, or Pulled Pork Walking Tacos, dabble a little into chicken tortilla soup, or do like my kids do, and simply use as a sweat-inducing dip for tortilla or potato chips! It's hard to believe something so ridiculously simple to make can pack so very much flavour!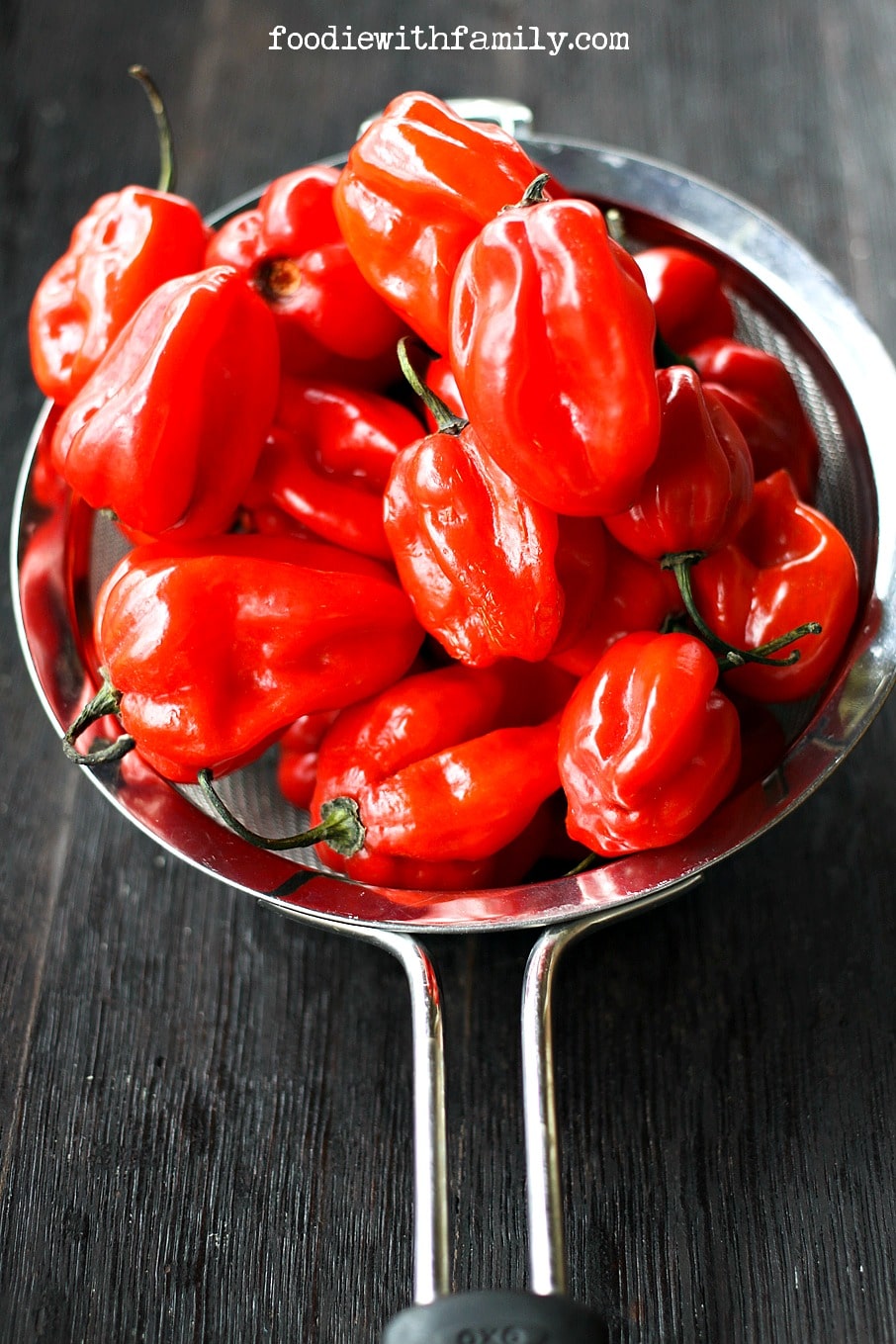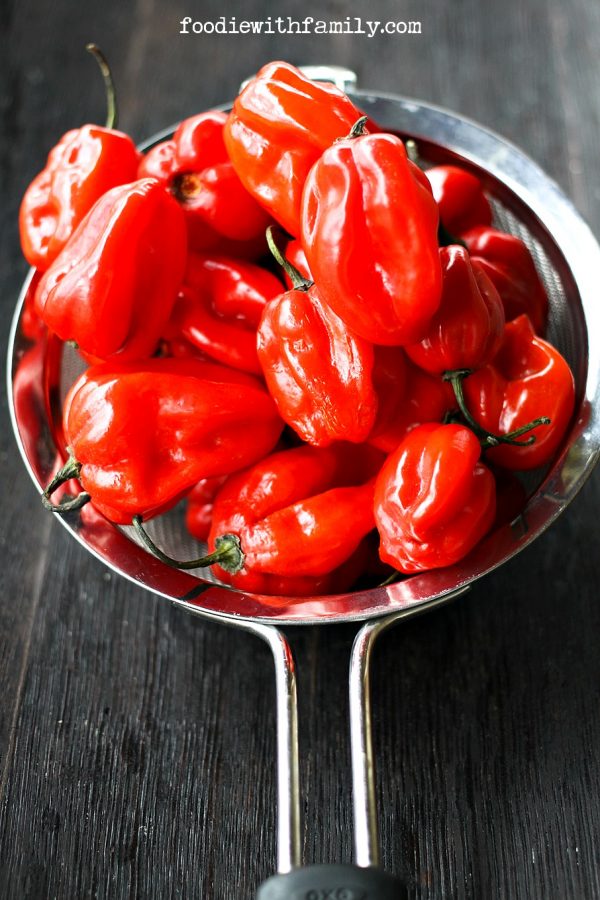 Cook's Notes
Please wear disposable gloves while handling habaneros. From the moment you break those cell walls down (whether removing the stems, cutting in half, or scraping the seeds), all that capsaicin is just waiting to cling to your skin and give you a memorable experience.
Related: don't rub your eyes, nose, or face at all while working with peppers. That just makes for serious unpleasantness.
Also related: If you refuse to wear gloves while working with hot peppers, at least be wise enough to wash your hands before going to the bathroom. I've been told by someone who forgot to do that that the sensation was, um, painful to say the least.
The easiest way to seed a pepper is to cut a small disc off the end of the pepper removing the stem. Then cut the pepper in half and use the tip of a teaspoon to scrape the seeds out. I usually do this over a paper towel which I can then wad around the stems and seeds to convey it more easily to the garbage can.
This salsa is good for about 1 week to 10 days after being made. It's best within the first 4 days, but can stretch a little longer after that. Anything past that point should be cooked into something (use as a flavour boost for a pork shoulder in the slow-cooker!) or disposed of carefully.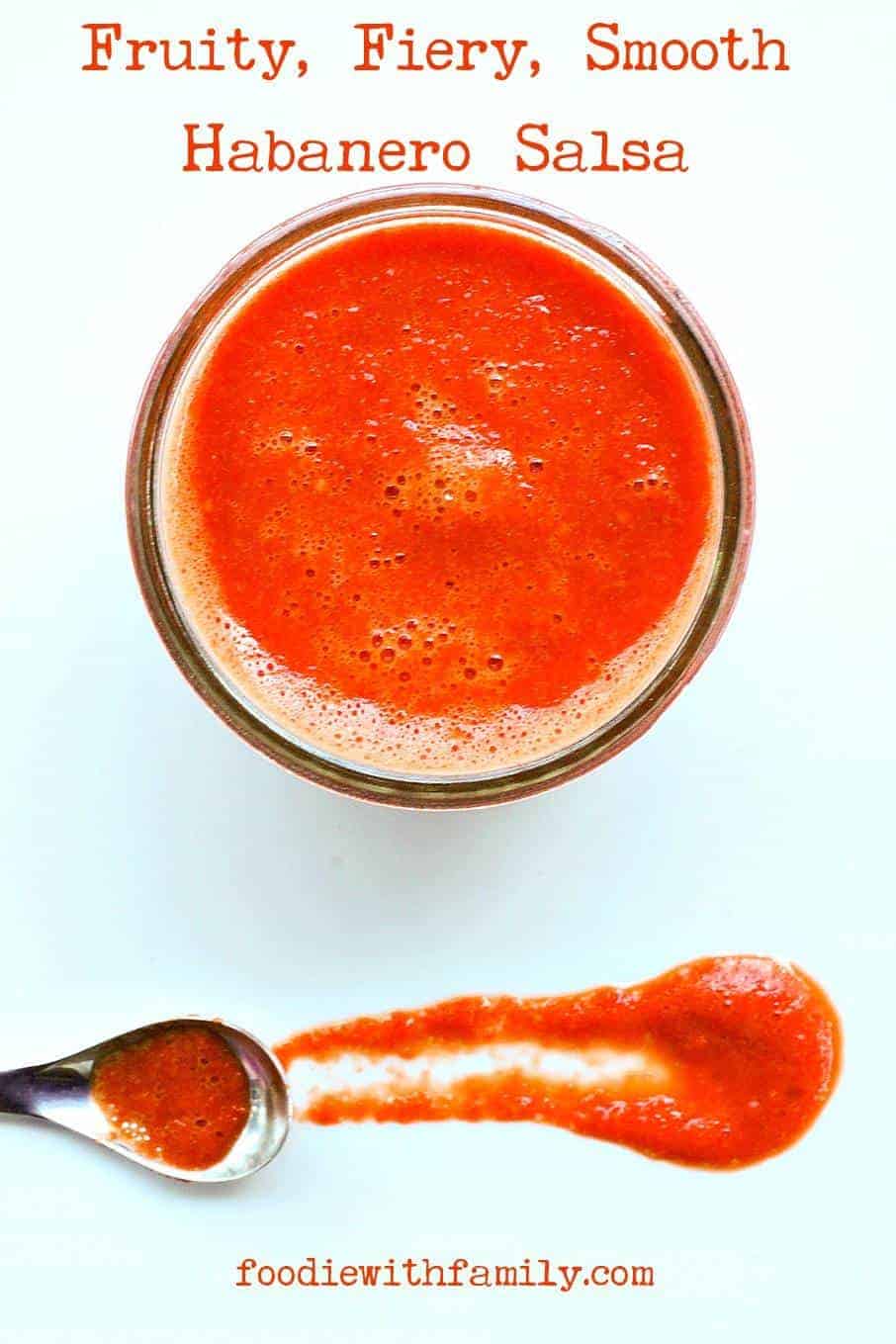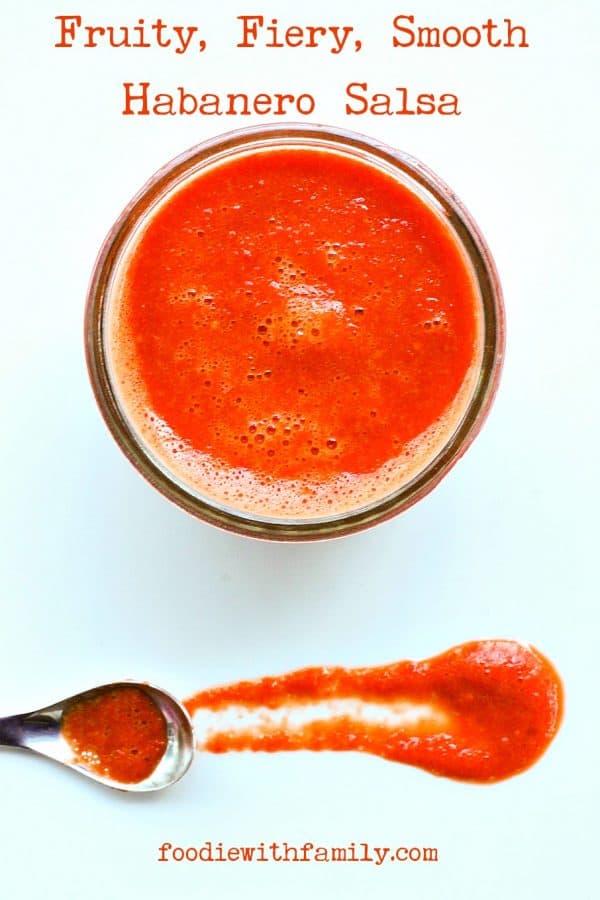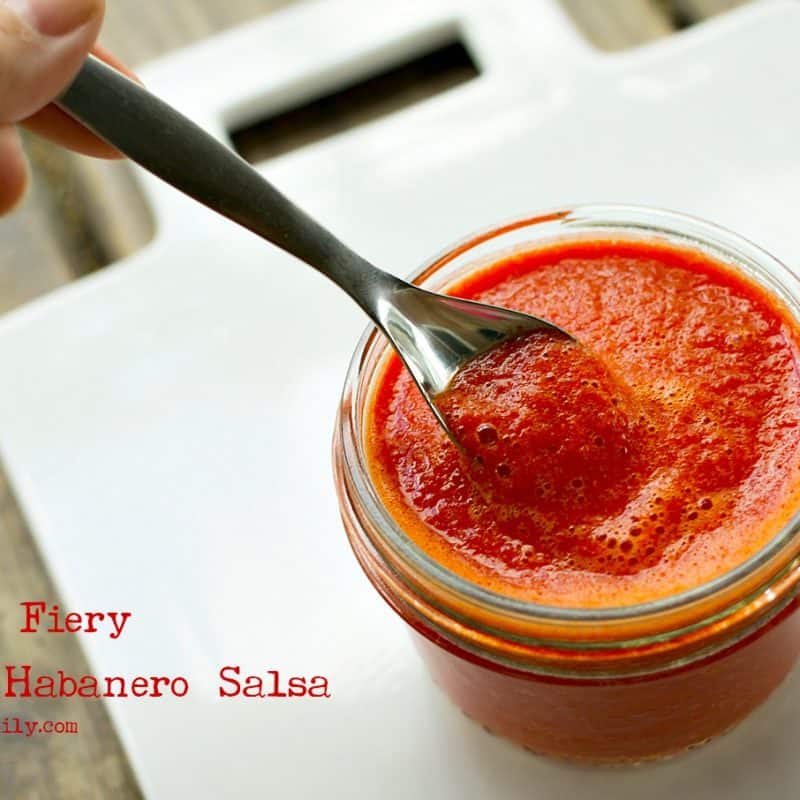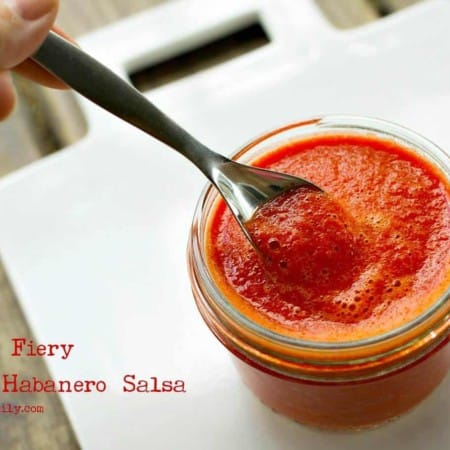 Ingredients
15

fresh habanero chile peppers

stemmed and seeded

1

teaspoon

kosher salt

the juice of half a lime

Sprite
Instructions
Add the habaneros to a blender with the salt. Fix the lid in place and blend on high until the peppers are finely chopped.

Add the lime juice to a one cup measure and pour in enough Sprite to bring the liquid to 1/3 cup. Carefully remove the lid of the blender (taking care not to breath in the pepper fumes). Pour in the lime juice and Sprite mixture. Fix the lid back in place, and blend on high until perfectly smooth, scraping down the sides from time to time if necessary. If the mixture is too thick, add and blend in 1 tablespoon of Sprite at a time until it reaches desired consistency. It should be about as thick as tomato sauce.

Pour into a mason jar or other stainproof container with a tight fitting lid. Can be served immediately or stored in the refrigerator for up to 10 days.
Nutritional information is an estimate and provided to you as a courtesy. You should calculate the nutritional information with the actual ingredients used in your recipe using your preferred nutrition calculator.