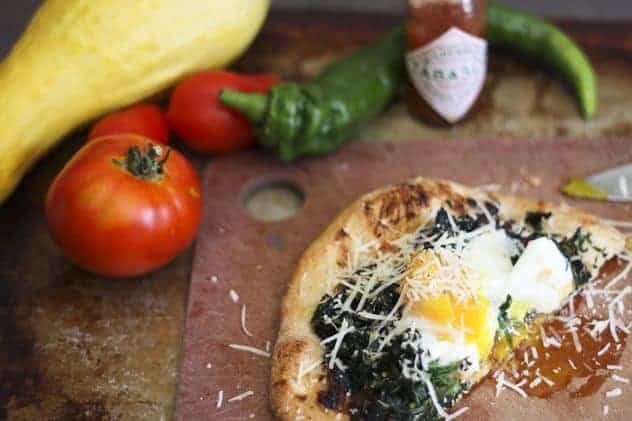 Updated 8/19/11: Winner announced below the contest rules!
Sometimes you just know something is going to be good. Sometimes you have to pat yourself on the back. Today's lunch was one of those moments.
While digging madly through the cupboards to find fast lunch ideas for my already starved* children, I realized I was out of bread, cheese, tortillas, apples, and all sorts of other things I rely on to fill their hollow legs quickly.
*Or so they said repeatedly and loudly while clinging to my legs.
Thankfully, a perusal of the refrigerator revealed a big bucket of my special no-knead semolina pizza dough and some leftover cooked spinach. Serendipitously, they were resting right next to a fresh jar of bacon jam and a dozen fresh eggs from our chickens. I knew I had the ingredients to make a great lunch but what I didn't know was just how epic and satisfying that lunch would turn out to be.
I found that I was on auto-pilot setting when I noticed I automatically pre-heated my oven to four hundred and seventy five degrees without thinking after setting the bucket of dough on the counter*.
*That is the temperature at which I cook all of my pizzas, but this is the subject of an upcoming post. Oooh, spoilers! A tease and a Doctor Who reference all in one sidebar. I'm not proud.
Apparently I was making pizza for lunch. Well, why not? I decided to go with the auto-pilot. I rolled out the dough, spread on a little bacon jam and topped the jam with spinach that had been squeezed dry, topped it with a little grated asiago and slid it into the hot oven. Four minutes into cooking, I gently slide a cracked egg on top of the spinach. When the egg was set, I removed it from the oven…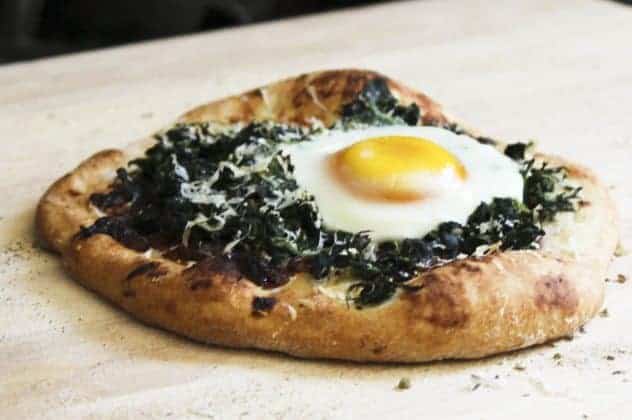 …showered the top generously with more asiago and shook an indecent amount of hot sauce over the whole thing. I cut it in half, paused for a quick picture, admired the runny yolk, and there was a knock at the door.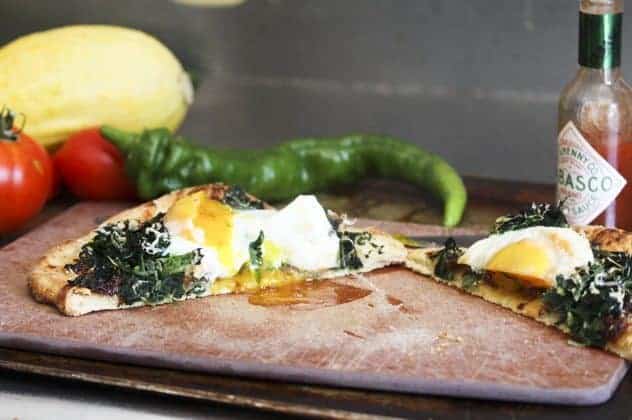 Sigh.
Half an hour later, I was able to dig in. I can honestly tell you this tastes incredible at room temperature… I'm equally certain that it would taste most amazing hot, but at least I can tell you it's better than just okay when cool.
The pizza crust has a crackling crisp underside due in part to the (hubba hubba) semolina flour in it. The insides are chewy. The upper crust takes on a deep golden brown and then we get to the bacon jam. Oh, bacon jam. Do you guys remember my bacon jam recipe? I didn't think it was possible to love it more than I already did when I wrote that post but I was wrong. Every single way I've used it has made me love it better.*
*I guess maybe that one time I tried to use it as perfume didn't work out really well… But everything else? Golden.
The salty, smoky, meaty, sweet, perfect umami bacony goodness that is bacon jam on pizza crust topped with spinach (hello, lover), an egg that I just took out of the coop this morning and a shower of finely grated asiago cheese? You could say this auto-pilot lunch was inspired. So, I thanked the source of all inspiration and blessings and ate my really excellent cold lunch pizza.
Pssst. I'm sharing my pizza dough recipe with you here today so you can get it in your refrigerator and use it both for this recipe and upcoming ones. This is a big hint. BIG HINT.
Now. Another giveaway! And hoo-doggy it's a hot one. The generous folks at Smuckers offered to send one of Foodie with Family's readers a pretty amazing gift basket. And when I say pretty amazing I mean four seriously pretty pink and green striped ice cream REAL (as in not plastic) bowls, an ice cream scoop, some of their new ice cream toppings (Blueberry and Hot Caramel) some of their classic toppings (Hot Fudge), some sweetened condensed milk (Used to make their dead easy 3-ingredient ice cream for which they include the recipe!) and -wait for it- a $75 gift certificate to Cooking.com.
So what does this have to do with a fancy-pants breakfast pizza? What goes better with pizza than a milkshake, I ask you? Not a thing, as far as I'm concerned. And if I accidentally dolloped some of that caramel sauce into the blender with my ice cream and milk then I might have accidentally really loved it, too. I highly recommend accidentally doing that. Happy, happy day.
What do you need to do to enter this contest? This is one of my patented super complex entries. Leave a comment. Tell me what you like to eat with your milkshakes, what you would do with the $75 gift certificate, what your favourite ice cream topper is (Smuckers or otherwise), about the time you poured Magic Shell over your brother's head, or what you like on your breakfast pizza. That's it! Not too shabby for a chance to win all those goodies, eh? The winner will be chosen by random.org and announced here on Friday, August 19th.
Our winner is:
TiffH Well here in Oklahoma I love me a Strawberry milkshake with crinkle cut fries from Braum's Ice Cream. And as far as cooking gift card I would get the ice cream maker I've been wanting (cuz I don't have one) and use it with all that spiffy Smucker's ice cream toppings and bowls… yeah! Can you overnight me some of that pizza because it looks delicious, and the egg on top genius!
TiffH, email me your mailing address and whatnot and I'll send that right onto the folks at Smuckers!
Oh, and do me a favour? Since they're being so generous, show them a little love and head on over to their website. They have some pretty fine dessert recipes posted!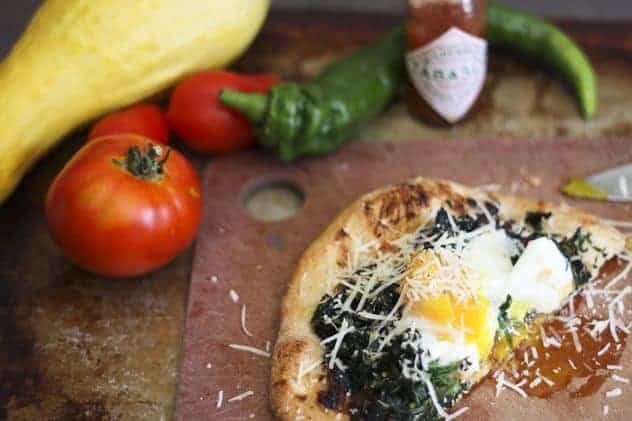 No-Knead 10-Day Semolina Olive Oil Pizza Dough Fancy-Pants Bacon Jam, Spinach, Egg and Asiago Breakfast Pizza
Rate Recipe
This is, without a doubt, the best pizza dough I've ever made and eaten. The fact that it is no-knead and incredibly simple to make adds to its already ample charms. It bakes up as a beautifully crisp bottomed, chewy pizza crust but can also be made into pita bread and focaccia. It's like the bass-o-matic of pizza doughs! Inspired by Artisan Bread in Five Minutes a Day by Zoë François and Jeff Hertzberg.
Ingredients
5 1/2

cups

room temperature water

3

tablespoons

instant yeast

2

tablespoons

kosher salt

2

tablespoons

sugar

raw or granulated

1/2

cup

extra virgin olive oil

11

cups

all-purpose flour

2 pounds, 15 3/4 ounces by weight

2

cups

semolina flour

11 ounces by weight
Per Pizza:
1

navel-orange sized piece of Semolina Olive Oil Dough or favourite pizza dough

see following recipe

2

tablespoons

Bacon Jam warmed to slightly over room temperature

1/4

cup

cooked spinach

squeezed to remove most of the liquid

2

tablespoons

finely grated asiago cheese

divided

1

egg

cracked into a shallow bowl or measuring cup
Instructions
Mix the yeast, salt, sugar, olive oil and water in a 12 quart capacity bucket. (This recipe can be halved if you do not have a large enough container.)

Stir in the flour until no dry pockets remain. You do not have to knead it, but I find the easiest way to have it thoroughly mixed is to wet one hand and forearm and use that one to mix it in completely.

Cover lightly (Do not put a lid on tight. Trust me.) and let rest at room temperature until the dough has doubled and collapsed. (Or at least until dough is very, very puffy.) This takes a less than 2 hours in warm weather and more than 2 hours in cool or cold temperatures.

You can use the dough immediately. If you have leftovers, you can store them in the container, lightly covered (again, do not use a tight lid!) for up to 10 days. If you need to store the dough beyond that time, divide into individual pizza sized servings. Freeze in re-sealable plastic bags that have about a teaspoon of olive oil smeared around inside each for up to 3 months.

Preheat oven to 475°F with a pizza stone in place (if you have one.)

On a clean, floured surface, roll or press out pizza dough until it is about 1/4-inch thick in the center and slightly thicker around the edges.

Gently spread the bacon jam from the center of the dough to within 1/2-inch of the edges, taking care not to stretch the dough. (Heating the jam ahead of time helps it to spread more easily.)

Sprinkle 1 tablespoon of the asiago over the bacon jam and scatter the spinach over the top.

Sprinkle semolina or cornmeal over a pizza peel (if using a pizza stone) or a baking sheet (if no stone is available.) Transfer the dough, carefully, to the dusted peel or pan. If using the stone, slide the pizza directly onto the stone, if using the sheet, slide the sheet directly into the center of the oven.

Bake for 4 minutes then open the door of the oven and pour the cracked egg directly into the center of the pizza. This is easiest if the bowl or measuring cup is held right next to the pizza to minimize the egg running.

Bake an additional 8-14 minutes or until the egg is done to your liking. I pulled mine when the whites were firmly set and the yolk was still mostly runny.

Transfer the pizza to a cutting board, sprinkle with the remaining asiago cheese.

Serve hot or cold with hot sauce, if desired.
Nutritional information is an estimate and provided to you as a courtesy. You should calculate the nutritional information with the actual ingredients used in your recipe using your preferred nutrition calculator.