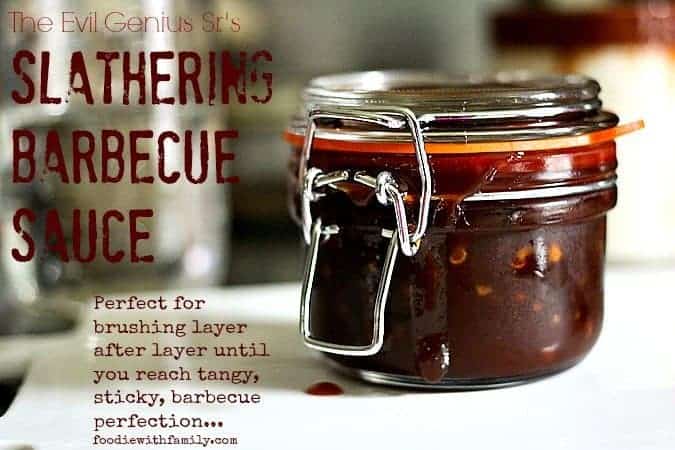 When it comes to barbecue sauces, I'm going to admit I have a bit of a neurotic streak. Big surprise, right? When I learned how easy it was to make my own all these years ago, it was hard to walk into a store and pay mucho deniro for the cruddy bottles of glorified ketchup they were selling. Honestly, the first or second ingredient in almost every single brand was high fructose corn syrup. GACK. And then, when higher end barbecue sauce became available, I still couldn't pay for it because I knew how tasty my homemade stuff was. (There is one notable exception, and that's the Dinosaur Barbecue Sensuous Slathering sauce, but I digress…)
Important sidebar: My husband recently went on a business trip to Georgia. While there, he was able to spend some time with his dad and eat a couple of meals at his home. His dad -a phenomenal cook- made two extremely memorable meals for him. One of grilled lamb chops and one of smoky ribs. My hubby, The Evil Genius, raved about the rub on his dad's ribs. He raved about the SAUCE on his dad's ribs. He raved. Naturally, I called his dad to ask for the recipe.
His dad explained that he usually makes a thinner, more North Carolina style sauce for his ribs, and rattled off his list of ingredients for me. He gave me quantities on four or so of the ingredients and told me to add the rest in the quantities in which I liked them. Yes, sir. I call that license to play with my food.
Because I intended to make the barbecue sauce for chicken, and I think of chicken as a job for more St. Louis style barbecue sauce (read: a stickier, more visible end product), I opted to alter my father-in-law's sauce by omission; I left out the water. That is the ONLY change I made to his sauce and man is it ever good. It's not stodgy and spreadable thick, but is instead the perfect thickness for brushing on and caramelizing layer after layer of tangy, sweet, slightly spicy, sticky sauce. In short, UHNNNNNNNNNNNNGH, it's good.

Cook's Notes
 This is a pretty low-effort recipe with a pretty high payoff, but you still can't walk away from it and let it go unattended. You don't have to stir much, but it can go from perfect to scorched pretty easily if you ignore it. Just hang out in the kitchen. Be within sniffing and listening range of the pot at all times. Wash a few dishes, you'll be fine.
The sauce is good for up to two weeks in the refrigerator. If you need to stretch it out a bit further, freeze it in single meal portions for later. It'll be fine for up to three months in the freezer.
Before anyone asks, let me address whether or not this is canning friendly. In a word, probably. Long version: it hasn't been tested. It's probably acidic enough, it's definitely thin enough… Like I said, though, it hasn't been properly tested. I'd probably be comfortable pressure canning it and serving it to my family, but we have no immune deficiencies, so if you decide to try it, do so at your own risk.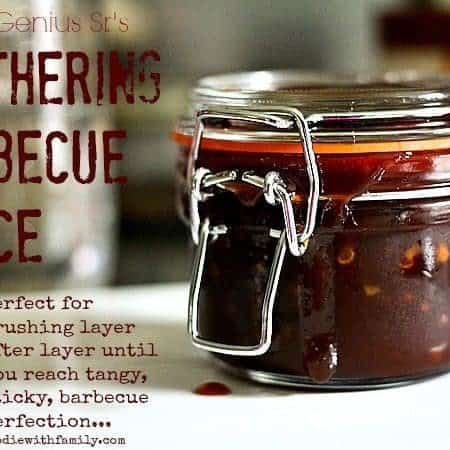 Evil Genius, Sr.'s Slathering Barbecue Sauce
Rate Recipe
Ingredients
1

cup

ketchup

1

cup

apple cider vinegar

1

cup

brown sugar

1/2

cup

Jack Daniels honey Dijon mustard

3

tablespoons

soy sauce

3

tablespoons

Chinese pepper paste

Chili Garlic Sauce or Sambal Oelek

4

cloves

garlic

peeled and minced

1

teaspoon

liquid smoke

1/2

teaspoon

cayenne pepper

optional
Instructions
Combine all ingredients and bring to a boil, stirring until the sugar is dissolved. Drop the heat to low and simmer, stirring frequently, until it has darkened in colour and reduced to be slightly thicker, about 15 minutes. When done, it should coat the back of a spoon and leave a trail when you draw your finger (CAREFULLY!) through it.

Use immediately or store in a tightly lidded jar or container for up to two weeks in the refrigerator. This can be frozen for later use.
Nutritional information is an estimate and provided to you as a courtesy. You should calculate the nutritional information with the actual ingredients used in your recipe using your preferred nutrition calculator.