My baby sister loves me. I know this for a multitude of reasons (like the fact that she tells me so) not the least of which is how she brought me homemade treats when she and her boyfriend visited me near Christmas AND a plate to use for photographing food. She's good, people. She's very good. The treats she brought were INSANELY addictive and ridiculously easy to make, too: Spicy Chocolate Coconut Clusters.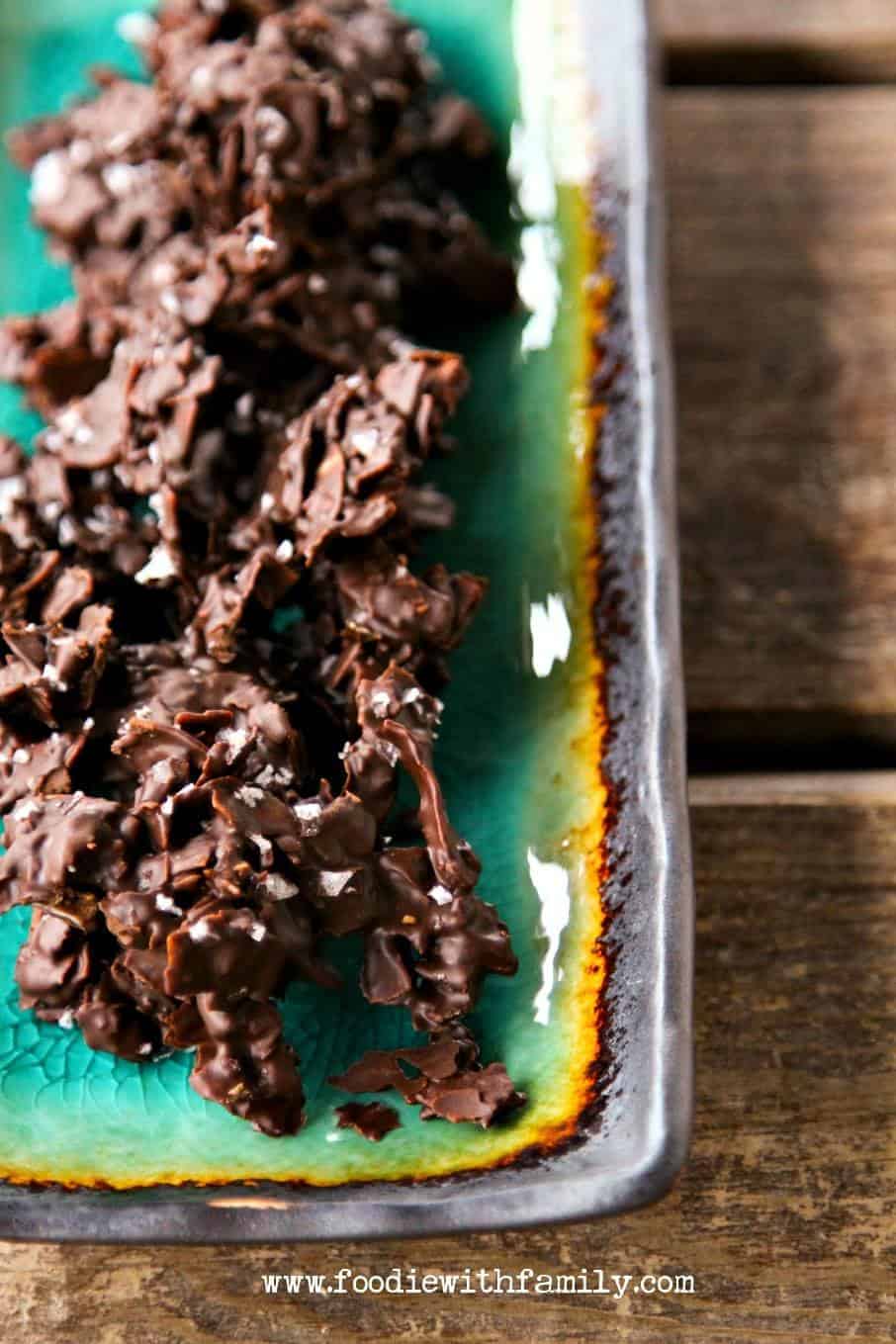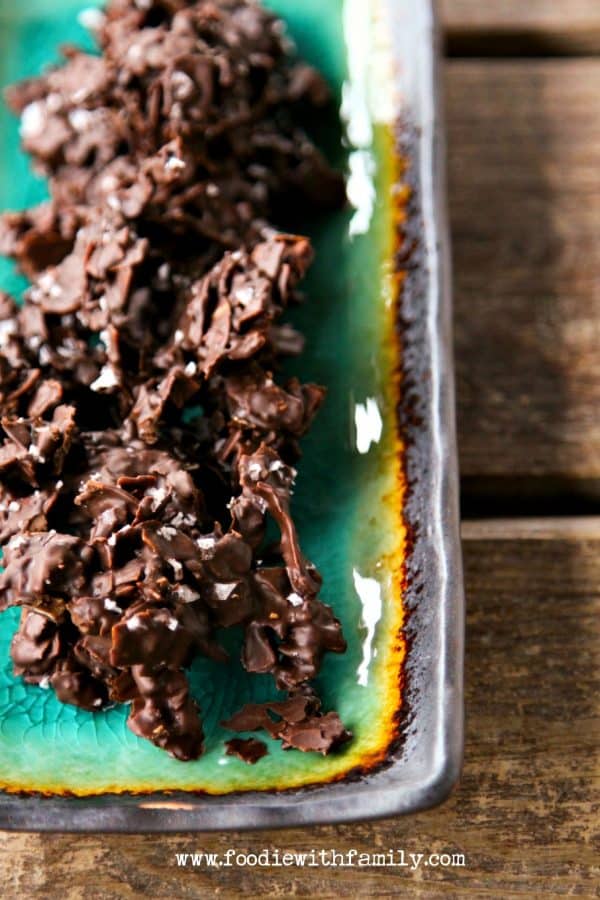 While you're ogling the Spicy Chocolate Coconut Clusters, please have a look at that lovely plate. Like I said, my sister loves me. And like I also said, these Spicy Chocolate Coconut Clusters couldn't get much easier to make. Simply melt down a really good quality chocolate -Airlia used a chile-infused chocolate- mix with toasted coconut, dole out into clusters on parchment or waxed paper, silpats, or foil, and let it firm up. I added a pinch of my favourite sea salt to the top, because salt has a wonderful way of making chocolate taste even intense and, well, chocolatey!
My husband walked by and dipped his hand into the bag of Spicy Chocolate Coconut Clusters Airlia had given to me. He walked away munching, turned on his heel and walked back, then dipped his hand in again. Once more he started leaving the room and came back. Then we both stood there eating until it was gone.
Living as rurally as we do, I worked up a couple of hacks to make it easier to make when you don't live in a place with extremely well-stocked grocery stores.
Cook's Notes
The flaked coconut is -to my mind- a necessity, so I opted for mail ordering it from Amazon. You can use toasted coconut chips (a la Trader Joes, Bare, or Dang) but I wanted these Spicy Chocolate Coconut Clusters in QUANTITY and it was far more budget friendly to use a 12 ounce bag of Bob's Red Mill Flaked Coconut and toast it myself than to buy and use a bunch of smaller bags of coconut chips. Side note: Have you eaten those chips? I have ZERO willpower or shut off valve around those. They own me.
On a similar note, there IS indeed a difference between Flaked coconut and shredded coconut. The difference is mostly textural, with the flaked coconut being bigger pieces of coconut and providing more crunch in the finished product. One way or the other, though, please use unsweetened coconut in this recipe. It just tastes better and makes this borderline health food, to boot.
More coconut talk. If you DO order or buy the flaked coconut, you'll need to toast it yourself. This is no big deal. Spread the coconut flakes out on a sheet pan and put into a preheated 375°F oven, stirring frequently, for 5 to 7 minutes, or until fragrant and golden brown around the edges. Don't leave it unattended though, because scorched coconut is sad coconut.
This is a recipe designed to be made with dark chocolate. My sis used Lindt Excellence Chili Chocolate for hers, and it was amazing. I was unable to buy that nearby, so I opted for a good quality dark chocolate melted down with ground cayenne pepper mixed into it. The results were very similar, so I give options for both in the recipe.
Sea salt. Don't skip it. You can go as heavy or as light as you want, but a presence of it will elevate these Spicy Chocolate Coconut Clusters to something sublime. I, as always, prefer Maldon Sea Salt Flakes, both for their crunch and their clean taste. Okay, they're pretty, too.
One final note: feel free to increase or decrease the recipe as you prefer, just remember you're looking at equal parts by weight of the flaked coconut and chocolate. You DO realize how delicious this will be, right?
Connect with Foodie with Family
facebook | pinterest | instagram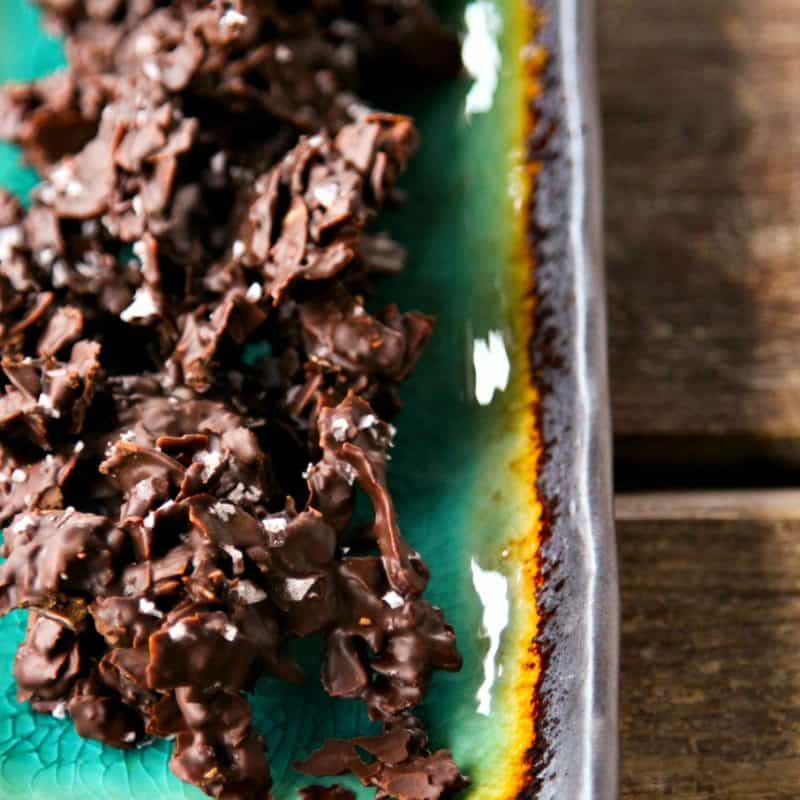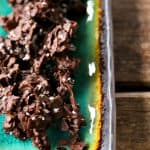 Print
Spicy Chocolate Coconut Clusters
Recipe adapted from Airlia Shaffer and Elliott Cartee
Ingredients
4

ounces

chili dark chocolate

or 4 ounces dark chocolate plus 1/2 teaspoon ground cayenne pepper

4

ounces

toasted coconut flakes or plain toasted coconut chips

sea salt flakes to taste
Instructions
Line a baking sheet with a silpat, parchment or waxed paper, or foil and set aside.

Gently melt the chocolate (and cayenne if using) in a double boiler or in a microwave safe bowl at 50% power (stirring after every 30 seconds) until smooth. Gently toss in the toasted coconut flakes or coconut chips, then spoon into clusters on the prepared pan. If it runs together, don't worry, you can break it up when it solidifies. Immediately sprinkle sea salt flakes over the top. When the clusters have firmed up and cooled completely, break into bite sized pieces and store in an airtight container at room temperature.