I like to think of fall as "Snack Food Season". I'm not a football fan, but I am a fan of finger food and the two seem to go hand in hand. I can't complain about football because it increases the public demand for my best-beloved snack goodies. I had a hankering for some munchies and my guys had just sat down to watch the Buffalo Bills shoot for the moon, so I decided to get a little creative in the kitchen. I crisped some bacon, chopped it, stirred it into sour cream with some Cheddar cheese, garden chives, and various spices and Bacon Cheddar Chive Dip was born.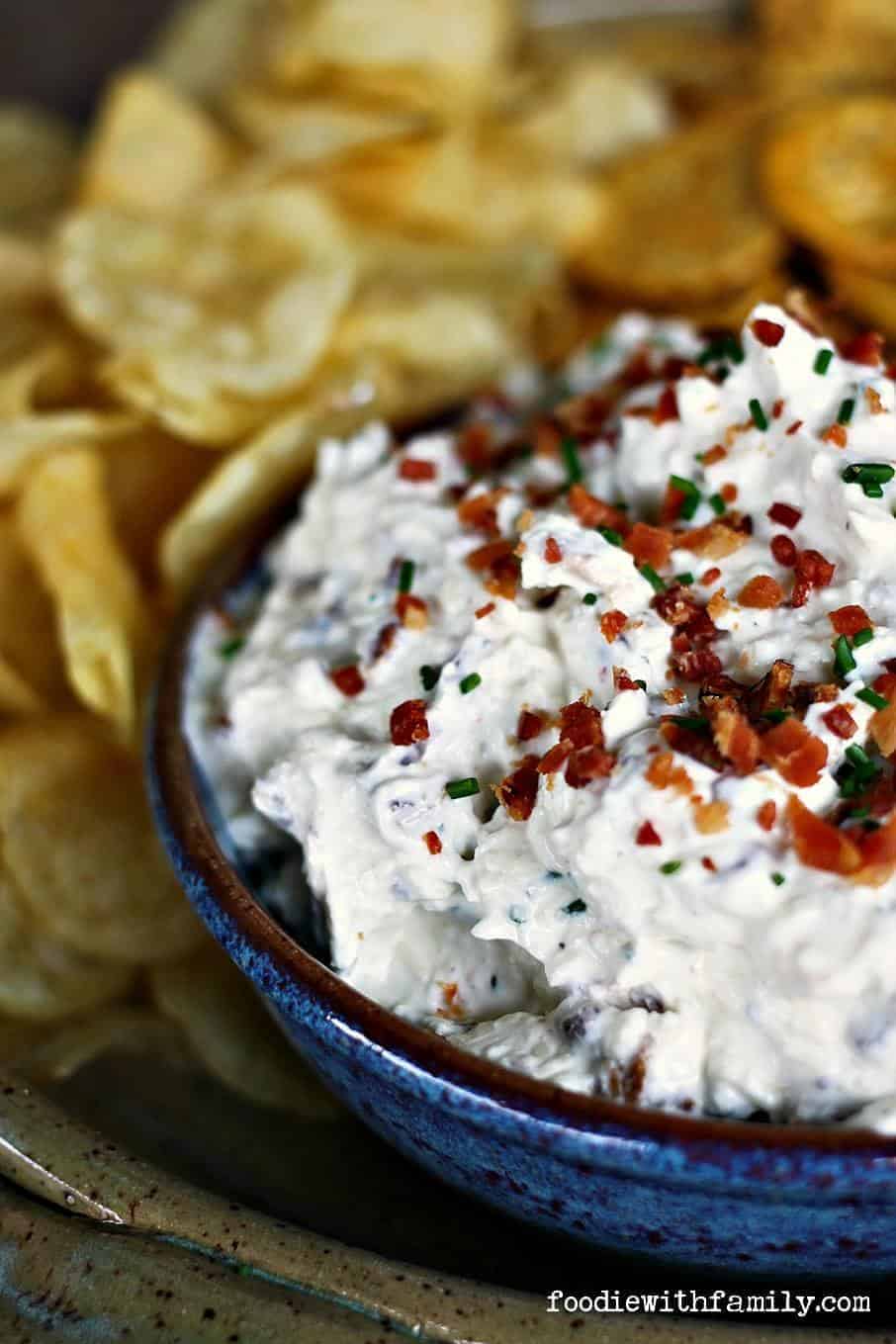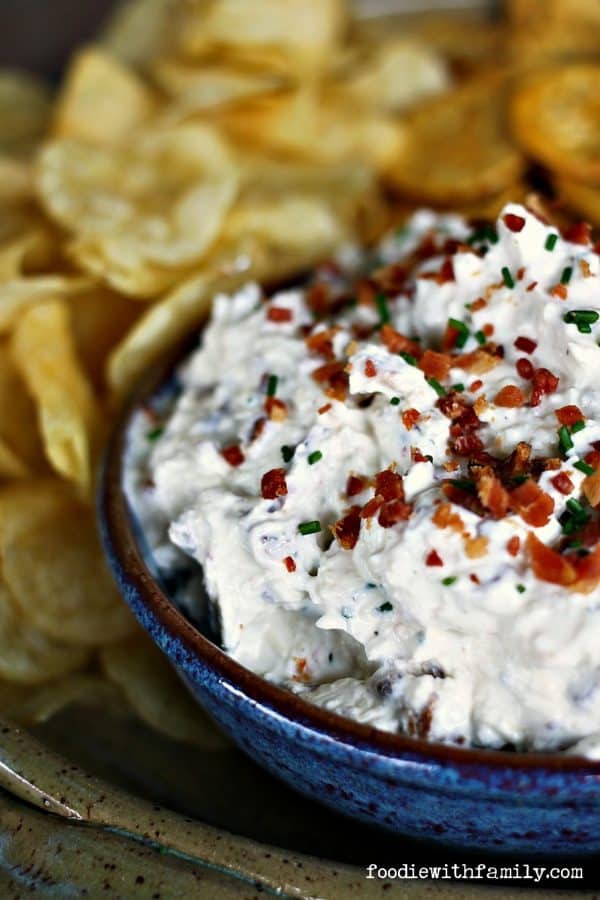 There's something so ridiculously enticing about this dip. Crunchy, crispy, salty, smokey bacon bits with finely shredded Cheddar cheese (NOT from a bag people. Not from a bag. I'll explain this later.), and minced chives all laced through tangy sour cream and a wee bit of garlic, onion, and celery seed. Oh Mama. Oh mercy. Oh, friends. My hubby made the grave mistake of heading to the home office to take a business call right when I put the dip on the table in the den. When he came down 15 minutes later, there was one tablespoon left. ONE TABLESPOON. That'll teach HIM to take a business call on a Sunday afternoon.
I'm a nice wife, though… I made a second batch. This second batch disappeared in ever-so-slightly-less time than the first at 20 minutes. That's right. We ate 4 cups of sour cream, 4 cups of shredded Cheddar, 24 strips of bacon, et al in two hours time. What's your point?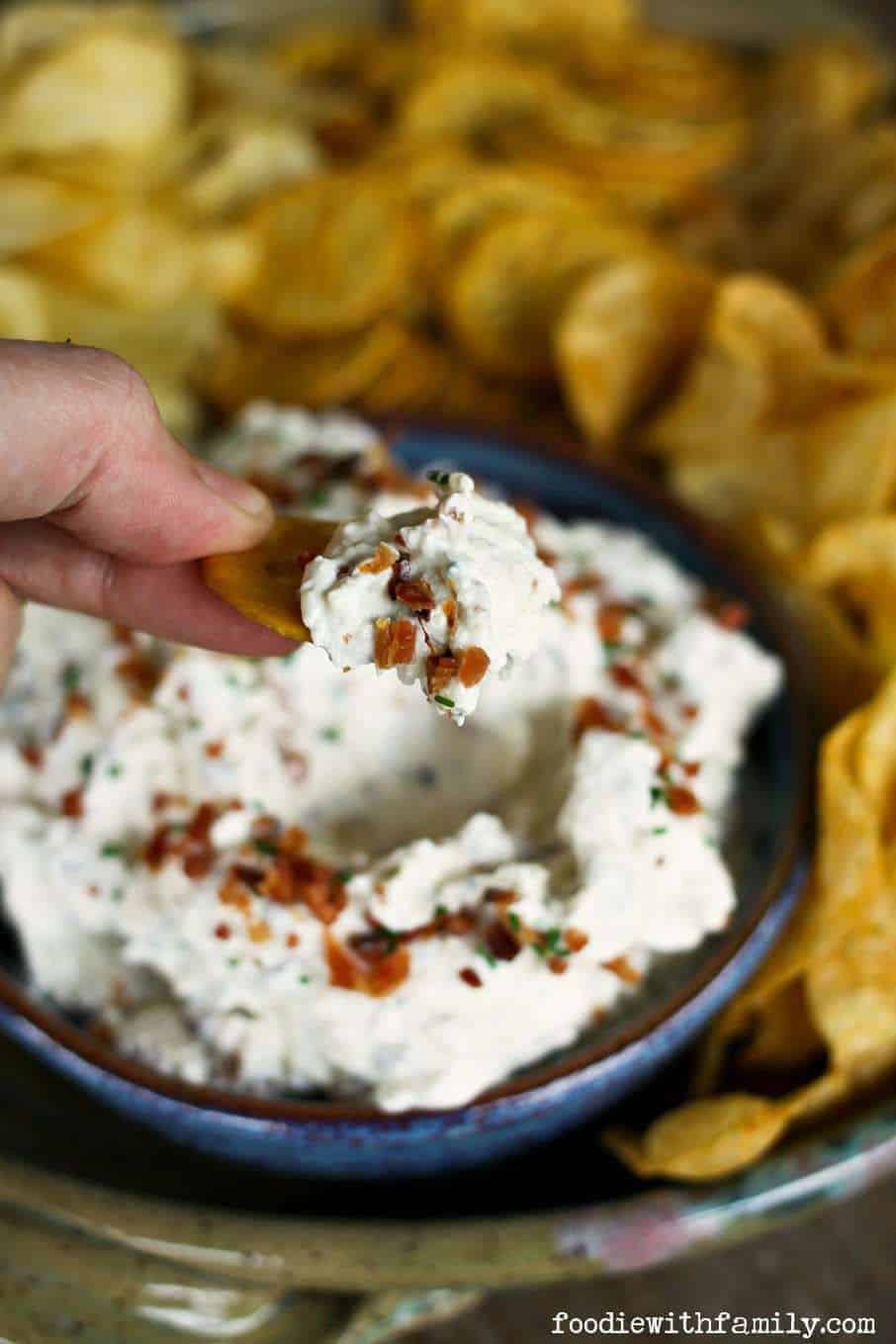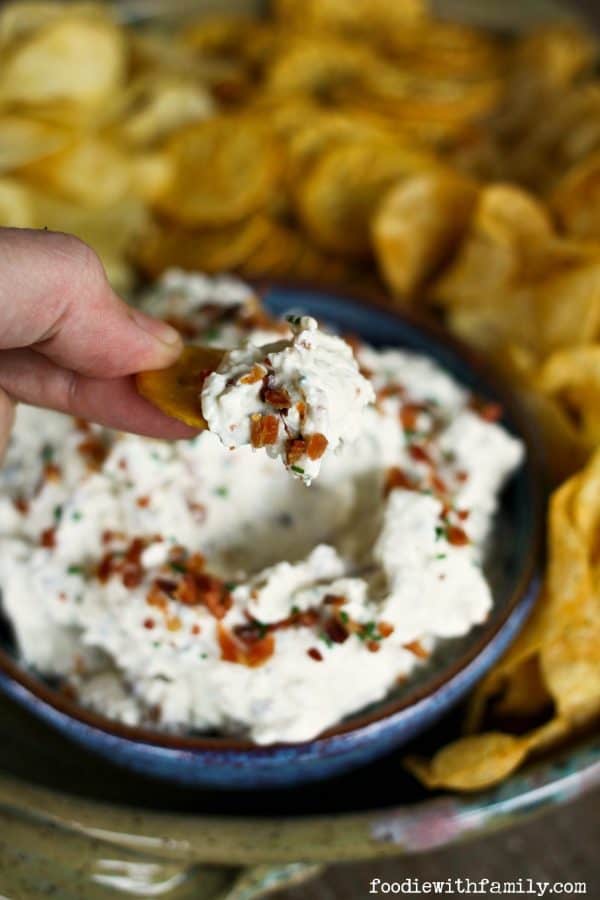 Cook's Notes
While chewy vs. crispy bacon is a debate for the ages, there's no question here; use crispy bacon. It will absorb some of the moisture from the sour cream and become chewy as it is, so you want to begin with something that has some oomph and body. As usual, I recommend a thick cut bacon (preferably homemade) for the dip, but use your preferred bacon, whatever it is!
PLEASE do not use fat-free sour cream. It just ain't sour cream. It might be a cultured cream product, but it's full of fillers and extenders and thickeners and just doesn't have the same kind of flavour impact as the real stuff. I realize I'm a fine one to talk having eaten nearly a cup of the stuff myself, but still. It's SIGNIFICANTLY better. Go for it.
Let's talk cheese now. Do NOT go for bagged, pre-shredded cheese here. Shredding your own Cheddar on the finest part of your cheese grater will yield tiny little filaments or threads of Cheddar that blend beautifully into the dip. The result is that you get bursts of every single ingredient in every bite. Trust me. It's worth your time. The pre-shredded stuff has a cellulose coating which is great for keeping it from clumping in the bag, but rather detracts from letting it blend into everything else in a dip.
Chives!!! Go on now! Grab some fresh ones. There is a time and a place for dried things (which we'll address in the next bullet points) but this isn't one of them. Fresh chives are relatively cheap, so go for it!
The dried stuff? Yeah. Here's the time and place. Use dried granulated garlic and onion (or garlic and onion powder.) It is powdered and blends so prettily into the sour cream that you will get a presence of garlic and onion without recognizable chunks of either which IS our goal after all.
Leftovers? I can't even pretend we've had any. I'd say store them in the refrigerator.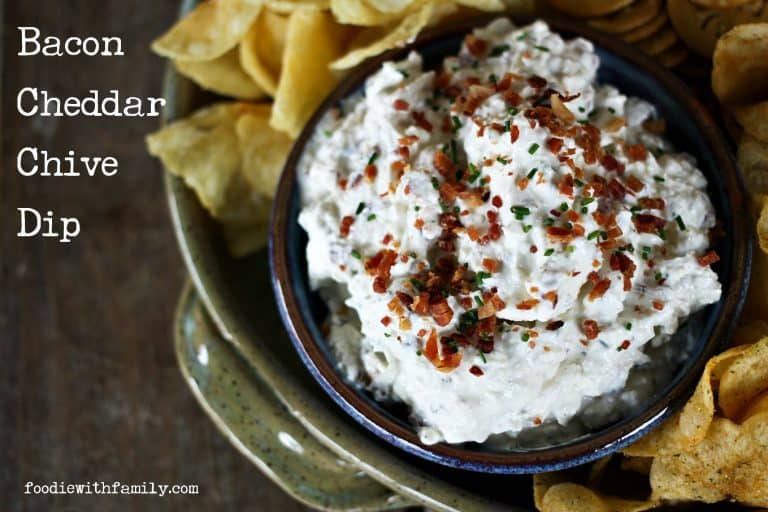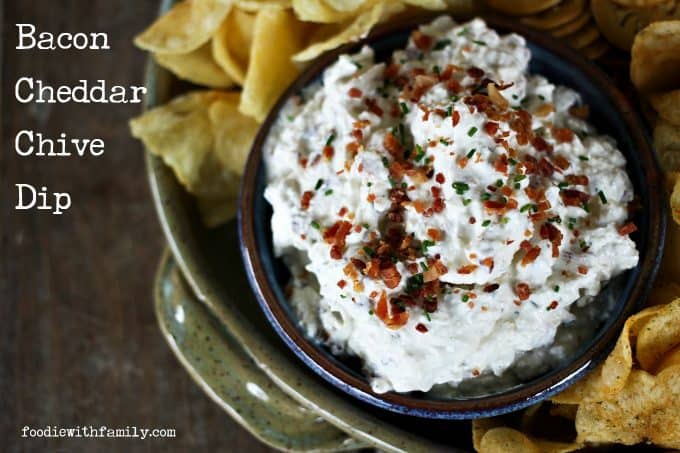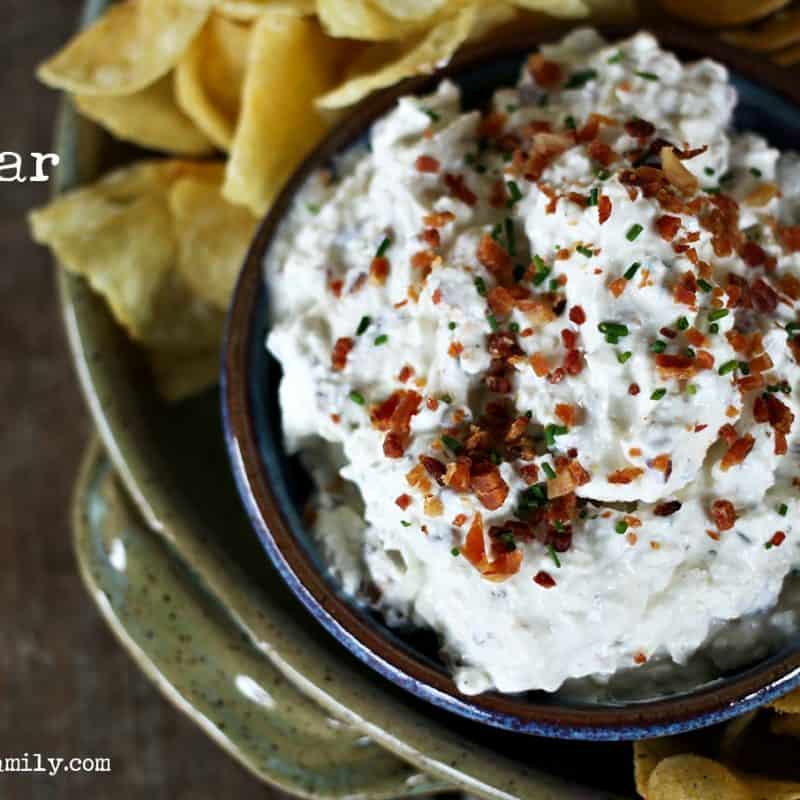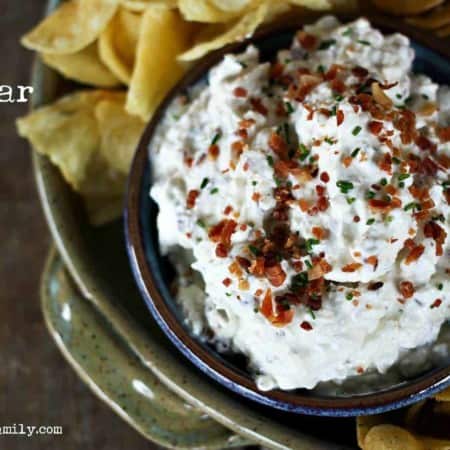 Ingredients
2

cups

real sour cream

2

cups

finely shredded Cheddar cheese

about 8 ounces

12

strips of crispy cooked bacon

finely chopped, 1 tablespoon reserved

a bunch of fresh chives

finely minced, about 1 tablespoon reserved

1

teaspoon

celery salt

or seasoned salt

1/2

teaspoon

granulated garlic

or garlic powder

1/2

teaspoon

granulated onion

or onion powder
Instructions
Combine the sour cream, Cheddar, bacon, chives, celery salt, garlic, and onion in a mixing bowl until evenly mixed. Transfer to a serving bowl and garnish with reserved bacon and chives.
Nutritional information is an estimate and provided to you as a courtesy. You should calculate the nutritional information with the actual ingredients used in your recipe using your preferred nutrition calculator.