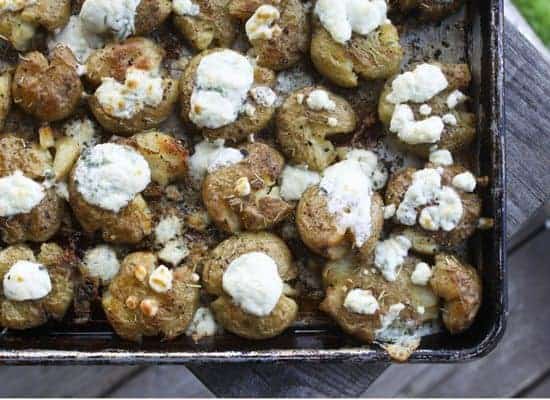 See those potatoes? Those are worth heating up the oven in ninety-plus-degree weather with seventy-seven percent humidity. I know this because that is exactly what I did yesterday and I'm doing it again tonight. It is no exaggeration to say that I think I'm allergic to heat and humidity, so let that tell you just how great these actually are. Those are Crash-Hot Potatoes (of Pioneer Woman and Jill Dupleix fame) topped with Gorgonzola cheese and they come with a story.
Back in July 2008, I was a blogging baby. Not only was I new to the world of writing a blog, I was just getting started reading other blogs. Not just food blogs, mind you, but blogs period. What can I say? I'm a slow study on trends. I blame my children. They're just too easy to look at and I get easily distracted…
But we were talking about the potatoes, weren't we?
So. I stumbled upon a blog; Evil Chef Mom. It was hilarious, it was witty, the photography was stunning, the woman had four kids. I felt like I found someone who I would love to read regularly. She talked about Crash-Hot Potatoes and said it was from The Pioneer Woman. I clicked on the link. And here's where the story turns into one where I look really, exceptionally thick-headed. I thought it was still part of Evil Chef Mom. I thought maybe The Pioneer Woman was a separate section of Evil Chef Mom devoted to talking about Crash Hot Potatoes and honeymoons in Australia… Because the next thing I clicked on in PW's site was a post talking about her four children; two boys, two girls. Could there be two women with the same configuration of four children? It didn't even occur to me. It took re-reading Evil Chef Mom's post later in the day to realize that we were talking about two different people here. Two different women with two different sets of four children with two different websites. My head met my desk. Then I got the heck over it because these potatoes were so very good.
So. Very. Good.
It's funny how things often go. The real human behind Evil Chef Mom, Krysta, has become one of my best friends. And recently, Krysta helped me prepare to spend a weekend with the real human behind The Pioneer Woman, Ree Drummond, who also turned out to be a lovely person. Sometimes the way life brings things together makes my feeble mind giggle.
*So far I've admitted confusing two very distinct writers/photographers and giggling over coincidences. I'm looking super bright right now, eh?
Not long after I got back from the Ranch, (Meanwhile, back on the ranch…) Krysta told me she had taken the concept of Crash Hot Potatoes to another level. After boiling, she had smashed them, olive oiled them, salted and peppered them, then topped them with blue cheese and broiled them. Hubba hubba was the phrase that came to mind.
She gave me her blessing  to post them -nay, she nearly insisted- before she did. (Now, people, if you're new to blogging like I was in July 2008, let me inform you… that is a HUGE sacrifice. I told you she was a great friend.) I combined Krysta's idea with my salt potatoes and the original roasting method on the potatoes for a side dish that is, as I said, good enough to make you sweat voluntarily by firing up the oven on the doggiest of dog days.
Terminally crisp (as Jill Dupleix so eloquently calls it) exterior, creamy potatoey interior, topped with melted, fragrant Gorgonzola cheese with just the teensiest bit of toasty colour on top. When my Mr. Meat-and-Potatoes nine-year-old boy wandered into the kitchen to suss out the dinner landscape he asked,"What are those?" I responded, "Those are Crash-Hot Potatoes topped with Gorgonzola cheese." He pumped his fist, gave a firm, "BOOYAH!" and fetched a plate. He even skipped the accompanying grilled chicken to save more room in the tummy for these potatoes. I know I've said it already, but they really are just that good.
So thank you Krysta, Ree, and Jill for what is destined to be a dish that sits on our table for years and years to come.
Pssssst. If you throw out those little melted, crisped bits of Gorgonzola cheese I will come kick your knees. Those are not to be wasted. If you can't handle the pure gorgy that way, toss them onto salad like croutons. I mean it. If you value your knees, eat those.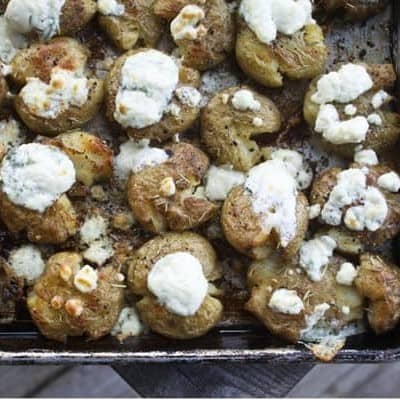 Terminally crisp (as Jill Dupleix so eloquently calls it) exterior, creamy potatoey interior, topped with melted, fragrant Gorgonzola cheese with just the teensiest bit of toasty colour on top.
Ingredients
1

batch leftover salt potatoes

*See notes if you don't have leftover salt potatoes, warmed slightly

6

tablespoons

extra virgin olive oil

divided

1

tablespoon

chopped fresh rosemary

or 1 1/2 teaspoons dried rosemary, slightly crumbled between fingers.

Freshly ground black pepper

to taste

Crumbled Gorgonzola cheese

to taste
Instructions
Preheat oven to 450°F.

Drizzle 3 tablespoons of extra virgin olive oil evenly over a rimmed baking sheet.

Scatter potatoes on the olive oil and use a potato masher or heavy mug to gently smash the potato until it is about two times as large in diameter as it was when you began.

Drizzle the remaining 3 tablespoons of extra virgin olive oil evenly over the potatoes.

Toss the rosemary evenly over the potatoes and grind black pepper over the potatoes to taste.

Pop the pan into the oven and roast until the potatoes are sizzling, brown on the bottom, and golden on top, about 20-25 minutes.

Remove the pan from the oven and turn the broiler to High.

Place the Gorgonzola crumbles on top of the potatoes according to how much bleu cheese you like.

Return the pan to the oven and broil until the cheese melts and gets just a couple little golden brown toasty bits.

Remove the pan from the oven and let the potatoes rest for 3 minutes before serving.
Notes
If you don't have leftover salt potatoes (either because you ate the whole batch -good for you!- or you haven't made them yet -what are you waiting for?) you can still make these. Use the following method: Toss 16 new, small, unpeeled potatoes into a pot of heavily salted boiling water. Return to a simmer and cook for 10-15 minutes, or until they are easily pierced with a skewer or butterknife. Drain and proceed!
Nutritional information is an estimate and provided to you as a courtesy. You should calculate the nutritional information with the actual ingredients used in your recipe using your preferred nutrition calculator.