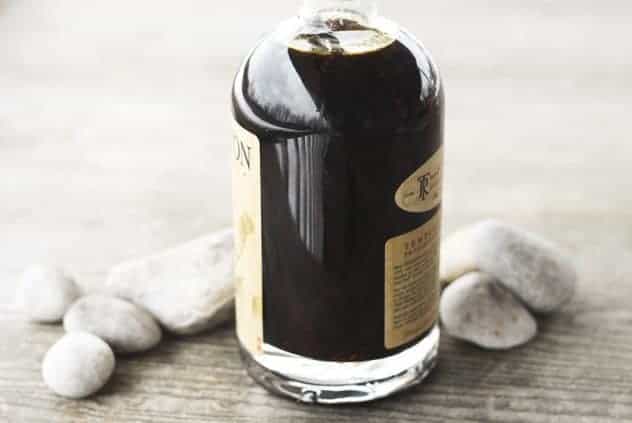 I am obsessed with vanilla extract. Since I started making my own extract several years ago, I haven't bought vanilla extract (either faux or pure) once. Once you've made your own and tasted just how much better it is (and realized just how easy the entire process is) it's hard -if not impossible- to go  back.
Why bother when you can get pure vanilla extract relatively cheap? First, the homemade stuff is customizable. You can make it as strong or as weak as you'd like it. Normally, the method involves splitting beans, pouring a neutral high-alcohol spirit such as vodka over it, capping it, shaking it and letting it age until you can't really taste an alcohol burn from it. The idea is that the alcohol becomes a vessel for mega vanilla flavour delivery. I told you it was easy, didn't I? That's wonderful, isn't it? It's fabulous. I have a giant jug of the stuff in my cabinet… but…
Yes, there's a but…
Sometimes I WANT a little burn to help cut some sweetness: I want that presence of alcohol WITH the vanilla. And in those cases, I reach for this stuff; Whiskey Vanilla Extract. The process is every bit as easy. I split vanilla beans lengthwise and stuff them into an empty bottle. The prettier the bottle the better. It's not like it effects the overall outcome, but life is hard enough: Let's try to get some beauty in there where we can.
I pour something drinkable but not expensive* (ask the clerk at your local liquor store for a good, inexpensive but sippable whiskey or bourbon.) over the top, cap it, shake it and let it go for a week.
*I did NOT use Templeton Rye Whiskey for my extract, merely the empty bottle.
A bottle of that on your pantry shelf invites you to use it, and since we're not going with a neutral alcohol here but highlighting the richly flavoured, slightly smokey whiskey taste, you can start using it about a week or two after starting it. It will mellow with age, so if you find it's a little too brassy and bright at the beginning, just stash it in a dark corner and retrieve/retry it later.
I love to use this in place of the 'regular' vanilla extract in whipped cream, pecan pies, fruit crisps, and hot fudge sauce. What would you make with Whiskey Vanilla Extract?
A Note on Making This for Gifts:
You can use canning jars to prepare this if you'd like, but I find using an actual liquor bottle makes it easier to use the finished vanilla extract without spilling it. If you don't have access to empty liquor bottles or want to prepare it in smaller containers for gifts, dollar stores and big box stores usually have a nice selection of small decorative bottles with corks or twist caps. Just be sure the caps fit snugly to prevent spilling when you shake them.
A Note on Finding Inexpensive Vanilla Beans (because it CAN be done!)
You can use whatever vanilla beans you prefer, Madagascar, Tahitian, Bourbon (Hey! Bourbon Bourbon Extract!). I don't actually have one that I love better than others, I love 'em all! I buy my vanilla beans in bulk through one of two places. Here they are in order of preference.
My beloved Amazon.com has them When you consider that the best price I have found in grocery stores is about $10 per package of 2 beans, and that there are about 50 beans in a half pound, that's akin to saving $223. Trust me. My math is good, I'm  a homeschooling mom. And better yet, when the beans are properly stored (at a steady room temperature out of direct light) they last for at least a year.
eBay. Seriously! I have bought pounds of vanilla beans via eBay over the years. Sometimes you can get a better deal on eBay, sometimes Amazon has the better price. Keep your eyes peeled and get bargain happy!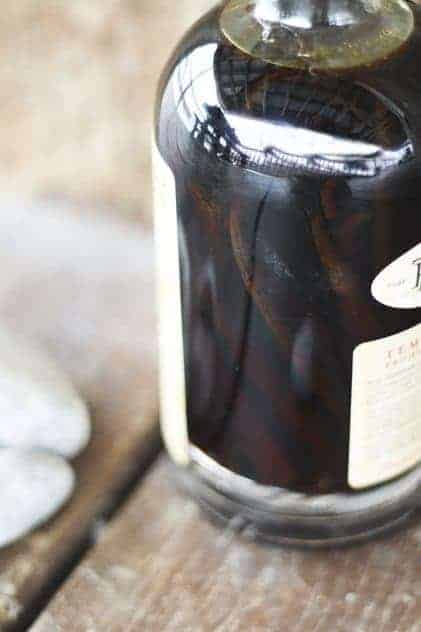 Whiskey Vanilla Extract | Make Ahead Mondays
Rate Recipe
With its smokey, richly flavoured, high alcohol content, whiskey makes the perfect vehicle for homemade vanilla extract. There's nothing neutral about this vanilla extract, so use it where you'd love a little bite: in whipped cream, pecan pie, fruit crisps, and the like. This makes a wonderful and unique hostess gift for the holidays.
Ingredients
1

clean and empty 750 ml liquor bottle with a tight fitting lid

or a glass container that can hold about 3 cups of liquid with a tight fitting lid.

5-20

whole vanilla beans

depending on how strong you'd like the vanilla flavour

about 3 cups whiskey

depending on the container you use
Instructions
Split the vanilla beans lengthwise then in half. Slide them into the empty liquor bottle. The fewer the beans you use, the weaker the vanilla presence will be. I like a LOT of vanilla and stuff as many into the bottle as I can while still leaving enough room for the beans to be covered by liquid and the lid to be added when I'm done.

Insert a funnel into the top of the bottle and pour in as much whiskey as you can, being sure to cover the beans completely. Add the lid, shake vigorously for about 2 minutes, then place in a dark, cool place for at least one week, shaking the bottle daily, before using. The longer the extract ages, the more mellow the whiskey and the more pronounced the vanilla will be.
Nutritional information is an estimate and provided to you as a courtesy. You should calculate the nutritional information with the actual ingredients used in your recipe using your preferred nutrition calculator.