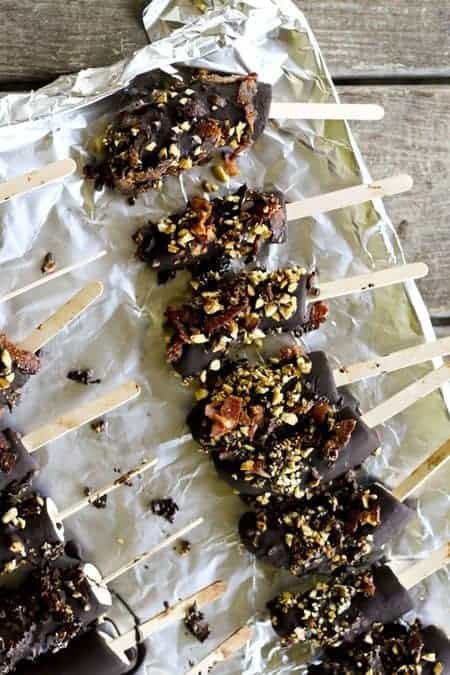 There are few treats simpler and more satisfying than a chocolate covered frozen banana when the days are steamy hot. It takes very little by way of ingredients, skill, or equipment, and everybody (with the exception of the banana hating contingent) loves them. My kids have even taken to making them without my help when the urge is upon them. I'm all in on self-reliance, especially if it buys me five minutes of sitting down!
…And then, while noodling around on facebook last week, I saw a post from Leite's Culinaria that stopped me cold. It was a frozen banana post by Matt Armendariz, but it wasn't any old frozen banana… It was a riff on Elvis's famous favourite sandwich: peanut butter, banana and bacon. Well, shoot. I knew that was happening soon at my house. I borrowed Matt's and Elvis's concept and applied them to my tried-and-true frozen bananas and homemade magic shell recipes. As I expected and hoped, it was a symphony of salty, sweet, crunchy, and cold. It was -in short- exactly what I had wanted in an afternoon snack.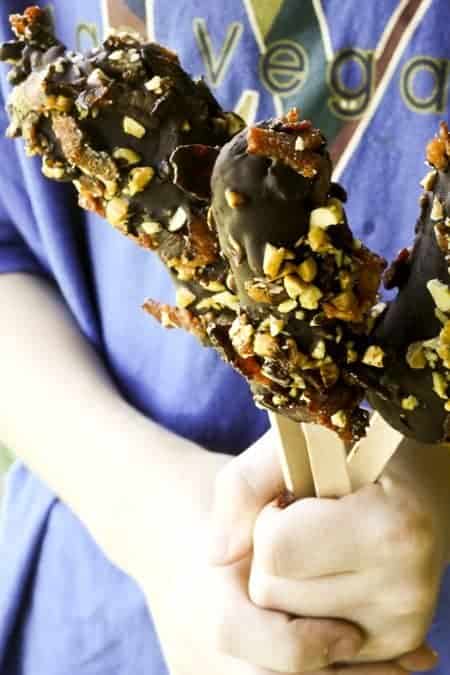 Do not balk at the idea of combining chocolate and bacon. It's kind of magical in a weird and utterly addictive way. The smoky, salty, chewy bacon matches perfectly with the crunchy chopped peanuts and sweet, smooth chocolate and banana. And boy howdy, if you're looking for a way to make the guys in your life happy, look no further. There were eyes rolling back into heads while these were eaten, my friends. Even the two banana-haters here nibbled at them with pleasure.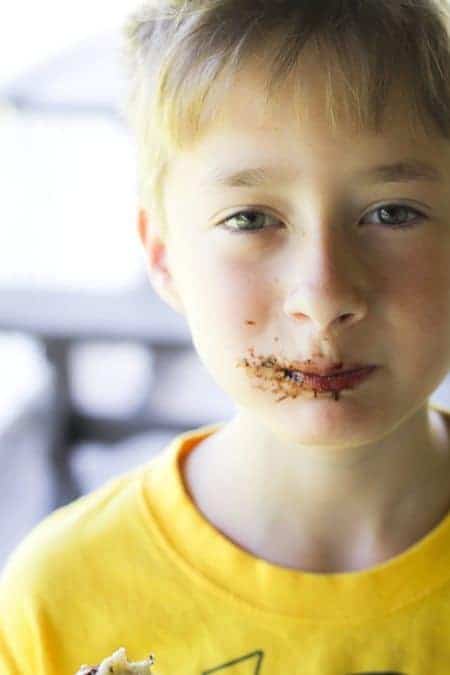 …So. Worth. It.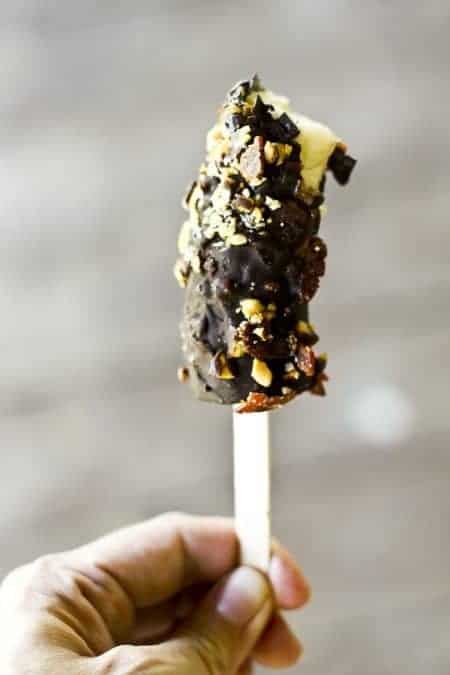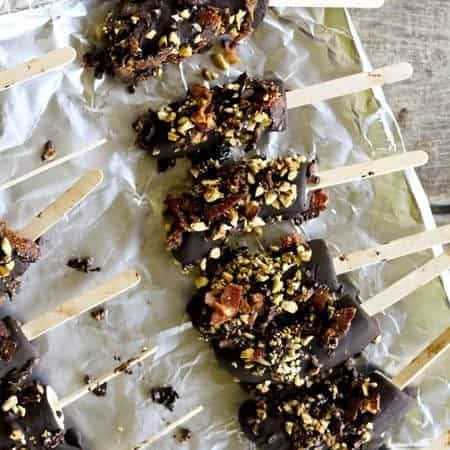 Elvis Frozen Bananas (with Chocolate, Peanuts, and Bacon!) + a GIVEAWAY
Rate Recipe
The classic frozen banana treat gets the royal treatment with an upgrade worthy of the King. Elvis, that is... They're dunked in a delicious homemade chocolate shell coating then rolled in a mixture of chopped peanuts and crumbled crispy bacon. Adapted from and with thanks to
Matt Armendariz
and
Leite's Culinaria
Ingredients
8

ice pop sticks

4

bananas

peeled and halved

3

cups

dark chocolate chunks

4

tablespoons

coconut oil

1

cup

chopped peanuts

1

cup

crumbled

crisp cooked bacon
Instructions
Line a sheet pan with parchment paper or foil (to make it easier to remove the finished pops. Insert the pop sticks as far into the cut ends of the bananas as you can without poking the stick out of the side or other end. Make sure you leave enough room to hold onto. Lay the bananas out on the prepared tray, put in the freezer and freeze for at least 2 hours.

To Make the Chocolate Shell Coating:

Put the chocolate chunks into a microwave safe jar. A wide-mouthed pint jar works perfectly for this project. Microwave on high for 1 minute. Remove the jar from the microwave and stir to check whether the chocolate is melted. If it is not, microwave again in 15 second increments until it is. When chocolate is completely melted, add the coconut oil and stir until smooth. Use immediately or add a tight fitting lid and let cool to room temperature before refrigerating for up to 1 month.

To Reheat the Shell Coating Later:

Remove lid from the jar and reheat on medium power in 30 second increments, stirring well after each burst, until smooth and thin. Pour and/or dunk as needed!

To Make the Elvis Frozen Bananas:

Toss together the chopped peanuts and crumbled bacon on a dinner plate. Working quickly, take one frozen banana half at a time, dunk into the chocolate dip and roll around to coat thoroughly, then quickly lift the banana and press into the peanut/bacon mixture. Transfer the coated banana back to the lined pan and repeat until you run out! Put the pan of coated bananas back into the freezer for at least 30 minutes before serving. These are best eaten within a week of being made.
Notes
Store finished bananas individually wrapped with plastic wrap in the freezer for up to a week.
Nutritional information is an estimate and provided to you as a courtesy. You should calculate the nutritional information with the actual ingredients used in your recipe using your preferred nutrition calculator.
Now, let's talk some more Frozen Treat Week giveaway goodies, shall we?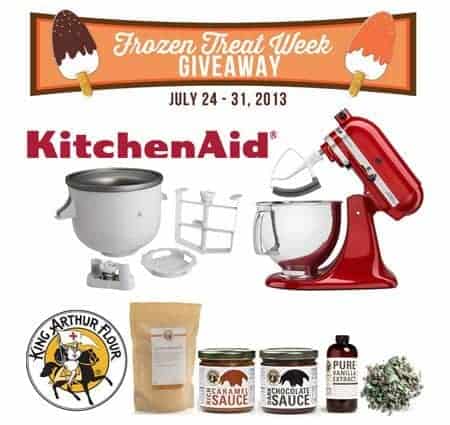 It doesn't get a whole lot more exciting than this, friends. Today, we're starting a giveaway for the mother of all kitchen gadgets- a Kitchen Aid Stand Mixer WITH an ice cream maker attachment. Holy moly! To sweeten the pot a bit (heh), King Arthur Flour (my beloved) has offered an ice cream making goody prize pack containing 1 jar caramel sauce, 1 jar dark chocolate sauce, 1 bag mint chocolate chips, 1 bottle pure vanilla extract and 1 bag coconut milk powder. Raise your hand if you want to win this incredible and generous prize package! Thank you so much, Kitchen Aid and King Arthur Flour!
While you're at it, please visit the other participating bloggers and see what fantastic treats they're offering today:
Blueberry Cheesecake Ice Cream from Katie's Cucina
Lavender Lemon Curd Frozen Yogurt from Nutmeg Nanny
Andes Mint Pudding Pops from Rachel Cooks
Homemade Cookies & Cream Ice Cream from Chocolate & Carrots
Raspberry and Riesling Sorbet Float from Sweet Remedy
Almost-Instant Healthy Mint Chocolate Chip Soft Serve from An Edible Mosaic
Coconut Hibiscus Granita from Cooking with Books
Ice Cream Sundae with Roasted Cherries from Cook the Story
Sweet and Sour Cherry Yogurt Pops from The Baker Chick
Peanut Butter Cup Ripple Ice Cream from Eats Well With Others
Strawberry Cheesecake Popsicles from Damn Delicious
Big thanks go out to Nutmeg Nanny and Katie's Cucina for organizing this generous extravaganza. We all win with great recipes for frozen treats to get us through the dog days and prize packs!

Disclaimer: This post is not sponsored by Kitchen Aid or King Arthur Flour, I did not receive product or payment to write this. Kitchen Aid and King Arthur Flour are, however, providing one prize package to give away.