May I talk to you for a moment about cake? I have a love/hate thing going with cake. When I was a kid I disliked cake. My poor mother. I asked for a pie every year for my birthday and my Mom has what borders on piecrust making phobia. I was a selfish little child.
After much contemplating over the years-which included eating many, many cakes of many, many varieties-I realized that what I really hated was frosting. And after playing around with frosting a bit I realized that what I actually hated was bad frosting, specifically. As in frosting made just with shortening, sugar and food coloring.
What really changed my opinion of cakes was learning to think outside the pastry bag. By chucking the ubiquitous buttercream I discovered that cakes -simple buttery cakes- weren't just merely edible. They were sublime. For years now I've topped my cakes with ganache, whipped cream, fruit preserves, syrups, and all sorts of other goodies. If you haven't made the leap, give it a try. In fact, try it with this cake.
Because this cake, in particular, is my favorite cake ever. And The Evil Genius's favorite cake ever. And three of my five children (but not the one who doesn't like fruit and not the one who doesn't like anything that the non-fruit lover dislikes. Please, Lord, let this be a phase.) I originally made this from the recipe that appeared in Everyday Food Magazine. I made it as written the first couple times and changed it out of necessity (was missing the allspice, but had nutmeg) the third time. There was no looking back. Nutmeg took up permanent residence in the recipe.
The rich, buttery cake provides the perfect foil for the sweet, tart, spicy, explosively flavorful cranberry topping. And could it get easier? I don't think so. This cake I could make in my sleep. And I think I have a couple times. Including the year that I gave birth four days before Thanksgiving, but was 'going to make a cake, dangit' to have with our dinner. This cake pleases everyone (excepting the aforementioned two children who call me Mama) who eats it. But don't just take my word for it. Make it. Heck, make two. Trust me. You'll be glad you did.
In the spirit of pleasing everyone all the time I'd like to point out that if cranberries ain't your bag you can definitely make this with an equal amount of fresh or frozen blueberries. Just scale back the cinnamon and nutmeg and maybe add a bit of lemon zest. We've made it -and loved it dearly- that way, too!
For a printer-friendly, photo-free version of this recipe, click here!
Cranberry Upside Down Cake
Recipe tweaked from the original appearing in Everyday Food Magazine. The eagle-eyed among you will notice that I'm making two cakes in the pictures while the quantities given below yield one cake. Go ahead and double it like I did. You know you want to…
Ingredients:
8 tablespoons unsalted butter, room temperature
1 cup sugar
1/2 teaspoon ground cinnamon
1/8 teaspoon fresh grated nutmeg (omit if you don't have fresh.)
1 -3/4 cups cranberries, fresh or straight from the freezer!
1 large egg
1 teaspoon vanilla extract
1 -1/4 cups all-purpose flour
1 -1/2 teaspoons baking powder
1/4 teaspoon salt
1/2 cup milk
Directions
Arrange a rack in the center of the oven and preheat to 350F. Use 2 Tablespoons of the butter to generously grease an 8-inch round cake pan.
Set aside.
Add 1/2 cup of the sugar and the cinnamon to a small bowl. Grate the nutmeg over the top…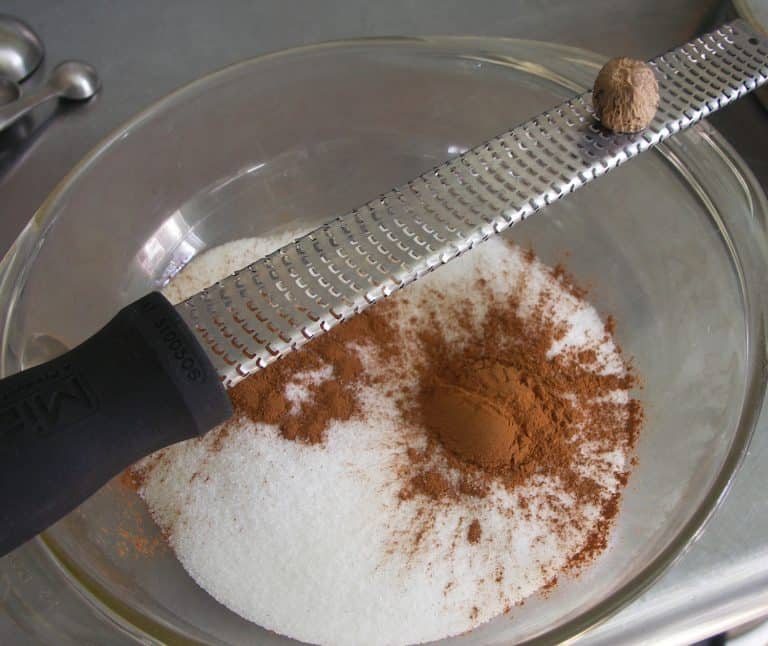 …and whisk together.
Pour mixture into the bottom of the prepared pan.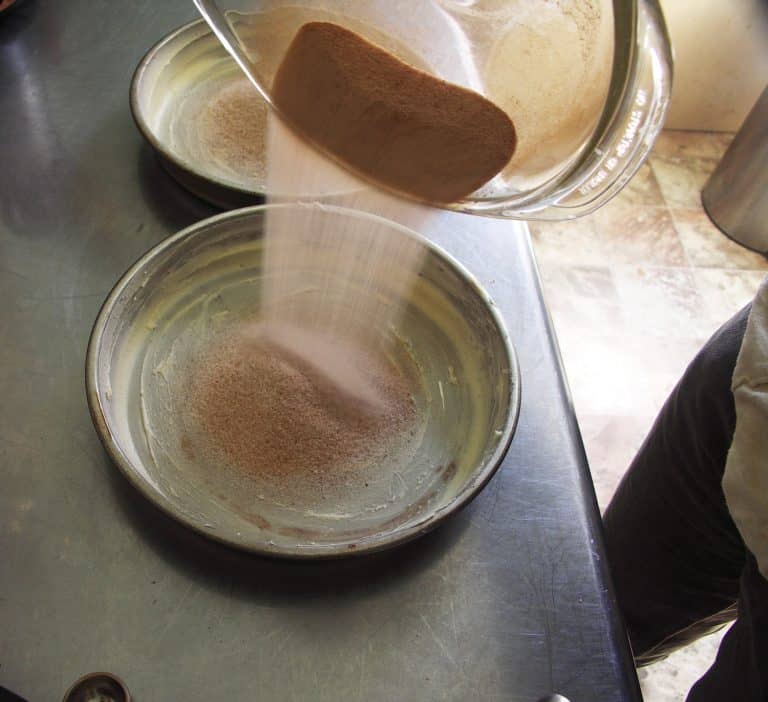 Tilt and swirl the sugar around until it evenly coats the bottom -but not the sides- of the pan.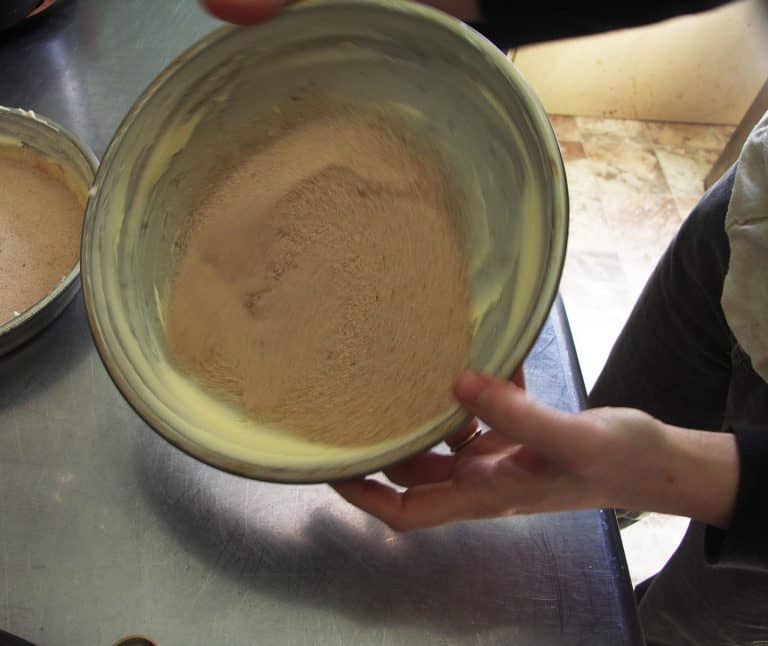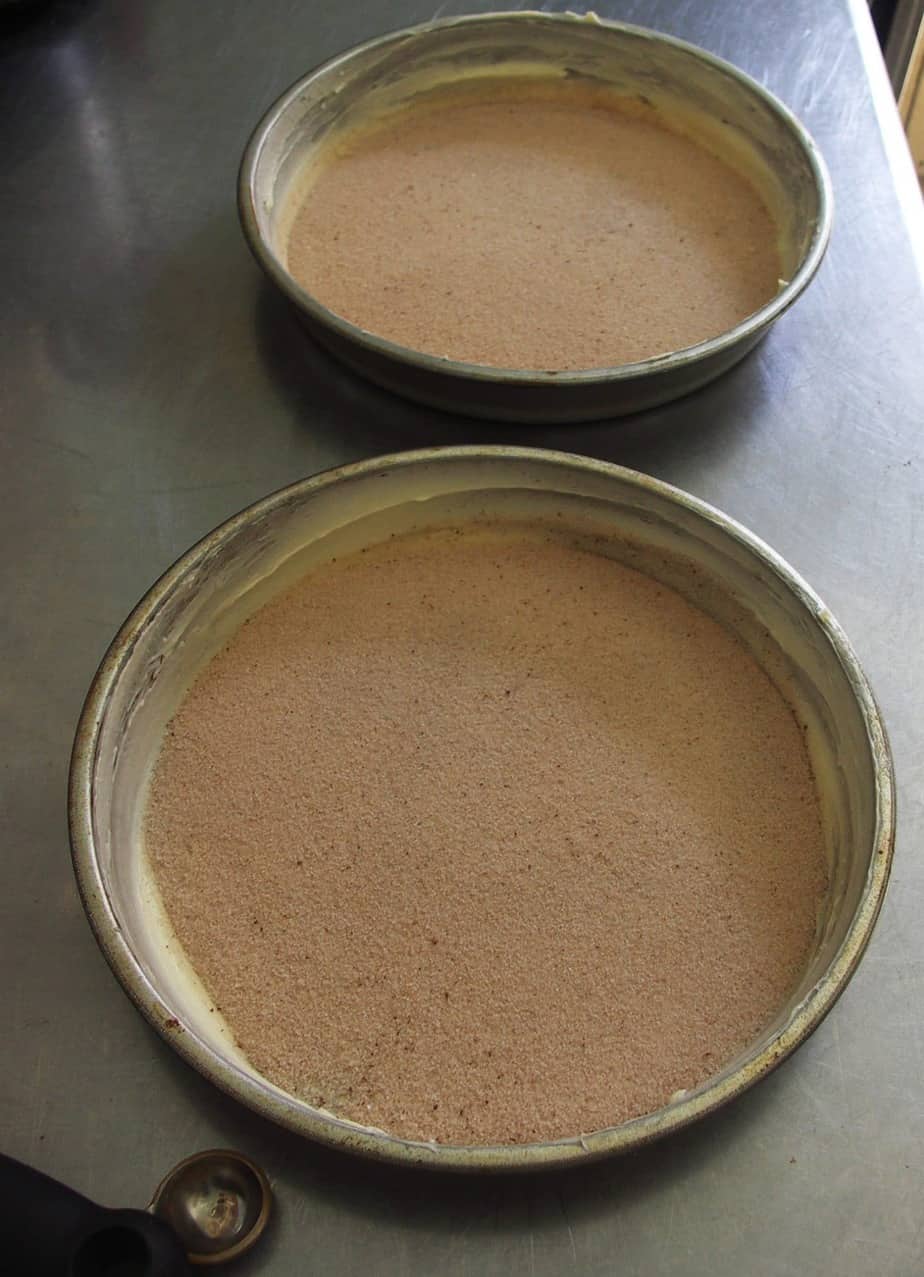 Arrange cranberries in a single layer on top.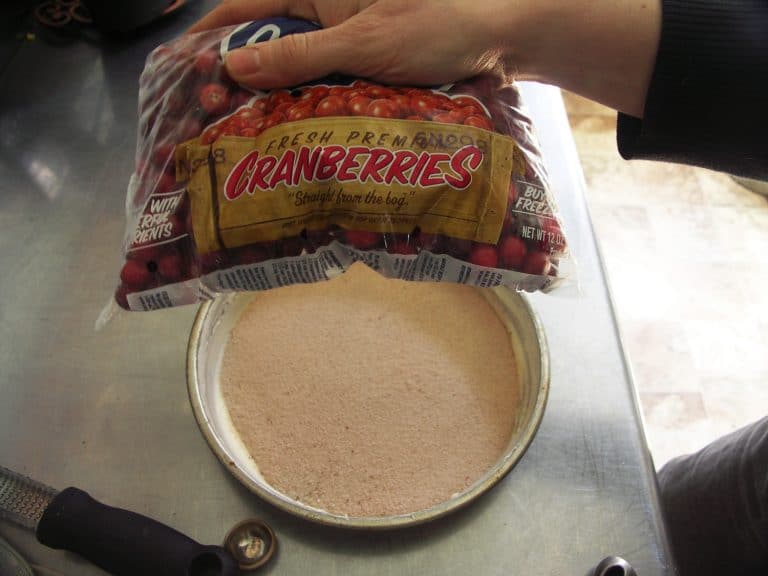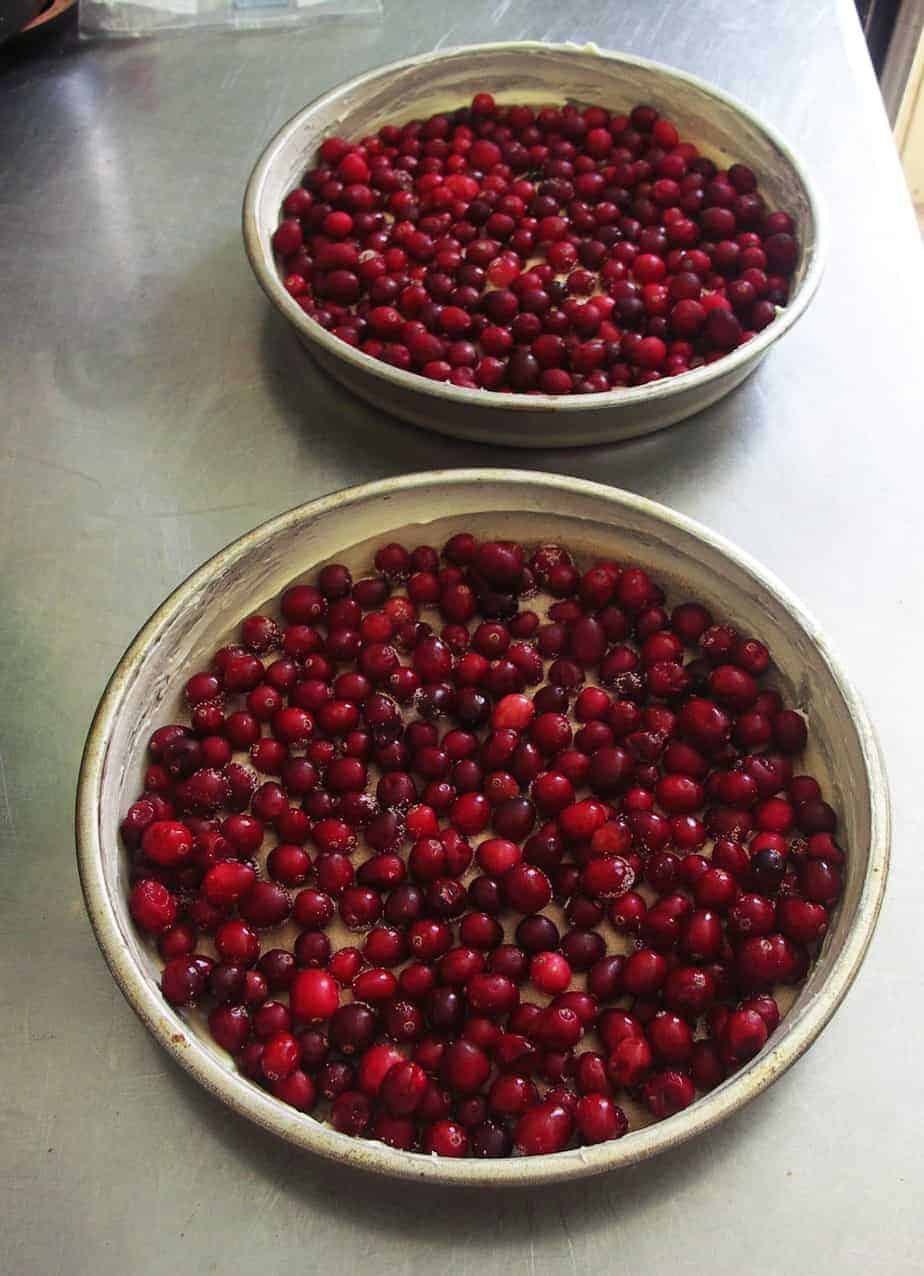 In the bowl of a stand mixer (or using an electric hand-held mixer) cream the remaining 6 tablespoons butter and 1/2 cup sugar until light and fluffy. Add the egg and beat until well combined. Add the vanilla and mix in well.
In a separate bowl, whisk together the flour, baking powder, and salt.
Start your mixer on low speed and carefully add 1/3 of the flour mixture followed by 1/3 of the milk. Repeat, scraping down the bowl occasionally, until you have added all the flour and milk.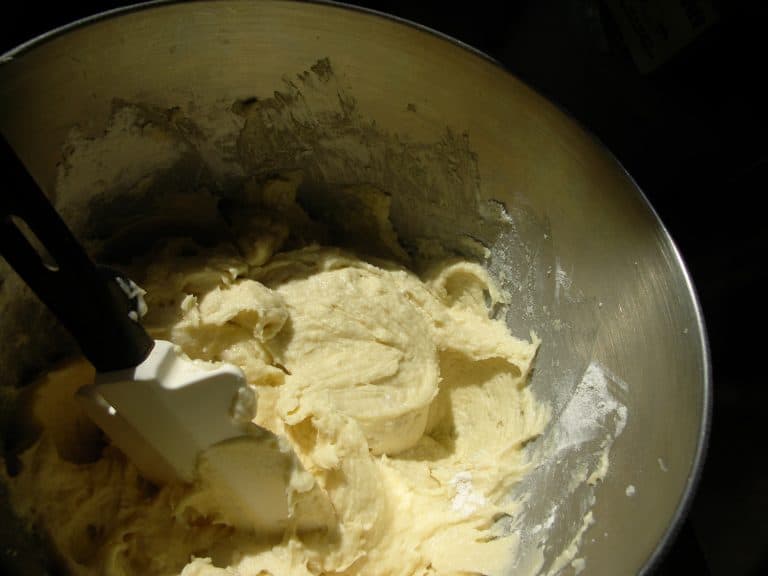 Spoon batter on top of the cranberries in the pan.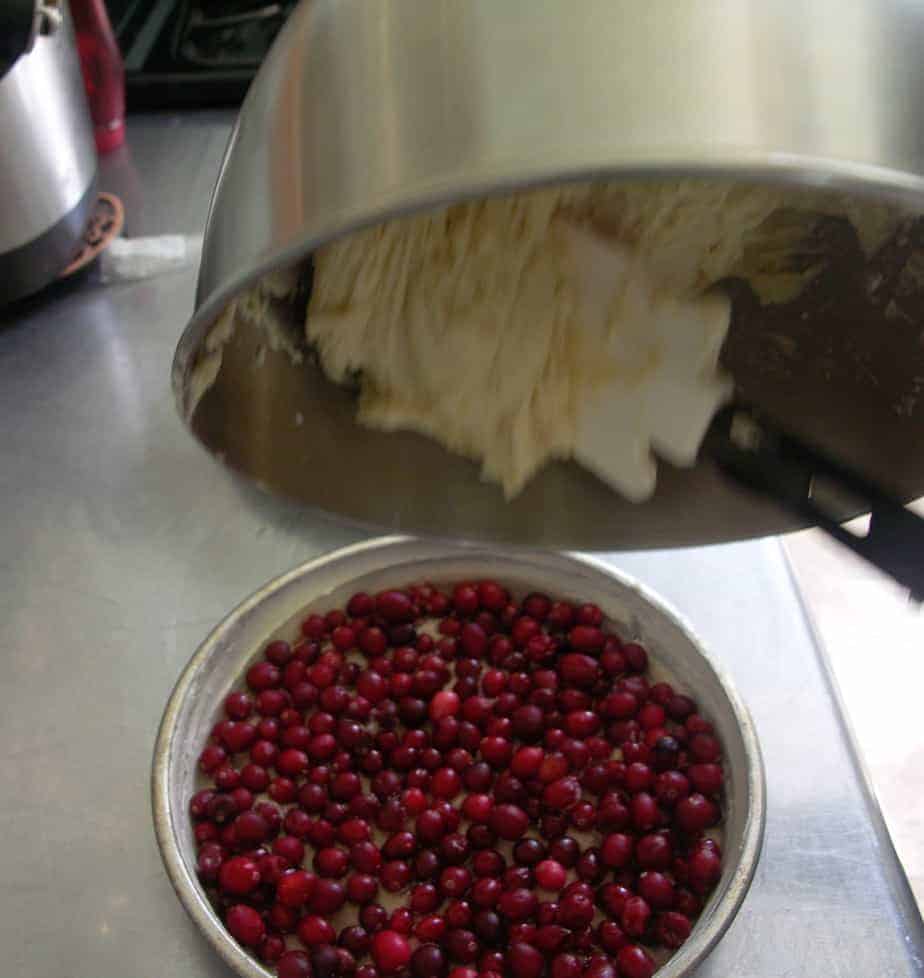 Smooth the top bringing the cake batter to the edges of the pan.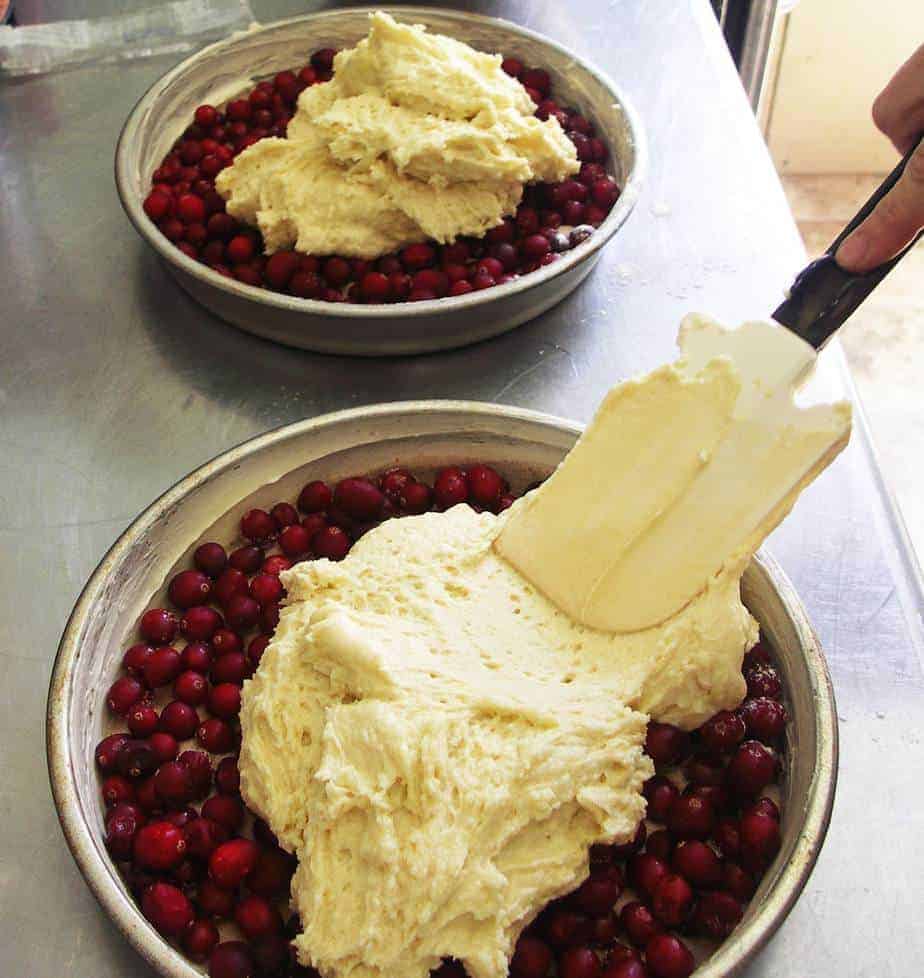 Place pan on a baking sheet to help protect your oven in case the syrup boils up and over.
Bake the cake until a toothpick, skewer or cake tester inserted in the center comes out clean.
This should take about 30 to 35 minutes. Let the cake cool on a wire rack for 20 minutes.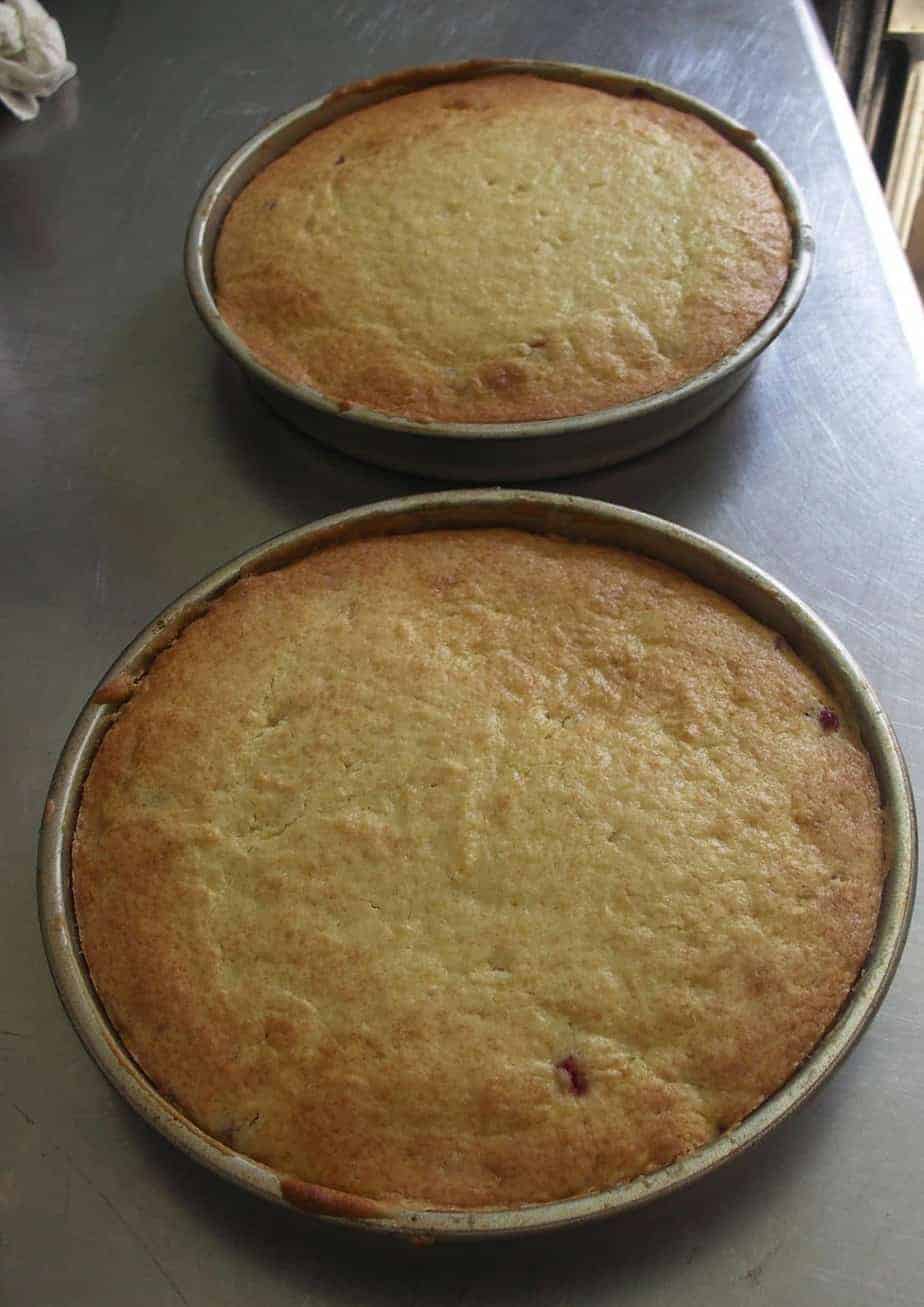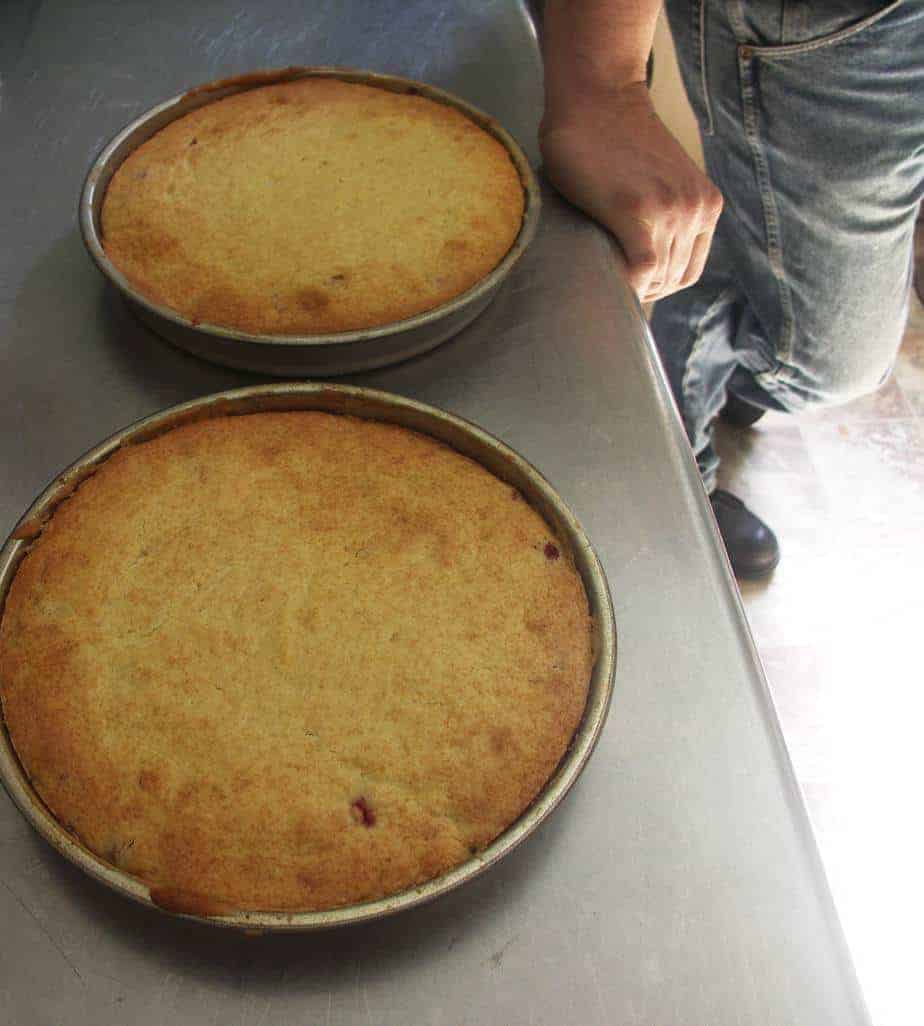 Run a butterknife or thin spatula around edge of cake.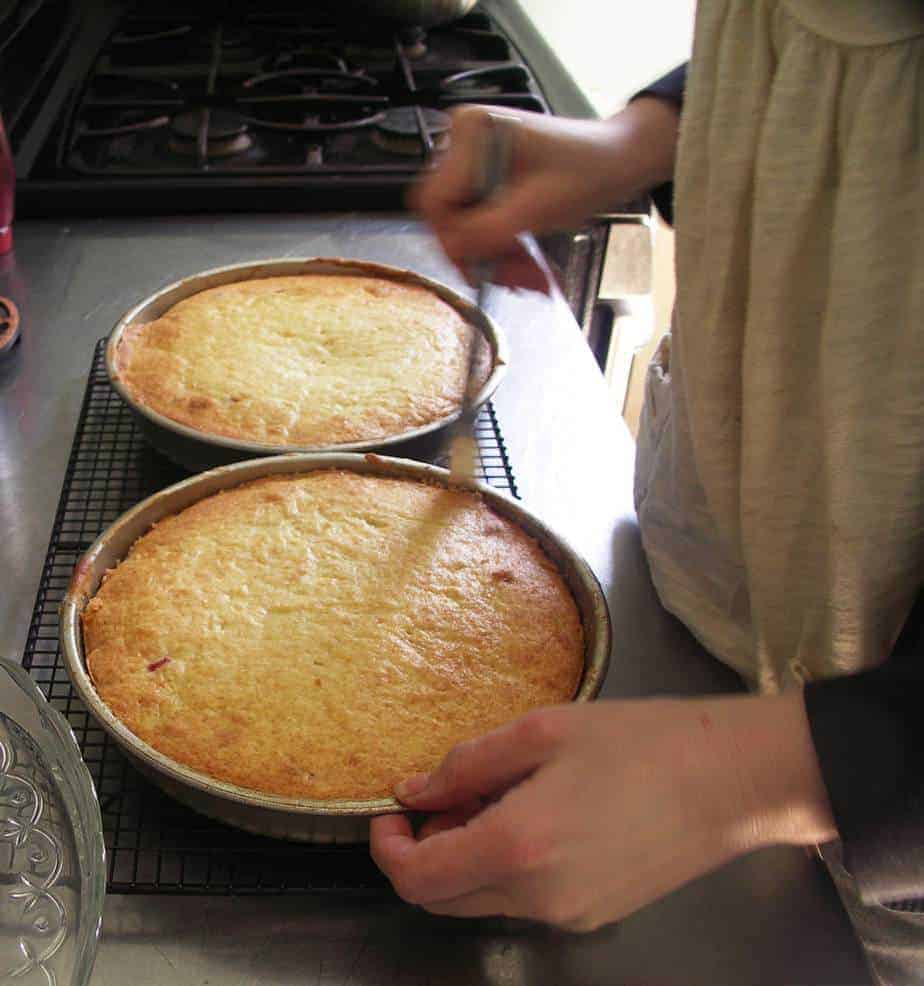 Lay your cake plate or platter on top the pan, flip, give a little tap to the bottom of the pan and remove the pan. The manoeuver looks like this: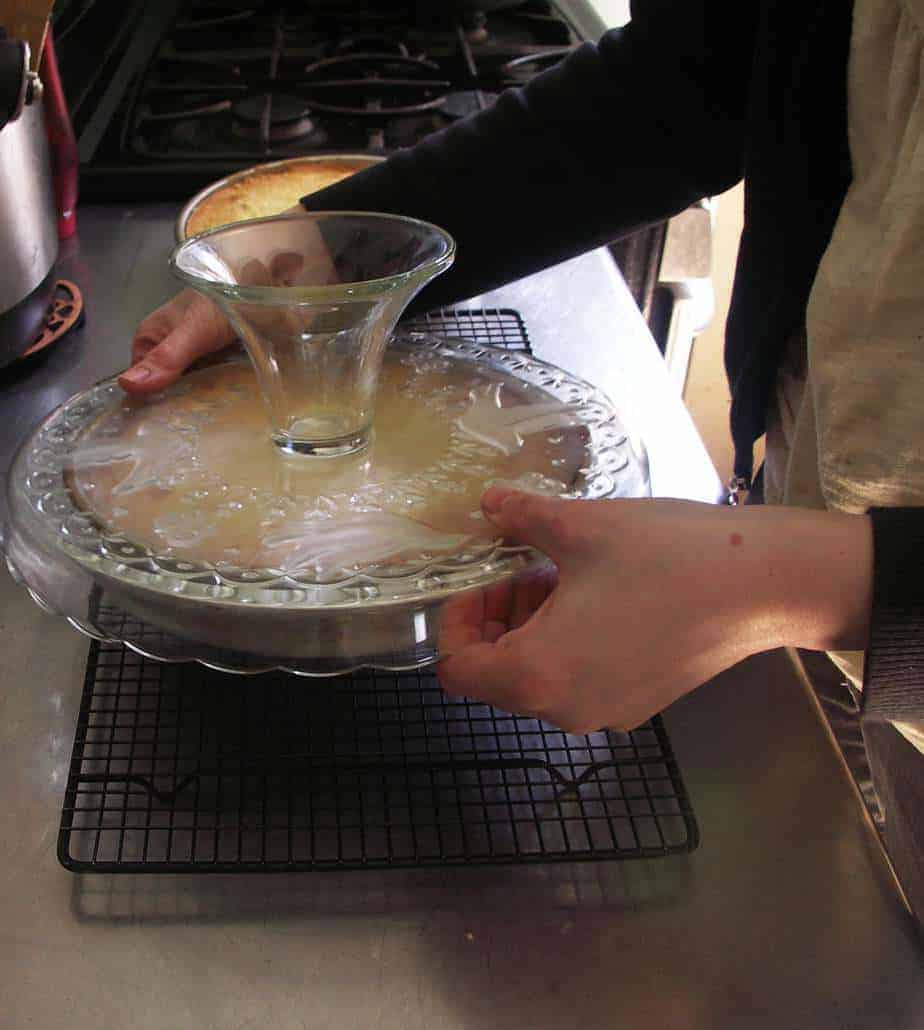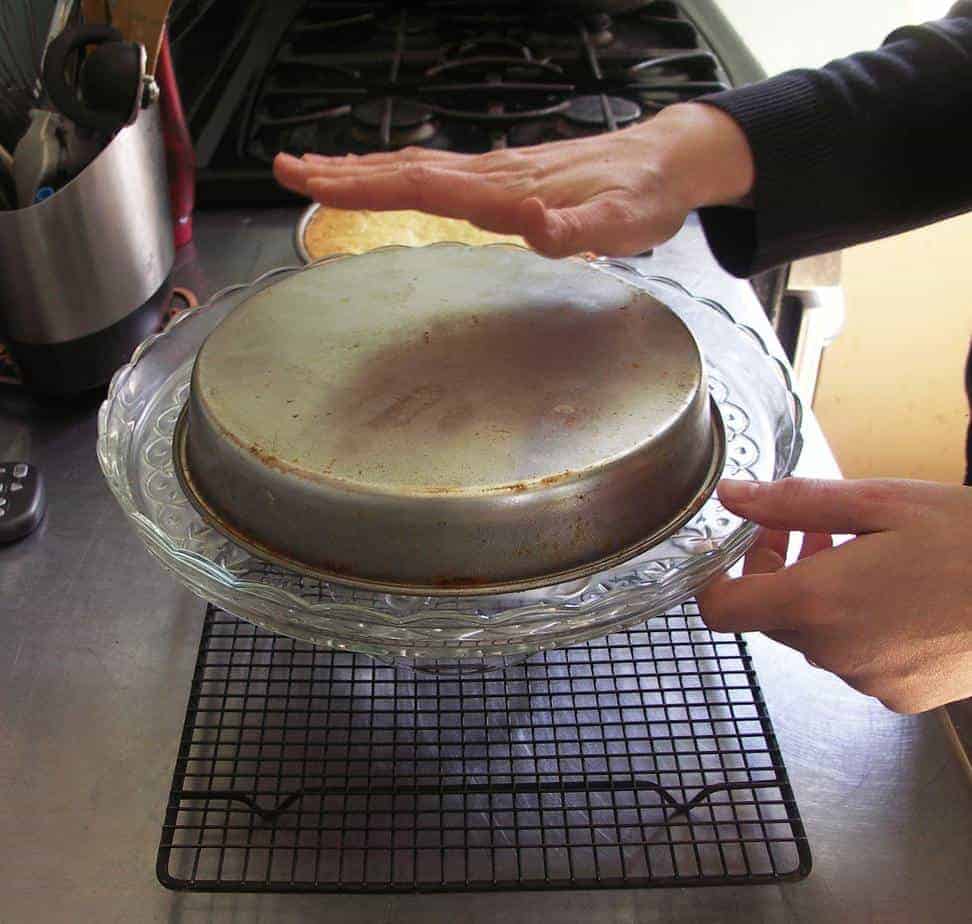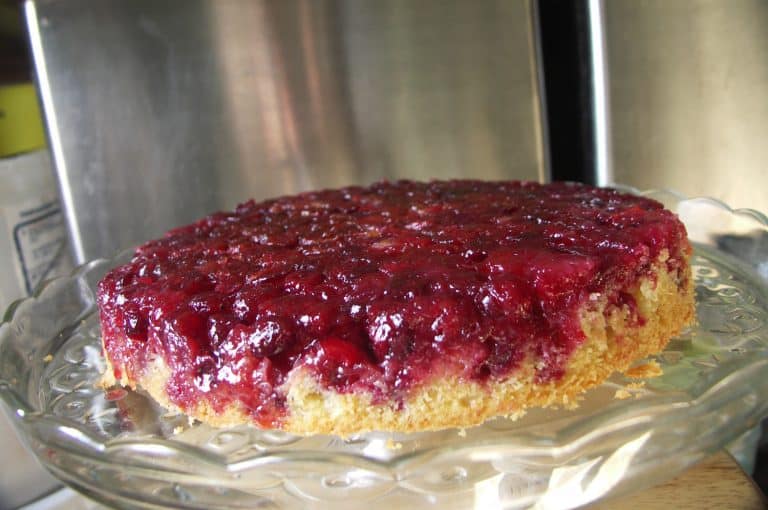 This cake is definitely best when served slightly warm, but it will still put a smile on your face and a song in your heart at room temperature or chilled.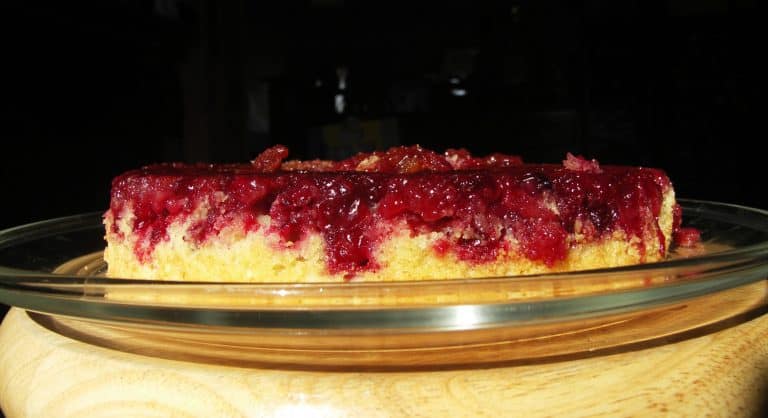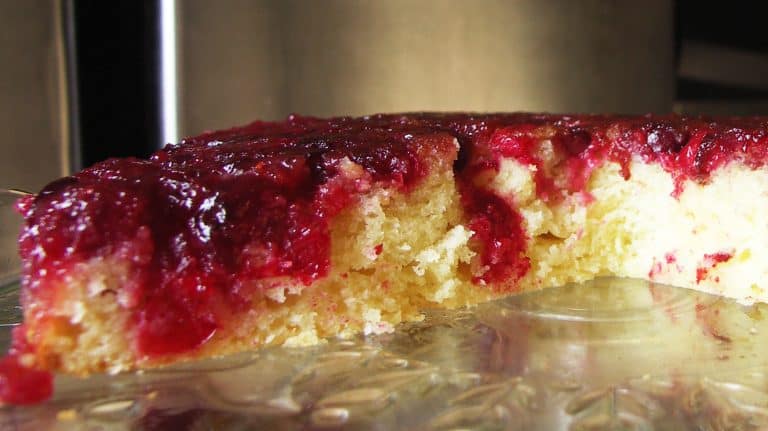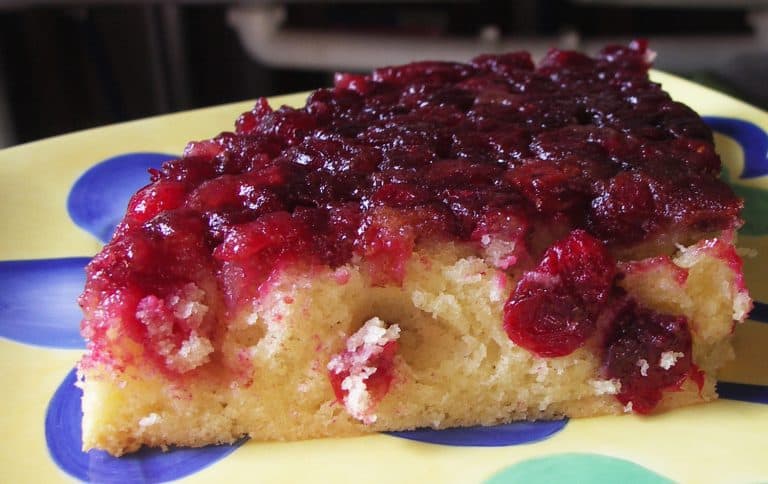 And if you pull chunks from it with your hands (or teeth) instead of slicing it into wedges I won't judge.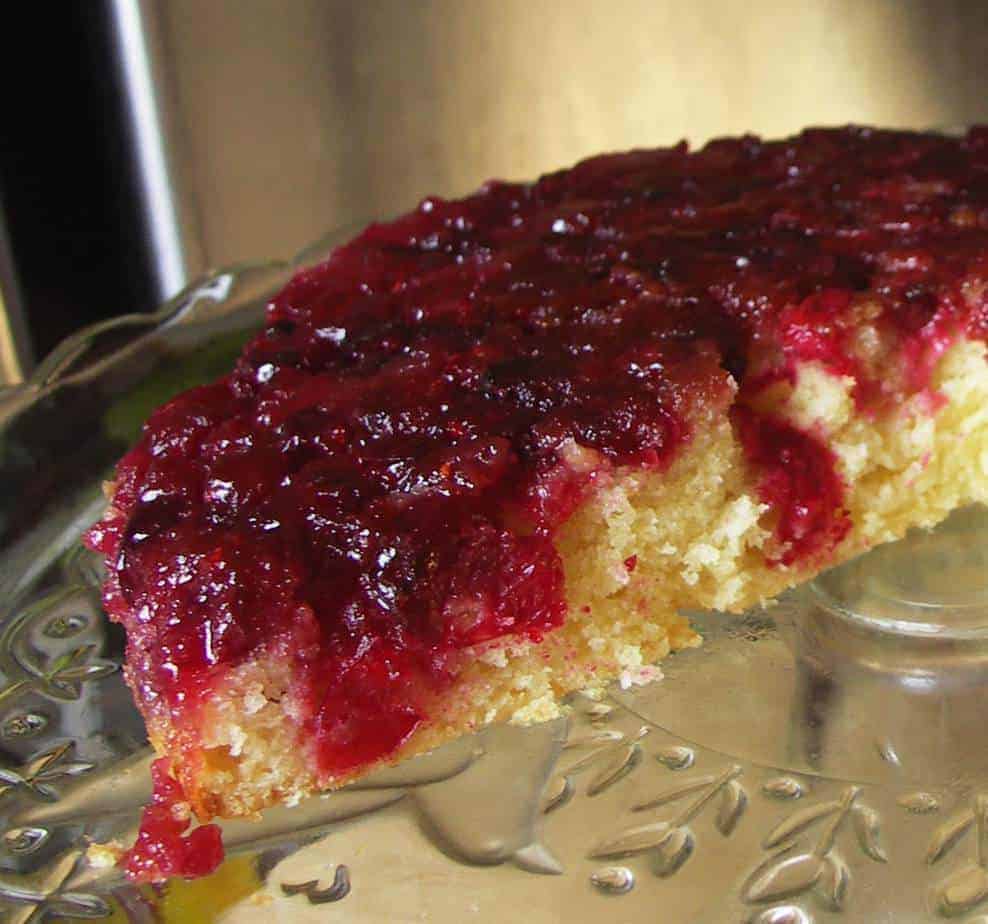 On a side note, have a gander at the kitchen I've been working in for the last couple of years.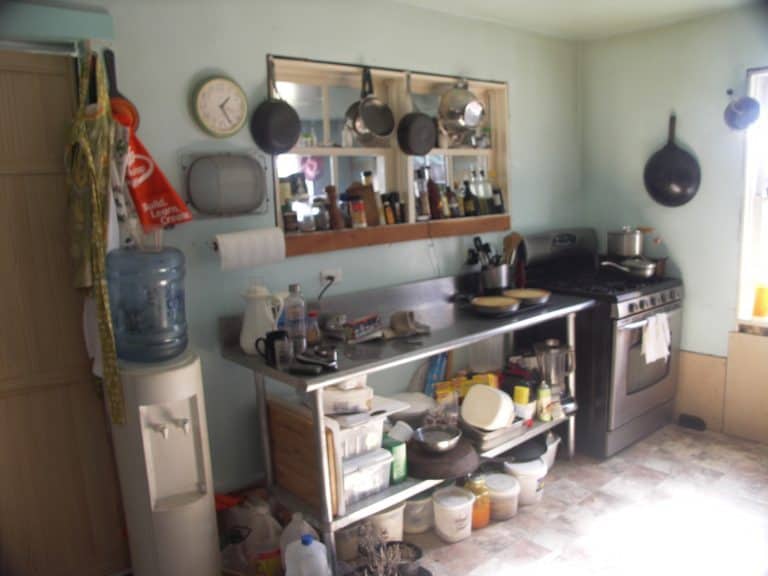 It's not going to look this way for long! You may or may not know that we bought our home/farmland from an Amish family who was relocating. The Amish in our area have no electricity, running water, indoor plumbing, etc… so we've been adding all those *cough* amenities while living here. We've finally reached the point where we can pretty things up! I'll chronicle more about this in the LifeHappens! section of Foodie With Family for those who are interested. In the meantime… Bake your cake and eat it too!