This Baked Ricotta Appetizer is the fastest, most fabulous simple appetizer in my repertoire. It is a simple matter of stirring things together, and then TA-DA! You have a souffle-like, crisp exteriored, super lofty and airy cheese spread that is amazing on vegetables, crusty bread, and crackers alike.
When I was a little girl, I used to equate finger foods and appetizers with a fanciness I hoped to attain one day. My pinky and nose were distinctly raised in the air when I ate them and I felt like a princess. Where I got that, I have NO idea, but kids seldom make sense. It probably made for quite a show while I was snarfing back little smoked sausages and cheese on crackers.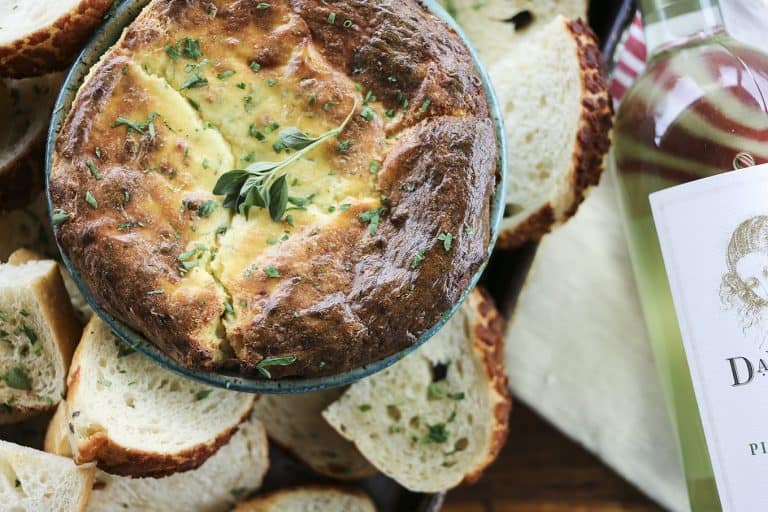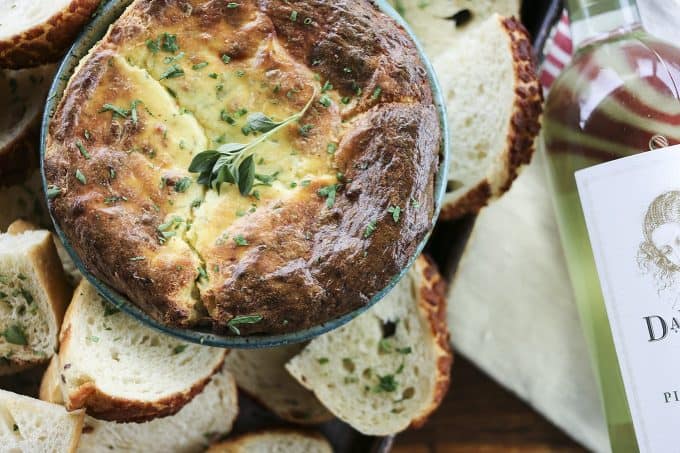 The appeal of hors d'oeuvres and tiny bites has never worn off for me, but I'm likelier to assume a head-in-the-trough position than I am to raise my pinky and nose toward the sky. I haven't got TIME for fancy when it comes to the tasty snacks… I have to fight six guys for the bites I want. Every now and again, one of them pulls back from the fray of hands and faces in bowls and yells, "HANG ON! Did MOM get any???" Then everyone looks sheepish and silently counts to ten before re-descending on the dishes. They do try. They do.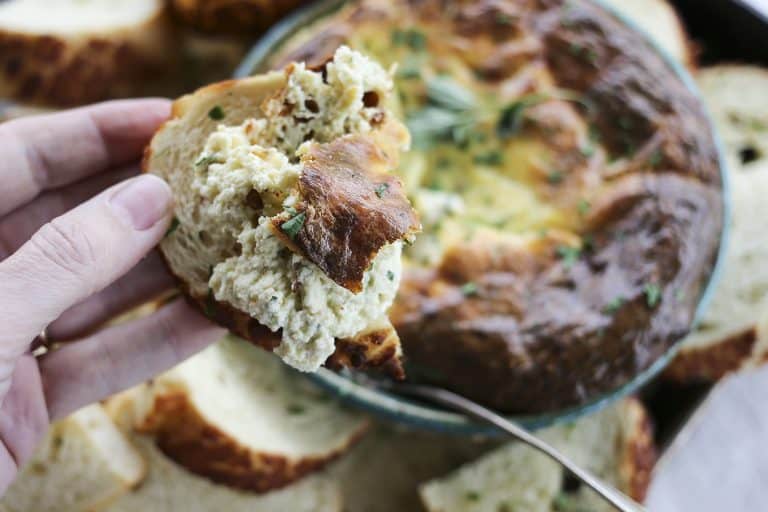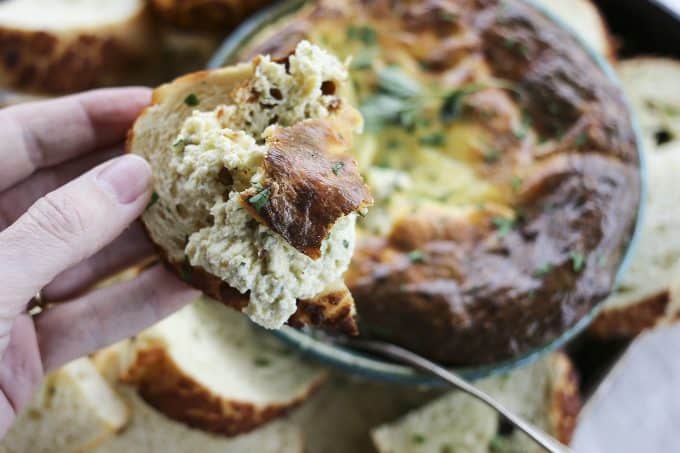 That's what makes dishes like the one I'm about to share so special. Baked Ricotta Appetizer is one of the loveliest, fastest, fanciest (pinkies UP), and most satisfying appetizers in my repertoire. Aside from the fact that you are creating what amounts to a toasted, cheesy, garlicky, souffle-like spread for bread or crackers or vegetable sticks, you can bake them in any number of oven safe dishes. Translation: I get my own. I can put my pinky up if I feel like it.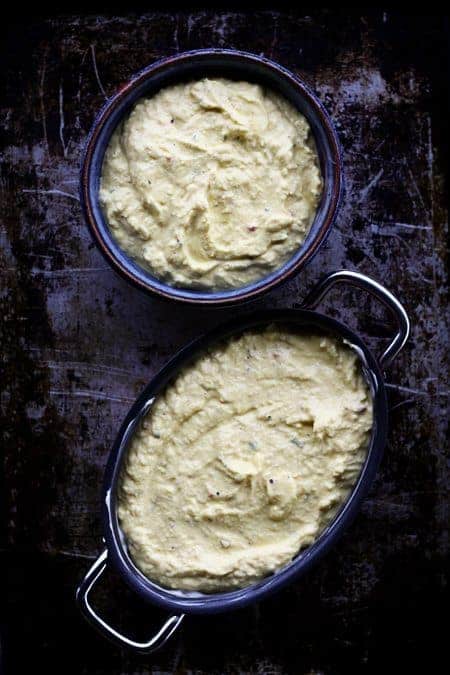 Even better, it is -as most truly great foods are- tremendously simple to make. Beat together whole milk ricotta cheese (don't skimp on the fat here, folks… We're talking about a warm cheese dip.), grated Parmesan cheese (Don't use the dusty stuff in a shaker jar. That's perfectly fine on spaghetti, but won't work here.), fresh eggs, minced garlic and fresh herbs, maybe a pinch of red pepper flakes, and a little salt and pepper. Into a buttered dish it goes and then into a hot oven. It bakes just until it poufs like a souffle and has lovely little browned areas over the top. Oh gosh. I'm getting hungry just typing about it.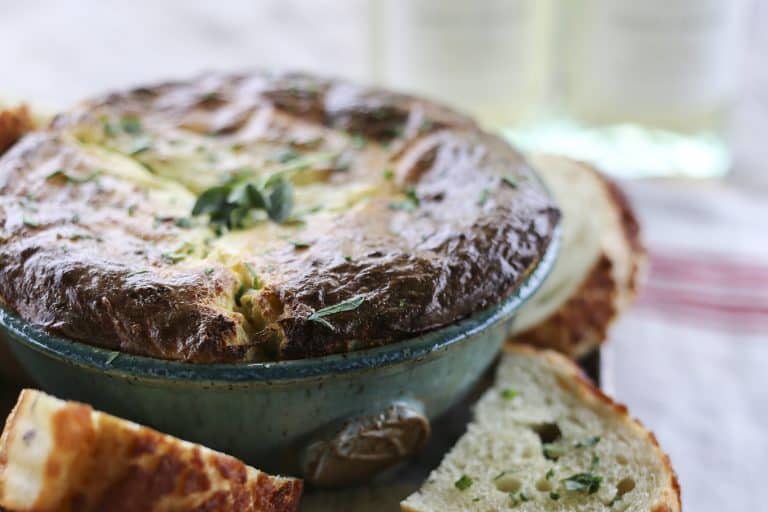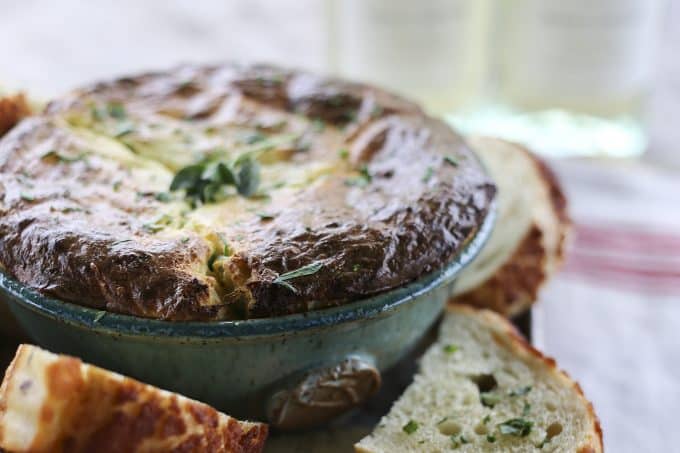 For the amount of cheese that goes into the dish, it has a surprisingly light texture at the end. It still tastes rich, as it should, but it's airy and cheesy and altogether wonderful. It's a versatile dish, too. Serve it as a Thanksgiving starter, a game day snack, a little something something on a romantic evening, an elegant dish to pass at a potluck, or a hearty after-school snack.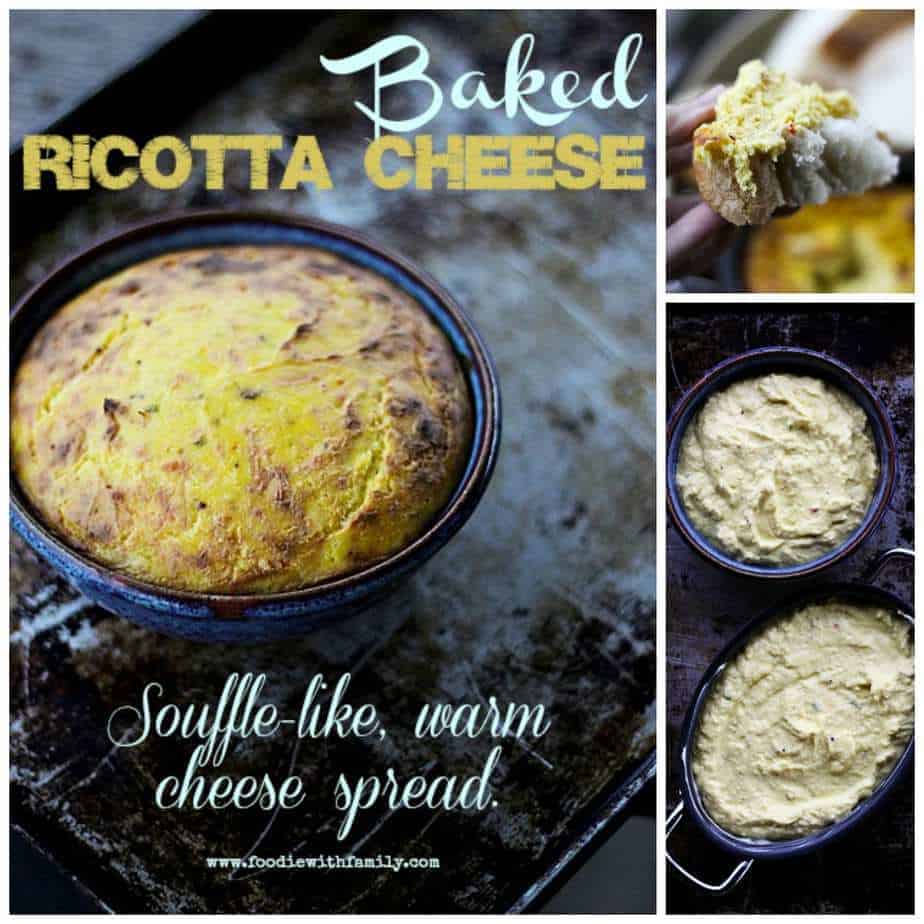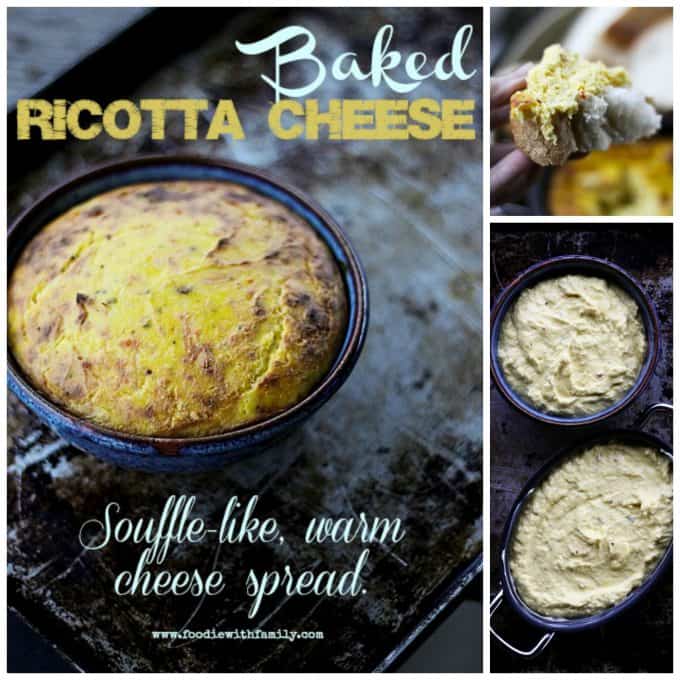 Cook's Notes
What dish do I use to bake it? Here's where you can get creative. As long as it's oven safe, you can put it in just about anything that you've buttered generously. There are a couple of things to keep in mind as you make your choice.
If you are dividing the mixture up between smaller dishes like ramekins, they will cook faster. Start checking them around 10 minutes into baking time.
Likewise, if you use a deeper dish with the full batch in it, it may take longer to cook. Be prepared.
If you put the entire mixture into a shallow dish, it may cook faster than expected. Start checking around 20 minutes into the baking time.
If you taste the uncooked mixture (BEWARE: raw egg!) you may eat it all before it cooks. I don't advise this. Not that I've done that.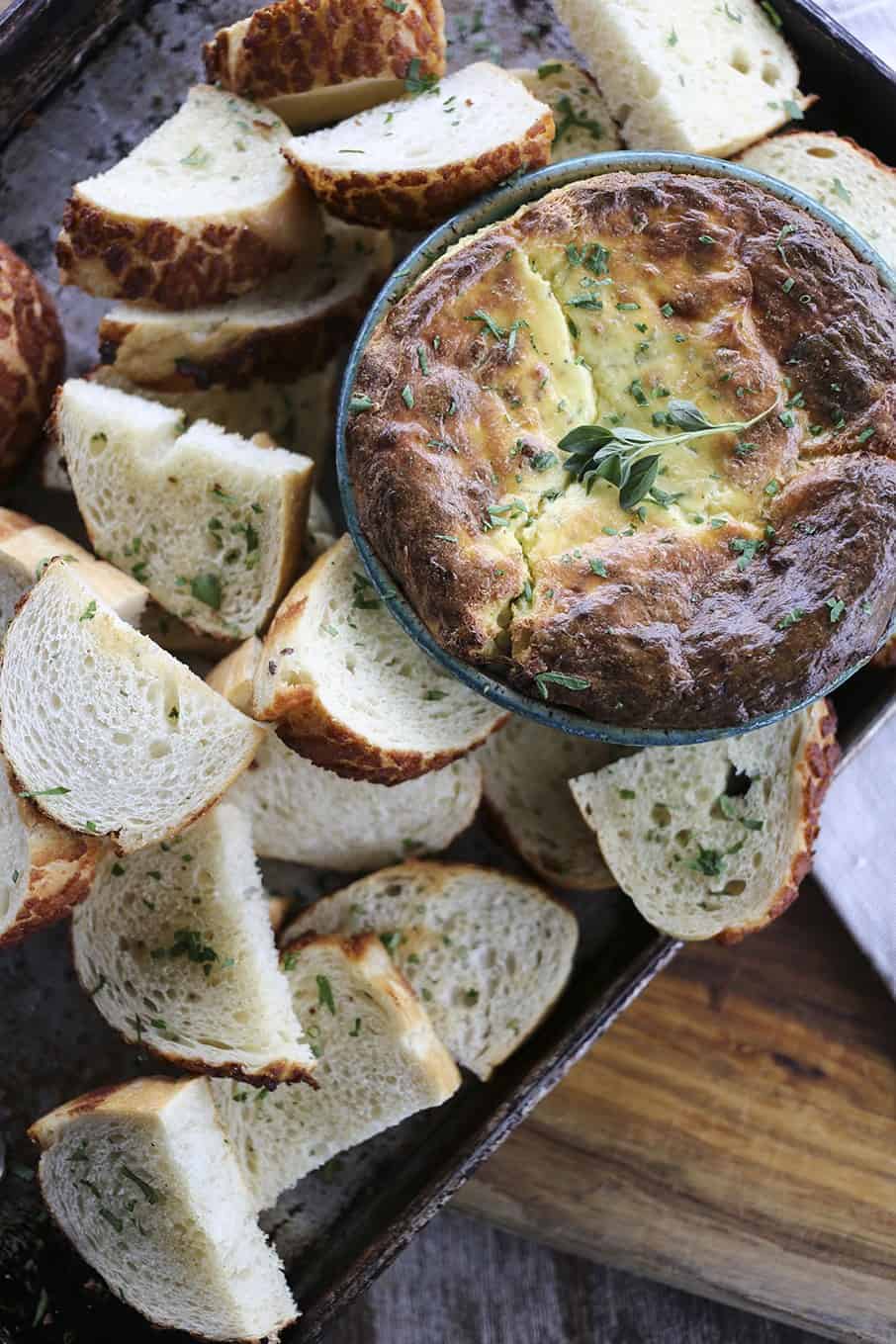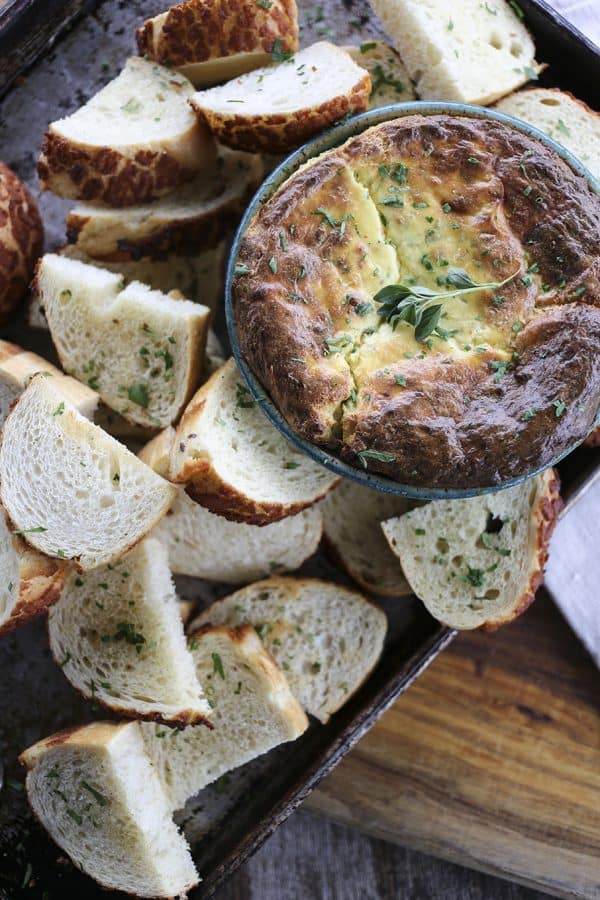 Use these to make Baked Ricotta Appetizers
Want more hot dips? Check these out!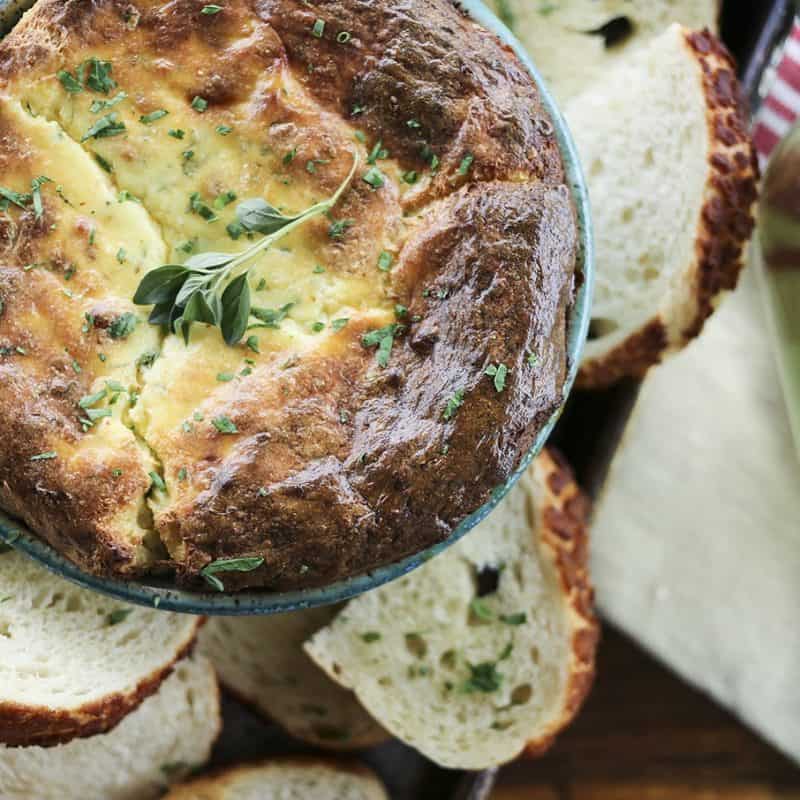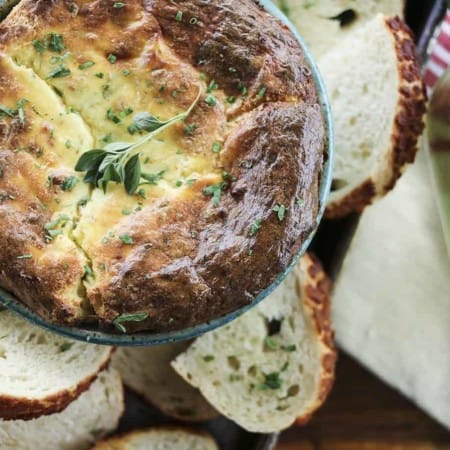 Baked Ricotta Appetizer: This rich, savoury, warm cheese dip with a light, airy, souffle-like texture can't be beat for any occasion!
Ingredients
1

container whole milk ricotta

15 ounce-ish

1

cup

grated Parmesan cheese

not the powdery kind in a shaker container!

2

large eggs

beaten to break them up a bit

1

small size clove of garlic

peeled and minced or pressed

1

teaspoon

fresh oregano leaves

finely minced, or 1/4 teaspoon dried oregano leaves

1/4

teaspoon

crushed red pepper flakes

butter for the baking dish
Instructions
Preheat the oven to 400°F.

Generously butter a 2 cup capacity baking dish or piece of oven-safe pottery (*See Notes). Set it aside.

Use a stand mixer or a hand mixer on HIGH speed or a sturdy spoon and some serious enthusiasm to beat together the ricotta and Parmesan cheeses with the eggs, garlic, oregano, and crushed red pepper flakes for about 1 minute. Scrape the mixture into the buttered dish, set the dish on a rimmed baking sheet and bake for 25-35 minutes, or until puffed and golden brown over the whole surface with some darker brown areas. Let it rest for 3-5 minutes before serving hot with crusty bread, crackers, or vegetable sticks.
Notes
*You can use smaller ramekin type dishes, well buttered, but start checking them at about the 10 minute mark as they will cook faster than if the entire mixture was in a larger dish.
Nutritional information is an estimate and provided to you as a courtesy. You should calculate the nutritional information with the actual ingredients used in your recipe using your preferred nutrition calculator.


Baked Ricotta Appetizer was originally published November 9, 2013. Updated November 2017 with updated photos, cook's notes, and collages.

Save
Save
Save
Save
Save
Save
Save
Save
Save