In the wonderful world of food, there are several foods that are almost universally loved (unless you're a fat eschewing vegan or vegetarian, in which case this list most certainly will not apply to you): cheese, bacon, chicken, and fried things. What happens when you combine all of those well-loved foods into one little deep-fried package? Cheesy Barbecue Chicken and Bacon Egg Rolls.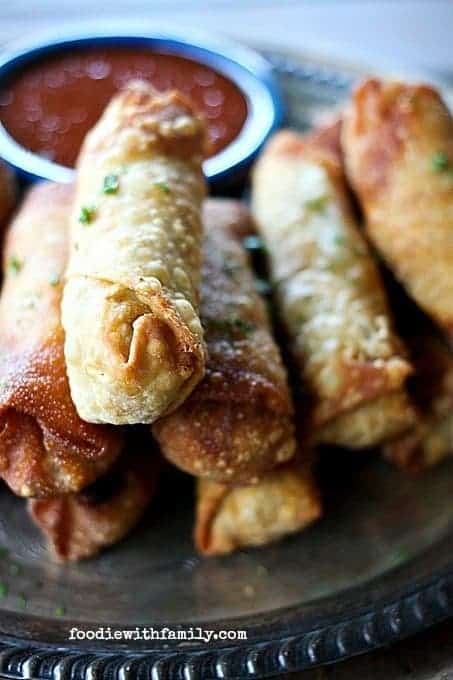 I'm afraid I might make Jane Austen do a very discreet roll in her grave by paraphrasing her thusly, but while considering how to open this post, the following phrase kept popping into my head over and over, and maybe, just maybe, Jane would've enjoyed the play on her words. "It is a truth universally acknowledged that a man in possession of a deep fryer must be in want of a woman who knows how to use it."
The truth is that my husband bought a deep fryer long before I was ever a food blogger in the hopes that we could perfect a seriously southern fried chicken and we did THAT long before our dearly departed frydaddy kicked the oil bucket. Since then, we've made due with an ad hoc arrangement of heavy-bottomed frying pans or pasta pots filled with boiling oil positioned over open flames.
Sounds safe, right?
We might've had an epiphany about the wisdom of this boiling oil/open flame arrangement in the context of having five boys who were throwing a frisbee in the kitchen while I was deep-frying a couple of months ago and so recently re-delved into deep-fryer ownership, and have been FRYING ALL THE THINGS all the time.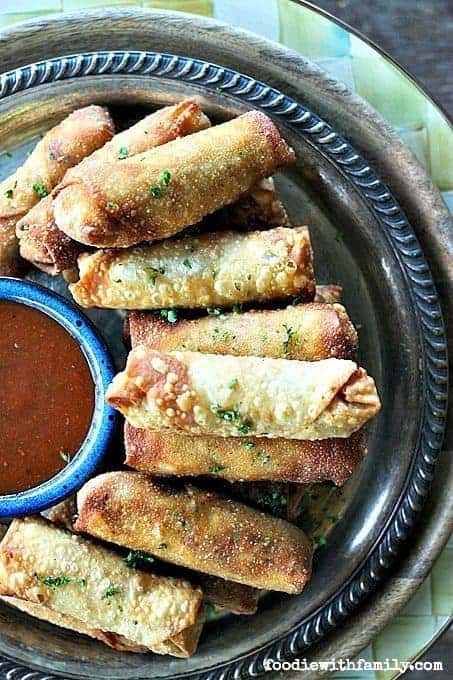 Cheesy Barbecue Chicken and Bacon Egg Rolls are everything good in one crunchy, deep-fried package. Fully cooked, shredded chicken is blended with your favourite barbecue sauce, crispy bacon, and chopped Sharp Cheddar American Blend, rolled in egg roll wrappers and then (at least in our home) deep-fried until golden brown and delicious on the outside and saucy, melted goodness on the inside.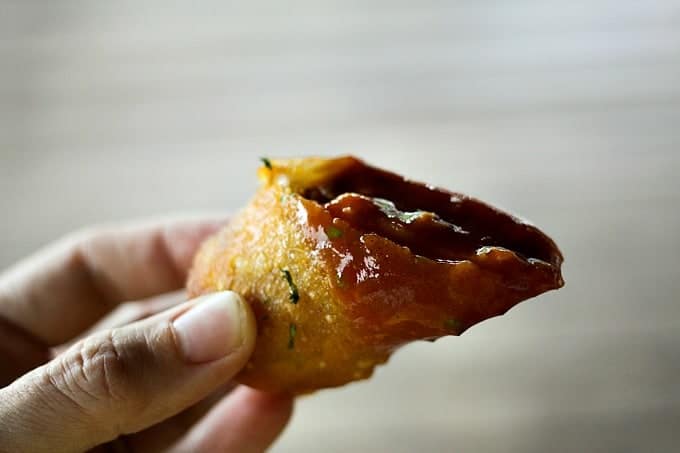 If you're not in possession of your own deep-fryer or a wife (or will) to plunge things into boiling oil, you CAN bake them. I will say that of our seven silly eaters, we were divided on the baked version. All acknowledged them to be tasty, but five of the seven greatly preferred the fried version, while two preferred the baked. Instructions for both are included in the recipe below.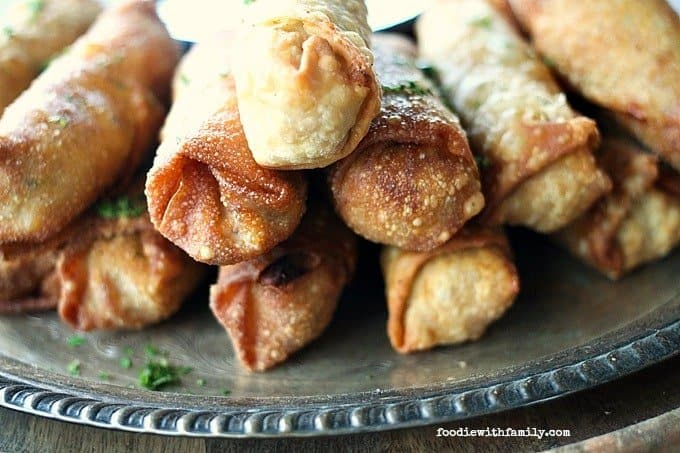 Cook's Notes
I love to use my homemade Slow-Cooker Chicken for Recipes in here. You can certainly use any fully cooked, leftover chicken in its place, though.
On the subject of barbecue sauce, you can use whichever one you like the best. I prefer to use my father-in-law's recipe: The Evil Genius, Sr.'s Slathering Barbecue Sauce. It has a great bold flavour that goes wonderfully with the cheese and chicken.
It can be a little tricky to understand how to roll an egg roll unless you've grown up doing it or seen it illustrated. To that end, I have a little collage below to help you. Practice will make perfect! If you've never tried before, you may want to have a couple of extra egg roll wrappers on hand. Sometimes you'll break through one or two while learning.
One of the beautiful things about this recipe is that all of the ingredients are fully cooked, so you don't have to deep fry or bake any longer than it takes to crisp up the exterior and make the insides hot.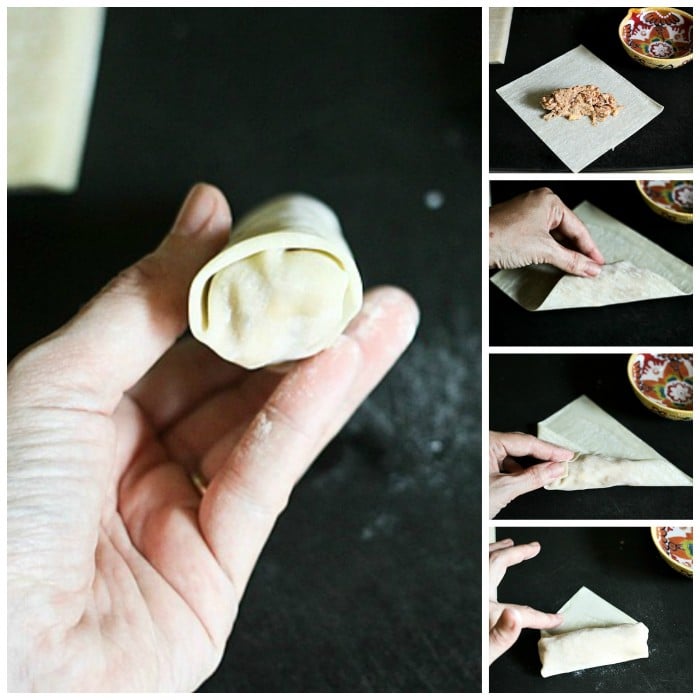 Are you looking for more fun, non-traditional egg rolls? Check out these fantastic Reuben Egg Rolls, Southwestern Egg Rolls,  Chicken Cordon Bleu Egg Rolls, and Philly Cheesesteak Baked Egg Rolls!
Use these to make Cheesy Barbecue Chicken and Bacon Egg Rolls:
Connect with Foodie with Family
facebook | pinterest | instagram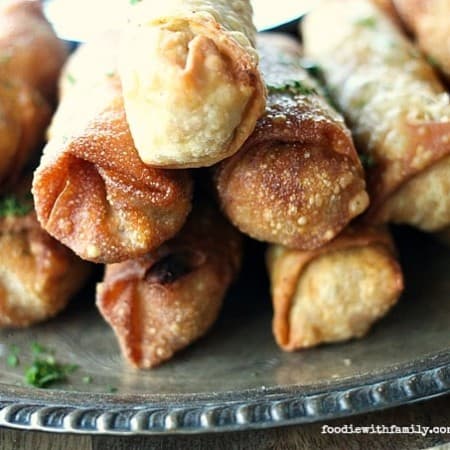 Cheesy Barbecue Chicken and Bacon Egg Rolls
Rate Recipe
Ingredients
5

cups

shredded

fully-cooked chicken

12

slices

of bacon

cooked 'til crispy and crumbled or chopped

1

cup

barbecue sauce

12

slices

Land O'Lakes Sharp Cheddar American Blend

one large handful fresh chives or parsley

finely chopped

1

teaspoon

minced garlic

1/2

teaspoon

crushed red pepper flakes

or chili powder for a milder result

20-25

egg roll wrappers

oil for frying

or non-stick spray if baking.

Optional for serving:

extra barbecue sauce for dipping

chopped parsley or chives for garnish
Instructions
Combine the chicken, bacon, barbecue sauce, Land O'Lakes Sharp Cheddar American Blend, chives or parsley, garlic, and crushed red pepper flakes in a bowl and mix well to combine. The mixture should hold together when pinched between two fingers.

Lay one egg roll wrapper in front of you like a diamond with a point facing your belly. Scoop about 1/4 cup of the filling into the center of the egg roll wrapper and compact it into a tube shape so that it runs from side to side. Fold the point of the egg roll wrapper nearest you over the tube of filling and pull back gently on it to compact it further. Fold the left side in over that followed by the right side, and gently roll it away from you until you have just a couple inches left. Moisten your finger and run it along the edge of the egg roll wrapper, then finish rolling it up, smoothing the seam with your finger to help hold it in place.

Repeat until you run out of filling and wrappers.
To Fry:
Heat your oil to 340°F. Lower several egg rolls into the oil, taking care not to overcrowd them. Fry for 6 minutes, or until light golden brown. Remember they will continue to darken as they drain! Transfer the fried egg rolls to a paper towel lined plate to drain and repeat frying batches and draining. Let cool for at least 5 minutes before attempting to eat!
To Bake:
Preheat your oven to 350°F. Line a baking sheet with aluminum foil and spritz lightly with oil or non-stick cooking spray. Lay the egg rolls on the baking sheet and spritz them lightly with the oil or non-stick cooking spray. Bake for 25-30 minutes, turning halfway through, or until golden brown and delicious. The will be slightly less crisp than their fried counterparts, but still delicious.
Nutritional information is an estimate and provided to you as a courtesy. You should calculate the nutritional information with the actual ingredients used in your recipe using your preferred nutrition calculator.