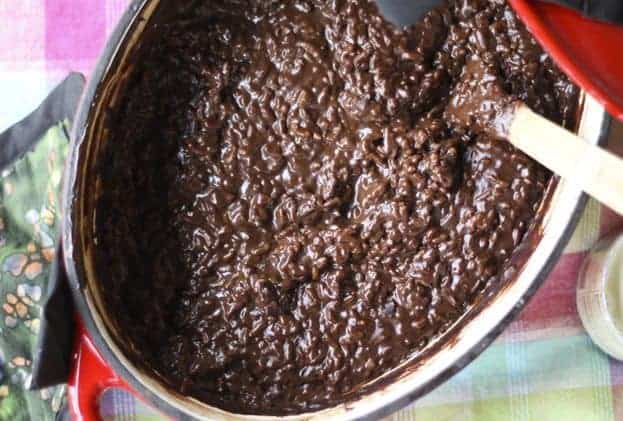 Filipino food is some of my favourite  in all of the Earth. It's not just because it's great (although it is), but because for most of my youth, it represented the sum total of what was exotic in my life. Growing up in some of the most rural parts of Michigan it was nothing to run across scads of Swedish, Finnish, Norwegian and other assorted Nordic names. I betcha I could pick up a Finnish phone book and rattle off the names like I was born there. My Grandpa was a pastor on a nearby reservation, so Native American names were run of the mill. Polish immigrants? Yep… here and there. Italians? On every street (as few and far between as the streets were.)
Then there was my mom's friend, Tecla. She was from the Philippines and was most emphatically not Nordic. She was always dressed to the nines while most of us were in parkas and mukluks. She sat down on the edge of the piano bench when my mom played and belted out the latest love songs that were on the radio. Her nails were always long and filed and dramatic and brightly coloured. She was most definitely not the same as everyone else around us and she was exciting. Most thrilling of all was her food. It was so different from everything else I had ever eaten -adobo chicken, lumpia, tocino, pancit- it was bursting with flavour and boy was it good. Even better, she shared it her mouthwatering dishes with us every chance she got. To this day, my last supper meal* includes lumpia.
*Are you familiar with the "last supper" game? It's simple, but it tells you a lot about people (and vice versa.) All you do is consider what, of all you've ever eaten or would like to eat, you would request for your last meal if you could choose anything. So how about it? What would you have for your last meal?
While the wonderful world of Filipino food obviously rocks the savoury, I would be remiss if I didn't wax rhapsodic about one of the easiest and most head-explodingly delicious dishes they have to offer: Champorado.
Champorado is, in short, chocolate rice porridge (or rice pudding, if you will.) It's rich. It's filling. It's creamy. (Although you don't add milk  unless you want to while serving. That creamy texture comes courtesy of magical rice.) It's chocolatey. It's breakfast. It's snack (I dare you to serve this to your kids and then try find a more popular after school snack. Go on. I dare you.) You don't have to know how to do anything more complicated than measure, boil, stir, scoop and eat. FFFTW (Filipino Food For The Win!)
As if all this wasn't already enough, consider this. You can whip up a huge pot of Champorado and keep it in a tightly covered container in the refrigerator. Scoop out enough for a serving and gobble it up cold, or reheat it with a splash of evaporated milk (as it is usually served), half and half or plain old milk.
Every single time I make Champorado, I get the song "Desperado" stuck in my head, but I walk around the kitchen singing it this way at the top of my lungs: "Chaaaaaaaam-poh-rah-doh! Why don't you come to your senses…" I don't recall Tecla ever doing this particular tune, she was more of a "Wind Beneath My Wings" kind of lady, but somehow, I think she would approve.
Thank you, Tecla, wherever you are…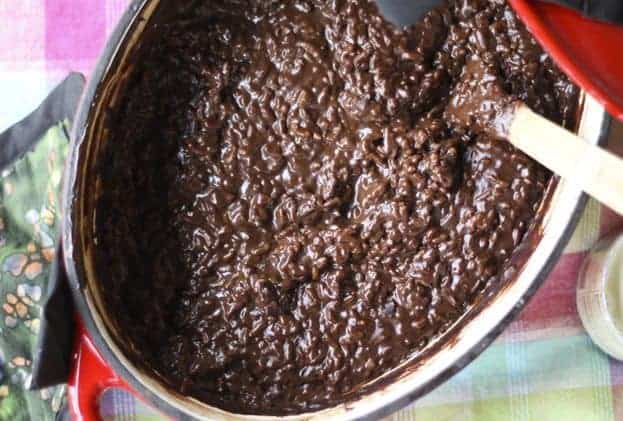 On cold winter days, there's nothing like a breakfast, late afternoon or bed time snack of Champorado: a rich, chocolate laden rice porridge that comes to us courtesy of the Philippines. Eat it hot, warm, room temperature or cold, plain or the way most folks do with a good splash or two of evaporated milk, plain milk or half and half. This is comfort food extraordinaire! Adapted from Tecla and Jun-Blog
Ingredients
1

cup

sticky or sushi rice

uncooked

5 1/4

cups

water

6

ounces

finely chopped bittersweet or semi-sweet chocolate

or semi-sweet chocolate chips. In other words, half a bag of most brands.

2

tablespoons

to 1/3 cup of raw sugar

or granulated white sugar, according to preference

pinch

of salt

Optional for serving:

evaporated milk

half and half, or plain milk to pour over the porridge
Instructions
In a large, heavy-bottomed saucepan, stir together the rice and water and the pinch of salt and bring to a boil over high heat, stirring occasionally to keep the rice from sticking to the bottom. When it reaches the boil, immediately drop the heat to low and simmer for about 20 minutes, stirring often to prevent sticking, or until the rice is soft and swollen.

Turn off the heat, stir in the chopped chocolate (or chocolate chips) and sugar, cover the pan, and let stand undisturbed for 5 minutes. When 5 minutes are up, remove the lid and stir vigorously until everything is evenly coloured and very chocolatey looking. Serve hot, warm or cold with a good splash or two of milk on top.
Nutritional information is an estimate and provided to you as a courtesy. You should calculate the nutritional information with the actual ingredients used in your recipe using your preferred nutrition calculator.
Are you on the hunt for more great Filipino recipes? Try two of my most trusted resources (great blogs, incredible recipes, beautiful photography):
Jun-Blog In his words, he's a Philippine born, San Francisco based professional food and cookbook photographer, so you know his stuff is going to be gorgeous, but the recipes. Oh, his recipes. They're mouthwatering and always great. I can't recommend him highly enough!
Burnt Lumpia I've been a loyal reader of Marvin since long before I ever put fingers to keyboard here on Foodie With Family. He is always witty, always fun and his food is to die for. Plus, his pen name is Burnt Lumpia, for crying out loud. Lumpia. As in my death row meal. How could I not love him?