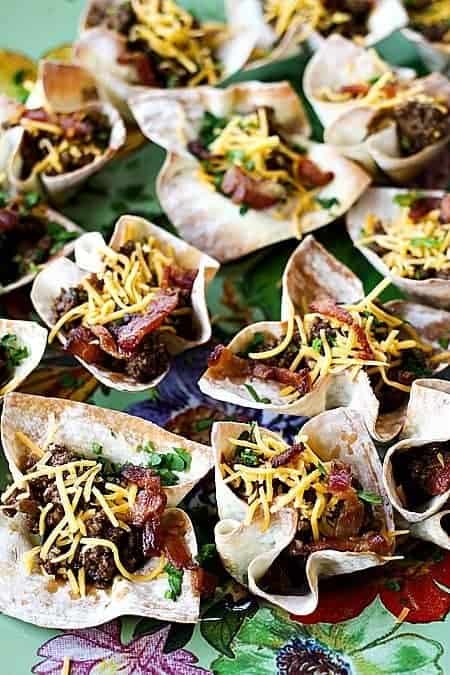 This past Friday, my husband's side of the family gathered at an open house to see off my nephew Ian and wish him well as he left to take a position with the Air Force. I had texted his mom a couple of weeks before and asked whether there was anything I could do or bring with me. She suggested an appetizer and I responded with "what would Ian like to eat?" She asked what I could make and I figured it was a little gauche to ask a family member to look over my blog and pick something, so I answered with a laundry list of things that just sounded good. She ran the list past my nephew and let me know he had picked the cheeseburger bites that I had suggested.
Now here's the thing. After suggesting this, I found out Ian wasn't keen on pickles or onions, so I couldn't make these  because I'm not the kind of aunt who offers something tasty then backs down. I had promised cheeseburger bites, though, and I was going to deliver. I kept the wonton cups from the original because WONTON CUPS ARE FUN. Yes, I type-yelled that because little food is fun food as I've said many a time before and I tend to yell when I'm having fun. Yes, I'm great at parties and not at all socially awkward, thanks for asking.
Because my sister-in-law is the Queen of Parties and has a keen eye for decorating, I wanted to put something on the table that was pretty especially since I knew we were going to be parking our gigantor, vibrant purple, full-sized, ten passenger van in front of her home. I'm relatively certain that the enormo-van is not a usual thing in their neighborhood. Aaaaaand again, you should invite me to your party. I drive sculptural installments. I bring the art with me.
The beauty of these Barbecue Bacon Cheeseburger Bites -aside from my guarantee that you can't eat just one- is the convenience they offer. The barbecue beef filling can be prepared up to two days ahead of time. The bacon can be crisped ahead of time. The CHEESE can be grated ahead of time or even purchased pre-grated. The wonton cups can be made a day or two ahead and stored, tightly covered, at room temperature. You can even chop up the parsley (and green onions, if you're serving someone who likes them!) and keep it in a tightly covered container in the refrigerator earlier in the day. Also nice is how versatile these are; you can serve these to a gathering of ladies or to a bunch of rowdy kids watching a hockey game. You can also feed them to a bunch of people in the hopes that they won't notice that you're so excited you're yelling. Maybe you'll even distract them from your gargantuan, Titanic, mountainous heliotrope passenger van. A girl can hope anyway.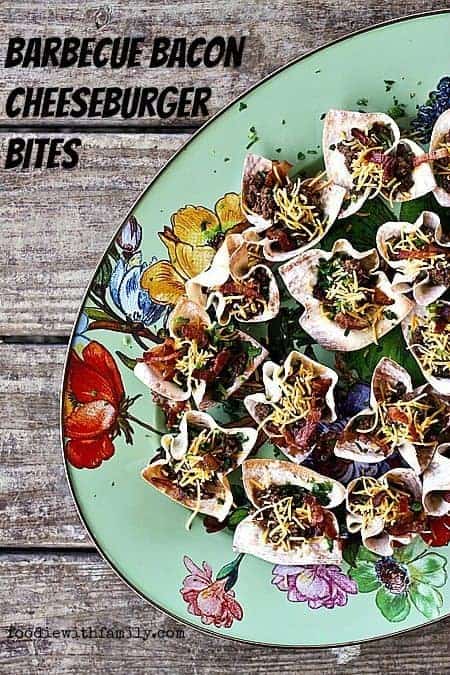 Cook's Notes:
As I mentioned, the beef filling, bacon, and wonton cups can all be prepared ahead of time for convenience's sake. The cheese and parsley/green onions can also be made ready ahead of time.
You have some serving options as well. Serve hot, warm, room temperature, or with the filling chilled. I prefer to heat up the beef filling and reheat the bacon a bit in the microwave before assembling. I find the flavour to be best at a hot or warm temp. Room temperature, after the appetizers have sat out for a bit, is fine, too. The wonton cups hold up nicely and don't get soggy.
Choose a barbecue sauce -whether homemade or commercial- that you really like, because it is going to be a strong flavour in this dish. We love our homemade barbecue sauces (1, 2, and 3), but we also love bottled Dinosaur Barbecue Sauce, which is what I used for Ian's appetizers because I remembered hearing that he liked it.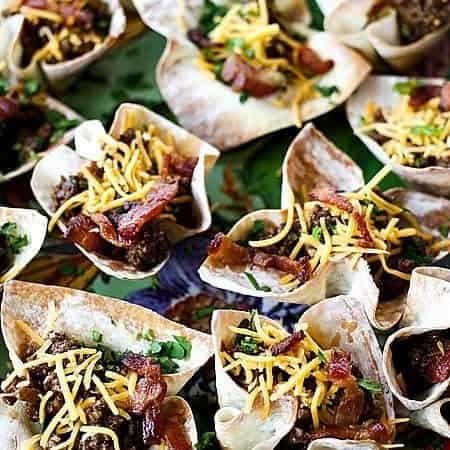 Crispy wonton cups filled with tangy barbecue beef filling and topped with grated cheese, crunchy bacon, and a little green onions and parsley make the perfect appetizer for any occasion.
Ingredients
For the Wonton Cups:
1

package wonton wrappers

non-stick cooking spray or cooking oil spray
For the Barbecue Beef Filling:
12

ounces

sliced bacon

cut crosswise into 1/4-inch strips

2

pounds

90% lean ground beef

2

cloves

garlic

peeled and minced or pressed in a garlic press

1

teaspoon

granulated onion

1

teaspoon

kosher salt

1 1/2

cups

barbecue sauce

1

teaspoon

fish or Worcestershire sauce
To Assemble the Barbecue Bacon Cheeseburger Bites:
1

batch Barbecue Beef Filling

1

batch Wonton Cups

grated Cheddar or Monterey Jack Cheese

4

green onions

green parts only, finely chopped *See Notes

1

handful fresh parsley leaves

finely chopped *See Notes
Instructions
To Prepare the Wonton Cups:
Preheat the oven to 350°F. Spray mini muffin tins lightly with non-stick or cooking oil spray and gently press one wonton wrapper into each muffin cup. Bake for 8 to 12 minutes, or until lightly browned and firm. It will continue to darken and firm as it cools, so don't over-bake. When you take them from the oven, carefully turn them out of the pan immediately into a large bowl or onto a cooling rack.
To Make the Barbecue Beef Filling:
Add the thin strips of bacon to a large skillet over MEDIUM heat. Cook until the bacon is crispy. Use a slotted spoon to transfer the crispy bacon to a paper towel lined plate to drain. Pour off all but 1 tablespoon of the bacon fat. Return the pan with the bacon fat to the burner, still over MEDIUM heat. Use your hands to break up the ground beef into the pan. Add the garlic, granulated onion, and kosher salt to the pan and stir it in.

Cook and stir, breaking the beef up with a spoon as you stir. When the beef is fully browned and no longer pink in the center, assess whether you need to drain the beef. If you do, pour the contents of the pan into a colander over a paper towel lined bowl to catch the grease. Return the beef to the pan along with the barbecue sauce and fish sauce or Worcestershire sauce. When the sauce is bubbly and hot all the way through, turn off the heat.
To Assemble the Barbecue Bacon Cheeseburger Bites:
In a small bowl, toss together the chopped parsley and chopped green onions. Fill each wonton cup with the Barbecue Beef Filling. Top the beef with grated cheese, a little crispy bacon, and a sprinkle of the parsley/green onion mixture. Serve immediately.
Notes
*If you prefer, you can substitute double the parsley and omit the green onions. Conversely, you can omit the parsley and double the green onions. I love a combination of the two, though.
Nutritional information is an estimate and provided to you as a courtesy. You should calculate the nutritional information with the actual ingredients used in your recipe using your preferred nutrition calculator.
Now, in all seriousness, would you take a moment to join me as I wish my nephew, Ian, well as he continues the long family tradition of serving our country? God Bless you, Airman Ian Lindamood! We are so proud of you!