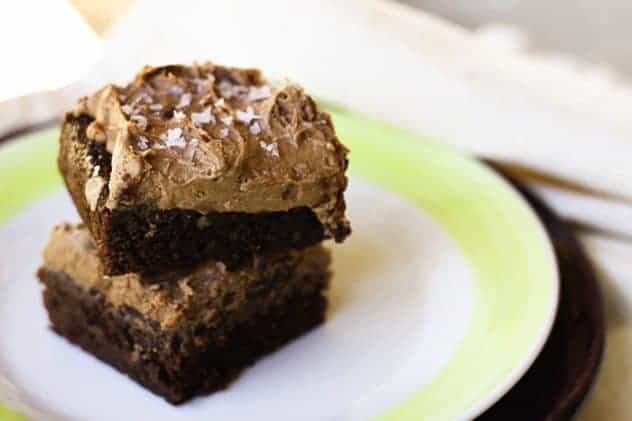 Salty sweet. Salty sweet. Salty sweet. Salty sweet. Salty sweet.
Despite the prevalence of desserts here on Foodie With Family, I don't have much of a sweet tooth. I think that is why I'm so picky about my desserts. When I DO want a sweet, I don't want just any sweet. I want the best.
Oh, hi. I'm high maintenance on desserts. There are certain things that are almost guaranteed to make me happy: dark chocolate, Nutella, and peanut butter or any combination thereof.
During a rare attack of my sweet tooth last week, I turned to one of the fastest ways to satisfy; I made brownies. They weren't just any brownies, though, oh no. They were THE brownies. The fail-safe, fool-proof, can't-mess-'em-up brownies I've been making for years. I'll tell you know, they're cakey. I kind of think of them as brownie cake rather than br-ow-nies. Brownies are, to me, just this side of fudge. And I don't know what possessed me, but this brownie cake that I've made so many times and left plain? I had to go and frost it. Simply had to do it. I was compelled.
Into the stand mixer went butter, Nutella and peanut butter. Because, well, I don't know. Because I could? Whatever the reason was, I'm awfully glad I did it because I ended up with the fluffiest, Nutella-y-est, peanut buttery-est frosting ever to get licked from the bowl. I grabbed ye olde offset spatula and put an entire batch of the frosting on the big brownie.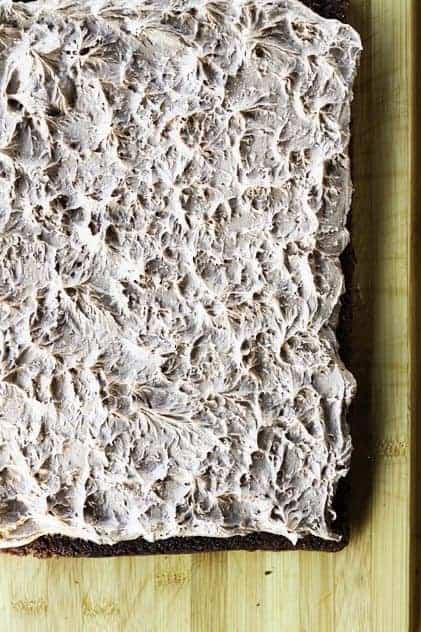 Then thought to myself, "EGADS. That is going to be sweet. SALT! I'm going to put salt on it." A little shower of Maldon sea salt flakes later, I sat down in front of the cutting board and cut off a corner of the now frosted and salted brownie cake to take a bite.
Have you ever had salt with your chocolate? Do you know what it does to you? There is a scientific reason behind why it is do dadburned good. Salt makes your taste buds wake up and take notice of what it rides in on. When you put salt on chocolate, the chocolate tastes more chocolatey. You know that's a good thing.
I do have one little bit of warning, though. Don't make this when you're going to be home alone. Just don't. Not that I ate too much of this by myself… But hey, if you're in the neighborhood, maybe you could roll me out to my pilates mat?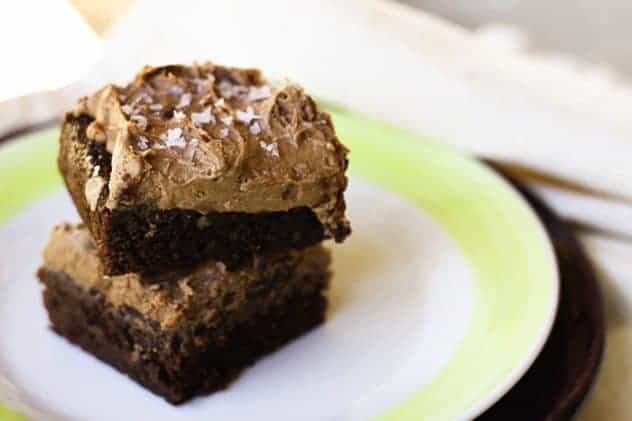 Brownie Cake with Nutella Peanut Butter Frosting
Rate Recipe
This fool-proof, fail-safe, crowd-pleasing, deep-chocolate brownie cake is topped with fluffy Nutella and peanut butter frosting and then sprinkled with Maldon Sea Salt flakes.
Ingredients
For the Brownie Cake:
4

ounces

4, 1oz squares unsweetened baker's chocolate, chopped

2

sticks

8 ounces or 16 tablespoons butter

2

cups

raw sugar

can substitute granulated white sugar if necessary

4

large eggs

1

cup

4 1/4 ounces by weight all-purpose flour

1

teaspoon

baking powder

1/4

teaspoon

kosher salt

1

teaspoon

pure vanilla extract
For the Nutella Peanut Butter Frosting:
1

stick

4 ounces or 8 tablespoons butter, softened to room temperature

1/3

cup

Nutella

2

tablespoons

creamy peanut butter

1

pound

4 cups powdered sugar

2-4

tablespoons

whole milk or heavy cream

1

teaspoon

pure vanilla extract
Instructions
To Make the Brownie Cake:
Preheat the oven to 350°F. Line a 9"x13" baking pan with foil and spray lightly with non-stick cooking spray. Set aside.

Unwrap and add the 2 sticks of butter and the chopped chocolate to a small, heavy-bottomed saucepan. Place the pan over very low heat and stir until the butter is melted and the chocolate is almost completely melted. Remove from the heat and stir until the chocolate is completely melted and the mixture is smooth. Pour into the bowl of a stand mixer fitted with a batter blade (or a mixing bowl in which you can use an electric hand mixer.) Add the sugar and mix on medium until combined.

Add the eggs, one at a time, mixing well after each addition.

In a separate bowl, quickly whisk together the flour, baking powder and salt. Add it to the mixer all at once and mix on low just until combined and there are no more dry pockets. Pour the brownie batter into the prepared pan and tap the pan on the counter two or three times to even it out.

Bake for 20-25 minutes or just until the center is set. Do not overbake! Remove the pan from the oven and let the brownies cool completely in the pan.

Use the foil to help you transfer the brownie cake from the pan to a cutting board. Carefully pull the foil from under the brownie cake.
To Make the Nutella Peanut Butter Frosting:
In the bowl of a stand mixer fitted with the whisk attachment, blend the softened butter, Nutella, and peanut butter on high until fluffy. Add the powdered sugar and start and stop the blender a couple of times to prevent a POOF of powdered sugar from flying into the air. Once you're sure you're in the clear, turn the mixer to high and blend until it is even. Pour 2 of the tablespoons of milk or cream and the vanilla extract while the mixer is running. Stop the mixer, scrape down the sides of the bowl. Mix on high again until smooth and fluffy, adding some of the additional milk if necessary.

Frost the cooled brownie cake. Cut into squares and sprinkle with Maldon Sea Salt Flakes -grinding them between your fingers over the frosting- just before serving.
Nutritional information is an estimate and provided to you as a courtesy. You should calculate the nutritional information with the actual ingredients used in your recipe using your preferred nutrition calculator.