Pure cheese is melted down, toasted, and then draped over a rolling pin or chopsticks while flexible to make cheese taco shells. These shells crisp up as they cool and make the ultimate taco night!
I was scrolling through my facebook feed the other day and saw my friend Kate had made fricos (cheese crackers) and draped them over a dowel a la home ec class for pretty little cheese tuile taco shells.
And it hit me like a ton of cheese: Cheese Taco Shells. Why had I not thought of this before? What was wrong with me?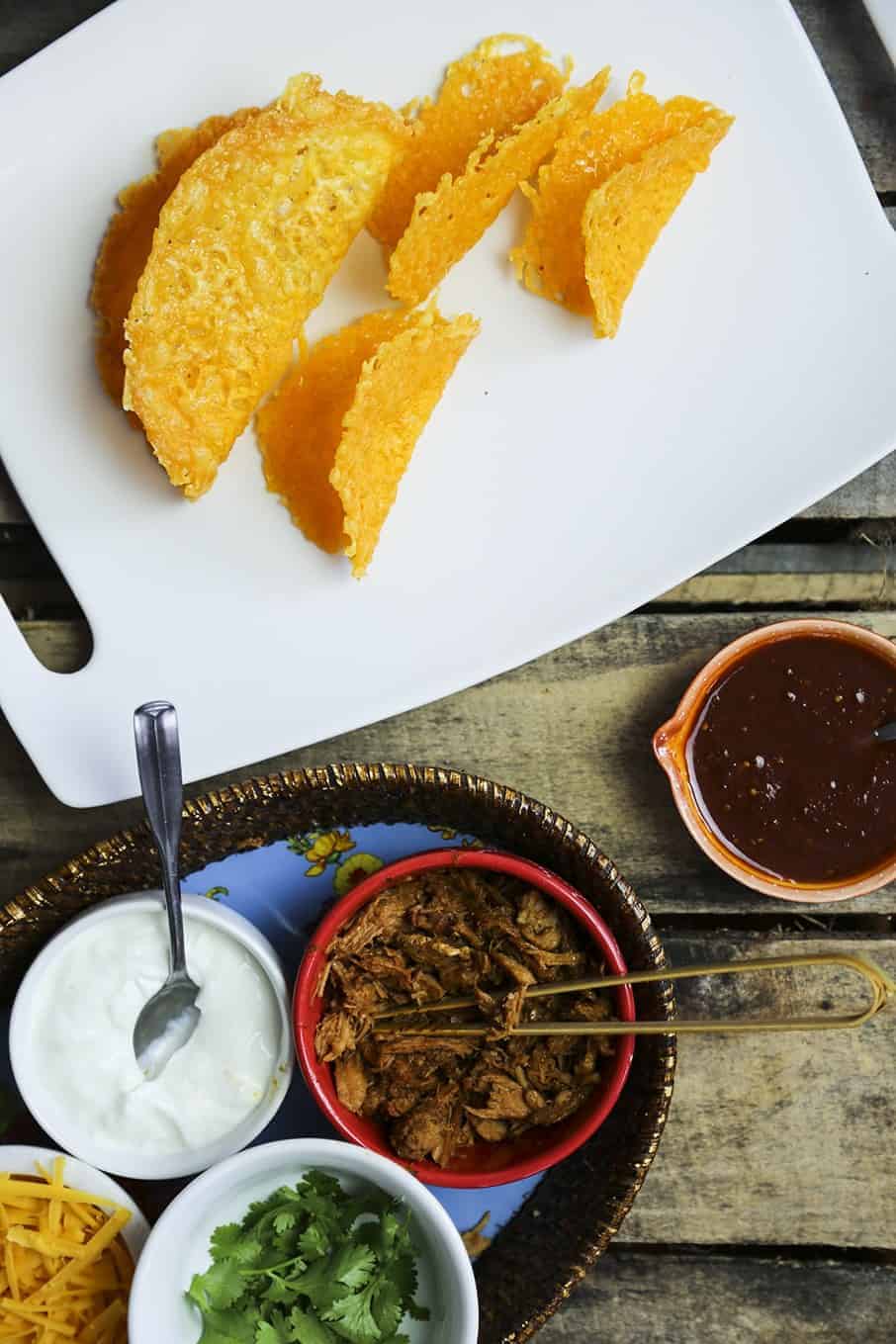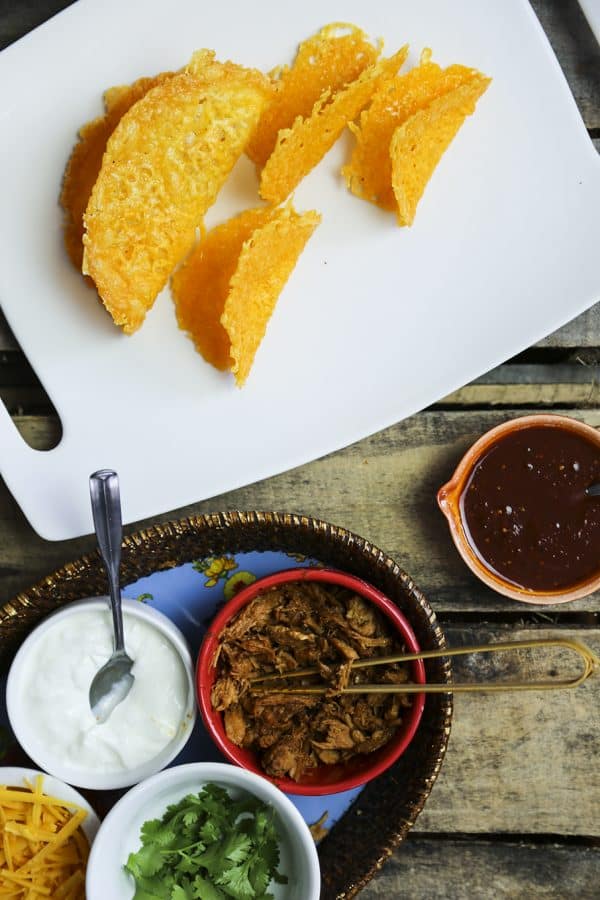 What could possibly be better than a taco shell made of cheese, stuffed with meat, topped with all of those lovely taco bits and pieces including more cheese? I mean CHEESE TACO SHELLS my friends. I'm pretty sure someone could claim it was low carb, too, so does that make it health food?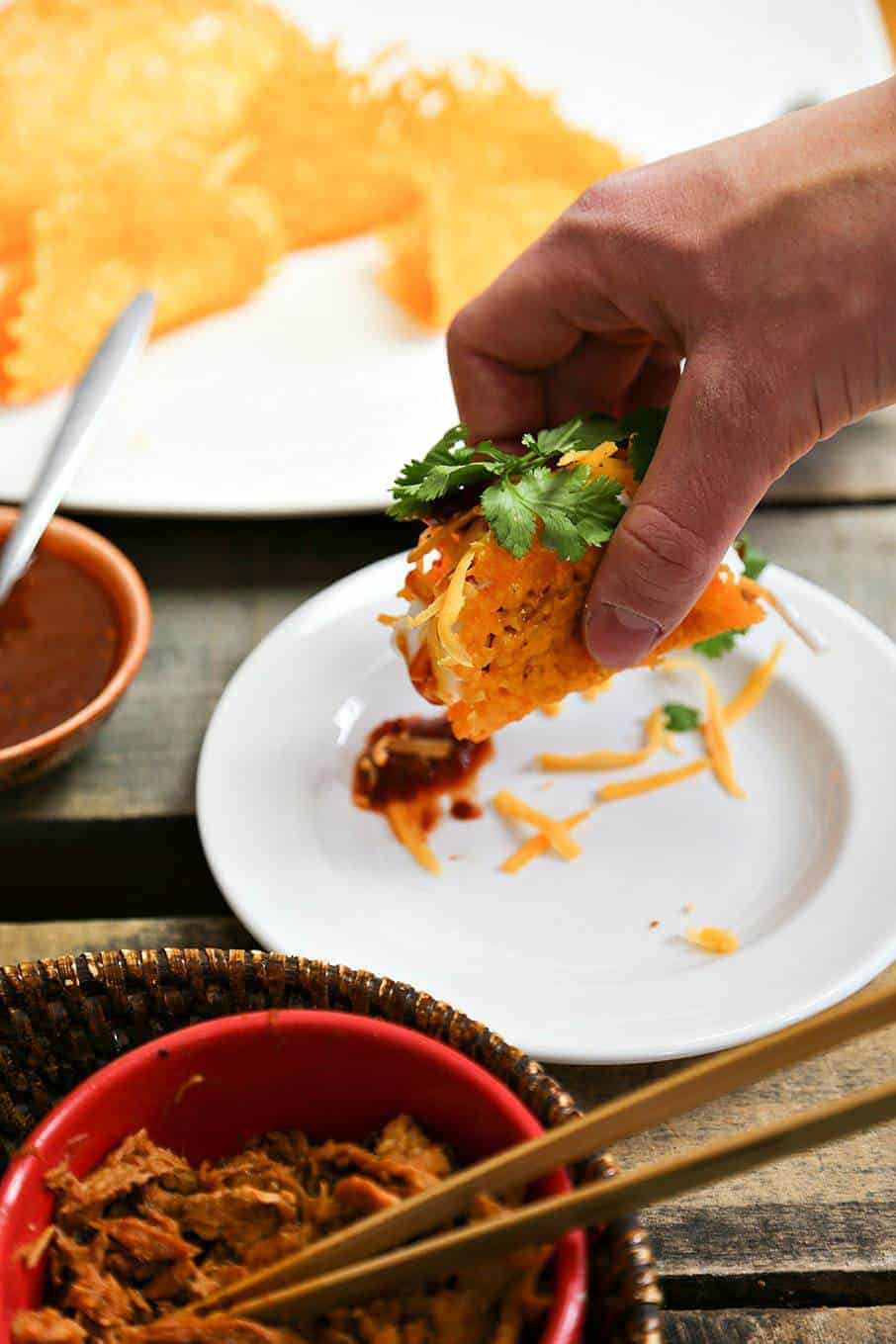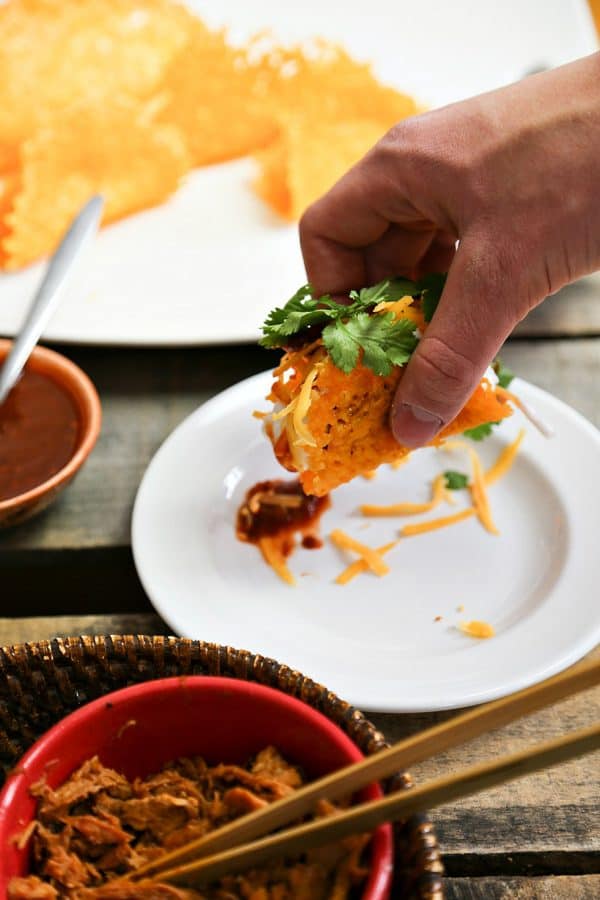 It's almost ridiculously easy to make cheese taco shells. You grate cheese, you put it on a silpat or parchment lined sheet pan and into a hot oven until the cheese melts and starts to toast, then you transfer to a dowel suspended between two jars… or a wooden spoon… or chopsticks… So. Easy.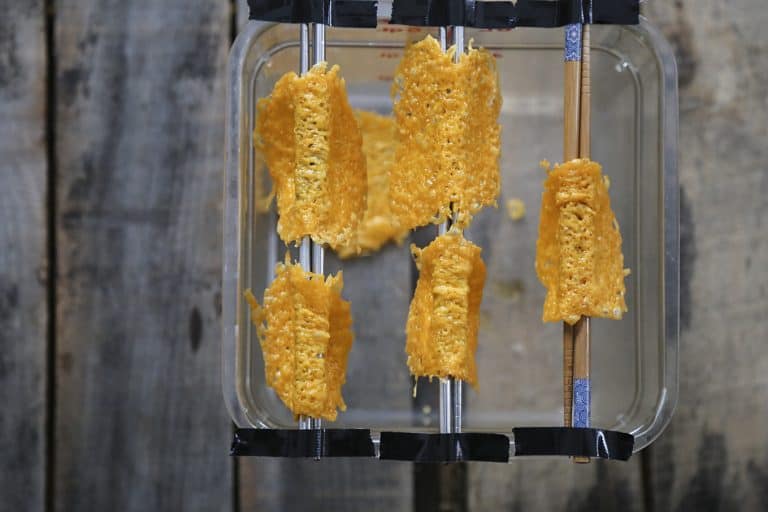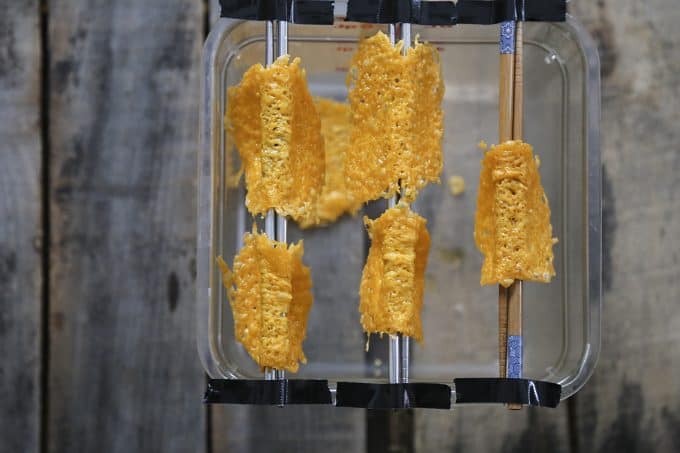 The hardest part is letting it cool, because let it cool you must. The cheese becomes crispier as it cools. Then you're free to stuff those little or big Cheese Taco Shells with all the taco fillings your heart desires. It makes me want to purr.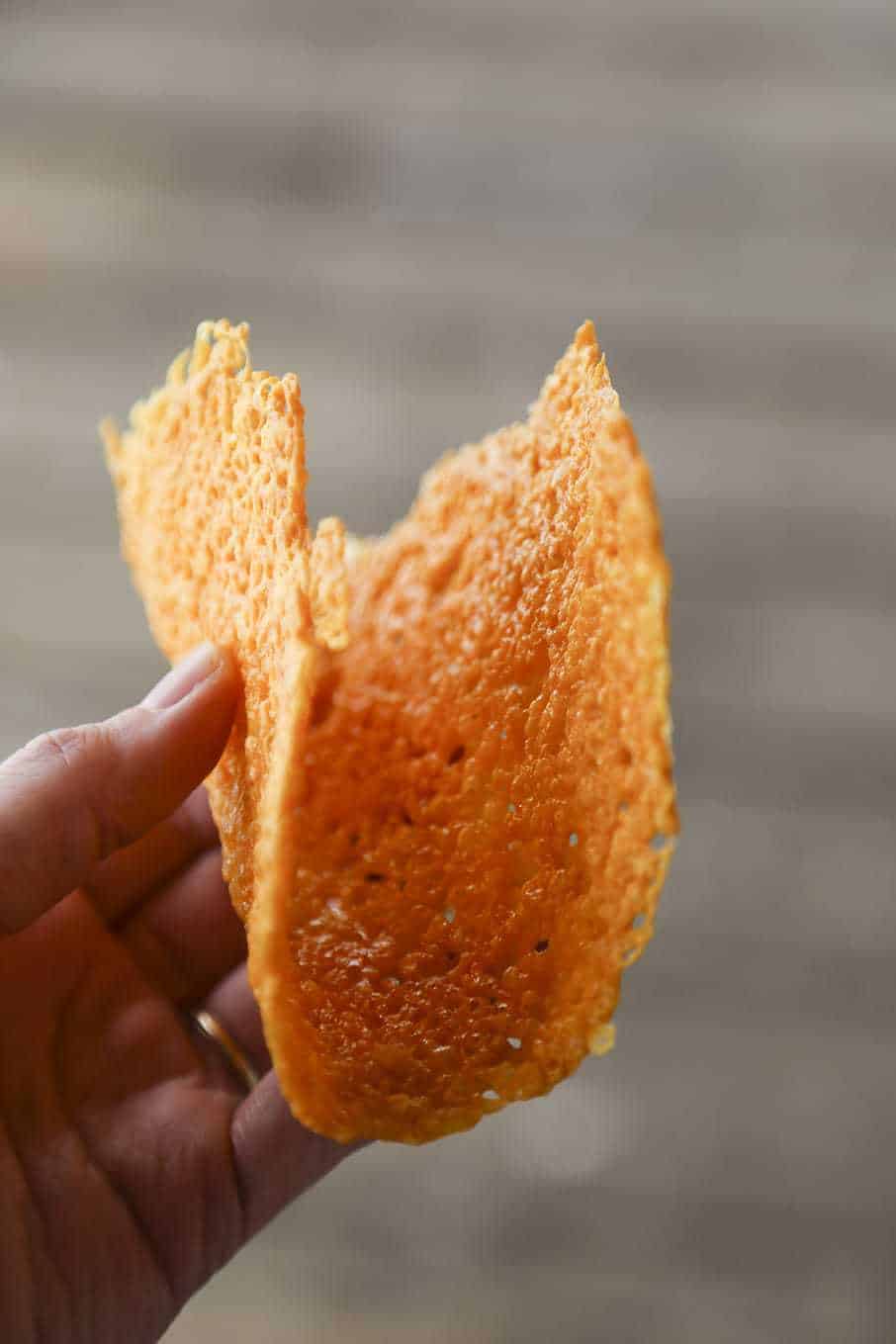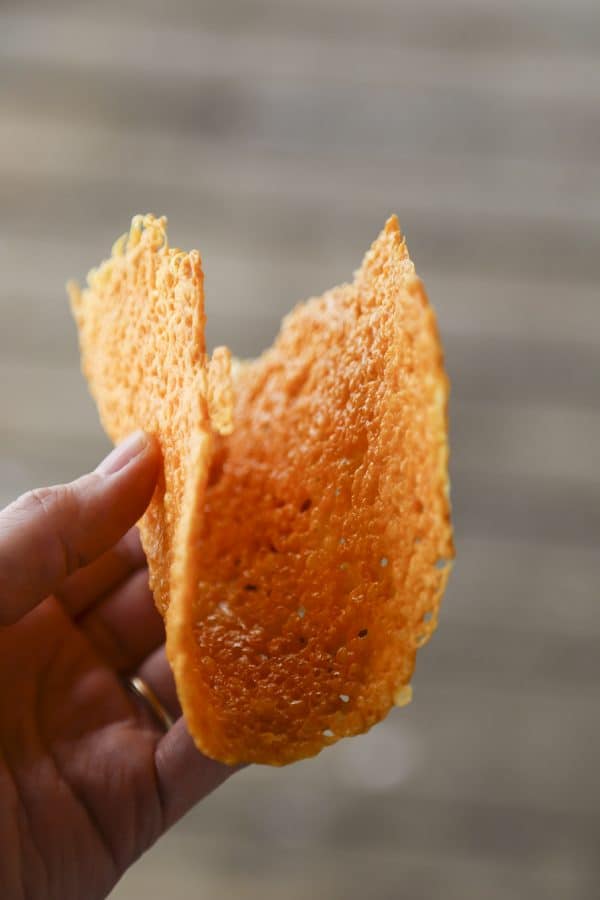 Here's a handy video to show how easy the process really is… Plus PARTY MUSIC!

So what do you put in cheese taco shells? Well, how about some Copycat Chipotle Barbacoa? Or slow cooker barbecue chicken? And you should most definitely serve an icy cold berry kombucha margarita with them, too!
Cheese Taco Shells
You have options here when we are talking about size. You can go with full size taco shells. 8 ounces of cheese will yield about 4 to 6. I like the 2-bite sized Cheese Taco Shells. 8 ounces of cheese will yield about 10 to 12 of those.
Since we are talking cheese, let's talk which type. You can go with mild, sharp, or extra sharp Cheddar, but please don't try this with Monterey Jack or Pepper Jack. While it's tempting, it's just too creamy and doesn't crisp up nicely.
The trick to this is having everything ready to go when the cheese goes into the oven. You really don't want to mess around trying to balance spoons or chopsticks on jars when you're pushing a hot pan around on the oven. The cheese discs will firm up before you have a chance to transfer them if you try that manoeuvre.
Likewise, don't let the cheese toast to fully brown. It'll be too rigid to bend into the taco shell shape. You want it to be bubbling still with brown around the edges. Look to the 2-bite sized portion of the video for a good visual example of the perfect point to pull your pan from the oven.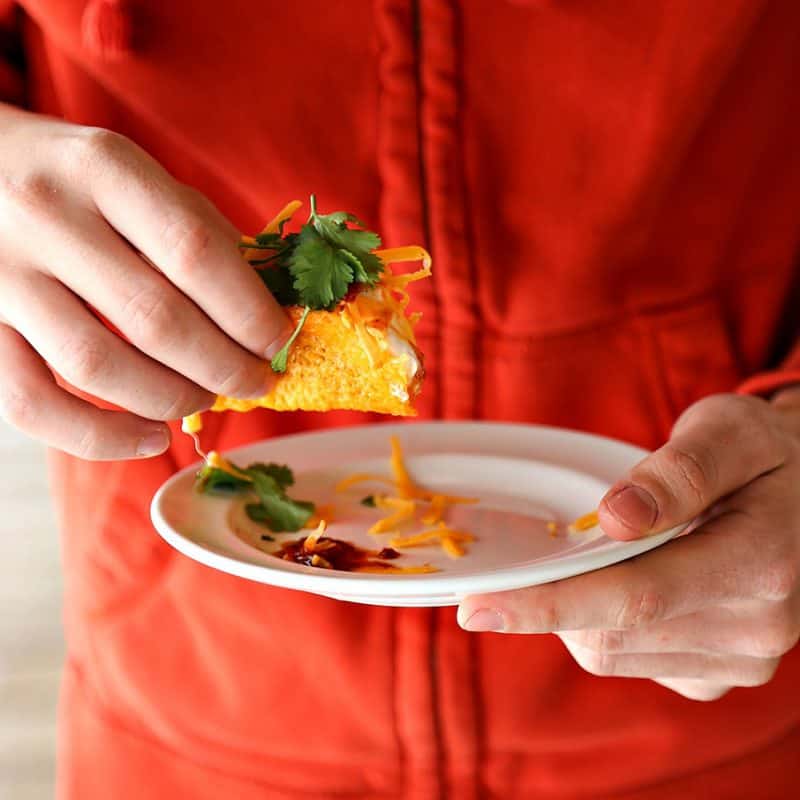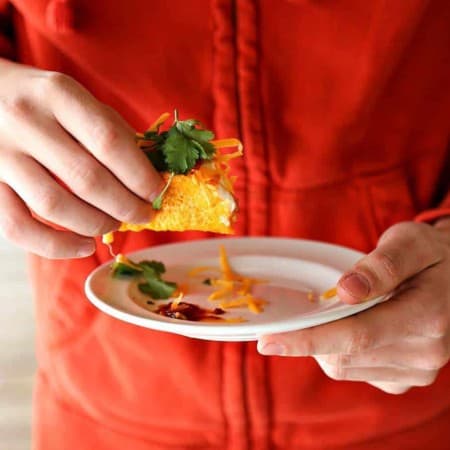 Super crunchy, pure Cheese Taco Shells. Easy as can be, indulgent, and fun, Fun, FUN!!!
Ingredients
8

ounces

grated Cheddar cheese
Instructions
Preheat oven to 375°F. Line a sheet pan or two with parchment paper or silpats. Place dowels or chopsticks between two jars or over a bowl that supports both ends.

Arrange piles of cheese with at least 4 inches of space between them to allow for spreading. When the cheese is fully melted, brown around the edges and 2/3 of the way to the center. Immediately transfer onto dowels using a slotted spatula. Allow gravity to pull the sides down. Cool completely before stuffing.
Nutritional information is an estimate and provided to you as a courtesy. You should calculate the nutritional information with the actual ingredients used in your recipe using your preferred nutrition calculator.