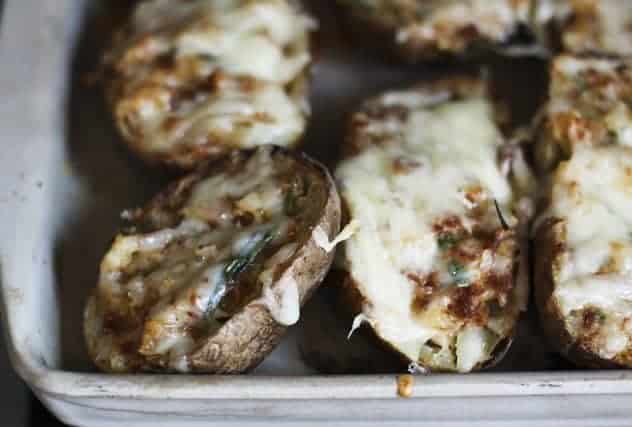 The giveaway info is below the recipe, so make like a scuba diver and keep on going down!
Some of the best food is just not pretty. It's gooey, gloppy, brown, and not even a little bit elegant. It looks like it's not worth the paper plate it rode in on. But when the scent wafts to your nose, when you take that first bite and the inelegance of the whole thing gives way to an explosion of flavour, it suddenly transcends the need to be another pretty dish. You plate it how you want. Heck. Sometimes you just skip a plate if the spirit moves you. It doesn't matter as long as you get the food to your mouth. How can this happen? Isn't there the axiom about eating with your eyes before you eat with your mouth? I'm working on a hunch about the phenomenon, though.
I call it my Frog in a Box theory.
Everyone remembers the Looney Tunes cartoon where the down-on-his-luck, unemployed construction worker finds a frog with the extraordinary ability to sing like an angel, right? The man hoards his new found, potentially lucrative critter in an attempt to make money off of it. He goes to a talent agent's office, talks a big game, plops the frog on the desk where he promptly delivers a resounding, "Brrrrrrrrrrrr-ibbit!" The man and his frog are bounced out on their respective ears* and once the door is slammed shut, the frog sings an aria in the hallway. Oh the frustration! Darned frog!
*Do frogs have ears? I should know this. I feel a homeschooling unit coming on…
After a few more rejections the man takes matters into his own hands and rents a theater where he resorts to trickery to bring in a crowd. (Free beer and chicken, anyone?) He gets a full house, raises the curtain, shoves the frog on stage and once more, "Brrrrrrrrr-ibbit!" The crowd exits, stage left and the frog consoles the man by singing a few popular ditties.
So here's the deal. This dish is my Frog in a Box. No matter which light, which plating, which lens and which toppings I used, these things just plain looked ugly. And every time I took a bite, I heard a glorious choir in my head. What was a gal to do? I don't give up as easily as our  poor Looney Tunes construction worker. I'm posting it anyway, ugly photos and all. That blasted frog was able to escape detection but these potatoes? They're here for everyone else to try and enjoy. Make them. Try them yourself! Stick it to the frog!
The crispy potato shell holds a creamy Cheddar, chorizo and green onion studded mashed potato filling. Eat them for breakfast, second breakfast, lunch, snack or dinner. Plate them or hold them in your hot little hands while you eat them. Have them with a proper dinner or slap a platter of them on the coffee table for the ultimate hockey or football viewing snacks. You can even make these up to the point where you'd bake them and stash them in the freezer (minus their cap of shreddy-cheddy) until you want to serve them. Top with cheese as directed and bake. How neat is that?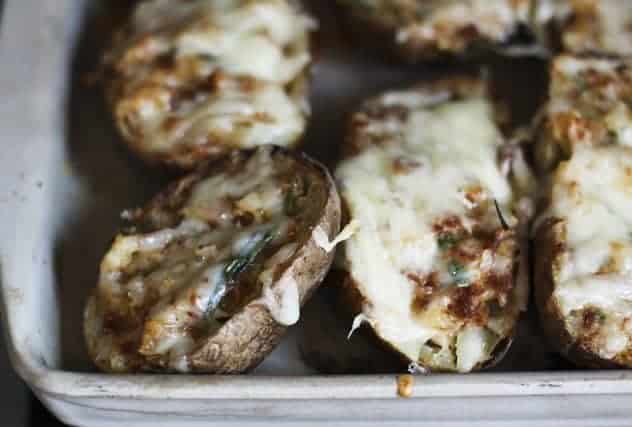 Cheddar and Chorizo Stuffed Twice Baked Potatoes
Rate Recipe
Crispy shelled, creamy Cheddar and chorizo and green onion stuffed twice baked potatoes are a great comfort food addition to your winter meal and snack repertoire. I've eaten these at breakfast, lunch, dinner and snack time and can promise they're one of the best game day snacks you could ever serve. All that and they're easy, too!
Ingredients
6

leftover baked potatoes

4

tablespoons

softened butter

1/2

cup

room temperature milk or half and half

4

cups

shredded Cheddar cheese

divided

2 1/2

cups

cooked and crumbled Mexican style chorizo

divided

6

green onions

cleaned and thinly sliced
Optional for serving:
sour cream

candied jalapenos

additional sliced green onions

salsa
Instructions
Preheat oven to 350°F.

Halve each potato lengthwise. (Before halving each potato, pay attention to how it naturally lays on the cutting board so that after halving, they don't tip when placed skin side down on the pan.) Scoop most of the potato innards into a mixing bowl, just leaving enough in place to maintain the shape of the potato skin. (This means leaving about 1/4" of potato guts in place.)

Smash the potato guts together with the softened butter, milk or half and half, and 2 1/2 cups of the cheese in the mixing bowl until the potatoes are relatively smooth. Stir in the chorizo and green onions until evenly distributed.

Divide the potato filling evenly among the potato shells, spreading the filling to the edges of the potato skins. Sprinkle the remaining cheese evenly over the tops of the stuffed potatoes.

Bake for 35-40 minutes, or until the cheese is bubbling and the filling is hot all the way through. Serve as is or topped with sour cream, candied jalapenos , salsa, and sliced green onions.
Nutritional information is an estimate and provided to you as a courtesy. You should calculate the nutritional information with the actual ingredients used in your recipe using your preferred nutrition calculator.