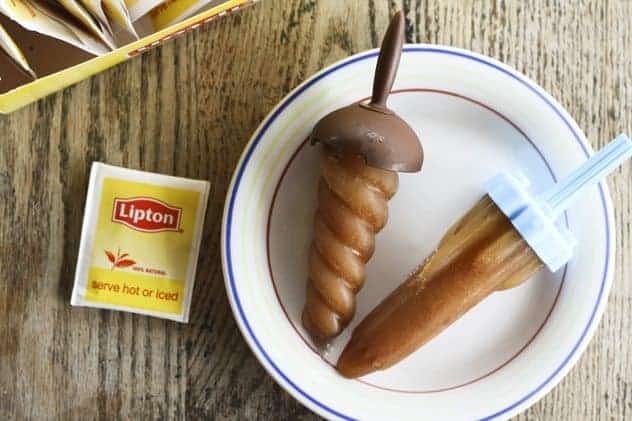 I have a confession to make but I'm going to do it quickly and quietly because I'm going to offend the entire South in one fell swoop. (Idon'tlikesweettea.)
There. I said it.
I just don't. I love tea -don't misunderstand me- but I like my tea black and bitter… like my attitude in hot weather. I recognize that there's an entire industry built around sweet tea and that the love for it has crept north steadily. I just don't have much of a sweet tooth. I was analyzing my feelings about sweet tea the other day* trying to figure out why I don't like it when everyone else seems to love it. Conclusion: it feels desserty to me and I don't like to drink my dessert unless it involves a blender, sinful quantities of ice cream, and a drizzle or seven of chocolate syrup.
*Everyone else analyzes their feelings about food, right? I'm totally normal, right? RIGHT?!?
But in the same self-analysis, I had a thought. What if I turned the sweet tea into dessert? Well, that would make sense! I just happened to have root beer syrup on hand, so I opted for root beer sweet tea  but any simple syrup (syrup made by boiling equal amounts of sugar and water together until sugar is dissolved) would work in its place. I mixed the root beer syrup with the freshly made iced tea and poured it into ice pop moulds and popped those into the freezer.
I used decaffeinated iced tea because I can't handle caffeine past a certain hour and a caffeinated dessert would be a sure-fire way to keep me up into the wee hours of the morning cursing myself. I'm a caffeine weakling. If you're tougher than me, feel free to make yours more high octane by substituting regular black tea for the decaf variety I used.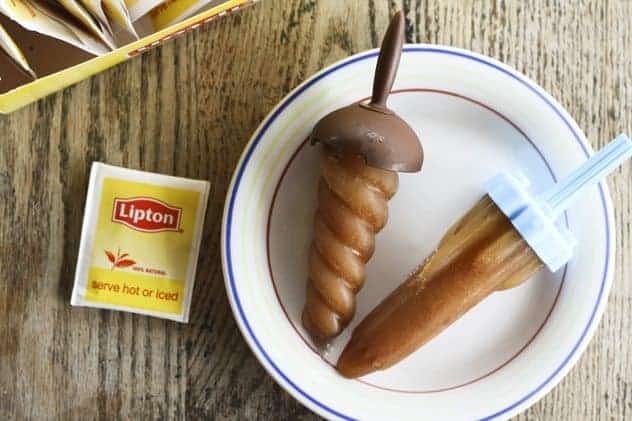 If you like sweet tea, you'll love these refreshing Sweet Tea Ice Pops. Geez, even if you don't like sweet tea you may love these!
Ingredients
For Sweet Tea Ice Pops:
4

cups

boiling water

4

decaffeinated or regular black tea bags

Like Lipton, Red Rose, Luzianne, etc...

simple syrup

plain or flavoured, see below, to taste
Instructions
To Make Simple Syrup:
Add sugar and water to a heavy-bottomed saucepan and stir. Bring to a boil, stir to ensure the sugar is all dissolved and remove from the heat. Pour into a clean canning jar, fix a lid onto the jar and store in the refrigerator for up to a month.
To Make the Sweet Tea Ice Pops:
Pour the boiling water over the tea bags and let steep for 3-5 minutes, depending on how strong you like your tea. Remember that the flavour will be milder when frozen, so you may want to make it stronger than usual. Remove the tea bags and stir in simple syrup to taste. Again, the sweetness will be less pronounced when frozen so you may want to sweeten slightly more than you usually would do. Let the tea cool to lukewarm.

Pour the tea into popsicle moulds (or small, disposable paper cups) and insert sticks. Put the moulds in the freezer until the tea is frozen through the center, about 8 hours, depending on the size of your moulds.
Nutritional information is an estimate and provided to you as a courtesy. You should calculate the nutritional information with the actual ingredients used in your recipe using your preferred nutrition calculator.