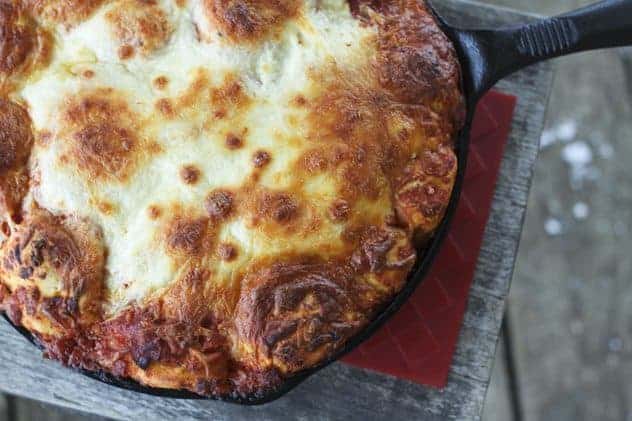 Isn't there some sort of sporting event coming up this weekend? Some big deal? Football something or other?
I'm a little fuzzy on that point, I'm just thinking I've heard talk.
Anyway, if you happen to be going somewhere or having lots of people over, you might be expected to have some finger food available. It's only natural. And if you're looking for something fast and filling, it doesn't get much better than this.
We're talking about Bubble Pizza. What is that, you say?
Pizza dough + pizza sauce + pepperoni + scads of cheese = Bubble Pizza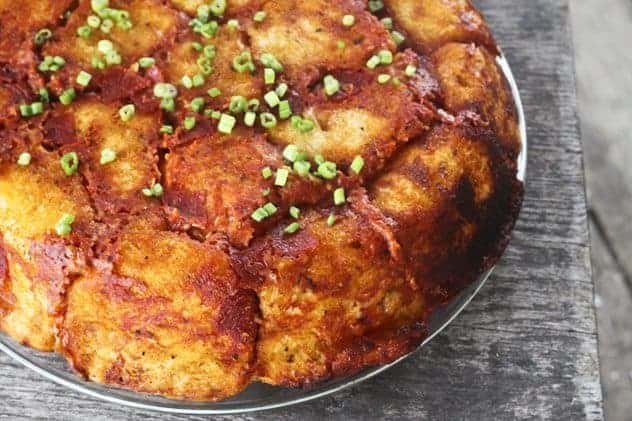 In other words, it's a  lip-smacking, comforting, puffy, pizza-goody-packed, cheesy, gooey, easy, crowd-pleaser. If you're not cooking for a crowd, don't despair. If you serve this with a nice green salad, you have a complete meal that'll win over everyone other than the dearly departed Doctor Atkins.
Here's a bonus… If you keep this dough on hand, Bubble Pizza is never more than an hour away!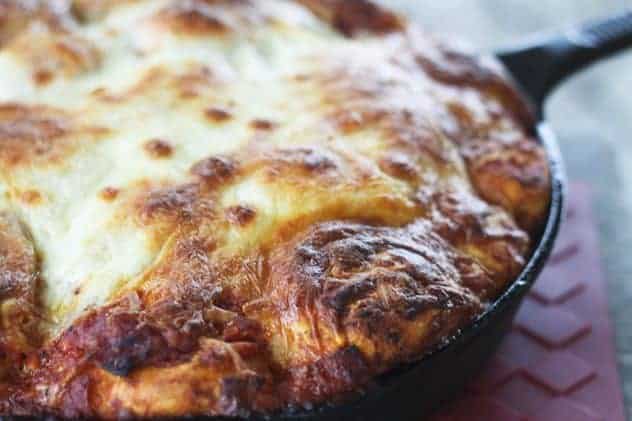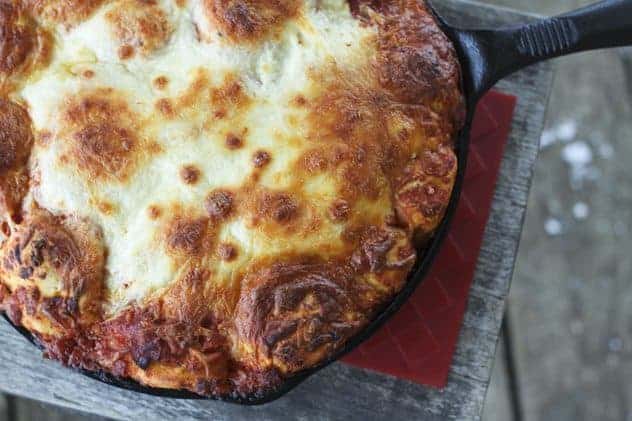 Some parts crispy, some tender, but all gooey, cheesy, pizza-y and full of pure comfort, Bubble Pizza is the perfect addition to your big game party food, but it's equally at home served with a big salad for a fast and satisfying weeknight meal.
Ingredients
1

pound

pizza dough

like this , cut into 16 roughly equal sized pieces or storebought

2

cups

of your favourite pizza sauce

like this

3

cups

grated part-skim mozzarella

separated

25

thin slices of pepperoni

cut into quarters

2

tablespoons

olive oil
Optional:
sliced green onions for serving
Instructions
Drizzle the olive oil into a 9-inch to 12-inch cast iron skillet (or other heavy oven safe skillet.) Use a pastry brush to distribute the oil over the bottom and up the sides of the pan.

In a medium mixing bowl, stir together the pizza sauce, 1 cup of the mozzarella and the pepperoni slice quarters until evenly mixed. Drop in one piece of dough at a time, use tongs or two forks to turn it to coat both sides, then transfer to the prepared pan. Repeat with the remaining pieces of dough. If any of the sauce mixture remains in the bowl, use a spoon to dollop it in small amounts over the dough that is in the pan. Sprinkle the remaining cheese evenly over the prepared dough and let rise for 10 minutes before preheating your oven to 425°F with a rack positioned in the center third of the oven.

When the oven reaches the correct temperature, slide the pan into the oven (on top of a rimmed baking sheet to catch drips if the dough, cheese and sauce look precariously close to the top of the pan. Remember it will rise higher as it bakes!) Bake for 25-30 minutes (or longer, if necessary) or until the bread is puffy and well-set and the cheese is melted and browned. Remove the pan from the oven and let it rest for 10 minutes. Lay a platter or plate that's slightly larger over the top of the pan before carefully inverting.

If desired, you can sprinkle sliced green onions over the Bubble Pizza before serving. Serve warm!
Nutritional information is an estimate and provided to you as a courtesy. You should calculate the nutritional information with the actual ingredients used in your recipe using your preferred nutrition calculator.