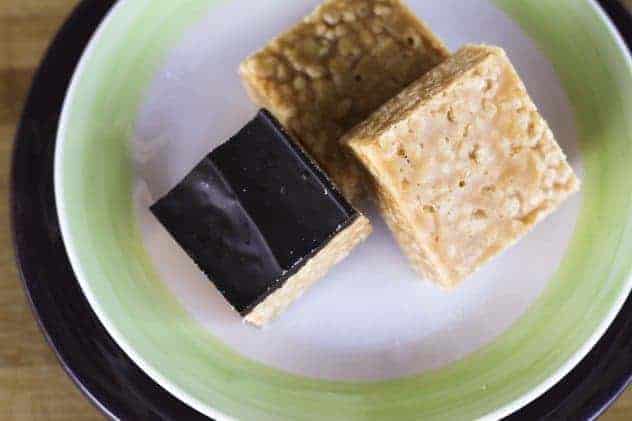 A note to those with peanut allergies in the house. You can easily prepare these with sunflower or cashew or almond butter. They'll be every bit as good!
*Cough cough*
In general I'm an annoyingly healthy person. I chalk this up to my lifelong practice of germophobia. I'm a poster child for the efficacy of excessive handwashing and hermit-like behaviour in flu and cold season. Who am I kidding? I aspire to being a recluse. I am what I am.
Hence, when I actually get sick, I turn into a big baby; for instance, right now. I sit in my chair in front of the woodstove and sit a wastebasket by my feet for tissues and slurp hot tea like a sump pump in a storm. Proper meals? Bah. I want treats. I want my mom to show up at my doorstep with a can of spaghettios and a chocolate malt cup.* But there's that snowstorm we just had and that wicked winding mountain road between us and the fact that my mom has *gasp* a life! And I am, after all, a grown up, so I make my own treats.
*That was our default treat when we were sick as kids. On the drive home from the doctor's office, with a bottle of the pink stuff safely in our possession, we'd stop at the corner gas station and grab spaghettios and chocolate malt  ice cream cups. I still think those did the job as much as the day-glo amoxicillin.
The criteria for "sick treats" are pretty cut and dried.
It has to be easy. No sifting/sieving/fancy knife work allowed.
It has to be made entirely of things in the pantry or fridge.
It has to be tasty.
It has to make a lot.
…And if it happens to hearken back to my youth, so much the better. What screams kid more than rice krispie treats? Not a whole lot. My favourite crispy rice bars are a wee bit different than the traditional variety in that they don't use marshmallows and they're decidedly peanutty. It just doesn't get much easier than these treats. I'm willing to bet you have everything you  need in the cabinets right now. Best yet, you can choose to leave them nekkid or scatter a bunch of chopped dark chocolate or chocolate chips over the bars while still hot. The chocolate melts and few flicks of the wrist with a silicone or offset spatula renders the chocolate coating complete.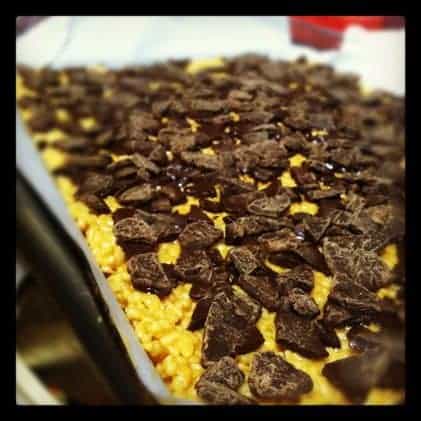 Look at that chocolate getting all glossy and melty. You know that's going to be good.
Some advice about working with the bars, whether you use the chocolate coating or not…
When spreading the hot crisped rice mixture into the pans, use a silicone or rubber spatula that is lightly oiled. The mixture likes to stick to wooden spoons and is far too hot to spread with your bare hands.
Line your pan with parchment paper that either completely covers the inside of the pan or extends up two opposite sides to make removing the bars from the pan easier. This, in turn, makes cutting the bars easier since you can lay them out on a cutting board and whack 'em clean instead of fighting to get a knife to the edges inside a pan.
After refrigerating the bars to help them firm up, allow them to sit on the counter at room temperature for at least thirty minutes before attempting to cut them. Trust me. If you don't, you'll be cursing my name while trying to hack these things apart. I like you. I don't want you to curse me.
As long as you keep them in an airtight container (think: Gladware, Ziploc containers, Rubbermaid, etc…) you can store them at room temperature for up to a week although I seriously doubt they'll stick around that long as they have an alarming tendency to leap into your mouth when you're walking past them.
The recipe, as given, makes a very large amount. The reason for this is that it uses an entire twelve ounce box of crispy rice cereal. You can definitely halve it if you'd like, it just means you're going to use about six and a half cups rather than the whole box. On the other hand, if you make the entire batch as written, you can make your family happy and give away the extras (ha) and thereby make the postal carrier, UPS guy, school bus driver, or veterinarian very, VERY happy. Unless you're ill, in which case you should probably eat them all to keep up your strength. Your call.
Now, I'm going to go sit down after I put a log on the fire and eat a few more of these. In the name of health, of course. What excuse I have for the ponytail and ugly sweat pants I don't know…
*sniffle*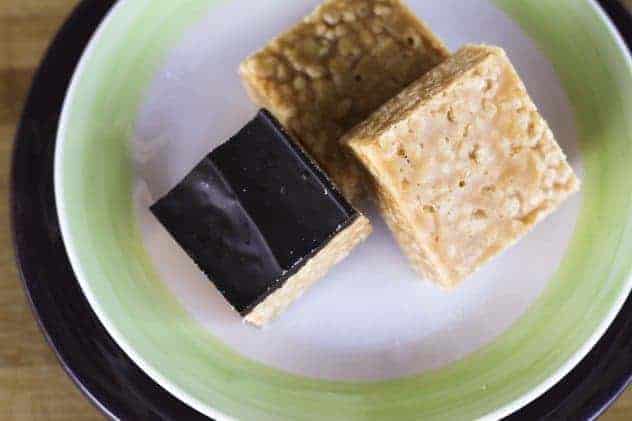 Peanutty Crispy Bars | Dark Chocolate Covered Peanutty Crispy Bars
Rate Recipe
These chewy, crispy, peanutty crispy rice bars give the traditional Rice Krispie Treats a fun make-over. We like the texture and flavour better than the originals!
Ingredients
1

12 ounce box crispy rice cereal or 12 1/2 cups (like Rice Krispies)

2

cups

honey or light corn syrup

2

cups

granulated or raw sugar

1

cup

butter

2

cups

peanut butter

creamy or crunchy
Optional:
3

cups

well-chopped dark chocolate or semi-sweet chocolate chips
Instructions
Line a 13"x18" half sheet pan with parchment paper being sure that the parchment paper extends up at least two of the opposite sides so you can use the parchment paper to remove the uncut bars from the pan more easily. Set aside.

In a large, heavy-bottomed stockpot, melt together the butter, honey or corn syrup, and sugar over medium low heat. When the butter is fully melted, raise the heat to medium high and bring to a boil. Boil hard for 1 minute. Remove from the heat and stir in the peanut butter quickly until the mixture is smooth. Immediately add in all of the crispy rice cereal and gently but quickly combine until the cereal is all coated evenly and there are no pockets of liquid. Turn the mixture out onto the prepared pan and use a lightly oiled spatula to evenly distribute then press the mixture into the pan. Be sure to push it into the corners, too, before smoothing the top.
Optional:
If you'd like your bars to be chocolate covered, scatter the chopped chocolate or chocolate chips evenly over the top as soon as you have it pressed into the pan. Let stand at room temperature until all of the chocolate is glossy and melted looking (about 5-10 minutes) then use an offset spatula or a silicone spatula to spread the chocolate evenly.

Put the pan into the refrigerator for at least an hour to let the hot bars set up. Before cutting into squares or whichever shapes you prefer, let the bars set at room temperature for at least 30 minutes.

Store bars in an air-tight container at room temperature for up to a week.
Nutritional information is an estimate and provided to you as a courtesy. You should calculate the nutritional information with the actual ingredients used in your recipe using your preferred nutrition calculator.