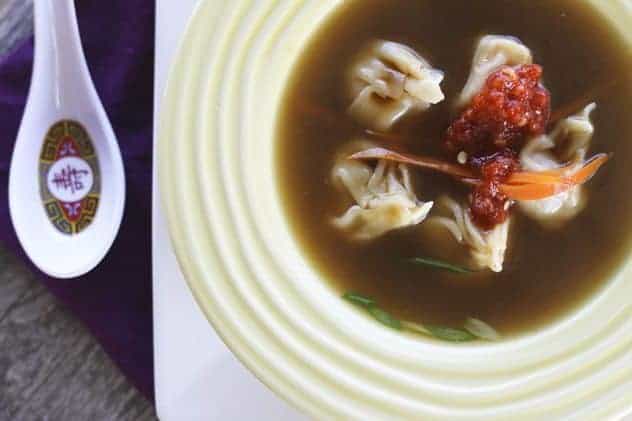 My husband has been doing a lot (A LOT) of business travel lately. As in he's been gone more than he's been home, unfortunately. Before he headed out for a particularly long stretch a couple weeks ago, I ran to the store and bought giant multi-packs of paper towels, toilet paper and saltine crackers. As he helped me unload the back of the car, he threw me a weird look. I said, "If I don't get all this, it's a certainty that as soon as you leave everyone is going to start throwing up and I'll have to go to the store with a fever and five kids in tow looking like death warmed over trying desperately to find toilet paper and paper towels and saltine crackers because no one can keep anything else down. And when I get to the store I'll find that there's been a run on crackers for some reason and they only have the one-ply toilet tissue. You wouldn't want that to happen would you?"
I get a little panicky when I know I'm going to be flying solo for a long period of time. Call it neuroticism informed by experience, but I'm sure many of you have been down this same path.
The car was pulling out of the driveway when I heard, "Mom… I feel like I'm gonna…" and  you know what came next. It was going to be one of THOSE WEEKS. It was almost inevitable. But hey, I had saltines…
Saltines, however, can only sustain a family so long. So what are you to do when all available grown-ups are either feeling punky or are out of town, the kids are sick and it's dinner time? That's when you have a couple options: a.) order out. b.) eat chips c.) take something out of the freezer. If you're like me, none of that sounds particularly appealing. But I'm being tricky. I have an ulterior motive.
With the casserole and cream-of-whatever-soup centric once a month cooking, food from freezer has taken a bum rap lately. I've already talked about my dissatisfaction with OAM cooking, so I won't belabour the point except to say this; I get really tired of eating things that taste alike day after day. And again? I'm being tricksy and beating around the bush.
This is where I break into my own story to make a quick announcement. I'm adding a new feature here on Foodie with Family (fanfare! Bum-ba-da-DA!) Every Monday we're going to revamp freezer food's reputation together. Make Ahead Monday is going to feature one recipe were we do the bulk of the work on a recipe and freeze it properly so we can have fresh, varied, delicious food cooked from frozen on THOSE NIGHTS.
"But wait!" you say, "Isn't that pretty much the same thing as OAM cooking?" Well, no, and let me explain why. One of the main points of OAM cooking is taking one or two days to cook all of the meals you'll need for the month. Make Ahead Mondays is -at its essence- making one item every week to stash in your freezer to help you get meals on the table when you're too busy to think.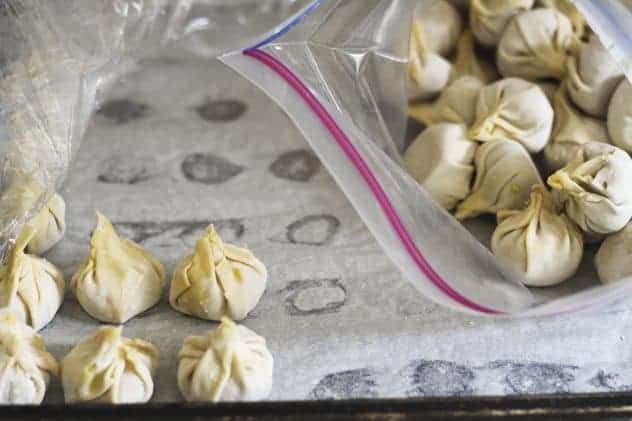 And because the quality of food that's been frozen is largely reliant on the way you freeze it and cook it after freezing it, Make Ahead Mondays will include instructions on the best way to stash and reheat your goodies. Most Make Ahead Mondays will feature a new recipe, but every so often, we'll go back into the Foodie With Family archives to highlight an older recipe that holds up well to this treatment.
For our inaugural Make Ahead Monday, I'm excited to share one of my favourite soups of all time with you: Wonton Soup. This fast soup is made using fragrant ginger and scallion pork stuffed wontons that you make and freeze ahead of time. With the wontons in the freezer, this soup pulls together with only six essential additional ingredients that you usually have on hand (or nine if you want super tricked out wonton soup.)
This isn't just my favourite soup here. It holds the distinction of being the one and only soup that absolutely everyone in the household loves madly. We're all crazy about it. It is the only soup that I don't have to threaten to withhold dessert in order to get the two youngest to eat. It is just about perfect in every way. Clear, fragrant, and ever-so-slightly garlicky broth with soft, pillowy ginger scallion pork dumplings and matchsticked carrots poured over thinly sliced scallions is a recipe for pleasing everyone in our home. Okay, so I omit the carrot sticks and thinly sliced scallions in the bowls of the two little ankle-biters, but that's no big shakes. They have no idea how much scallion they're ingesting in the dumplings. BWAHAHAHAHA!
Speaking of children and wonton soup, the name of our soup requires a little explanation. As I was preparing this very soup the other night, my eldest son entered the room and asked what I was making for dinner. "Wonton soup!" I replied. He got a wry look on his face and said, "Wouldn't you say that's irresponsible?" and waited for my reaction. It took me a full minute to get the joke, but when I did, I felt very secure in the knowledge that our vocabulary work has paid dividends. We have changed the name of the soup to Irresponsible Soup.
You can make as many wontons ahead of time as you'd like, just keep in mind that they're good for up to six months in the freezer when properly frozen and wrapped, so plan accordingly. And like the dumpling recipe itself, the soup recipe lends itself to scaling up beautifully. Just apply the same cooking method and you can make dumpling soup for a crowd as easily as soup for one. If you don't think this soup beats every container of take-out wonton soup you've ever had, I'll eat my, well, I'll eat the soup for you. How about that?
I'd love your opinion. Do you think Make Ahead Mondays will be helpful to you or am I going to have to do some real convincing to get you to agree that there's nothing irresponsible about it? I can't wait to hear what you all think!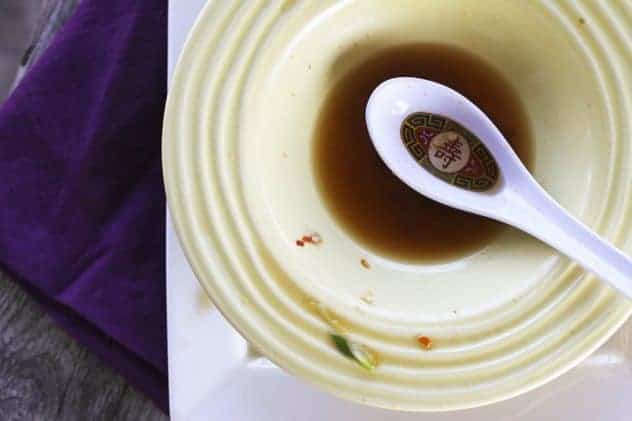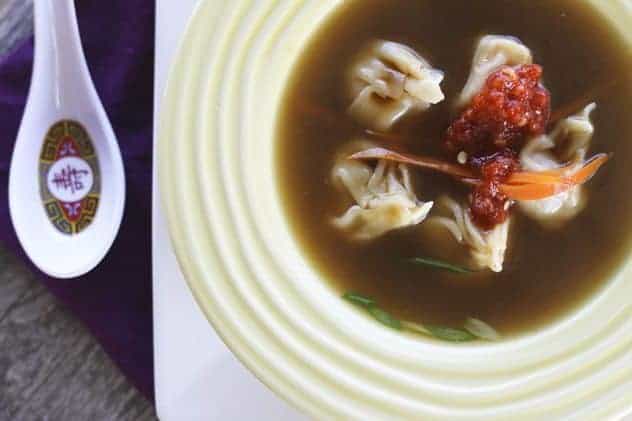 Frozen Soup Dumplings and Irresponsible Wonton Soup (Make Ahead Monday)
Rate Recipe
Clear, fragrant, and ever-so-slightly garlicky broth with soft, pillowy ginger scallion pork dumplings and matchsticked carrots poured over thinly sliced scallions is a recipe for pleasing everyone in our home and is certain to please you and yours, too. Make a big batch of the soup dumplings (double, triple, shoot for the moon!) to keep on hand in the freezer for busy nights and last minute cravings.
Ingredients
Frozen Soup Dumpling Ingredients:
1

package wonton wrappers

about 48 3-inch square wrappers

1

pound

ground pork

1

tablespoon

fish sauce

a 2" piece of fresh ginger

peeled and grated or very finely minced

6

scallions

finely minced

2

tablespoons

corn starch

2

tablespoons

dry sherry or rice wine

1

egg

beaten
Additional Ingredients to Make One Serving of Soup:
1

teaspoon

sesame oil

3

cups

chicken stock or broth

7

frozen soup dumplings

1/2

of a small carrot

cut into matchsticks

1

clove

of garlic

peeled but whole

1

scallion

thinly sliced, green and white parts separated.
Optional For Serving With Soup:
fish sauce or soy sauce

chili garlic sauce or Sriracha

fried chow mein or wonton noodles
Instructions
To Make and Freeze Dumplings:
Line a large platter or baking sheet with parchment paper or plastic wrap and set aside.

Add the pork, fish sauce, ginger, scallions, corn starch and sherry or rice wine to a mixing bowl and stir together vigorously until it is evenly combined.

Lay out four wonton wrappers at a time on a cutting board or clean work surface and brush the entire top surface with beaten egg. (This keeps the dumplings from popping open while simmering in the soup.) Scoop a scant teaspoon of the meat mixture into the center of the wonton wrapper. Gather up the edges around the filling, pinch together and give a gentle twist to seal. They will resemble a beggar's purse or little head of garlic or onion. Place each dumpling on the prepared platter with enough room between them so they do not touch. Repeat with remaining meat and wonton wrappers.

When you have completed the dumplings, cover with plastic wrap and lay the platter or pan in the freezer. When they are fully frozen, transfer the dumplings to a resealable plastic bag, gently squeeze the air from the bag and keep in the freezer for up to 6 months.
To Prepare the Irresponsible Wonton Soup:
Drizzle the bottom of a heavy-bottomed saucepan with sesame oil and place the frozen dumplings flat side down on top of the oil. Place the garlic clove alongside the dumplings and scatter the matchsticked carrots and the whites of the scallion over the top of the dumplings.

Add one cup of stock and turn the heat to medium high. The stock will only come partway up the dumplings.

Bring the stock to a full boil. then add another cup of the stock. When that reaches a full boil, add the final cup of stock and bring once again to a boil. Allow it to boil fully for 5 minutes.

Add the thinly sliced green parts of the scallions to a serving bowl. Use a deep spoon to transfer the dumplings and carrots to the bowl and then pour the hot broth over top.

If desired, you can serve with a splash of fish sauce or soy sauce, a dollop of chili garlic sauce or Sriracha and a handful of fried chow mein or wonton noodles.
Nutritional information is an estimate and provided to you as a courtesy. You should calculate the nutritional information with the actual ingredients used in your recipe using your preferred nutrition calculator.