Are you in the mood for something light, healthy, flavourful, fast, and filling? Try waist-line friendly Shells with Roasted Asparagus, Goat Cheese, and Yogurt for dinner tonight. It's spring on a plate!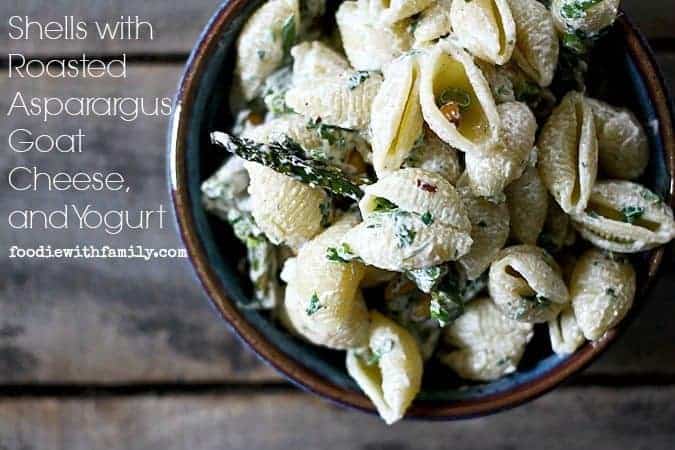 I can't quit thinking about Shells with Roasted Asparagus, Goat Cheese, and Yogurt. It pretty much hits every single note that I think a pasta recipe should hit. It's tangy and creamy because of the Greek yogurt, it's silky and rich from the goat cheese, it's studded with asparagus roasted in olive oil,  it's speckled with fresh parsley and green onions, and garnished with chile oil roasted pine nuts and the WHOLE thing comes together in a flash. I mean HONESTLY. Shells with Roasted Asparagus, Goat Cheese, and Yogurt is the perfect spring dinner in my book.
Don't misunderstand what I'm about to say; when I make this my husband and older boys absolutely love this… But when I make this, I think of sitting down with my sisters and brothers. I think of bowl after bowl of Shells with Roasted Asparagus, Goat Cheese, and Yogurt, snorting with laughter and reminiscing. It makes me wistful, this dish does. It reminds me of my stepmom, Valerie, and her global cuisine. It makes me think of the first time my stepmom and new sister and brother attended church at the summer community where my dad ran a camp. When the pastor asked if there were any prayer concerns, an eccentric fellow from the village stood up with a paper in his hand. He intoned  morosely, "I'd like to remember all those from our group who passed on over the winter." He began reading slowly down his list of names… "Clarence Jameson, George Clark, Ethel Silver, Shirley Lake, Rick Stefan…" and then from the back of the church hall a voice rang out clearly, "Horace. I'm still alive!" Horace responded, "Really?", checked his list, stared at the supposedly dead man, shook his head incredulously, sat down and said, "Well, what do you know?!?"
If I could describe to you the pew shaking wheezes and peals of inappropriate laughter that came from my family at that moment, you'd think we were heartless or crazy or both, but  I ask you, could you have kept a straight face? THIS kind of memory. This is what my siblings and I would rehash over a bowl brimming with Shells with Roasted Asparagus, Goat cheese, and Yogurt.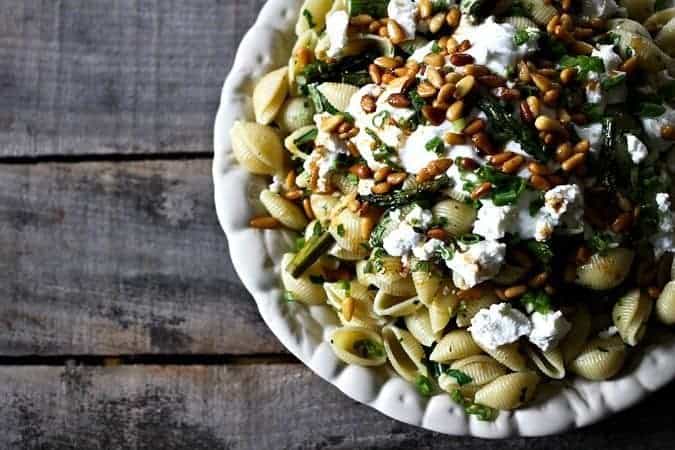 Unlike Horace's death list, this dish is a marvel of timing. Preheat the oven, toss the asparagus with oil and salt, start the pasta water over a high flame, and toast the pine nuts in olive oil with a pinch each of red pepper flakes and smoked paprika. Into the oven goes the asparagus to roast until tender with some crispy tips and into the bubbling drink goes the pasta. As the pasta cooks, the asparagus is cut into bite sized pieces and parsley and green onions are chopped. The al dente pasta is drained and added to a serving bowl with the asparagus, green onions, parsley, crumbled goat cheese, Greek yogurt, and fragrant pine nuts then tossed. That's it. Thirty minutes gives you the most glorious pasta dish ever. Shells with Roasted Asparagus, Goat Cheese, and Yogurt make a meal that -much like Horace- you'll always remember.
What are some of your favourite memories from youth or years gone by? Is my family the only one with an inappropriate laughter problem?

Cook's Notes
You can opt for full fat, low fat, or fat-free Greek yogurt, but please be sure to use plain Greek yogurt only! In a pinch, you can substitute plain regular yogurt, but I like the clingy thick quality of the Greek yogurt here.
No smoked paprika? No problem. Use a pinch of regular old paprika in its place. The smoked paprika adds more nuanced flavour, but regular paprika will do if that's the only thing that stands between you and this dish.
I know pine nuts are expensive, but you don't need many of them for this dish and they're really so good. Please indulge a bit and try them!
Shells with Roasted Asparagus, Goat Cheese, and Yogurt are great warm or room temperature making it a great picnic, potluck, or packed lunch selection.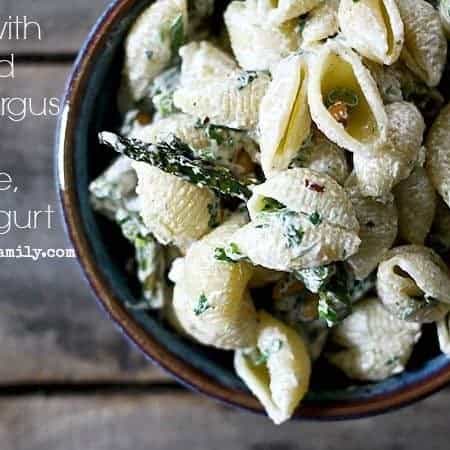 Shells with Roasted Asparagus, Goat Cheese, and Yogurt
Rate Recipe
Ingredients
1

pound

medium shell pasta

1

bunch asparagus

1/2

teaspoon

plus 1 teaspoon kosher salt

divided

1/2

teaspoon

plus 1/2 teaspoon freshly ground black pepper

divided

1

tablespoon

olive oil plus 2 tablespoons olive oil

divided

1/4

cup

pine nuts

a pinch of crushed red pepper flakes

a pinch of smoked paprika

1/2

a cup of packed parsley leaves

roughly chopped

1

bunch of green onions

about 6 onions, trimmed of root ends and thinly sliced

2/3

cup

crumbled goat cheese

2

cups

plain Greek yogurt
Instructions
Preheat oven to 400°F and set a large pot of water over a high flame to come to a boil.

Trim asparagus of the woody ends, place on a rimmed baking sheet and toss with 1 tablespoon of the olive oil, 1/2 teaspoon of the kosher salt, and 1/2 teaspoon of the black pepper. Roast for 10 minutes, or until tender and the ends have crisped up just a bit. Set aside to cool until comfortable to handle.

While the asparagus cools, add the remaining 2 tablespoons of olive oil to a saucepan with the pine nuts, red pepper flakes, and smoked paprika over medium heat. Toast just until the pine nuts smell fragrant and transfer immediately to a bowl to stop the cooking process.

Cut the roasted asparagus into bite sized pieces and add to a large mixing bowl.

Cook the shell pasta in the boiling water according to the directions on the package, then drain when it reaches al dente. Add the drained pasta to the mixing bowl with the asparagus along with the toasted pine nuts in their oil and the remaining ingredients. Toss to coat evenly and serve warm or room temperature.
Nutritional information is an estimate and provided to you as a courtesy. You should calculate the nutritional information with the actual ingredients used in your recipe using your preferred nutrition calculator.