Bold Chipotle Coca-Cola Barbecue Sauce is everything you want in a barbecue sauce: smoky, tangy, thick, spicy, and sweet. Slather this all over your grilled goods or use for dunking chicken fingers or fries.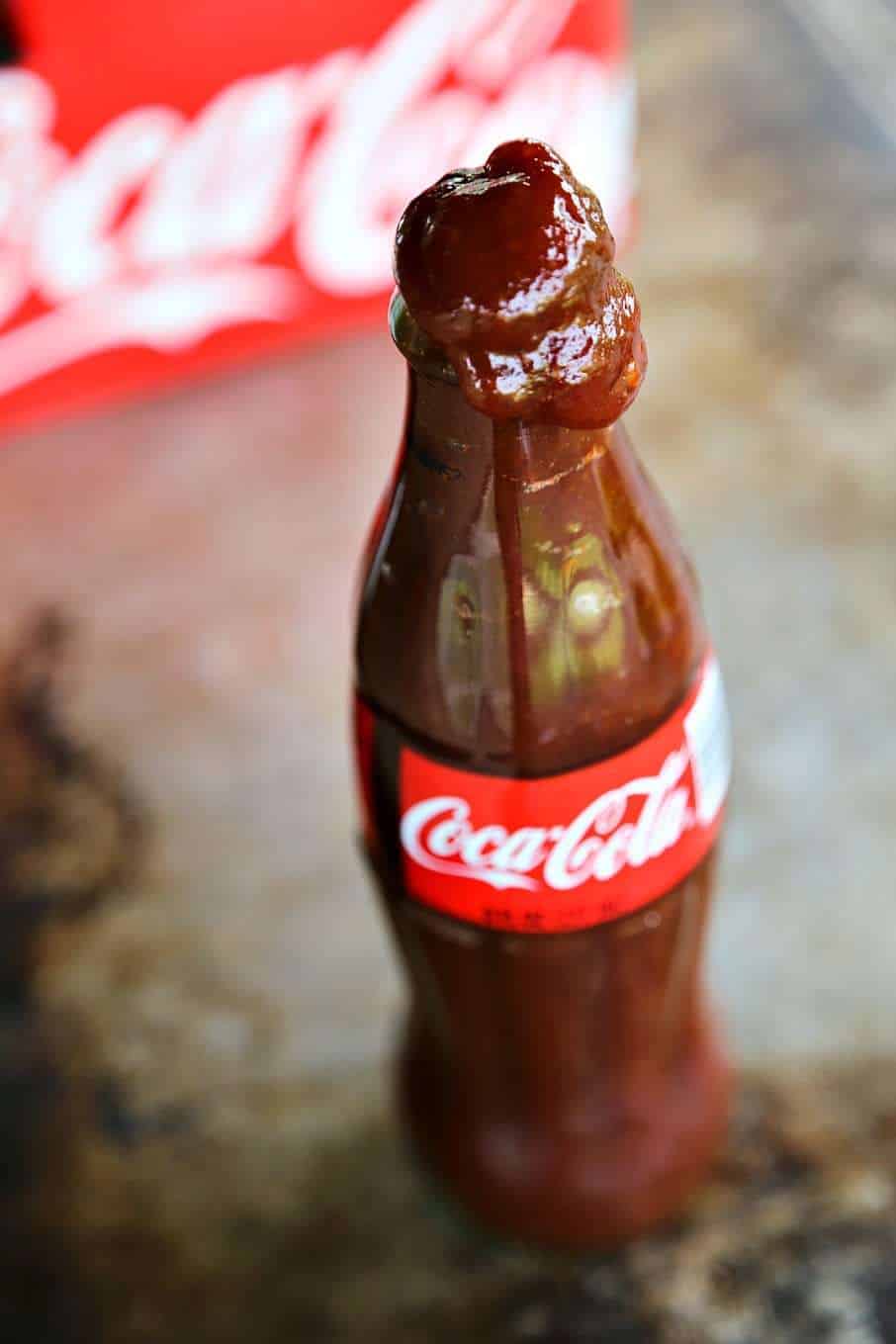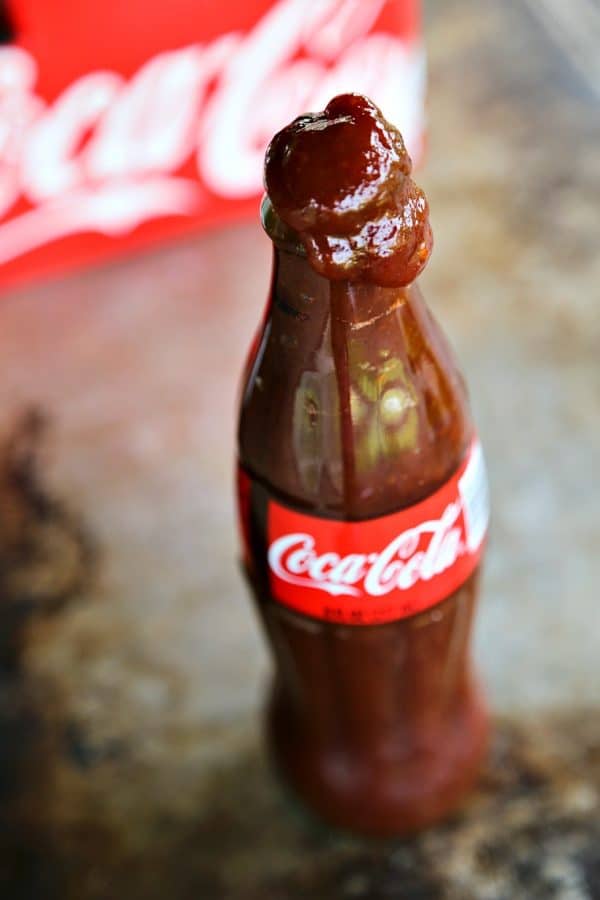 Even after 18 years of marriage and 17 years of parenting, my husband and I are still a little uncertain about what our role is in celebrating Mother's Day and Father's Day for each other.
We've tried everything from the Mama Bear-too-cold approach (resulting in breakfast comprised of carrot sticks, olives, graham crackers, and milk at 5:30a.m.) to the Papa Bear-too-hot-approach (which got us a clown-car full of oil soaked eggplant at a Chinese restaurant, but that's a story for another day.) T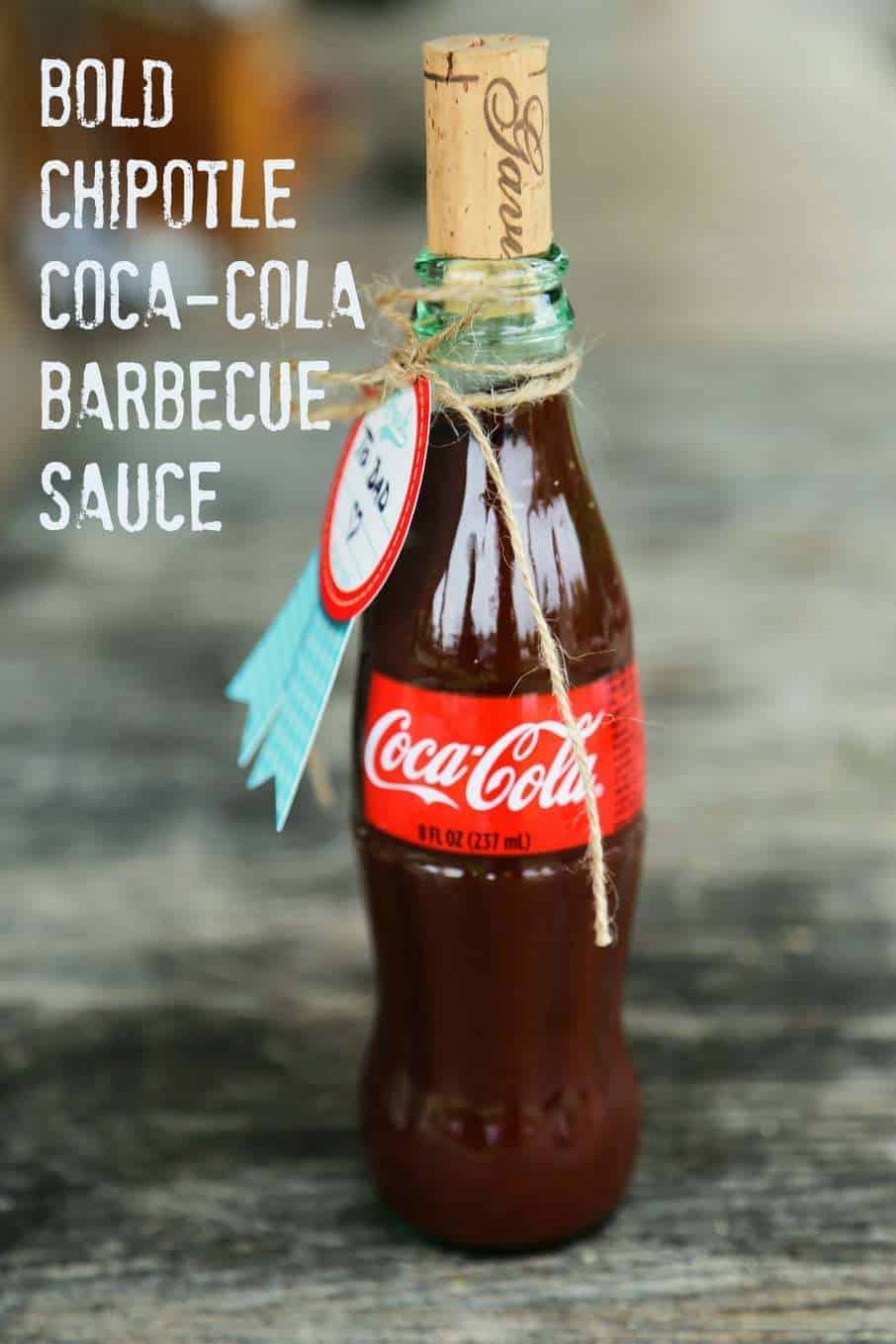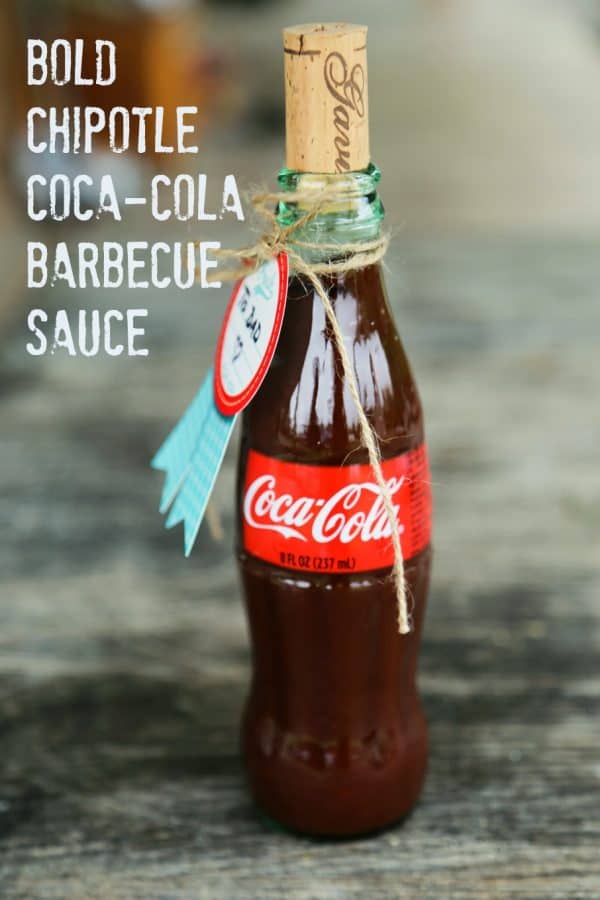 his year, I do believe the boys and I have hit the Goldilocks/Baby Bear-just-right point with a day of fishing, and a grilled dinner for dad complete with a batch of homemade Bold Chipotle Coca-Cola Barbecue Sauce.
This is a full-circle moment, because my sweet hubby researched and bought the grill for me (FOR ME!) for Mother's Day many years ago and then banned me from using it. He says, "That grill is the best Mother's Day gift I ever bought myself!"
I just can't even… The idea is that I'm going to let him cook his own dinner, because the man LOVES to grill.
The boys and I will set up all of the ingredients, including the Bold Chipotle Coca-Cola Barbecue Sauce. This will allow him to close the day by listening to his beloved audio books, sipping an ice-cold beverage, and scientifically smoking and basting his famous Evil Genius Smoked Barbecued Chicken; the finishing touch to a day designed just for him.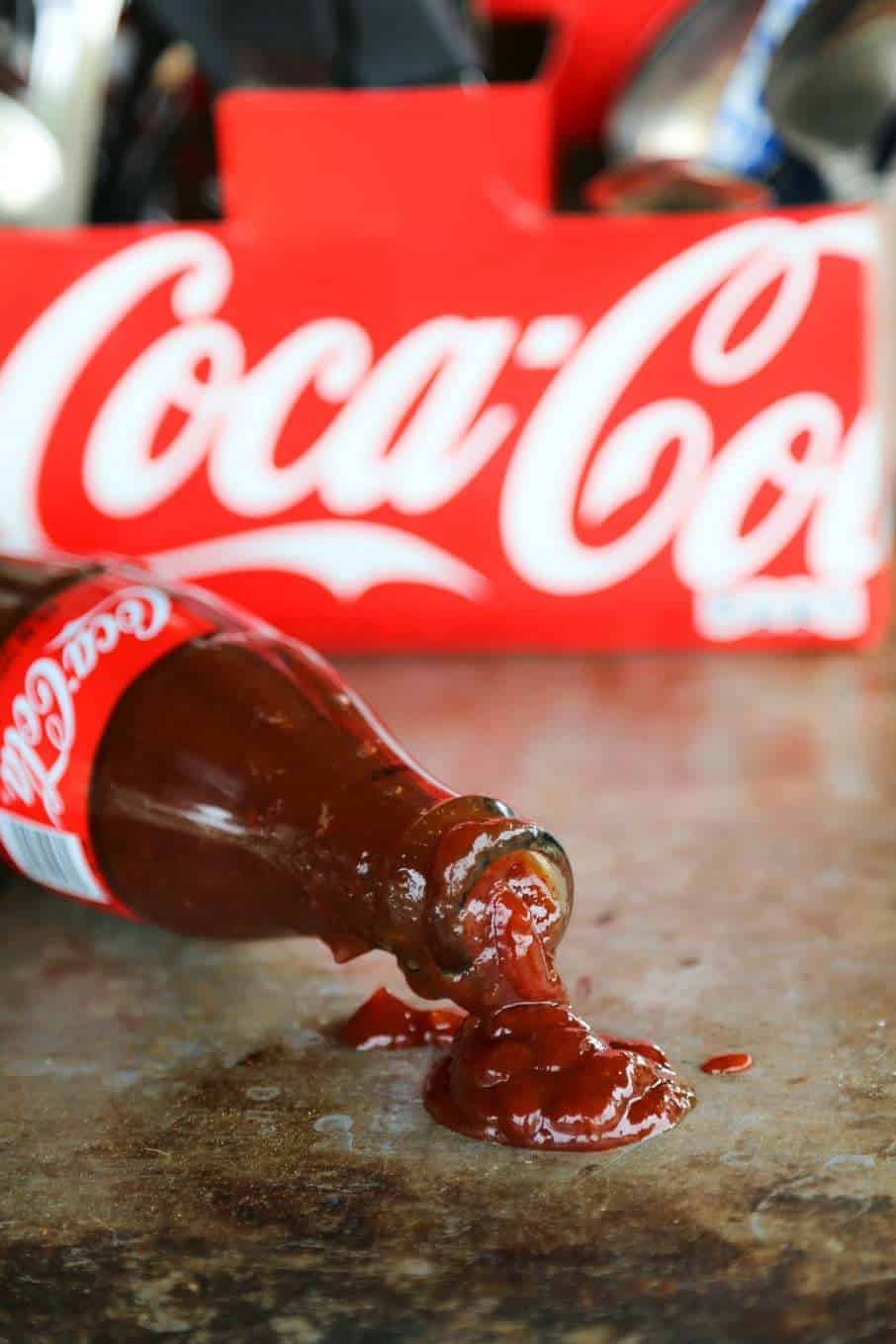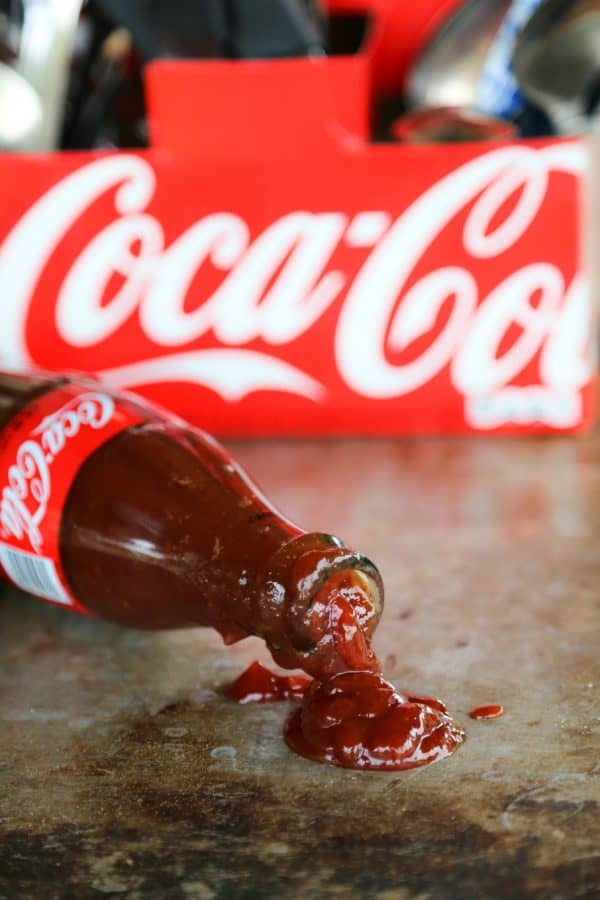 Cola is a natural match for the smoky, garlicky chipotle peppers. The balance between sweet, tangy, and heat is pure barbecue perfection. Bold Chipotle Coca-Cola Barbecue Sauce is easy enough for the kids to whip up for dad all by themselves, too. Don't recycle those sweet mini glass Coca-Cola bottles right away, though.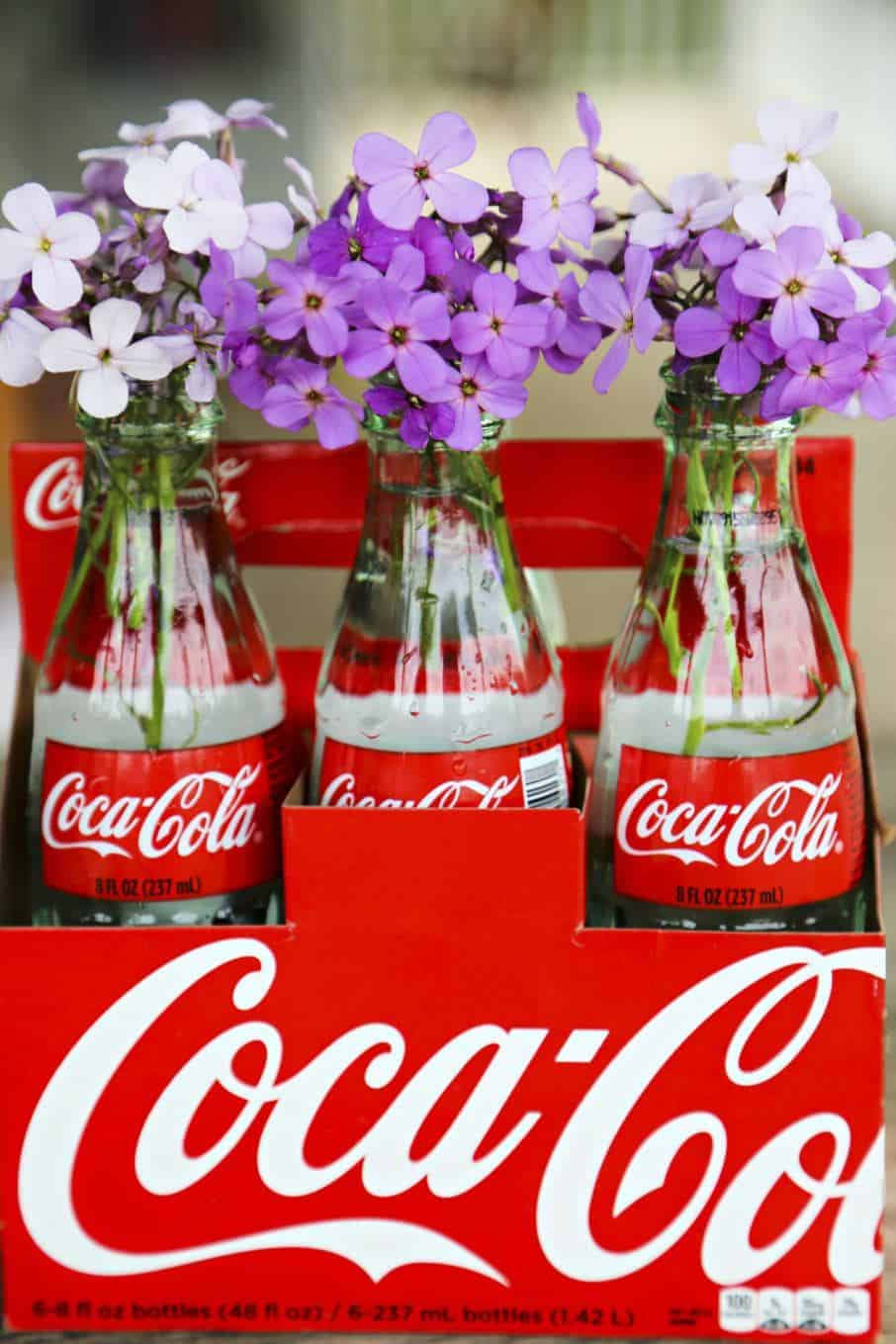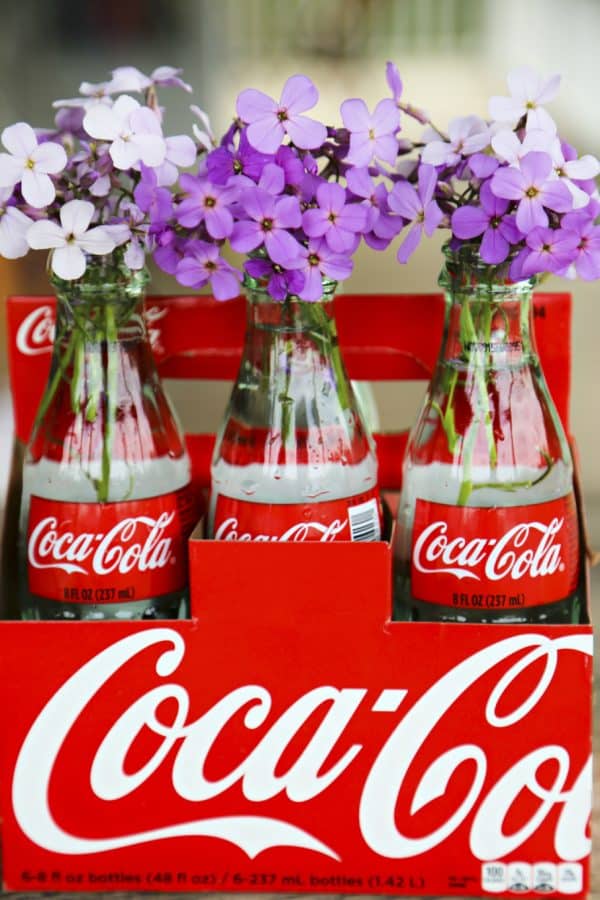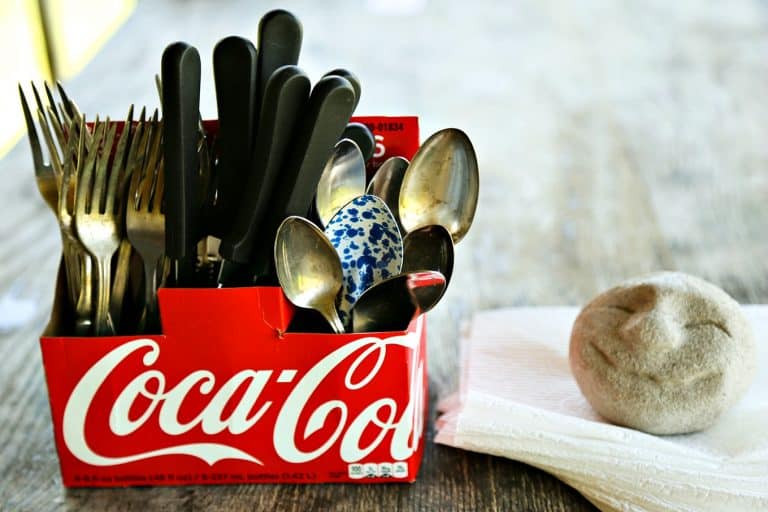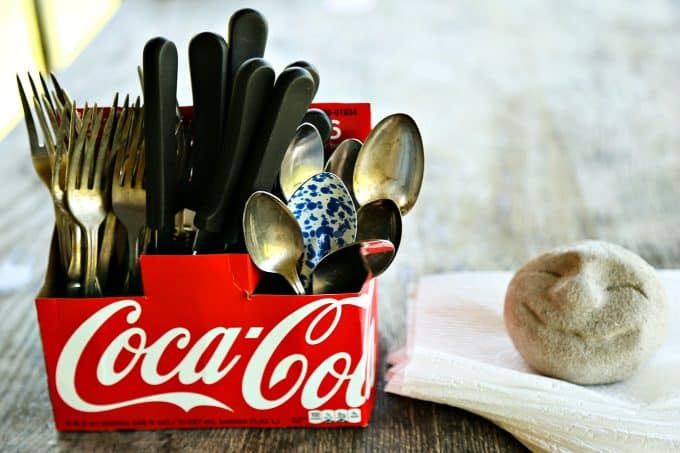 Have the bigger kids fill a couple of bottles with the Bold Chipotle Coca-Cola Barbecue sauce and let the littler kids fill them with water and wild flowers from the yard to naturally freshen up your picnic or dinner table. You can also use the bottle caddy to carry silverware to and from the table.
Chipotle Coca-Cola Barbecue Sauce
I prefer to use the Mini bottles or cans for Bold Chipotle Coca-Cola Barbecue Sauce because three of them make the perfect amount of cola to reduce for our sauce. Besides, you're left with those adorable bottles and the caddy to use for decorating.
Reduce the cola to about 1/3 of its original volume. This will be roughly equivalent to 1 cup of reduced cola. If you want to, you can measure it. Generally speaking, I just eyeball it here.
After bringing all of the remaining ingredients to a boil, you can thicken the final sauce up as much as you desire. I usually stop when the sauce has simmered for about 6 minutes, making it a deep brick red, relatively thick sauce. Let the finished sauce cool slightly.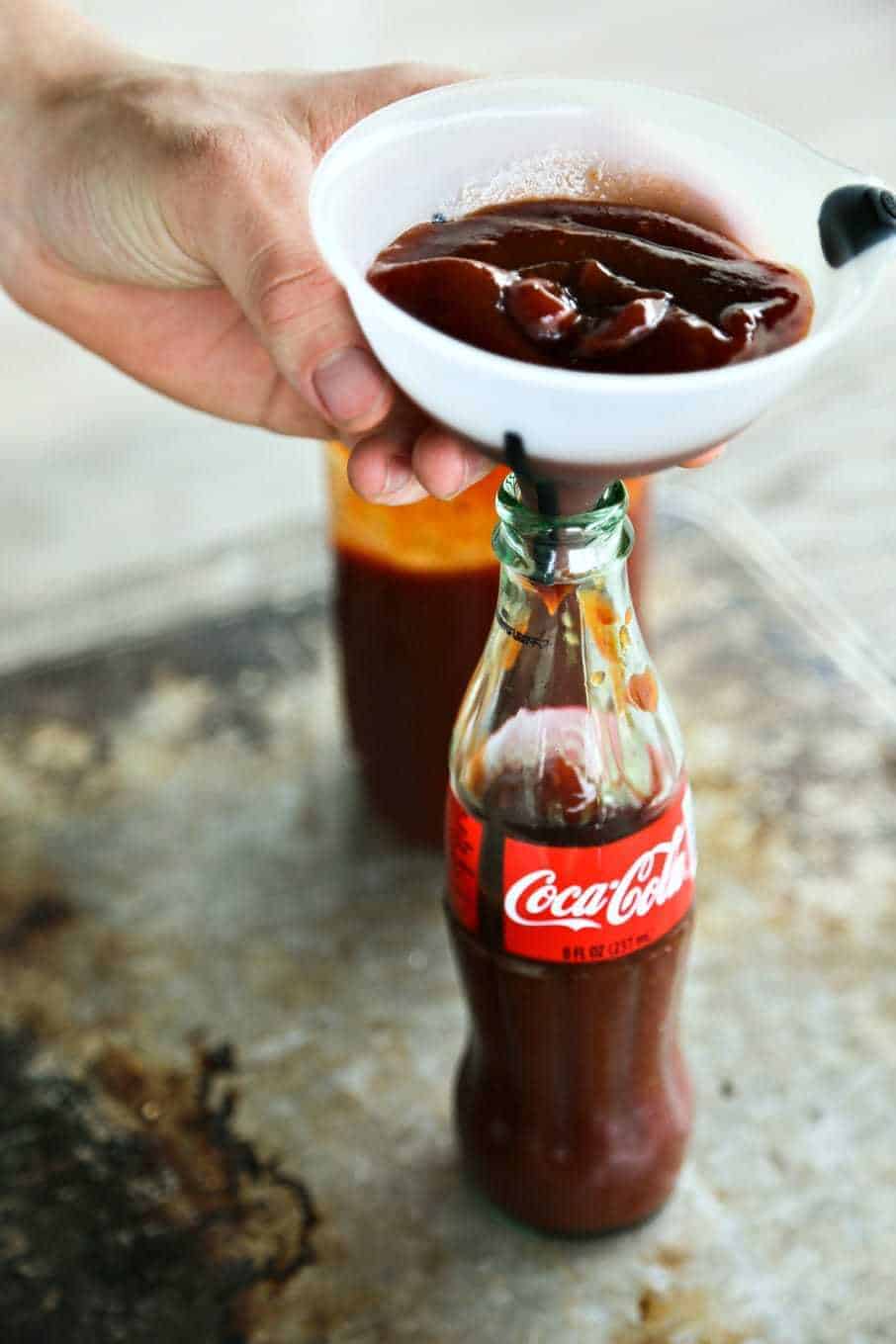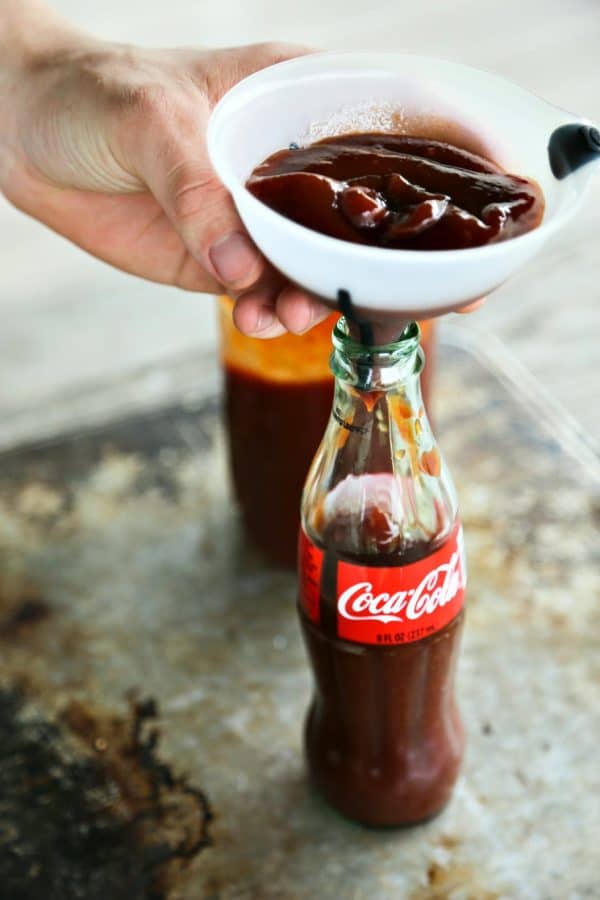 You can either run a stick blender through the sauce or transfer to a blender to puree the pepper in for more body. If you use the standard blender be sure to vent the lid and place a hand towel over the vent hole to allow the steam to escape and prevent exploding barbecue sauce. Puree on high for 30 seconds to 1 minute in a standard blender.
If you'd like to fill mini glass Coca-Cola bottles with barbecue sauce, simply place a funnel in the opening and pour the barbecue sauce into it. If you've made your sauce quite thick, this process will take a little longer.
Please note that even if you re-cap or otherwise close the bottle, this Bold Chipotle Coca-Cola Barbecue Sauce requires refrigeration. Re-capping it does not make it shelf stable.
Are you a big fan of chipotle flavour? Be sure to try out our Slow-Cooker Copycat Chipotle Barbacoa Recipe, 5 Minute Restaurant Style Chipotle Salsa, and Roasted Sweet Potato Black Bean Burgers with Smoked Paprika Chipotle Sauce.
Connect with Foodie with Family
facebook | pinterest | instagram | twitter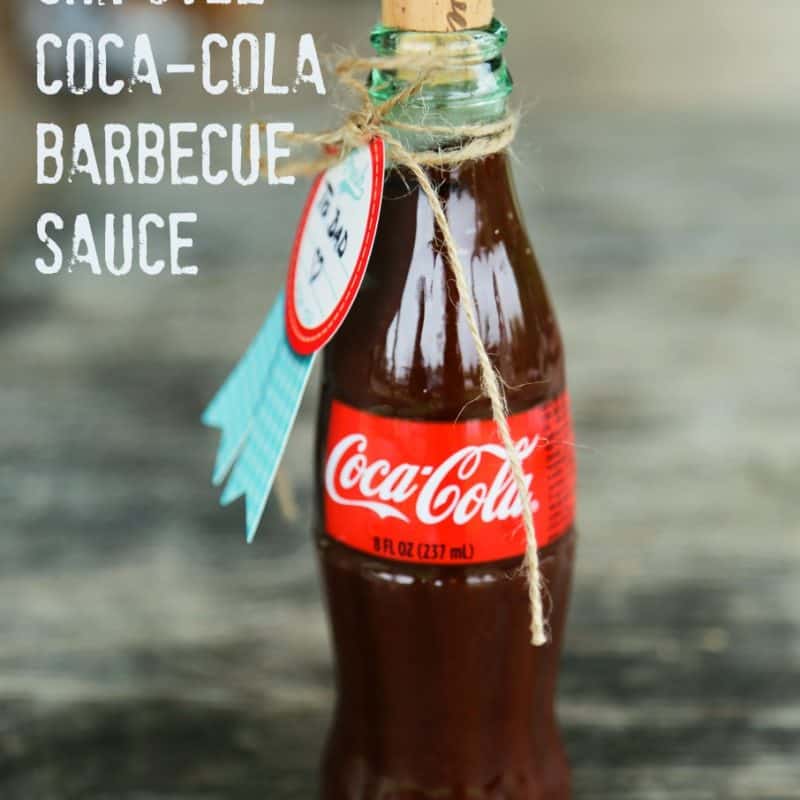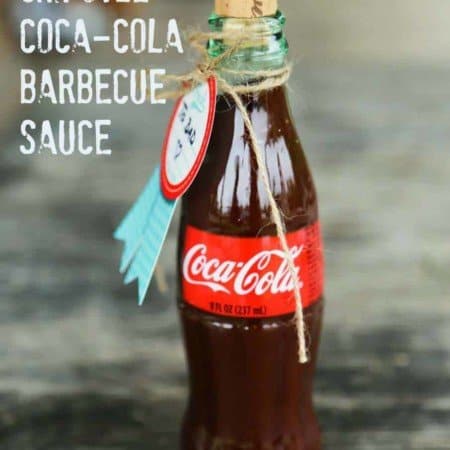 Bold Chipotle Coca-Cola Barbecue Sauce Author: Rebecca Lindamood This Bold Chipotle Coca-Cola Barbecue Sauce delivers major flavour and oomph to whatever delectables you're grilling from pork, chicken, and beef to mushrooms and vegetables. Pour on burgers, French fries, pizza, and anywhere else you want a bold, garlicky BBQ sauce flavour.
Ingredients
3

mini bottles Coca-Cola

8 ounces each

1 1/2

cups

ketchup

3

chipotles in adobo

save the rest of the can for another purpose

3

cloves

garlic

peeled and minced or pressed through a garlic press

1/3

cup

brown sugar

1/2

cup

apple cider vinegar

1

teaspoon

kosher salt

1/2

teaspoon

freshly ground black pepper
Instructions
Pour the Coca-Cola into a saucepan and place over high heat. Bring to a boil and reduce the Coca-Cola to about 1/3 of its original volume, or about 1 cup. Add the remaining ingredients, stirring well. Reduce the heat to medium. Bring to a boil again, lower the heat and simmer for 6 minutes until darker in colour and slightly thickened. Let the barbecue sauce cool slightly before running a stick blender through it to puree the chipotles in adobo into the sauce. After blending, transfer to a jar with a tight fitting lid. This can be served immediately, stored (tightly covered) in the refrigerator for up to 2 weeks, or frozen for up to 6 months.
Nutrition
Calories:
37
kcal
Carbohydrates:
9
g
Sodium:
219
mg
Potassium:
52
mg
Sugar:
8
g
Vitamin A:
75
IU
Vitamin C:
0.7
mg
Calcium:
6
mg
Iron:
0.1
mg
Nutritional information is an estimate and provided to you as a courtesy. You should calculate the nutritional information with the actual ingredients used in your recipe using your preferred nutrition calculator.

Originally published June 17, 2015. Revised and republished June 2017.

Save
Save
Save