This classic from the archives is just what the doctor ordered to beat the snow storms that have been pounding the North East. Plug in the slow-cooker, pop your ingredients in the pot, and wait for the beautiful aroma to fill the room. Strangely, this recipe is equally at home in the hot summer months because it doesn't heat up the kitchen courtesy of it's slow-cooker preparation.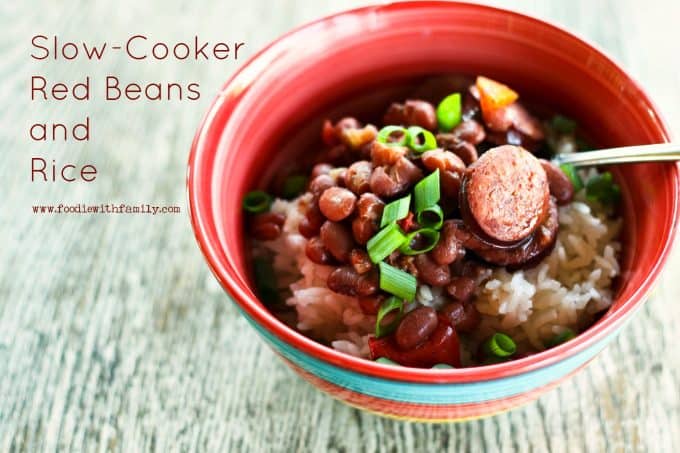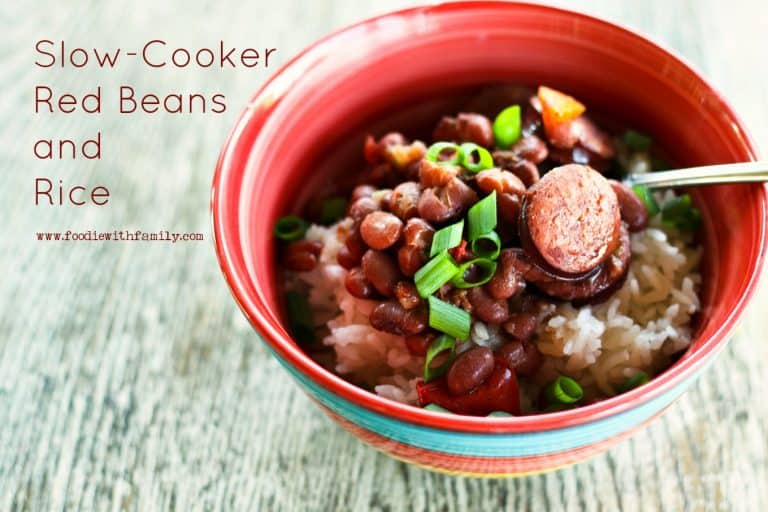 I'm going to go ahead and say right now that I have absolutely zero idea how authentically "Cajun" today's recipe is, having never actually been to the great state of Louisana. All I know is that there are few things more satisfying than a big bowl of cooked rice topped with saucy, spicy, tender red beans and smoky sausage rounds then crowned with green onions and sour cream. Whether the weather be cold, or whether the weather be hot, as the saying goes, you can weather it better with a bowl of this under your belt. It is one of the few comfort foods that does hot or cold weather conditions equally well.
On a wild hare, I decided to throw my usual red beans and rice ingredients into my slow-cooker and see what happened. I figured that the worst case scenario would be a flavourful mush and the best case scenario would be the world's easiest and wickedly economical dinner. I turned my best beloved slow-cooker to high, let 'er rip, and walked away for six hours.
The next six hours were spent trying fervently not to eat everything in the pantry because it smelled so ever loving good in this house that I thought I might die. I repeatedly broke the cardinal rule of slow-cooking and crockpot-ery by lifting the lid and testing and re-testing beans to see if they were (oh please oh please oh please) done yet. After those agonizing six hours were up, I was rewarded with the easiest -and easily the best- red beans and rice I had ever made.
The facts that it didn't heat up my kitchen and that the hardest part of the whole procedure was keeping myself from eating it before it was done were just gravy. My word, friends, it was so good.
So good, in fact, that I made a double batch again later that week and plan on making it for company when we receive a houseful next month. It'll be just thing; set it up and let it cook while visiting and generally relaxing. THAT is how you welcome house guests.
There is one grave danger attendant to making this recipe. It smells so good while cooking that there is a very real possibility that you will gnaw off your own leg of that of someone nearby.
I have just a couple of other thoughts to share about this recipe.The Creole Seasoning is wonderful to have on hand for recipes that call for it, to be sure, but we like to use it on other things, too. For instance, we love it on popcorn or homemade tortilla chips.
I like to make it really spicy and then mellow it out in my own bowl with a big dollop of sour cream. I think a fistful of grated Cheddar would do something similar if you're so inclined. To do this, I tend to use the higher amount of cayenne pepper I specify in the recipe.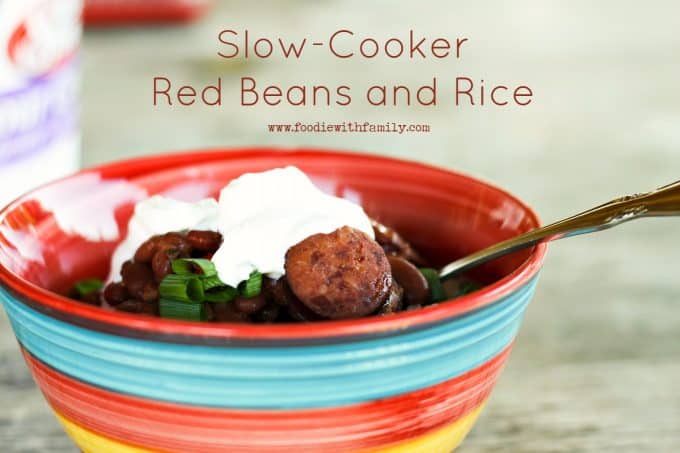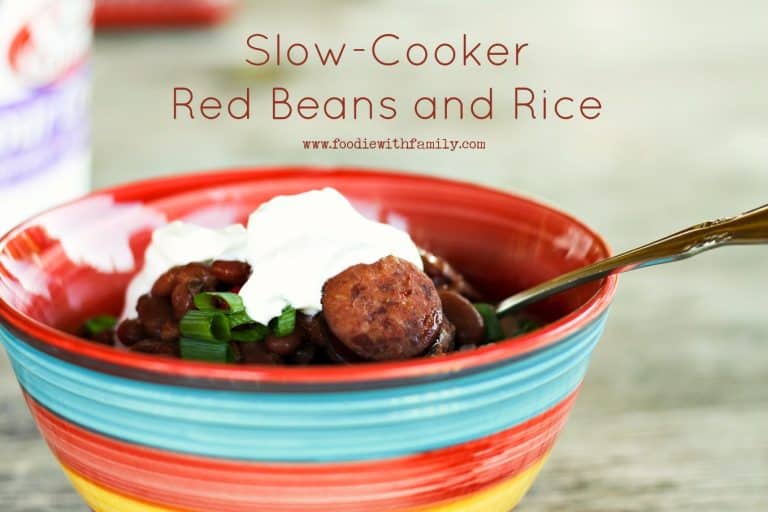 On the other hand, you could just keep the spice to a minimum in the first place. If you'd like to keep it on the milder side, cut back on or omit the additional cayenne pepper (above and beyond the small amount that is already in the Creole Seasoning) from the recipe.
Cook's Notes
There's not much to it, friends. Stick it all in the slow-cooker and walk away. The hardest part is not eating yourself out of house and home while the smell of red beans and rice fills your kitchen.
If you have anyone who is not a fan of vegetable textures, you can pop the bell pepper, onion, and celery in the blender and puree it before adding to the slow-cooker. You'll still get all the flavour and none of the 'offending vegetables'. Conversely, if you have folks who don't mind 'picking around' ingredients, just make the pieces large. Pleasing the world, one picky eater at a time… that's Foodie with Family.
I know andouille is the sausage darling of Cajun/Creole cooking, but it can be hard to find in these parts, so I most often make mine with smoked sausage. I absolutely love it this way, so do not feel like your ability to make this spicy, smoky classic hinges on the availability of andouille. If you use andouille, you'll need to quickly sear the sausage in a frying pan before adding it to the slow cooker. With smoked sausage, it is already mostly cooked, so you can just slice it into coins and add it to the pot.
As far as rice goes, I'm a big fan of long grain white rice cooked in a rice cooker for this particular dish. Serve it over whichever rice you like best. The advantage of cooking the rice separately is that it doesn't blow up and get mushy as leftovers, and you WANT leftovers of the Slow-Cooker Red Beans and Rice because it just improves with age.
Connect with Foodie with Family
facebook | pinterest | instagram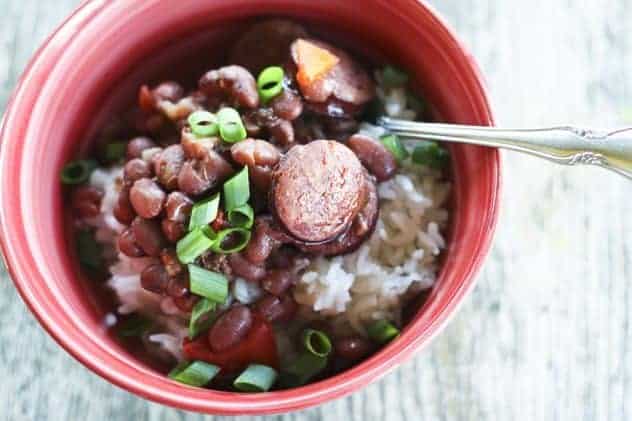 Slow-Cooker Red Beans and Rice and Creole Seasoning | Make Ahead Mondays
Rate Recipe
Whip up a batch of this handy Creole seasoning to add a little oomph to your every day dishes or reserve it for the most wonderfully tantalizing and simple red beans and rice you've ever had. The slow-cooker does the work so you can stay out of the kitchen on hot days. Be forewarned: this smells so good while it's cooking that you may feel ravenous by the time dinner rolls around. Creole Seasoning adapted from
Emeril Lagasse's recipe.
Ingredients
For the Creole Seasoning:
3

tablespoons

paprika

2

tablespoons

kosher salt

2

tablespoons

garlic powder

1 1/2

tablespoons

dried thyme

1

tablespoon

onion powder

1

tablespoon

cayenne pepper

1

tablespoon

dried leaf oregano

2

teaspoons

black pepper
For the Slow-Cooker Red Beans and Rice:
10

cups

water

3

cups

small red chili beans

about 1 1/2 pounds, rinsed and picked over

1

pound

smoked sausage or andouille

sliced into 1/4 to 1/2-inch rounds

1

red bell pepper

stemmed, seeded and cut into 1-inch pieces

1

medium cooking onion

yellow or white, peeled, trimmed of root and blossom ends, and diced

1

rib celery

cut into 1/2-inch pieces

1

tablespoon

Creole Seasoning

1/2

teaspoon

dried thyme

1

bay leaf

1/8-1/2

teaspoon

ground cayenne pepper

according to heat preference

For Serving: Hot cooked rice and green onions
Instructions
To Make the Creole Seasoning:
Add all of the ingredients to a small mixing bowl bowl and toss together with a fork or a whisk. Store, tightly covered, in a jar or other airtight container in a cool, dry place. This is good for about a year after mixing.
To Make the Slow-Cooker Red Beans and Rice:
Add the water, beans, sausage, red bell pepper, celery, Creole seasoning, thyme, cayenne pepper, and bay leaf to the bowl of a slow-cooker. Add the lid and turn the heat to "HIGH'. Let it cook for 6 hours, stirring once or twice. After 6 hours, use a spoon to fish out a bean to test. If it is tender, turn off the heat. If it is still underdone, replace the lid and cook for another hour or until the beans are tender. Remove and discard the bay leaf.

Gently stir the contents of the slow-cooker before ladling over bowls of hot, cooked rice. Garnish with chopped green onions and -if desired- sour cream.

Store leftover beans tightly covered in the refrigerator for up to 4 days or freeze in individual portions for longer storage: up to 6 months.
Nutrition
Calories:
313
kcal
Carbohydrates:
23
g
Protein:
18
g
Fat:
17
g
Saturated Fat:
5
g
Cholesterol:
47
mg
Sodium:
2278
mg
Potassium:
636
mg
Fiber:
7
g
Sugar:
2
g
Vitamin A:
2375
IU
Vitamin C:
22.9
mg
Calcium:
78
mg
Iron:
4.9
mg
Nutritional information is an estimate and provided to you as a courtesy. You should calculate the nutritional information with the actual ingredients used in your recipe using your preferred nutrition calculator.
Originally published on July 16, 2012.