You may have noticed that I do a lot of what might be considered "Dude Food". While it would be really easy to say, "Oh yes, that's because I have a husband and five sons…" and look like a delicate little flower who eats nothing but carrot sticks and hummus. Don't get me wrong, I love those carrot sticks and hummus, but OH MY GAWSH I love Dude Food, too. My grandma used to say that when she wore corduroys and her legs rubbed together as she walked, it sounded like they whispered, "nacho… nacho… nacho… nacho…" You see the family tendencies are strong. Today, I present Baked Cheesy Chicken and Bean Taquitos that made all my dudes AND me giddy.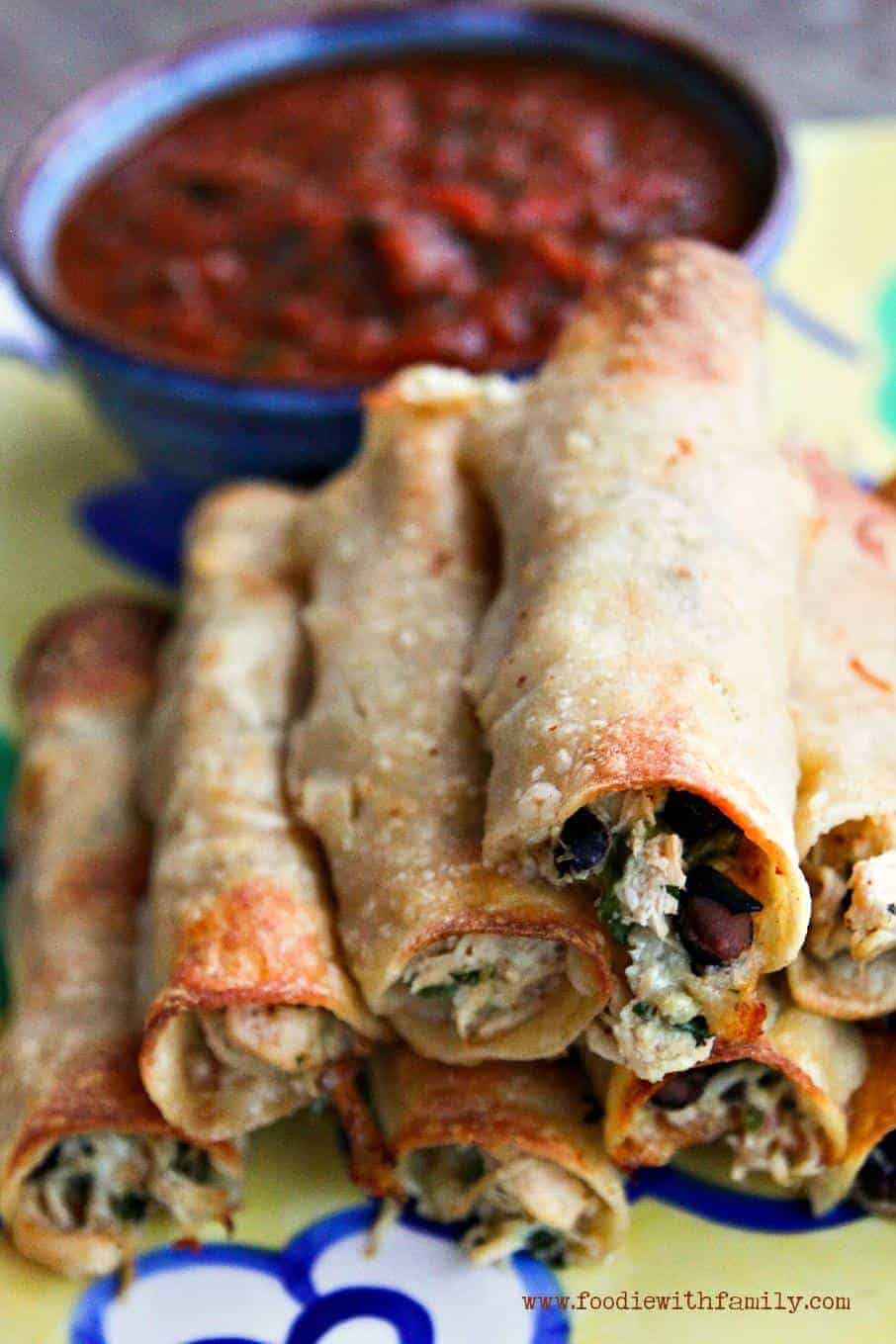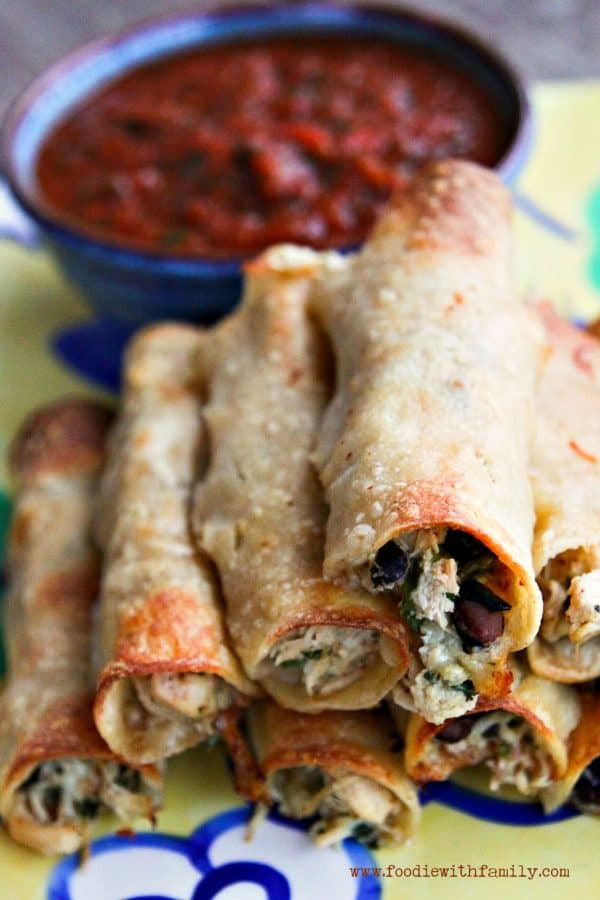 Truth: they may be baked, but there is nothing remotely healthy about these, unless you want to pretend that the presence of black beans and shredded chicken offset the oil in the Baked Cheesy Chicken and Bean Taquitos. More truth: I don't even care. Every so often, I really just need a good belt of indulgence to keep my outlook sunny. Like I said in my "Aging Like a Boss" post, "I eat and drink moderately, except for when I don't."
Sorry I'm not sorry. Care for a Baked Cheesy Chicken and Bean Taquito?
If you, like me, need that lovely cheesy, crispity, crunchy, little-bit-greasy, meaty, HECK YES dose of taquitos, I'm your gal. In fact, there's that big old football game looming, and I can't think of anything that'll fly off of a Super Bowl snack food buffet faster than these.
I'm not going to lie to you. These are pretty messy, but they are -mercifully- well suited to making ahead of time (by 24 hours or so) and reheating on a foil lined pan in a 350°F oven to re-crisp before serving. That 24 hour window will give you plenty of time to clean your kitchen up before any big game company arrives.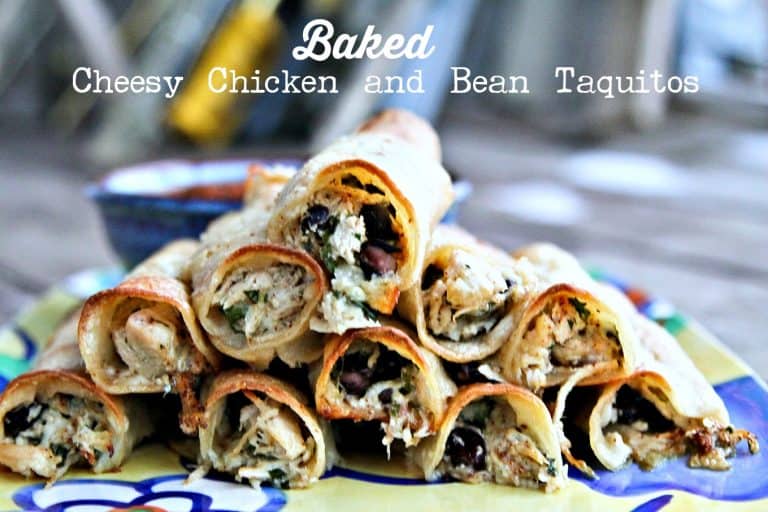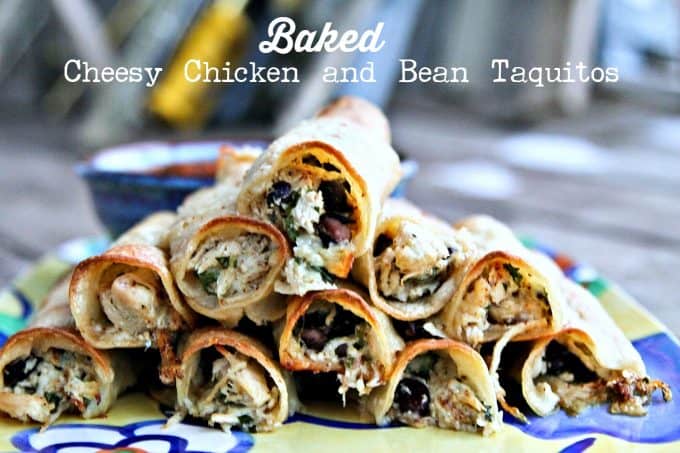 Cook's Notes
If you're of a mind to seriously minimize the mess that will happen because of the oil, you can lay down a layer of newspaper or two on your counter to absorb any drips. I don't, but I have stainless steel counters and oodles of free labor, er, sons who offer to help.
Make sure you have everything ready to go before you start heating those tortillas in the oil. That means have your pans lined with foil, your oven preheated, your filling fully mixed, tongs in hand, and a plate (preferably one with a little rim) standing by next to your pan with the oil.
Remember that corn tortillas are fickle little beasts. They have so much flavour, but tend to be so darned fragile. You may want to have some extra tortillas on hand in case you have one (or several) that rip when being taken out of the oil.
When you ease the tortilla into the oil, you may see little bitty bubbles around the edge. That's good. That means the oil is hot enough. That also means you're going to be moving quickly here. No more than a couple of seconds should elapse before you use your tongs to gently turn the tortilla over in the oil. And no more than 10 seconds should go by before you fish that tortilla from the oil onto your plate. Yes. They will be VERY oily. It will be messy. You're going to have to just accept that. This is part of the indulgence and part of what makes those tortillas super crispy when you bake them. Good stuff, folks. Live a little.
Don't give into the temptation to overstuff the tortillas. Remember our little discussion on the fally-aparty tendencies of corn tortillas? Don't give them a reason to break up on you.
If you plan on re-crisping the Baked Cheesy Chicken and Bean Taquitos before serving, you may want to take them out of the oven closer to the 10 minute mark. They won't be crunchy then, but you'll be baking them again. If you plan on serving them pretty soon after baking, you'll probably want to go closer to 20 minutes to crunch them up properly.
Connect with Foodie with Family
facebook | pinterest | instagram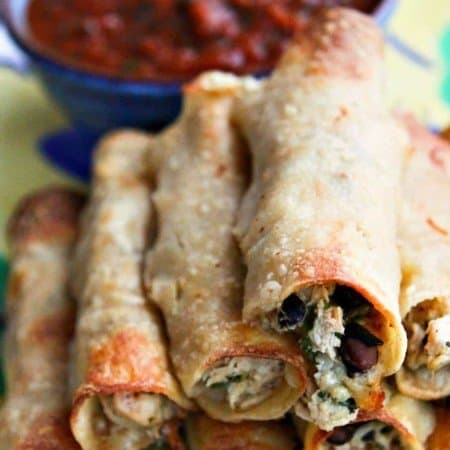 Ingredients
4

cups

shredded fully cooked chicken

1

can black beans

or 1 1/2 cups cooked, drained and rinsed

8

ounce

brick of Monterey Jack cheese

shredded

4

green onions

trimmed of the root ends and thinly sliced

2

garlic cloves

peeled and minced

a handful cilantro

chopped

2

teaspoons

chili powder

1

teaspoon

kosher salt

1/4

cup

canola or vegetable oil

30

small corn tortillas

plus extras in case of tortilla breakage, about 6-inches,
Instructions
Preheat oven to 425°F. Line two rimmed baking sheets with foil, dull side up, and set aside.

Place a heavy skillet or saucepan over medium low heat. Pour in the oil and heat through.

Combine the chicken, beans, shredded cheese, green onions, garlic, cilantro, chili powder, and kosher salt in a large mixing bowl until everything is evenly distributed.

Ease one tortilla at a time into the hot oil. Using tongs, flip the tortilla over immediately and heat for another 10 seconds. Use the same tongs to carefully lift the oily tortilla onto a plate. It will be quite greasy, but that is desirable so long as the tortilla is hot and flexible. Scoop about 2 tablespoons of the filling in a line in the center of the hot tortilla and roll the tortilla up around the filling. Place seam side down on the prepared pan. Repeat with remaining tortillas and filling.

Bake for at least 10 minutes, but up to 20. The longer the taquitos stay in the oven, the crispier the final product will be. I almost always go all the way to 20 minutes for seriously crisp taquitos.

Remove the pan from the oven and let the taquitos cool until they are comfortable to handle before transferring to a serving plate.
Nutritional information is an estimate and provided to you as a courtesy. You should calculate the nutritional information with the actual ingredients used in your recipe using your preferred nutrition calculator.