This post has been highlighted and given new photographs and  a handy printable version of the recipe HERE.
Warning: The following post and recipe make liberal and unabashed use of strong smelling blue cheese, smoky bacon and bacon fat, pungent onions, highly aromatic basil, odiferous garlic and creamy avocado. If you are at all adverse to stanky foods, you may want to look at the pretty pictures and skip the verbiage.
This is a blueprint on how to make me happy. Just in case you were wondering.
The formula is simple and scientific:
Pasta + (Crispy Bacon + (Bacon Fat/Onions) + Gorgonzola + Avocado + Basil + Garlic) = Infinite Goodness
By way of proof, I offer this photographic evidence.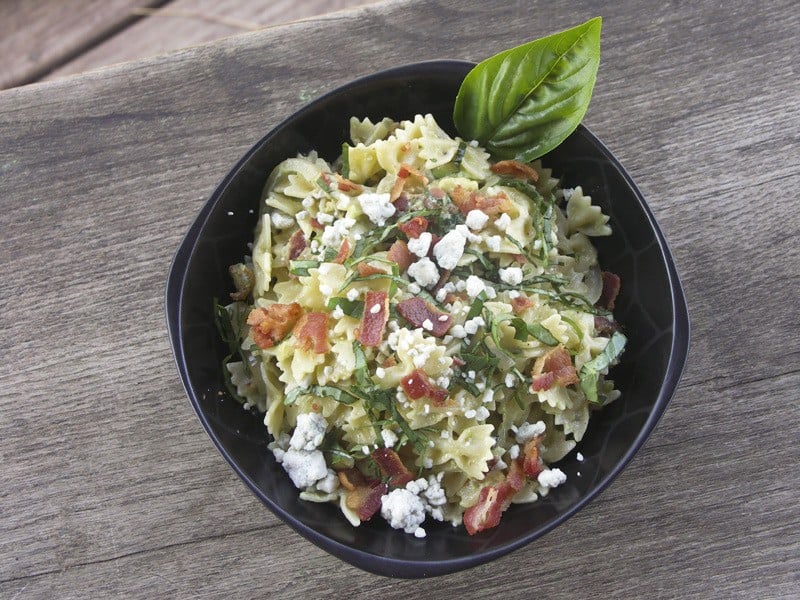 Just try to break down my theory now. I dare you.
Still not convinced? I'll expound. Perfectly ripe avocado, crispy bacon, onions cooked in a hint of bacon fat, Gorgonzola cheese, garlic and freshly snipped basil stirred into freshly cooked, hot al dente pasta with a splash of red wine vinegar; the avocado melts around the pasta forming a delicate creamy sauce. Oh yes. It's true. It forms its own sauce. Contented sigh.
This is my new favorite pasta dish. We're talking flavor -big flavor- with very little effort. In heat and humidity like this everyone needs a spectacular meal that delivers with very little at-the-stove time; this is that dish.
If you're not in the blue-cheese lovers' camp, there is probably nothing I can say to you at this point to make you want this (unless the word 'bacon' trumps everything else, in which case I bid you welcome.) But if you, like me, salivate at the mention of Gorgonzola then you might just be sitting there yelling, "Quit the yackety and get on with the recipe. I want my fix!"*
*I may have actually yelled that at the computer once when someone got rather verbose about a blue cheese popover that I was desperate to try.
I'll quit the yackety in a moment, but I just have to remind you that I have five little boys and my conversations 'with' them go something like this.
Me: "Hey guys! Could you please come empty the dishwasher for me? I could use a little help before dinner."

Guys: "Which was your favorite assistant on Dr. Who?"

Me: "Um, Amy, I guess. Now can you get the dishwasher?"

Guys: "Did you know I can do this with my eyelids?"

Me: "Stop it."

Guys: "Can we go run around the house naked?"

Me: "Dishwasher."

Guys: "Have you seen that snake I brought in the house? I can't believe I lost him. He was huge!"

Me: "Eep!"

Guys: "I'm hungry. And I think I can sing The Star Spangled Banner like a robot in Pig Latin."

Me: (Whimper)
Begrudging me the yackety will result in me having very little sane, adult conversation in the course of the day. You wouldn't want me to regress would you? *
*There might be some who would argue that it is already too late since I'm employing the terms 'yackety' and 'stanky' and 'I dare you' in a food piece. To them, I stick my thumb firmly on my nose, wiggle my fingers and blow a giant raspberry in their general direction.
So, since you're indulging me, can I show you a couple pictures of some of my basil plants? They're growing like crazy plants out there.
We have the Genovese Basil. Lovely classic basil.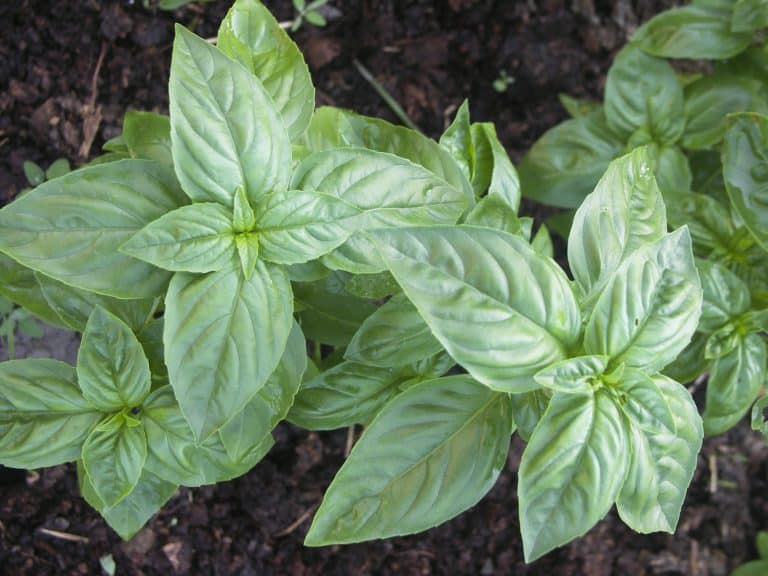 And two of the four funky varieties given to me by my friend, Deb; Ararat Basil… (Look at how gorgeous it is with the purple stems and veins.)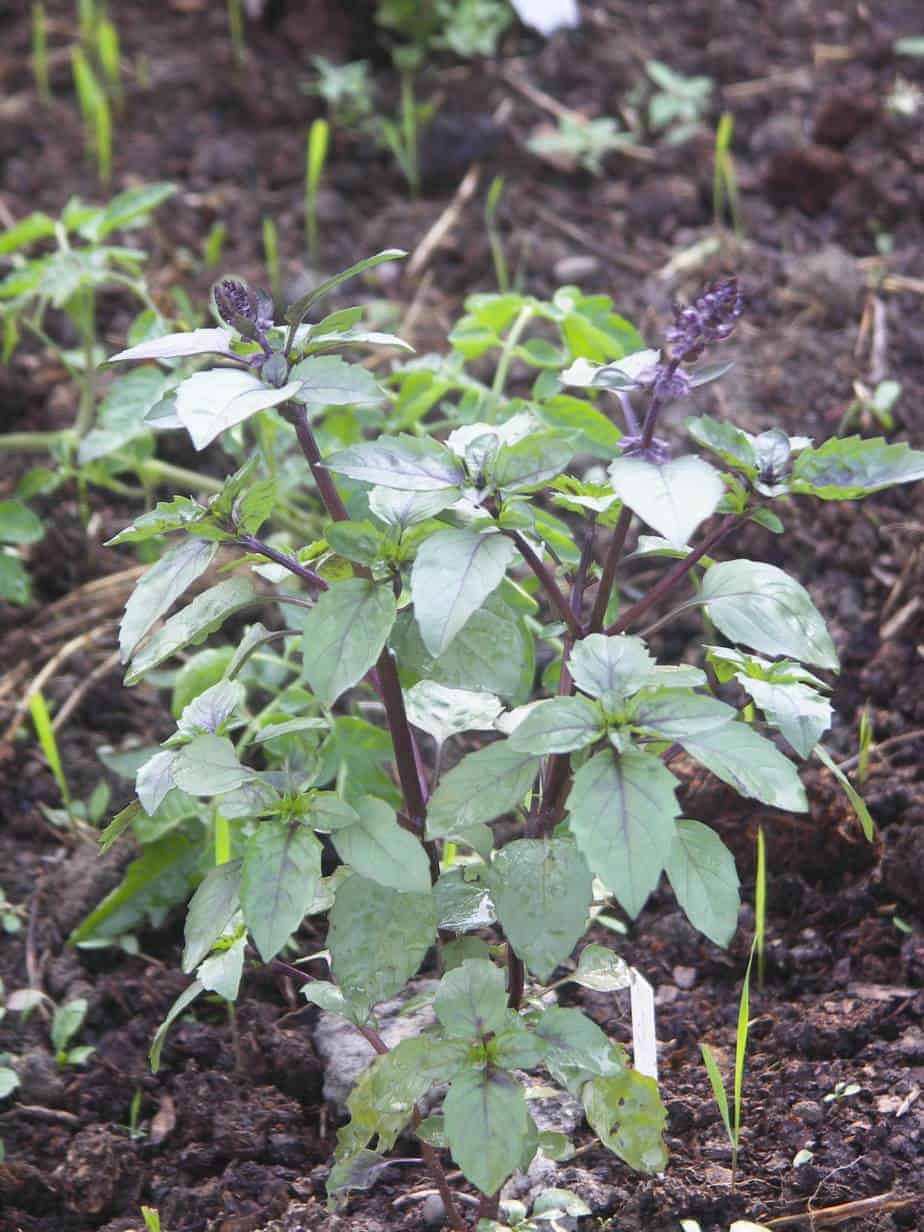 This pretty little thing is Sweet Dani Basil. This particular plant came from a clipping Deb kept alive in a pot on her windowsill all winter long. Hearty stuff for such delicate flavor.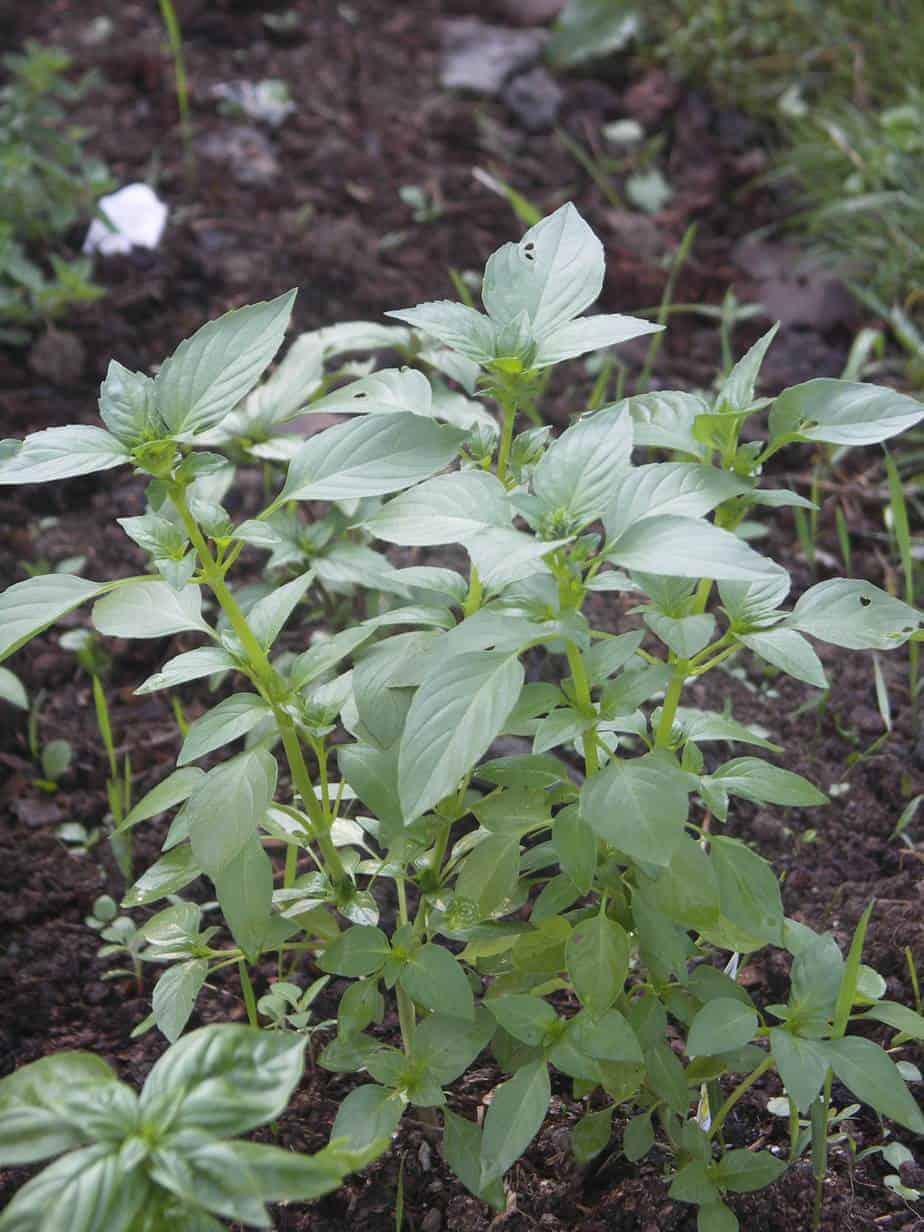 Basil is a star in this dish, and this dish came about largely because I put in, ahem, 18 basil plants. I was desperate for fresh basil after that long basil-free winter. Does it show? But now I have basil coming out of my ears and I'm trying to make meals that make ample use of my new-found herbal wealth. Multi-tasking. It's what's for dinner.
One more thing. Avocados, once they are cut, age about as gracefully as Lindsay Lohan. The day it's made, it's both pretty and delicious. So for the best looks, eat this the day it's made. As leftovers, it will still taste fabulous; it just won't look great.
For a photo-free, printer-friendly version of this recipe, click here with wild abandon.
Bacon, Gorgonzola, Avocado and Basil Pasta
Ingredients:
1 pound uncooked small shaped pasta (fusilli, farfalle, penne, wagon wheels, etc…)
1 pound bacon, sliced into 1/2″ strips
2 small cooking onions, peeled, cut in half and sliced into half-moons
1 very ripe avocado, peel and pit removed and discarded
1/2 cup lightly packed basil leaves, snipped or very thinly sliced
1/2 cup crumbled Gorgonzola cheese
2 cloves garlic, peeled and minced, or 1 teaspoon garlic paste
2 Tablespoons red wine vinegar
1 teaspoon lemon juice
Kosher salt and freshly ground black pepper to taste
Bring a gallon of water to a full rolling boil in a large stockpot. Salt the water and pour in the pasta. Cook to al dente according to package directions.
Add the bacon strips to a large, heavy-bottomed skillet over medium heat. Stir the bacon and cook until crispy. Use a slotted spoon to transfer the bacon to a paper towel lined plate. Pour all but about 2 teaspoons of the bacon fat into a jar*.
*You know what I'm going to say right? Go on, say it with me, "SAVE THAT BACON FAT!" Pop a lid on that jar of bacon fat and stash it in the refrigerator. You never know when it might come in handy.

Return the pan to the burner over medium heat and add the onions to the pan with a pinch of salt. Stirring frequently, cook until the onions are crisp tender (about 5 minutes) and golden in color. Transfer the onions to a large mixing bowl.
Pour the lemon juice over the two halves of avocado. Coarsely chop the avocado and add to the bowl with the onions. Stir to combine. Add the red wine vinegar, garlic, and all but 2 tablespoons each of the crispy bacon, snipped basil and the Gorgonzola cheese and stir well again.
Drain the pasta and add to the avocado mixture. Stir in gently but thoroughly to distribute the sauce. Taste and adjust seasonings with salt and black pepper. Top the pasta with the reserved basil, bacon and Gorgonzola cheese and serve warm or room temperature.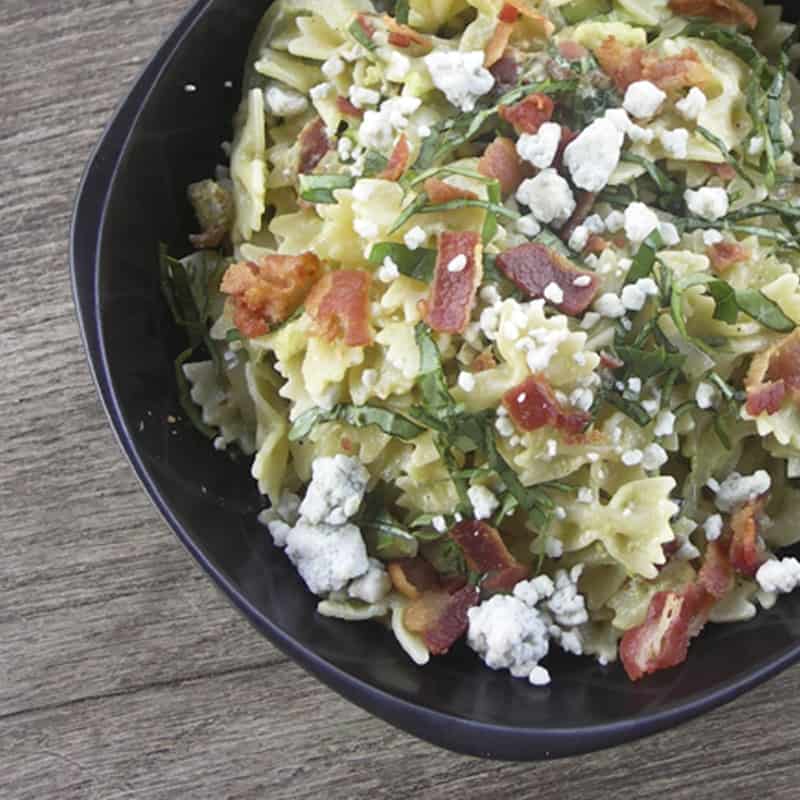 Shoot yeah. Keep on growing, basil…