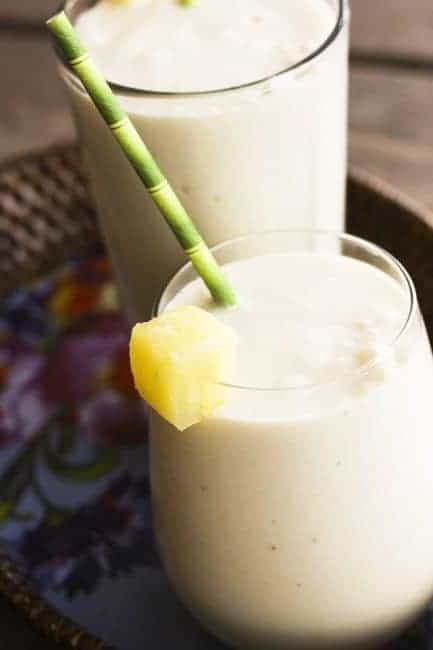 Piña Colada Smoothies are my new go-to smoothie. They're kind of fabulous.
You know how I've told you I was a picky eater when I was a kid? I was a total texture-phobe and I was dead picky about flavour combinations. My mom now says, "Hey, we just didn't know you were gourmet." My mom is the Queen of the Euphemism.
I must've been a righteous pain in the rear to feed.
The reason I'm confessing this (again) is that pineapple and coconut were both on my no-fly list. I didn't like pineapple because of the stringy texture. I didn't like coconut because the sum exposure I had to coconut in Northern Michigan in the 70s and 80s was the über-sweetened stuff in the middle of Mounds candy bars or in a macaroon. Both grossed me out, so piña coladas were a serious no go.
Fast forward to now and my insatiable desire to eat both of those ingredients. (Okay, I still dislike sweetened coconut flakes, but honestly, can you blame me?) I love the fruity, tangy, acidic pineapple AND its texture. I can't get enough coconut milk -which I'm pretty sure is an ingredient given to humanity by the grace of God-, fresh coconut or unsweetened coconut flakes.
And piña coladas? Well, until recently they were still on my no-fly list because -frankly- I don't really like alcoholic smoothies, which is what I always viewed piña coladas as being. Pardon me while I go bang my head against the wall for a moment, would ya?
THUD THUD THUD
Howzabout just omitting the hooch, dingbat?
The result of leaving out the high octane stuff was a creamy, dreamy, coconutty, silken pineapple, thick concoction that pretty much makes my eyes roll back into my head. Let me let you in on a little something… There is ZERO added sugar and there doesn't need to be because the frozen bananas do double duty. They thicken the mixture to milkshake consistency and they sweeten it to boot. Oh and HEY! If you happen to be vegan or cutting back on dairy OR allergic to anything dairy, this is still kosher for you (small 'k' kosher because I make no claim to understand kosher law!)
It's warming up out there, friends. You need this in your lives this summer.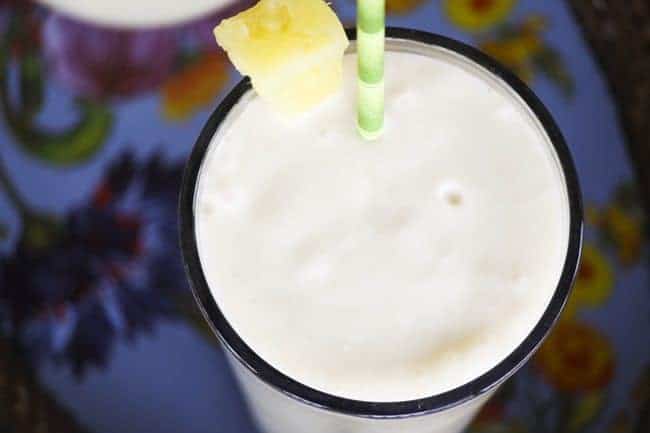 Double Bonus: If you have leftover smoothie (HA. Like that would happen here unless I plan for it.) you can freeze it in ice pop molds for some wicked good popsicles. You are welcome. Mwah.
XO
Rebecca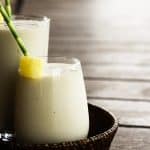 Print
Piña Colada Smoothies | Vegan and Dairy Free
These super creamy, indulgent tasting, family friendly pineapple and coconut Piña Colada Smoothies will transport you to the tropics in a matter of minutes. Using only 3 easy-to-find and healthy ingredients just boosts the appeal of this naturally vegan, dairy-free treat! If you've got a hankering to make this a true piña colada, you can stir in a shot of rum before serving.
Ingredients
1

can crushed pineapple in juice

20 ounces

1

can coconut milk

13.5 ounces

3

bananas

peeled and frozen
Optional Garnish:
A slice of pineapple

a dusting of shredded coconut
Instructions
Add all ingredients to a blender and blend on high until smooth. Divide between glasses and serve immediately!

Leftovers can be frozen in ice pop form.
Nutrition
Calories:
98
kcal
|
Carbohydrates:
22
g
|
Protein:
1
g
|
Fat:
1
g
|
Saturated Fat:
1
g
|
Sodium:
1
mg
|
Potassium:
341
mg
|
Fiber:
2
g
|
Sugar:
12
g
|
Vitamin A:
55
IU
|
Vitamin C:
14.4
mg
|
Calcium:
4
mg
|
Iron:
0.3
mg