Okay. Now those of my readers who are Yoopers (specifically) or Michiganders (generally)  will know exactly what I'm saying. Those of you who don't have kith or kin in either Michigan or Cornwall might need a little explanation. The pasties of which I speak are pronounced 'PASS- tees'. The ones you're probably thinking about are pronounced 'PAY- steeze'. My pasties are handheld meat pies and not little adhesive backed 'modesty' panels worn over, well, you know what. So from now on, each time I type 'pasties', please think the correct pronunciation, k? That way I don't have to blush every time you read it.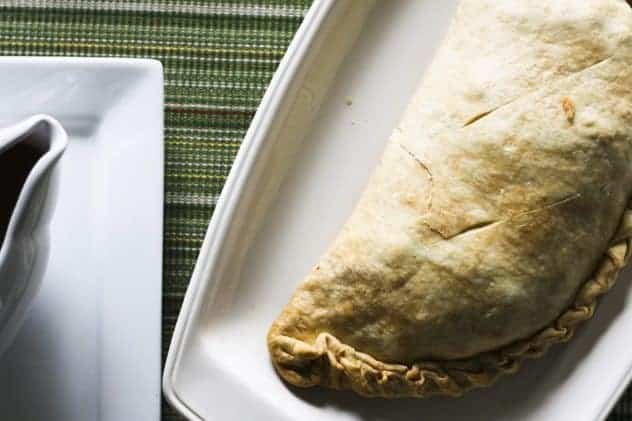 And also for those of you not from Michigan, I should probably toss in a few other definitions:
Yooper:  A resident of the Upper Peninsula of Michigan.
U.P.:  A widely used acronym for the Upper Peninsula of Michigan. Well, heck, you'd get tired of typing out Upper Peninsula of Michigan every time too, eh?
Big Mac:  A nickname for the Mackinac Bridge; the 5 mile long suspension bridge that links the U.P. to the lower Peninsula.
Trolls:  Residents of the Lower Peninsula of Michigan. Get it? They live under a bridge?
Summer:  Two months of bad snowshoeing.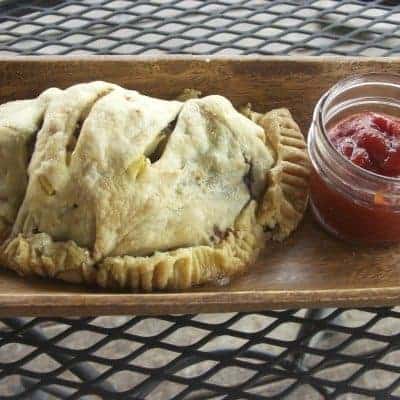 But back to the food…
Pasties are a Yooper (and Cornish) specialty. The Cornish miners that came over to the Upper Peninsula during the golden era of iron and copper mining brought the pasty with them as part of their homeland's cuisine. Owing partly to it's convenient, hand-held-meal portability and mostly to the fact that it's mouthwateringly delicious and warms you from the inside of your toes to the tips of your ears in cold U.P. weather, pasties were soon not just the fare of Finnish and Cornish miners, but were adopted as a favored food through the entire region. More than just popular in the U.P., though, pasties make an appearance in troll restaurants under Big Mac, too. One of the best in the northern part of the lower peninsula is Cousin Jenny's in Traverse City, Michigan.
A pasty is so representative of Yooper culture and food that those of us who are Yoopers-in-exile get wistful when we whip up a batch or talk to relatives who just picked up their pasty boxes at the local church's fundraising drives. I had actual hunger pangs when Val emailed me the 'pasty order form' from an insert in their church bulletin a few Sundays back. I pictured a couple dozen Finnish grandmas up in Marquette whipping together hundreds of succulent pasties to sell to benefit the local community chest, booster club, or whatever worthy group they decided to support that year.
Then I did what I often have to do when I finish talking to Val. I walked into my kitchen because I was starving. All that pasty talk had left me with two options; feeling sorry for myself or making my own. I decided to whip up a couple dozen pasties.
Perhaps 'whip up' is not the best description of the process involved in making pasties. It's a bit of a job, but if you have sisu*  you can manage.
*Sisu:  A Finnish term that translates roughly into English as having an inner strength of will, obstinacy or persistence to power on in the face of adversity regardless of the cost.
I heard someone describe pasties once as 'hand held beef stew pies". I think beef stew wishes it was a pasty. While there are variations in pasties based on what the cook can get -beef, venison, chicken, turkey, etc…- and the ratios of vegetables there are some things you're likely to find in them all. Potatoes, onions, carrots and rutabaga are the traditional pasty veggies and I'm happy to stick with them because you don't mess with perfection! You're not likely to hear me saying that often in the kitchen, but we're talking about food as tradition when it comes to pasties, people. I admit that I frequently make cheese pasties, and they're divine, but that's a completely different animal than a Yooper pasty. Truth be known, I don't think of the cheese ones as pasties. I think of them as cheese pastries. Delicious, to be sure, but in a different food family altogether.
 I'll lay this out in a step-by-step fashion:  It's easier if you can benefit from someone else's experience when taking on a project like this for the first time. I recommend you start this whole project at least three hours prior to when you'd like to eat the first time you make these. If you're feeding less than the full regiment that I victual at each meal, feel free to cut back on quantities. Just keep in mind that pasties freeze and reheat beautifully. Any cooled,  leftover pasties can be wrapped in a layer of heavy-duty foil and frozen for up to two months. To reheat your frozen pasties, leave them in foil and put them on a cookie sheet in a preheated 350 °F oven for about 50 minutes or until heated through. Then you can email me to thank me for sharing this recipe with you.
Yooper Pasties
This recipe yields about 16 plate-sized pasties. Feel free to adjust amounts but you might want a few of these in your freezer. They're the ultimate winter meal-in-one.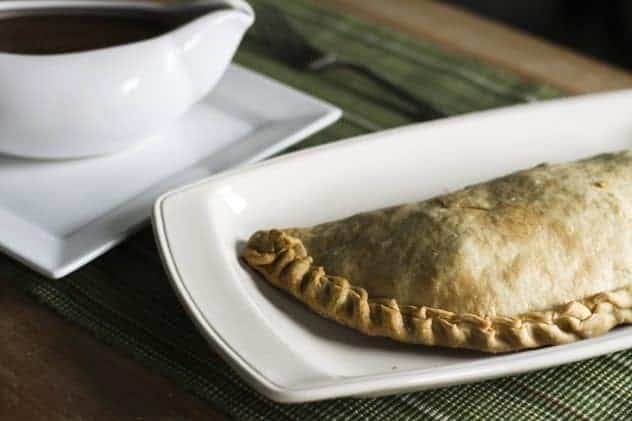 Ingredients
1

large rutabaga and 1 small rutabaga

peeled and diced

2

large carrots

peeled and diced

2

medium onions

peeled and diced

8

medium potatoes

preferably a waxy variety like Yukon golds or reds, peeled and diced

4

pounds

lean ground beef

enough sturdy pie dough for eight double crust pies - I use the butter tart crust dough from the Fannie Farmer cookbook. If you need the recipe

or eight boxes prepared refrigerated pie crusts, email me and I'll happily pass it along!

salt and pepper to taste
Notes
I often use a double or triple batch of the pie crust in this recipe. https://www.foodiewithfamily.com/meat-and-potatoes-pie/
Nutritional information is an estimate and provided to you as a courtesy. You should calculate the nutritional information with the actual ingredients used in your recipe using your preferred nutrition calculator.
First you are going to sharpen your knife so that if you slip and take off a finger while wrestling your rutabaga it'll be easier to reattach. I kid. Sort of. My point is this. Exercise caution with the rutabaga because it does not go gently into that good night.
The best way to prepare the recalcitrant little beast is to slice a sliver off one end of the rutabaga so that it stands sturdily on your cutting board. Then use your biggest sharpest knife to lob it in half. If it's freaking you out too much to try to hold a slippery, wax covered, round and really hard vegetable while trying to cut it, feel free to whack it in half with a hatchet or an axe. Just don't do it on your kitchen counter!
Once you have the brute opened, lay it on the flat side and dismantle it further so your original sphere is in quarters. Take another little bit off the bottom so you can stand the quarters up on their ends and use another sharp knife to remove the peel from the insides.
From this point on, cut the rutabaga into 1/4″ slices and stack them like a deck of cards.
Now you'll take your rutabaga cards and slice them into 1/4″ strips that will then be cut into 1/4″ cubes. Isn't that wonderfully symmetrical? Combine all diced vegetables in a gigantic mixing bowl. Break up ground beef over the top, add salt and pepper to taste, and mix up thoroughly.
Roll out a piece of pie crust to a diameter between 8″ and 10″. Lay on a pie plate with the crust hanging over the lip of the plate by about 1/4″. Use your hands or a large spoon to transfer as much filling onto the crust as you can, mounding and pressing down lightly with your hands, to fill the half of the crust that is hanging over the plate.
Now fold the empty part of the pie crust over the filling, pinch the seams together, transfer to your countertop and crimp the edges with a fork. Using yet another sharp knife, slice three little vents into the top of the pasty and transfer it to a baking dish or parchment lined baking pan.
Now slide those pans into a preheated 375°F oven and bake for 45 minutes to an hour. Since pasties don't traditionally get an egg glaze, they won't be a shiny brown when done, but a deep crispy looking golden brown. Oh I'm getting so hungry talking about these.
Serve hot, cold, or anything in between. My Dad used to heat his pasties up on the steam-pipe at the factory where he worked or on the manifold of the log skidder he operated. I meant it when I said they were portable!
To eat in true Yooper fashion, smother with good ketchup. If you have an aversion to ketchup you can serve with whatever gravy you prefer. Either way they're soooooo good.
Save