Dips. They're my jam. I have made a dinner of dips and dippables more times in my life than I can possibly count. I just love dip so much I could squeak. High on the list of dips I love the most are hummus and Whipped Feta. Hummus is one of my go-to foods because HEY! It's DIP and it's HIGHLY NUTRITIOUS. That is a serious score. Speaking of scores, that big football game is coming up soon, and I am thrilled to be partnered with Sabra as a Tastemaker! To celebrate my new partnership, I took my all time favourite Sabra hummus -Roasted Garlic- and mixed it with my Whipped Feta to create Whipped Roasted Garlic Feta Hummus: a ridiculously satisfying dip that hits all my happy categories.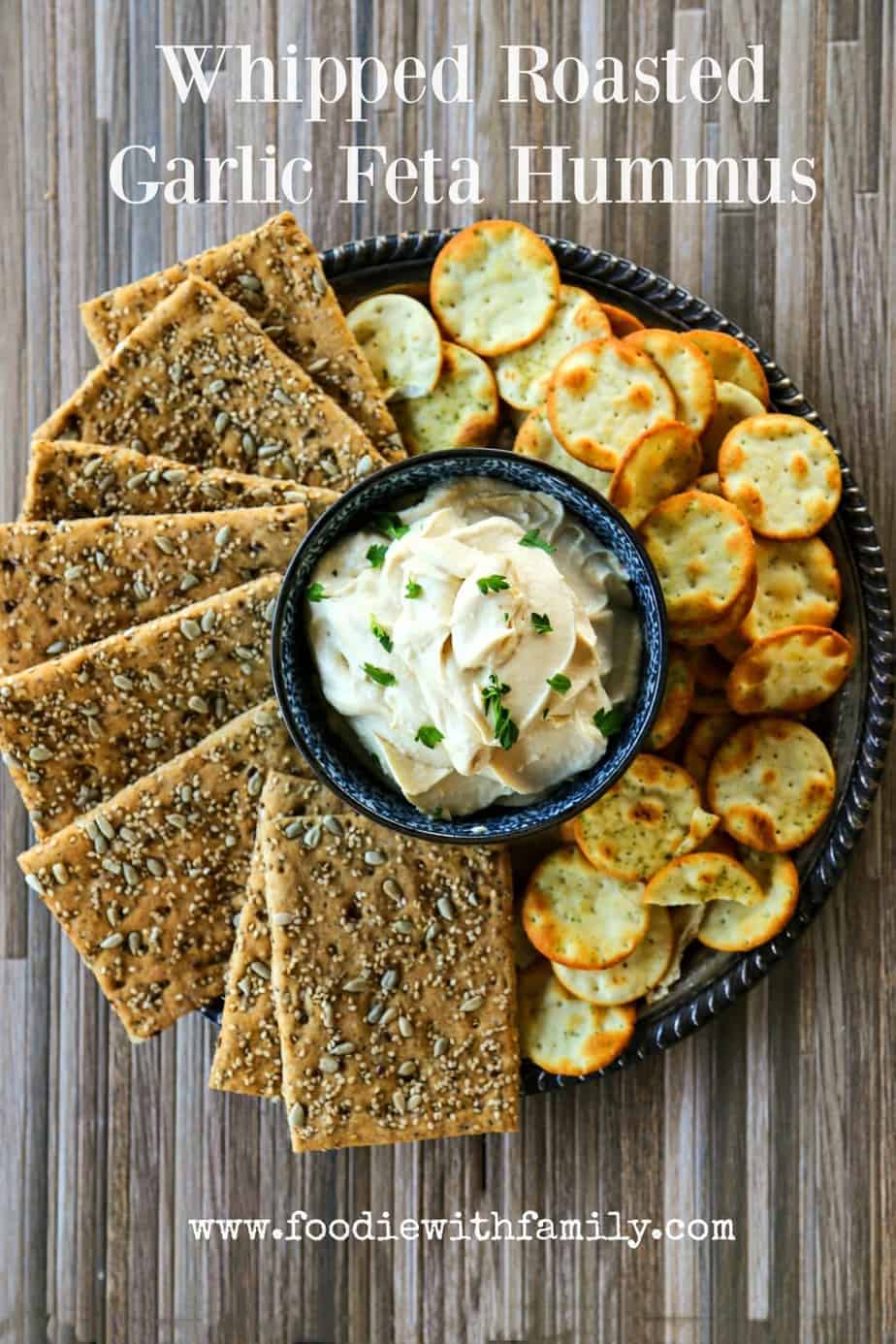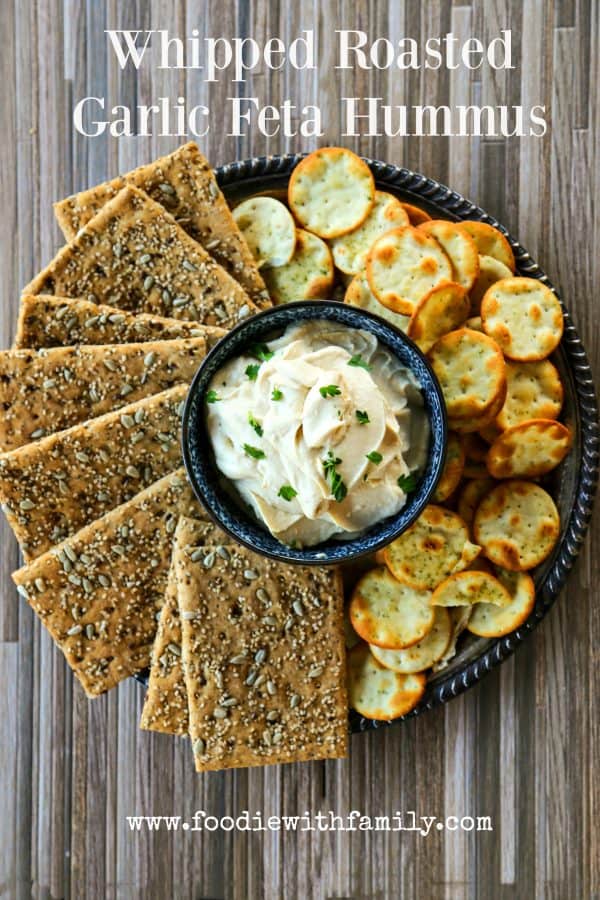 I cannot stress enough how simple it is to make Whipped Roasted Garlic Feta Hummus. Sabra takes all of the work out of it for you with their silky smooth and perfectly balanced Roasted Garlic Hummus.
If you can't find Sabra roasted garlic hummus on the shelves, use regular hummus and homemade roasted garlic!
…and the payoff? Unnnnnngggggh. It's like the savoury food lover's version of the age old "You got your peanut butter on my chocolate!"/"No, YOU got your CHOCOLATE in my PEANUT BUTTER!" story.
The combination of the light-as-a-cloud whipped feta with the silky smooth, fragrant and flavourful Sabra Roasted Garlic Hummus is beyond crave-worthy. I actually woke up thinking about this the day after I made it and forced myself to wait until lunch to eat some for decorum's sake.
Upon reflection, I think a little bit of the Whipped Roasted Garlic Feta Hummus would've been a perfectly acceptable spread on my toast to be topped with a fried egg. So now, I'm forcing myself to save a little bit just so I can try that tomorrow morning. People. I could probably live on this.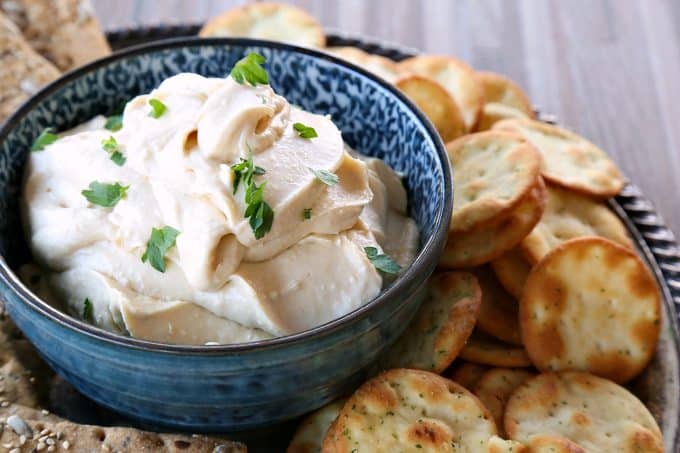 • facebook • pinterest • twitter • instagram
Cook's Notes
I'll just say this much. Your dip will be better if you start with a block of feta and crumble it yourself. Block feta just plain has a better texture than the pre-crumbled stuff. Of course, if all you can find is pre-crumbled, don't let that stand in the way. Make your Whipped Roasted Garlic Feta Hummus!
There is a range of measurements for the feta given in the recipe. The reason for this is that not everyone loves feta quite as much as I do. If you're a less enthusiastic consumer of feta, use the smaller amount. If you're like me and considered naming your children Feta, by all means, use the larger amount.
Leftovers should be stored in an airtight container in the refrigerator and are good for up to a week!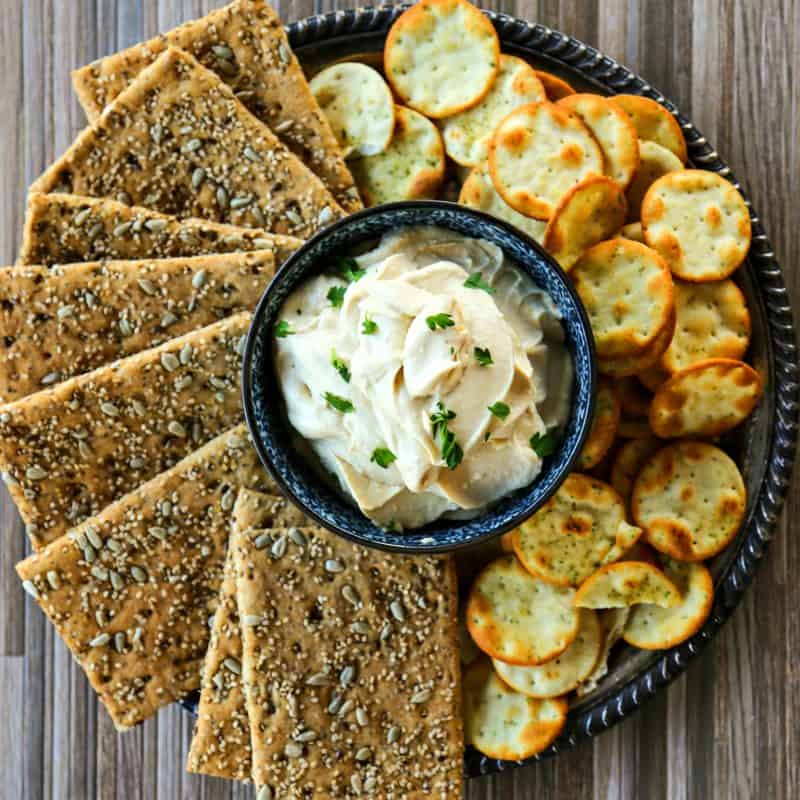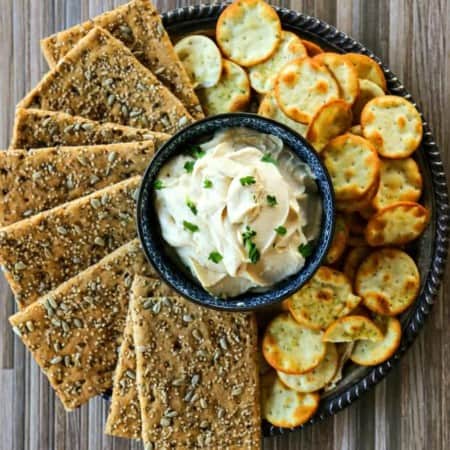 Light-as-a-cloud, fragrant with roasted garlic, and smooth as silk, Whipped Roasted Garlic Feta Hummus is a dip or spread for game day and beyond!
Ingredients
4

to 6 ounces feta

crumbled

4

ounces

cream cheese

softened and brought to room temperature

1

container Hummus

10 ounce

8

cloves

roasted garlic
Instructions
Add the feta crumbles into a food processor fitted with a metal blade. Fix the lid in place and process until the cheese is broken up into super fine crumbs. Scrape down the sides of the food processor. Add in the cream cheese and process for 3 minutes, stopping to scrape down the sides from time to time. Finally, add the container of Hummus and the roasted garlic and process for an additional minute or 2, or until silky smooth and uniform. Scrape into a serving bowl. It can be served warm straight from the food processor, or chilled for a thicker dip.
Nutritional information is an estimate and provided to you as a courtesy. You should calculate the nutritional information with the actual ingredients used in your recipe using your preferred nutrition calculator.