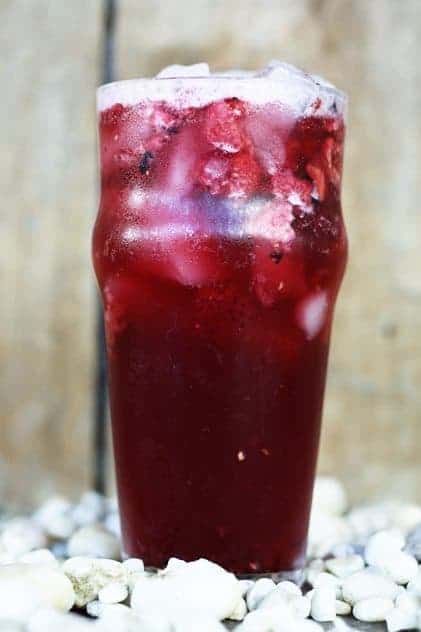 I got my dog fixed on my birthday.
It's a glamorous life. Try not to be too jealous.
Because Frijole is a rescue dog (although some folks would argue that his inclusion in the dog category is in doubt considering he's half daschund half chihuahua), we were invited to bring him to a free spay and neuter clinic about two hours from home. "Free" is one of my favourite words, so I grabbed the leash, the understandably unexcited dog, a cup of tea and set out at six in the morning on a Sunday to drop my pup off for ye olde snip-snip.
After depositing the dog (and a surprise attack of tears when leaving my sweet wittle puppykins in the arms of those strangers) I drove into town a little further and found the Holy Grail, Nirvana, Kismet, Shangrila…
I found Barnes and Noble in Elmira, New York.
Since it was my birthday, I gave myself permission to go a little wacky in the bookstore. Aside from living in a library, this is my idea of the ultimate in fun. I felt like Julie Andrews in The Sound of Music. I walked in, twirled around with my arms in the air, and sang (in my head.)
I walked up aisles. I walked down them. I tucked into ill-lit corners with piles of books by authors of whom I'd never heard. I sniffed new books.* I scoured the clearance and mark-down books. When I tell you I spent hours, I mean it.
When all was said and done, I carried my teetering stack of books to the register. While the clerk was scanning, scanning, scanning, I glanced at the time and realized I still had a couple of hours to go before I could pick up my now frijole-less Frijole. A glance to my right showed the semi-ubiquitous Barnes and Noble Starbucks, so I paid and scooted over there to spend a little air-conditioned time admiring my new acquisitions.
*Please tell me someone else loves the smell of books…
There are a couple of impulse buy food words that get me every time; citrus, lemon, lime, orange, berry and hibiscus. Lo and behold, Starbucks had a little something called a Very Berry Hibiscus Refresher. I was all over that like my kids on chips. I ordered one at the counter and they asked, "Can we make that a venti?" I am not a Starbucks veteran, so I had NO IDEA what that meant, but I wanted to be agreeable, so I said yes. Heck. It was my birthday.
I watched while she mixed up my refresher, took it back to the table, took a sip and did what any self-respecting blogger does when she likes something. I posted a picture on instagram. Then? Then I did what any self-respecting member of my family would do. I vowed to learn to make it myself because at that point, I had learned what venti meant. It meant EXPENSIVE.
With the justification, "It's for research!" singing in my head, I ordered a second venti Very Berry Hibiscus Refresher while tucking an information card in my pocket and asking the poor gal what went into the drink. She said "Green Coffee Extract, this hibiscus mix stuff, dried berries, water and ice". All that was left was for me to slurp my drink, call my sister to tell her how she needed to try one, pick up my drugged and tender puppy and drive home for my annual birthday fried chicken extravaganza.
Being cheap (and living a couple hours from the nearest Starbucks) is a marvelous recipe development motivator. I ordered green coffee beans from Amazon.com
, busted out my stash of dried hibiscus flowers
and freeze dried berries
and set myself to experimentation.
I opted to make my green coffee extract using cold extraction. This sounds far more difficult than it actually is. In short, grind unroasted coffee beans, cover with water, let it set in the refrigerator overnight then strain it. Ta da! Yes. It truly is that simple. I make a quart at a time, so I can have this whenever cravings strike.
While researching green coffee beans, I found out that green coffee is currently the golden child of the diet scene. Evidently, taking green coffee extract (in any form) jacks up your metabolism so that -all other things remaining the same- you metabolize your food more completely and therefore lose weight. Who knew?
Because cold brewing/extraction is a gentler process, I used my beloved new Krups coffee grinder/spice mill from BigKitchen to break the beans up just a bit. I didn't need to obliterate them like you would for a regular cuppa joe, just break them open a little. Can we talk about why I love this grinder for just a moment? My husband is the coffee drinker in the house. I'm a tea drinker. For years, our coffee grinder has been 'his'. I borrowed it once -just once!- to grind some spices and we both ended up unhappy with the results. My cumin tasted like coffee and his coffee tasted like cumin. The rest of my spice and herb grinding took place in the pestle and mortar. Sigh. This new grinder is mine, MINE I TELL YA, and it will never have a roasted coffee bean in it as long as it lives. The green coffee beans don't count because they don't have that strong flavour, aroma, etc… that you find in roasted beans. Additionally, green coffee contains about one-fifth of the caffeine of its roasted counterpart. This probably accounts for why I can drink it without having to be scraped from the ceiling.
So why do all this? Hibiscus and berries are bright and fresh and naturally vibrant pink and full of vitamins and minerals. Green coffee is a metabolism booster and makes you feel energetic without feeling strung out. Put them together with ice and water and you have a truly refreshing drink.
If you have a Starbucks lover in your life, a jar each of the hibiscus syrup and green coffee extract in a basket with a couple bags of the freeze-dried berries would make a wonderful gift!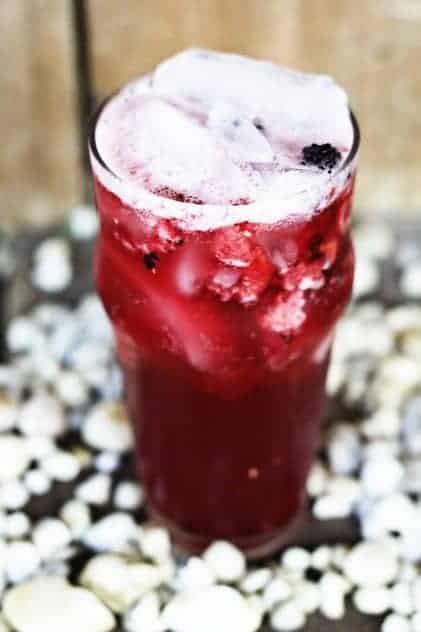 Very Berry Hibiscus Refresher Clone (Starbucks Knockoff) | Make Ahead Monday
Rate Recipe
Zingy hibiscus and sweet freeze dried berries get shake-shake-shaken into homemade green coffee extract (yes you CAN do that at home!) and ice creating a fabulous knock-off of the Starbucks Very Berry Hibiscus Refreshers at a fraction of the cost.
Ingredients
For the Green Coffee Extract:
1

quart

cold water

1/4

pound

green coffee beans

unroasted
For the Hibiscus Simple Syrup:
1

cup

granulated sugar

2

cups

water

1/2

cup

dried hibiscus flowers
To Make a Very Berry Hibiscus Refresher Clone:
2

cups

of ice cubes

1

tablespoon

green coffee extract

1-4

tablespoons

hibiscus simple syrup

to taste

2

tablespoons

freeze-dried berries

2

cups

water
Instructions
To Make the Green Tea Extract:
Add the beans to a scrupulously clean spice or coffee grinder, pulse the grinder about 10 times just to break up the beans a little. Empty the beans into a half-gallon glass canning jar or another similarly sized container with a tight fitting lid. Pour the cold water over the beans, fix the lid in place and shake a couple of times to make sure it is all good and distributed. Stash in the refrigerator overnight to extract.

After it has soaked for at least 8 hours, line a fine-mesh sieve with a coffee filter or a piece of cheesecloth positioned over a pitcher. Shake the green coffee and water mixture one more time and pour it through the lined sieve. Transfer the strained liquid to a jar (it should fit into a quart jar) and store in the refrigerator for up to a month, using as desired.
To Make the Hibiscus Simple Syrup:
Add hibiscus flowers, sugar, and water to a heavy-bottomed saucepan over medium high heat. Stir frequently to dissolve the sugar and bring to a boil. As soon as the mixture boils, turn off the heat and add a lid to the pan. Let it steep for at least 20 minutes, but not more than 40 minutes. Strain through a fine-mesh sieve lined with cheesecloth or a coffee filter into a canning jar or pitcher. Store in the refrigerator in a tightly lidded jar or other stain-proof container. Hibiscus syrup WILL stain!
To Make a Very Berry Hibiscus Refresher Clone:
Add 2 cups of ice to a quart canning jar. Pour the green coffee extract and hibiscus syrup over the ice, add the freeze-dried berries and pour the water over everything else. Fix the lid tightly in place and shake vigorously for about 25 seconds. Pour into a pretty glass and sip. Heck, gulp if you want to gulp! This is good stuff and it's good for you!
Nutrition
Calories:
98
kcal
Carbohydrates:
24
g
Sodium:
11
mg
Potassium:
39
mg
Sugar:
24
g
Vitamin A:
35
IU
Vitamin C:
38.3
mg
Calcium:
6
mg
Iron:
1.7
mg
Nutritional information is an estimate and provided to you as a courtesy. You should calculate the nutritional information with the actual ingredients used in your recipe using your preferred nutrition calculator.
Save