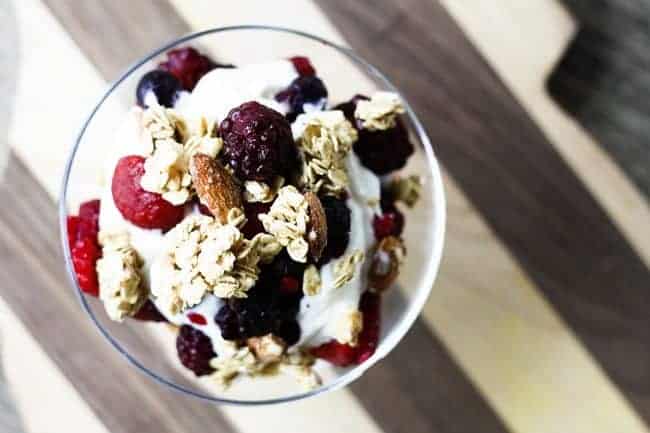 I'm thirty eight years old and I just started to like breakfast. I'm not even kidding.
The truth is, until this point, the only time I wanted to eat anything before noon was when I was pregnant. Mind you, I was pregnant for a grand total of four-point-one-six (repeating fraction) years, but the point remains. It was only then that I actually wanted breakfast. Until…
Well, until I took my fitness regime seriously. Good grief, people… getting older? I don't mind the wrinkles, in fact, I kind of like them. I think they build character. What I DO mind is being in a body that has decided that my usual twelve-tacos-for-dinner plan is not working any more. Dagnabit.
As long as I've been an adult, I have exercised with far more frequency than I did as a teen (even though I was freakishly thin then) and with more intensity. I've done Pilates for years, albeit the kind that I do following along with a video in the den while the doors are firmly closed and locked to prevent kids and dogs from interrupting me.
In the last couple of months, though, I found that I was feeling CRANKY-peckish around nine or ten in the morning:  fully two hours before I've ever felt like eating before (minus pregnancy) in my life.
Instead of being a doofus and fighting it, though, I've yielded in a healthy way. Rather than cramming a fistful of chocolates at my mouth (yes, I've done that) at ten-ish, I've stocked myself up with something HELPFUL. Every Sunday afternoon, I grab a handful of eight-ounce jelly jars, a container of Greek vanilla yogurt, some frozen berries and go to town… I make myself parfaits. There really isn't anything more low-maintenance and satisfying than this: vanilla Greek yogurt layered with partially thawed frozen berries and so on until the jar is mostly full. Mostly full because you get the most BANG for your breakfast buck when you leave enough room to top it with a little bit of your favourite yogurt for texture's sake.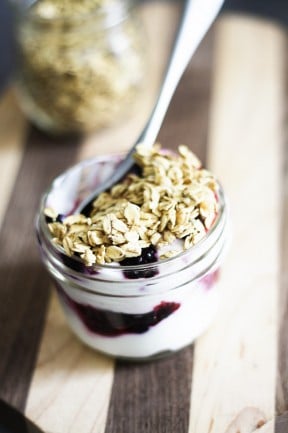 The sweetness of the yogurt, the tart berries and the crunch of the granola? Shoo… You won't look back.
The beauty of this -aside from the surpassing taste- is that less than ten minutes one day a week yields breakfasts for the entire week. How much less likely are you to splurge on something twelve-taco-y if you have something this delicious and appealing in the refrigerator? And the parfaits get even better as the week goes on… The berries release their juices and make the most lovely sauce that stirs into the yogurt. Geesh. I'm getting hungry now and I just ate dinner.
You don't even have to thaw the berries before you make these parfaits. Oh sure, if you're one of those folks who lives in a region that has fresh berries year round, by all means, make 'em with fresh, but those of us who are still wielding the snow shovel can still experience the joy of a berry parfait with this recipe.
…And one last thing. I love Greek yogurt, my kids? Not so much. They find it too thick. If you're in the camp of no-Greek-yogurt with my kids, make it with regular vanilla yogurt. Really! Don't skip it for the sake of strained yogurt. I personally love the Greek stuff because I think it holds up nicely to a week's worth of refrigeration with melting, juicy berries, by my boys all prefer it with plain old, garden variety, inexpensive vanilla yogurt. There are much bigger hills I'll choose to die on than Greek yogurt vs. plain yogurt. Choose whatever you prefer!
If you were so inclined, and found yogurt on sale, you could easily make these (leaving room for expansion in the jar) and freeze them with lids on (and sans granola, of course)… I whip them up weekly because I find it easier than thawing, but it's very, very freezer friendly!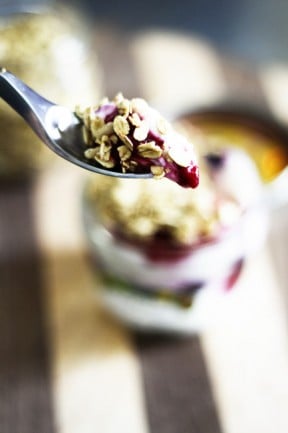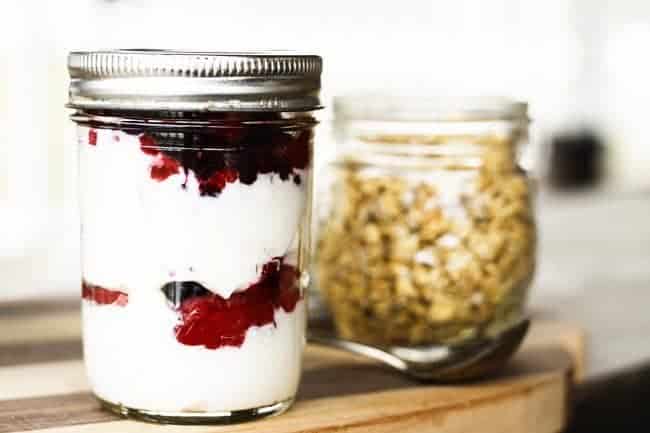 Vanilla Yogurt and Berry Parfait | Make Ahead Mondays
Rate Recipe
Start your morning right with a Vanilla Yogurt and Berry Parfait. Less than 10 minutes 1 day a week will yield breakfasts for every morning! Creamy, sweet vanilla yogurt is layered with tart frozen mixed berries in jars and refrigerated for whenever the urge strikes. As the week goes on, the berries thaw and release their juice, flavouring the yogurt. Serve with granola or Grape Nuts!
Ingredients
For Six Parfaits:
1

container Greek or regular Vanilla Yogurt

32 ounce

1 1/2

cups

frozen mixed berries

unsweetened

6

jelly jars with lids or dessert bowls

8 ounce
To Serve:
up to 1/2 cup granola or Grape Nuts for each parfait.
Instructions
Spoon about 1/4 cup into the bottom of each of the 6 jelly jars or dessert bowls. Over each of those, spoon about 2 tablespoons of frozen mixed berries. Press the berries lightly into the yogurt. Top with another 1/4 cup of yogurt, 2 tablespoons of berries and then divide the remaining yogurt between the jars over the berries. Cover tightly and refrigerate for up to a week.
To Serve:
Remove the lid from the parfait and sprinkle a little granola or some Grape Nuts over the top of the parfait. While eating, sprinkle with granola or Grape Nuts as often as preferred.
Nutritional information is an estimate and provided to you as a courtesy. You should calculate the nutritional information with the actual ingredients used in your recipe using your preferred nutrition calculator.