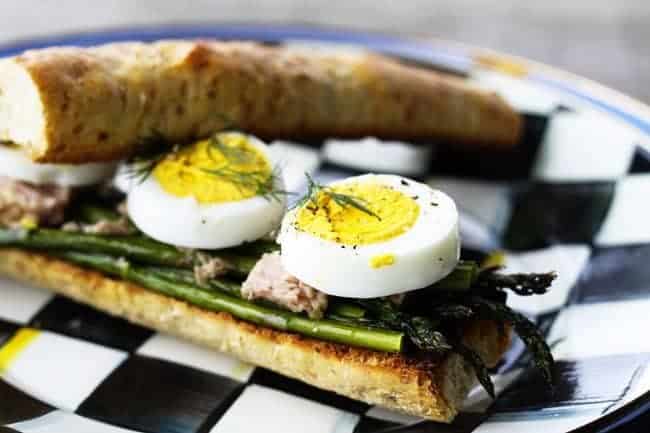 We observe meatless Fridays through Lent. And while that should sound like no biggie, it's surprisingly difficult for a meat-lovin' family like ours to commit to one day a week sans meat even if we allow ourselves fish, which we do. For someone who spent nearly seven years as a vegetarian, I'm shockingly lacking in the creativity department when I've made a rule for myself.
That's not to say that vegetarian and seafood dishes don't ding my chimes. In fact, I kind of obsess over mushroom dishes and seafood on Pinterest. It's really the rule that trips me up because I deliberately avoid food restrictions in my life. It makes me stop and consider why I have such a hard time giving up things for one little day a week but I think that's good for me. Isn't that the point of observing Lent, after all?
Last year, I saw a Spring Sandwich on TheKitchn that sounded like the perfect Lenten Fridays dish, and I pinned it like a good girl then forgot I had pinned it.
I'm good like that.
A bell went off in my little brain when I admired the bundles of super-thin asparagus at Aldi last week. I grabbed a couple bundles there, then a handful of fresh dill and a Parmesan peppercorn baguette at Wegman's and congratulated myself all the way home on being clever enough to remember it.
At home, I decided to toast my crusty bread because as much as I love bread, I love it even better when it's toasted. And here's the thing, I had decided I wanted to put some olive oil packed tuna on this sandwich to really pile the protein on there and keep my meat-lovin' tummy satisfied. It seemed like a good idea, so I opened the can of tuna and drizzled a little of the flavour-packed olive oil over the cut bread and brushed it around before toasting it. I'm pretty sure that was the best decision I had made in at least a week… It infused the bread with just a hint of  tuna and crisped the surface beautifully and gave it an undeniably French touch. I'm going to repeat that again and again.
I roasted the asparagus because honestly, asparagus just can't taste better than that.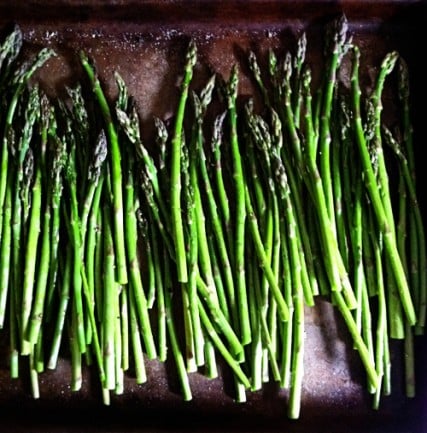 I smeared some of my best grainy mustard on the toasted bread, piled the tender salt-and-pepper asparagus spears on top, flaked the tuna over the asparagus, laid on slices of hardboiled eggs, sprinkled coarse sea salt and cracked black pepper and added a few sprigs of fresh dill before laying that other fabulous piece of toasted baguette over all.
It took a little work eating the sandwich, what with having such a delicate little mouth and all (she says as two whole cookies fall out of her maw) but I managed. It was glorious, I tell you. I ate the entire thing by myself before assembling more for the guys.
It's my new go-to Lenten recipe… Granted, there are members of the no-visible-veg contingent who feel compelled to pull the asparagus from their sandwiches, but that's okay by me because I hoover the tender little spears from their plate before they hit the sink.
No asparagus left behind.
I'm curious… do you observe Lent? If so, how do you do it? Meat-free Fridays? Meat-free Fridays and Wednesdays? If you do, what are your favourite recipes for those days? Do you give up something else or have certain activities?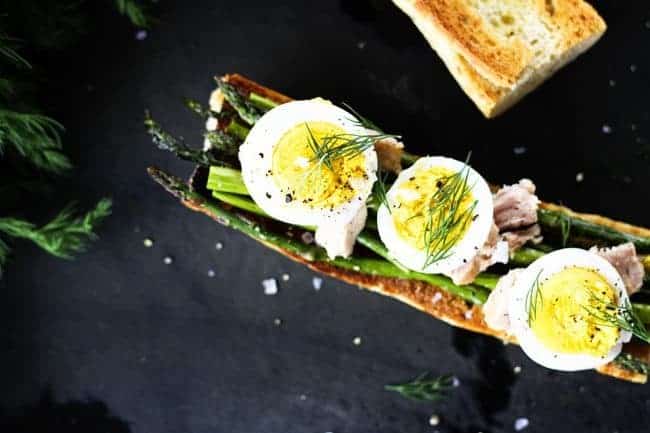 French Roasted Asparagus, Tuna and Hardboiled Egg Sandwiches | Lenten Friday Recipes
Rate Recipe
This French style sandwich is one of the best ways to fill up without weighing down on your meat-free days: toasted baguette with grainy Dijon mustard, tender roasted asparagus, hard-boiled eggs, olive-oil packed tuna, fresh dill, coarse salt and cracked black pepper. Serve with a nice glass of wine and you have a feast! It can be prepared and refrigerated for up to 24 hours before serving. Inspired by and with thanks to
TheKitchn
Ingredients
1

crusty baguette or 2 crusty rolls

20

thin asparagus spears

1

teaspoon

olive oil

1

can olive-oil packed tuna

grainy Dijon mustard

2

fresh hard-boiled eggs

peeled and sliced thickly

coarse salt and pepper to taste

fresh dill
Instructions
Preheat the oven to 400°F. Trim any tough ends from the asparagus spears. Place the asparagus on a rimmed baking sheet and toss with the olive oil and sprinkle with salt and pepper to taste. Arrange them in a single layer and roast for 8-10 minutes, depending on how thick the spears are and how tender you'd like the asparagus to be.

Turn on the broiler in your oven. Cut the baguette or crusty rolls in half and brush them with some of the oil from the oil packed tuna. Place 4-5 inches under the broiler, watching carefully, until golden brown. Do not walk away while this is toasting or you will have charcoal!

When the bread is cool enough to handle, spread all surfaces with the grainy mustard and arrange the roasted asparagus over it. Flake the tuna over the asparagus and follow with the slices of hard-boiled egg, a sprinkling of coarse salt and cracked black pepper and some sprigs of fresh dill before adding the final piece of bread.

Compress lightly with your hands and eat immediately or wrap tightly and refrigerate for up to 24 hours before eating.
Nutritional information is an estimate and provided to you as a courtesy. You should calculate the nutritional information with the actual ingredients used in your recipe using your preferred nutrition calculator.