I have started and stopped writing this post fifteen different times. I've written as much as five paragraphs and then deleted the whole thing. I am, you might say, distractable and distracted. My children keep bursting in through the doors yelling crazy things at me. (Because apparently my children have given up speaking in favor of yelling everything.)
The following are all actual things my kids have said to me in the past week:
"Mom! Do you LOVE refrigerators? 'Cause I think they're AWESOME!"

"I can't put my ripped jeans on Diggedy. Those are my wood working and snake catching pants. That would be disastrous!" (First, or the record, I did not -ever- ask any child to put pants of any kind -ripped or otherwise- on the poor, elderly beagle. And second, snake catching pants? )

"I feel hungry and empty inside!" (This was said immediately after the child had eaten three hot dogs!)

"I have a black eye! I accidentally slapped myself in the eye with my hand!" (Whah?)

"I didn't shoot him on purpose. We were playing a game called 'don't move!' and he moved. I was compelled to shoot him. (I'd like to have words with whoever invented those Nerf foam dart guns. Unkind words.)
To top it off, I have late-Spring fever, an exploding garden, and a million and a half things to get done.
So without further adieu, I will skip straight ahead to the food, eschewing all other distractions. Well, except for this one. The name of this dish is not one of my finer moments. Torteggas. Right. My pride aches just typing that. Here's the thing. My kids asked me what was for dinner. This dish was -as yet- unnamed when the question was posed. (And my children NEED for dishes to have names. Don't ask me why because I haven't figured it out. If the dish doesn't have a name it won't pass their lips. Is it something I've done?) In a moment of not-so-quick thinking, I combined the words 'tortilla' and 'egg' in the only way my poor addled, distractable brain could. The result was 'Torteggas'. Le sigh. And of course, the name stuck.
Silly name or not, this is one of the finest fast dinners in my repertoire. This egg-lover's dream dish is a hand-held meal that combines a crisped tortilla with a lightly fried egg, melted cheese and salad. If you, like me and 4 out of the 6 other mouths for which I cook, adore runny yolks, this dish is a sure winner. The yolk makes the most amazing, velvety dressing when it breaks over the salad greens. It's messy. I won't lie to you. But it's yummy, yolky, eggy messy. And the combination of flavors and textures is surprisingly sophisticated: the hot and chewy tortilla, soft egg, warm, velvety yolk, crisp greens, sharp cheese and piquant hot sauce… It just goes to prove the old adage that simplest is often best.
When you have only minutes to create and eat dinner before flying out the door for soccer/dance/baseball practice or an evening meeting this is absolutely, bar-none, the best thing you can possibly make. The egg is substantial enough to fill you up without weighing you down. And can I tell you just one more thing? I sometimes make this on nights when we're in no hurry at all. It really is that good. And lest I forget to mention it, this is a very healthy meal. Protein and veggies in a convenient hand-held package. As if all that weren't enough, it's vegetarian friendly!*
*Sure, you can throw a few crispy strips of bacon in here and it's outstanding, but that sort of takes away from the 2-minutes-and-done-nature of this dish. But I won't tell you I've never done that… Because that would be lying.
Just make this. Please. Soon!
Torteggas
Ingredients (scale up or down as needed, quantities given are per serving):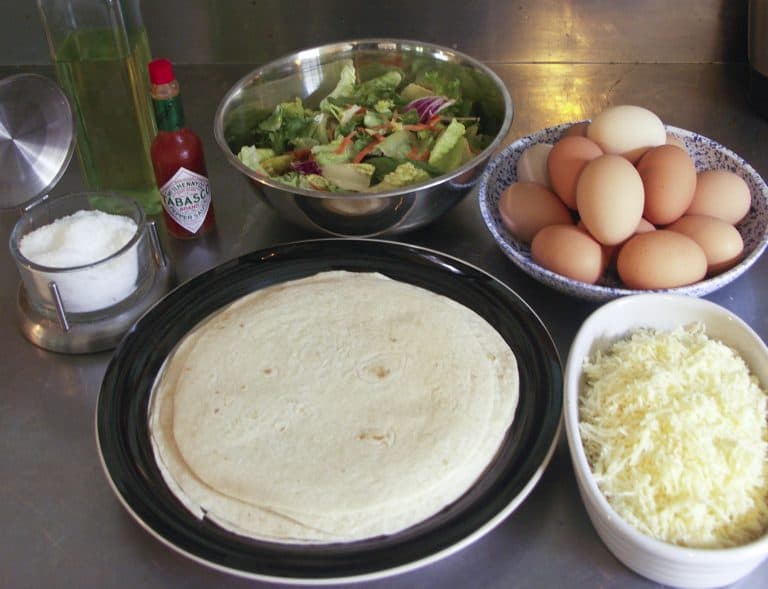 1 flour tortilla
1 tsp vegetable or canola oil
1 egg
3 Tablespoons finely shredded cheese (any nicely melting cheese will do!), divided
a pinch of salt
a handful mixed salad greens, cleaned and dried
optional: hot sauce for serving
Before beginning, it's best to lay your ingredients out, much like a stir-fry, as this process goes really quickly once you start cooking!
Warm a heavy bottomed skillet over medium heat. When pan is hot, add oil and allow that to heat. Place tortilla in pan. Fry until the top side puffs up a bit and its underside is golden brown, about 1 minute.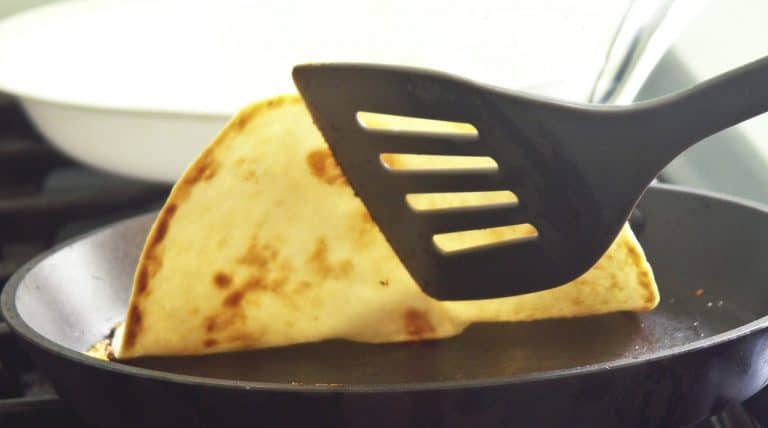 Remove tortilla to a plate and crack egg carefully to one side of the center of the pan. Sprinkle 1 Tablespoon of cheese over the egg.
Gently lay tortilla, fried side down, over the egg in the pan. The tortilla should be positioned so that when the tortegga is done and you fold it in half, the egg will cover one half of the tortilla.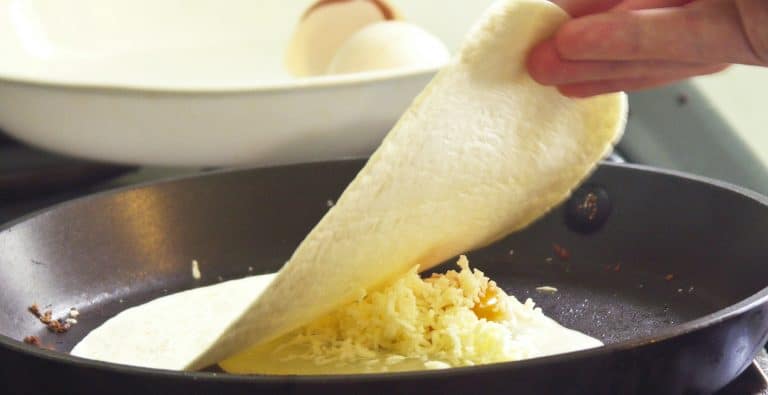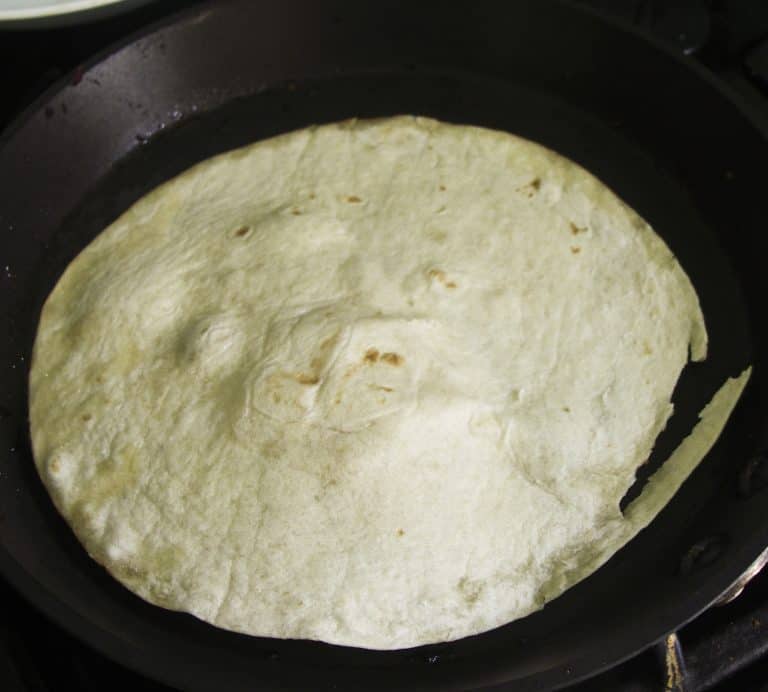 Cook for about 1 minute, or until you can carefully slide a spatula under the egg and tortilla. If you like your yolks runny (and I do!) be careful not to break the yolk as you slide the spatula under and flip the egg and tortilla over. Sprinkle the remaining cheese on top of the egg and tortilla.
Raise the heat to medium high and fry until underside of tortilla is a light golden brown.
Remove tortegga to plate and sprinkle with salt to taste.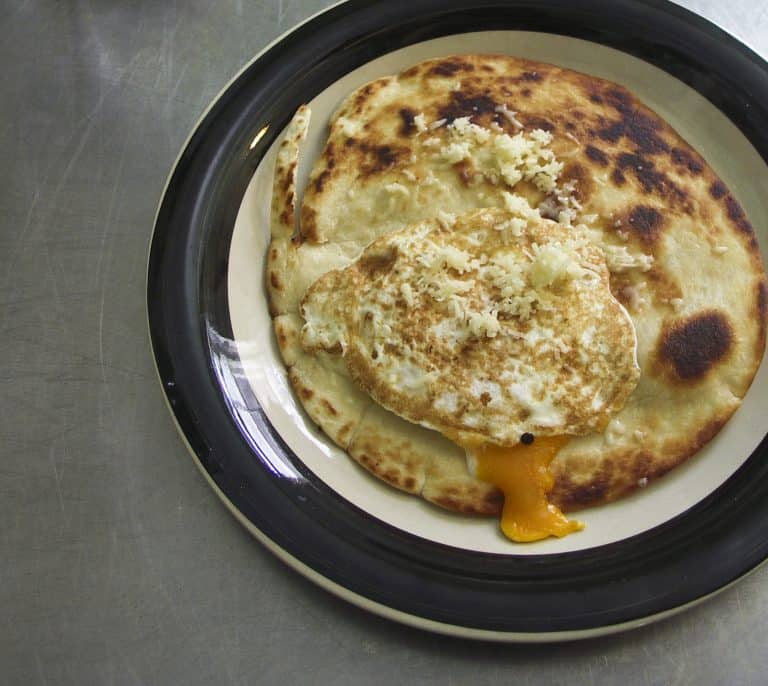 Drizzle with hot sauce (if using) and top one half with salad greens.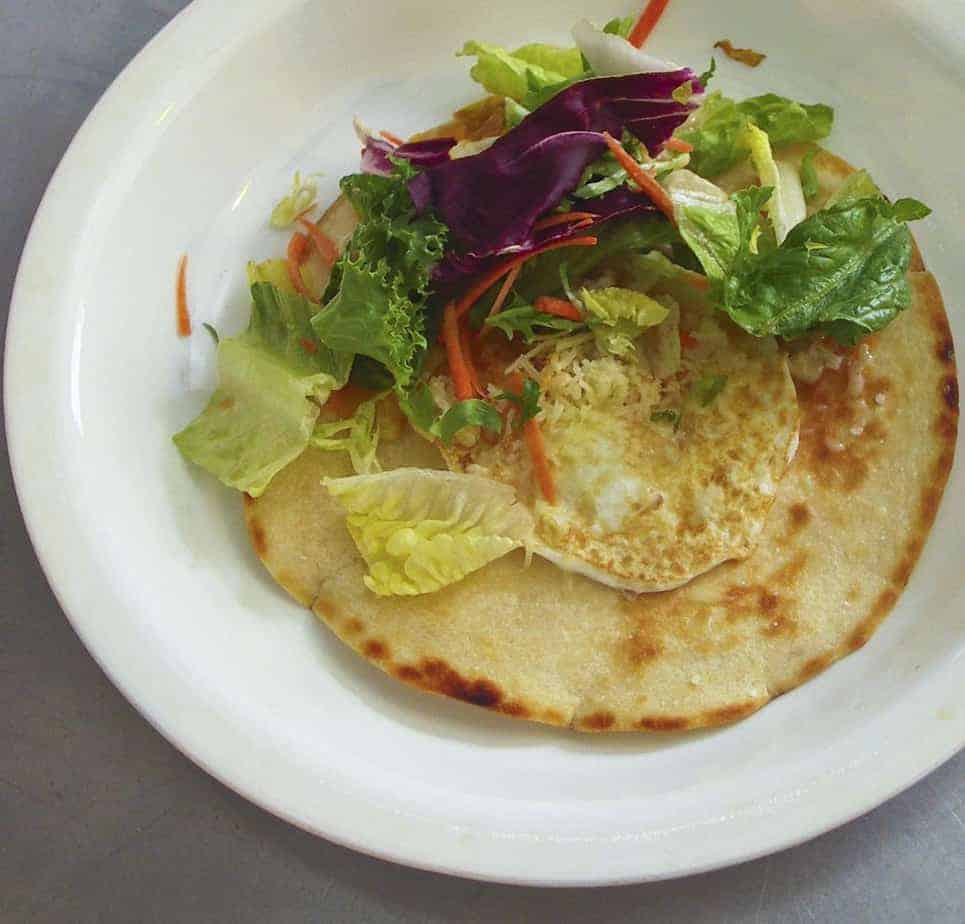 Fold in half like a taco and inhale!
There is no getting around it, if you like runny yolks, this is a bit messy to eat. But it's worth every single drip! Just lick your fingers. I promise I won't tell.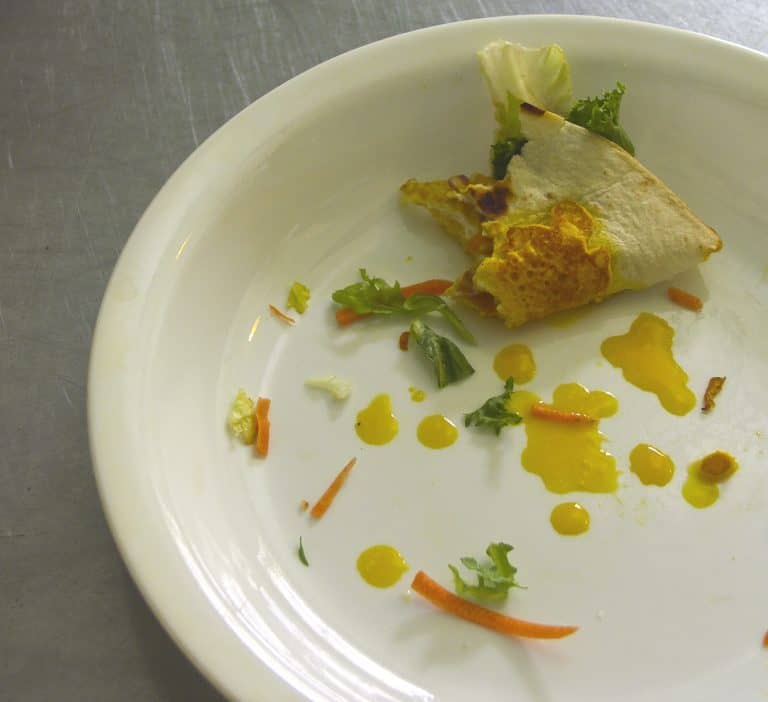 I licked this plate. And I'm not ashamed to admit it.