Into every life, a little snack must fall. If you're in my household, there's a good chance a great many snacks will find their way to your mouth. I am a snack fiend. I'm not talking about chips and pretzels, either, even though I have a great affinity for both of those. I'm talking about what I consider the category "Legit Snacks". These are more properly known as appetizers which in my world would be more accurately named if they were called "The Things Rebecca Eats So Much of She Can't Eat the Main Dish". I'd like to see someone come up with a mathematical formula to express the function which demonstrates how much faster a dish disappears in my home if it is finger food vs. real, eat-with-implements food. It might be shocking. Our favourites include anything containing cheese, pasta, and dip. So what do you get when you put them all together? You get a stampede of people trying to grab handful after handful of Toasted Tortellini Bites.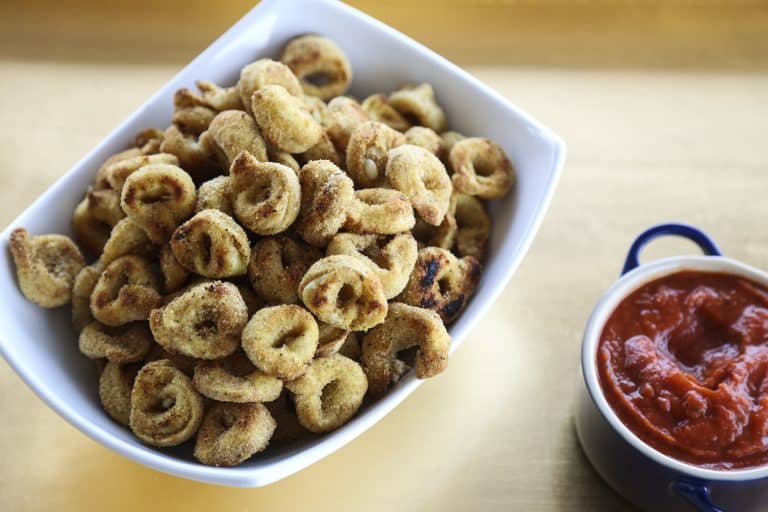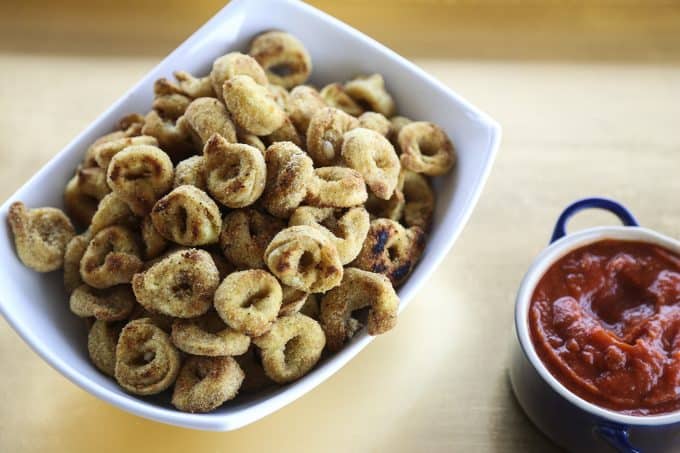 Just back it on up a second with me, would you? I'm sure you've seen toasted ravioli on every bar food menu in the U.S. at this point, but I have a little issue with them. The problems with toasted or fried ravioli are mainly that they're ridiculously hot out of the fryer, I lack the willpower to wait until they are a temperature less than molten lava, and every time I bite the ravioli, all the hot cheese comes pouring out on my chin and neck. I grant you that this is preventable, but I yam what I yam and I know I have to compensate for 41 years of precedence. I had to go smaller. Using cheese tortellini was a no-brainer because it had all the fun of ravioli in a one-bite package. They're ridiculously easy to make, and I'd argue that the Toasted Tortellini Bites are easier even than toasted ravioli. Besides that, you can't in all decency pop an entire ravioli into your mouth at one time but you most certainly CAN pop entire Toasted Tortellini Bites into your mouth, maybe even two at a time as long as you aren't watching "Making a Murderer" while eating because that might constitute a gasping and choking hazard. I call this winning at life with Legit Snacks.
Just in case you don't believe it's that easy, I made a little video to prove it!

Cook's Notes
You can use whichever brand of thawed from frozen or fresh tortellini you like. I'm partial to Schwan's Six Cheese Tortellini (not sponsored… I just like their product a lot! Plus it's delivered to my house, so BONUS!) and Wegman's brand refrigerated cheese tortellini.
Before anyone asks, I have not tried making Toasted Tortellini Bites with meat tortellini. I imagine it would be okay, but people… CHEESE. Let's just say stick with cheese, please.
I like Toasted Tortellini Bites best when made with Italian seasoned panko crumbs because I just plain like panko crumbs and their crackling crunch better. They're also good made with regular old Italian bread crumbs, which end up having a little more of a uniform look to them, so choose whichever you like best/have handy.
The Toasted Tortellini Bites are going to be plenty crunchy after being baked for 20 minutes, but if you'd like them to be a little more golden brown, you can stick them under the broiler for a spell. Take care not to broil them on a silpat if you've chosen to bake them on a silpat, though, as that could cause, in a word, fire. If you want to broil them, you can slide that silpat out from underneath (it is slippery… it'll work!) and they shouldn't stick at that point!
Do these hold well? I'm not sure. They've never lasted above an hour in my house. The ones at the 1-hour mark were still tasty, though, so I guess I could guarantee you they'll hold up at least that long. Come on, though, these are Legit Snacks. Serve 'em hot from the oven.
You can most definitely easily double this recipe and I do advise doing so unless you are feeding two people. I can easily put away a half a pound of Toasted Tortellini Bites myself. I probably shouldn't admit that, but I'm honest. Well padded with tortellini and honest.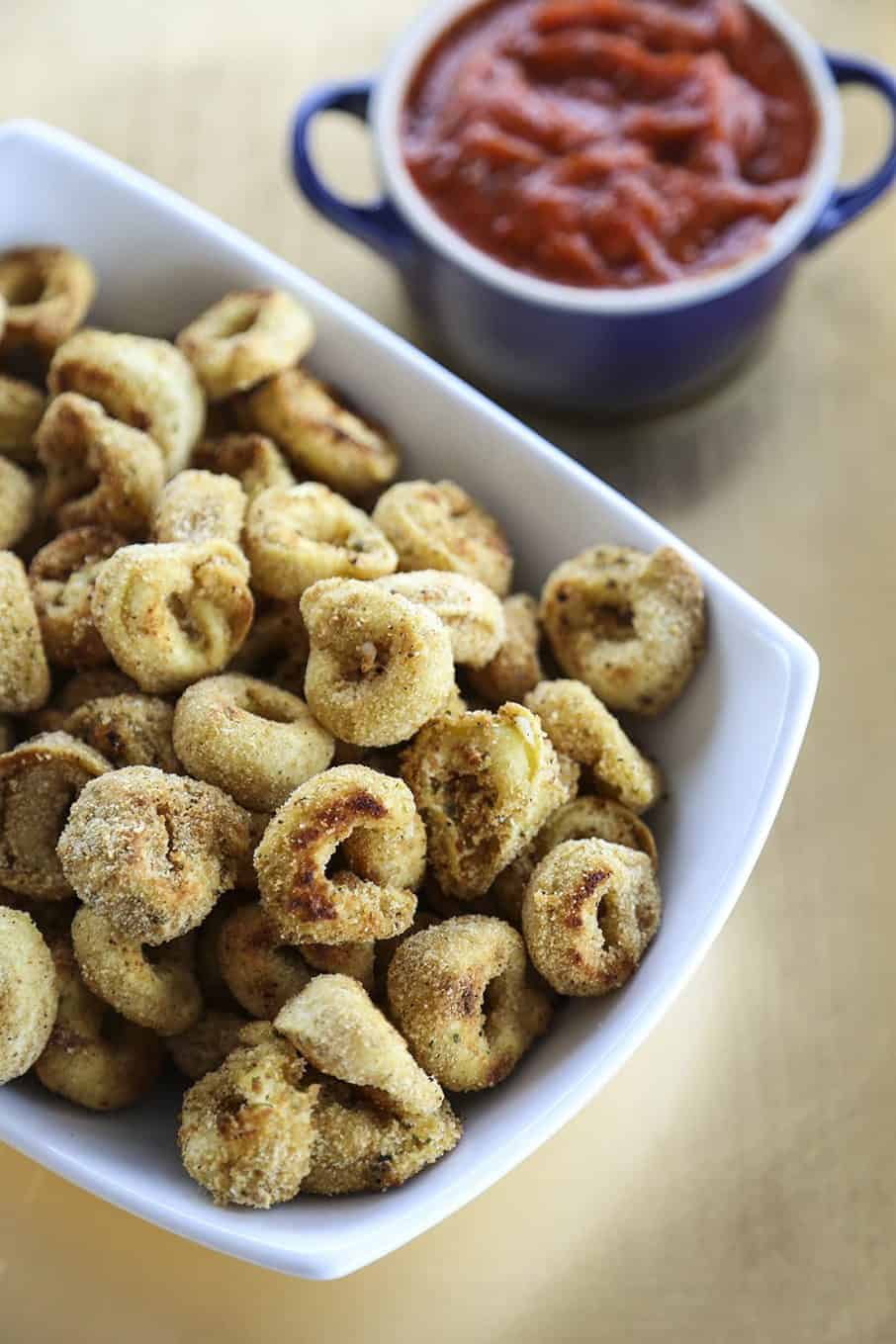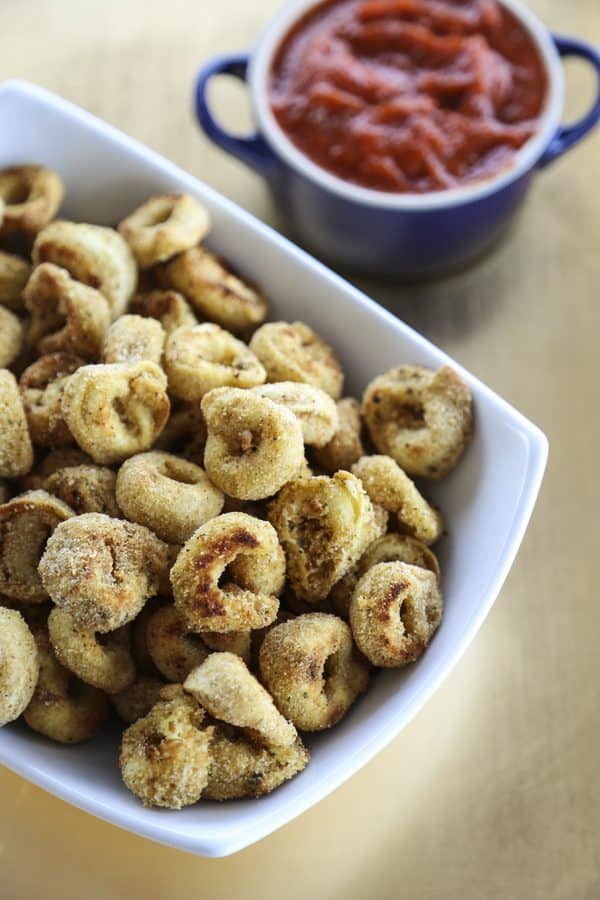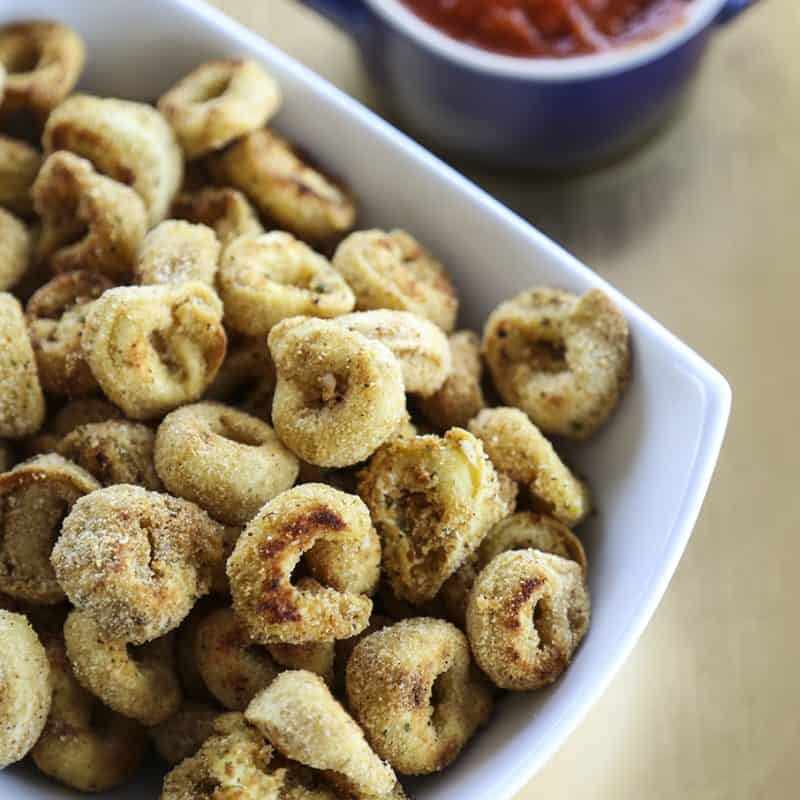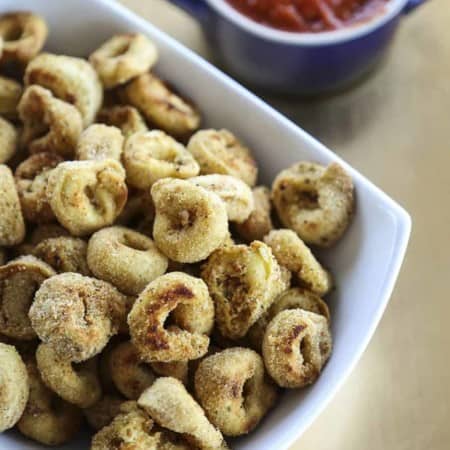 Toasted Tortellini Bites are everything you love about toasted ravioli -crunchy, breaded, pillowy pasta stuffed with melted cheese- in an easier to bake, one-bite package.
Ingredients
1

pound

fresh or thawed from frozen cheese tortellini

1

egg

2

tablespoons

whole milk

1

cup

Italian seasoned panko or standard Italian seasoned breadcrumbs

spray extra virgin olive oil
To serve:
marinara or homemade pizza sauce
Instructions
Preheat oven to 400F. Line a baking sheet with nonstick foil or a silpat.

Place the bread crumbs in a gallon-sized zipper-top bag. Gently crush the bread crumbs.

Whisk together the egg and milk in a mixing bowl. Add in the fresh or thawed tortellini and toss to coat evenly. Drain the tortellini in a colander, then transfer to the bag full of bread crumbs. Seal the bag, taking care to seal in as much air as you can so it is slightly puffy. Shake the bag to distribute the bread crumbs evenly. Pour the crumb coated tortellini onto the prepared baking sheet, spritz with the spray extra virgin olive oil, and bake for up to 20 minutes, or until the crumbs are crisp and the tortellini have puffed up somewhat. If you'd like the crumbs to be darker, you can put them under the broiler briefly (although if you've used a silpat, you should avoid doing this as it can set your silpat on fire!)

Let cool on the pan for 1 minute before transferring to a serving tray. Serve with marinara or pizza sauce.
Nutritional information is an estimate and provided to you as a courtesy. You should calculate the nutritional information with the actual ingredients used in your recipe using your preferred nutrition calculator.