If Brillat-Savarin was correct when he said, "You are what you eat." then it is quite likely that at this point I have achieved the status of 4/5 potato. I love them every day of the week and twice on Sundays. They're my spirit food, people. I married a man who loves potatoes and together we've passed that potato love down to our potato obsessed children. And THAT is why I am tremendously excited to present my recipe for Cheesy Jalapeno Potato Poppers to you in partnership with the United States Potato Board.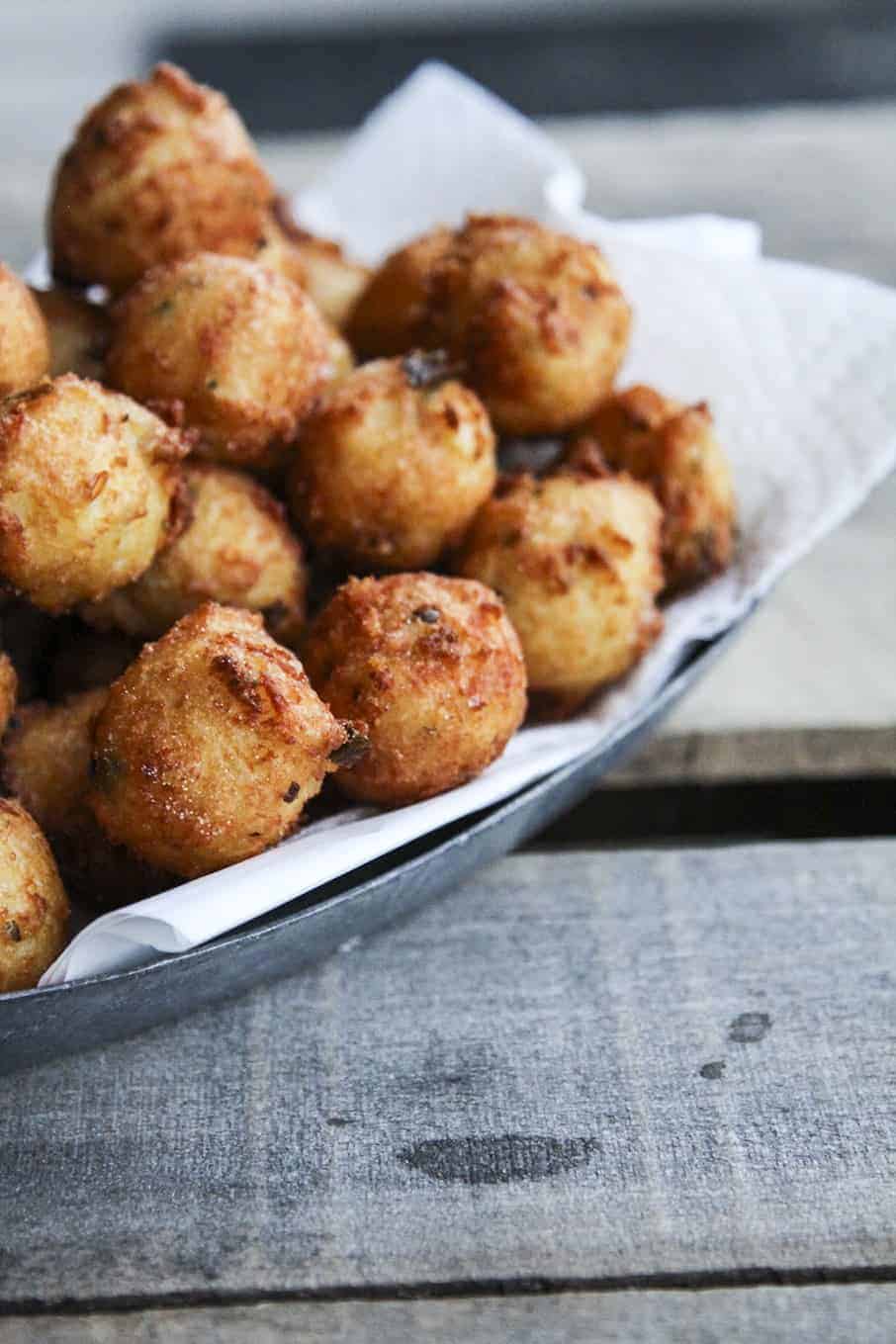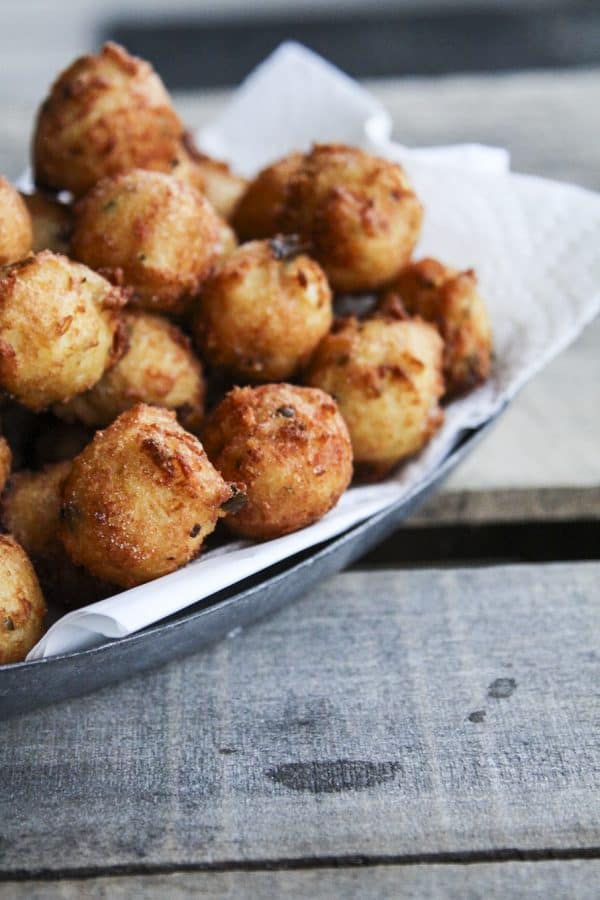 Cheesy Jalapeno Potato Poppers are happy food at our house. This delicious appetizer/finger food is made from leftover mashed potatoes which takes some doing in our house full of mashed potato lovers, let me tell you. It is probably better for me to say that I deliberately make FAR more mashed potatoes than would be humanly possible to consume at one meal JUST so that I can have the leftovers to make these crunchy, creamy, utterly Golden-Brown-and-Delicious morsels of comfort food. That is the power of the potato, friends.
To help hold my mashed potatoes together, I added a beaten egg and some flour (I used regular all-purpose flour, but I think gluten-free all-purpose would do the job here, too.) For pizzazz, we added a hearty helping of minced jalapenos and green onions. For texture and creaminess, we threw in a couple of fists full of grated super melty Monterey Jack cheese. I stirred, I scooped, and I fried. That's all it took to turn out a platter full of Cheesy Jalapeno Potato Poppers. The only way it gets easier than that is to have someone make it for you.
The end result is a crisp exterior surrounding the love child of a tater tot and jalapeno popper;  creamy, cheesy, gently spicy, poppable, and oh-so-flavourful. All the things! All the Cheesy Jalapeno Potato Poppers!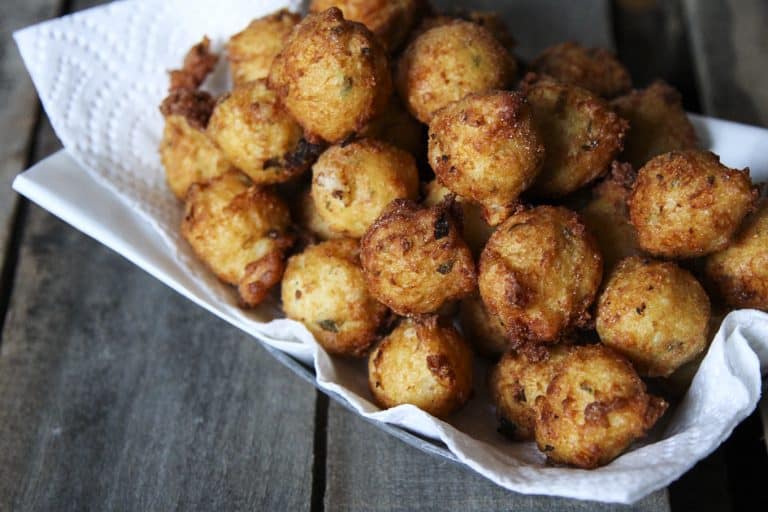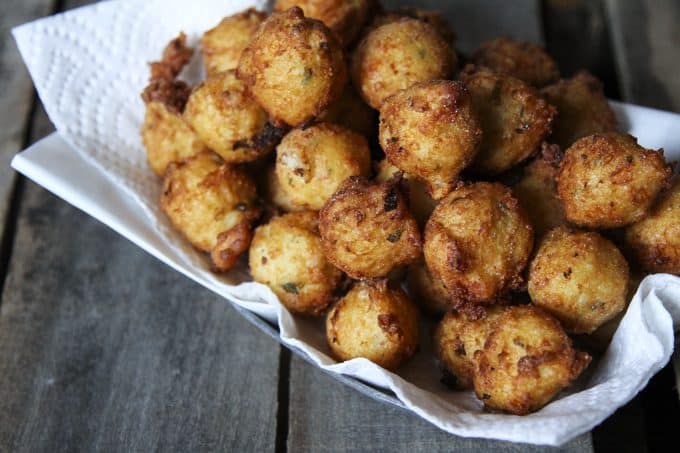 Cook's Notes
The mashed potatoes you start with should not be too slack. If you're using Joël Robuchon's ideal ratio (2 pounds of potatoes to 1 pound of butter), it's quite likely your potatoes will be too creamy to hold together without an enormous amount of added flour which will make it taste gluey.
By the same token, but less so, you don't want mashed potatoes that are solid as heck. I mean, you probably don't want those mashed potatoes anyway, but especially for this. Go for the happy medium. If you can stack the mashed potatoes on your plate and they don't slump but neither could they impersonate a volcanic boulder, you're fine.
You don't need a dedicated deep-fryer for this project. It's helpful, but unnecessary. Just add about 2 to 3 inches of oil to a high-sided, heavy-bottomed pan. That'll leave plenty of room for the boiling oil to expand without spilling over the sides after you add the little potato dumplings to it.
Before you commit to dropping 8 or 10 little Cheesy Jalapeno Potato Poppers in the hot oil, please do a 'test popper'. Scoop just one into the oil and watch how it behaves. If it browns up and holds together, you're good. If it disintegrates in the oil, you need to stir a little more flour into the potato mixture. Add about 1/4 cup at first, then test another popper. You are in good shape when it holds together and turns a lovely shade of brown!
You can drop the potato 'batter' by the spoonful, using one teaspoon to scrape a lump o' tater from the other one into the oil. I prefer the precision of delivery and uniformity of size offered by a small cookie scoop.
I'm going to tell you this as plainly as possible: serve them hot. They're OKAY when warm or room temperature, but they're MAGICAL when hot.
If you have leftovers (and unless you're feeding a family my size or larger, you likely will) you can freeze the already-fried Cheesy Jalapeno Potato Poppers in a single layer on a baking sheet before transferring to a releasable zipper-top bag to keep frozen. Take out as many of the Cheesy Jalapeno Potato Poppers as you would like and reheat on a foil lined pan in a 400°F oven for 10 to 15 minutes, or until hot all the way through.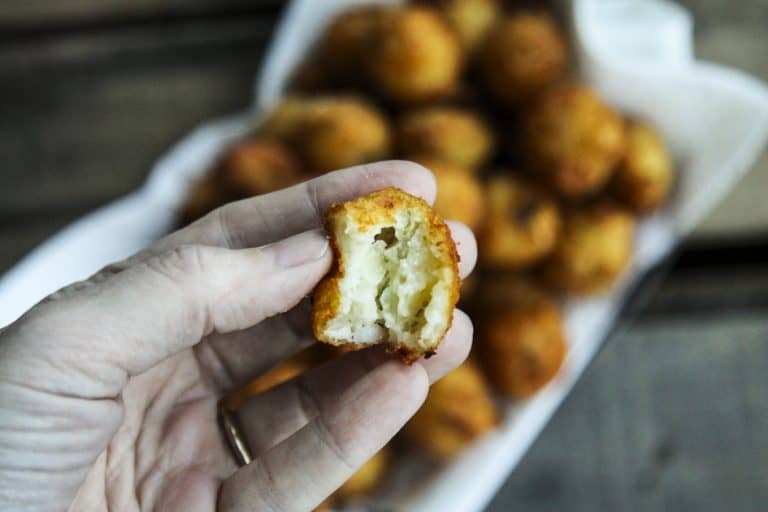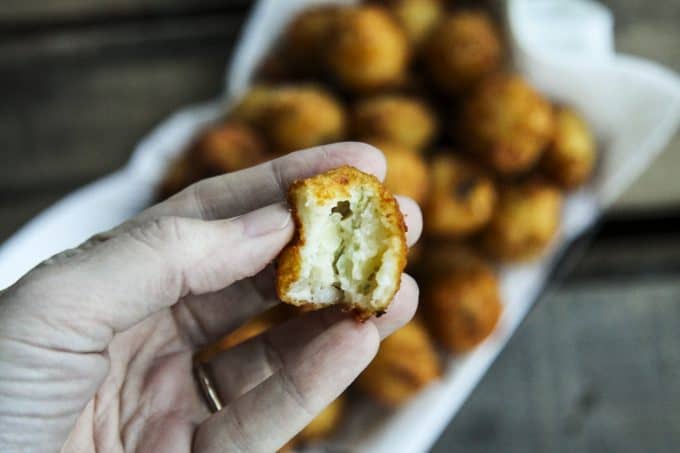 Connect with the US Potato Board and check out their fantastic collection of potato recipes at PotatoGoodness.com!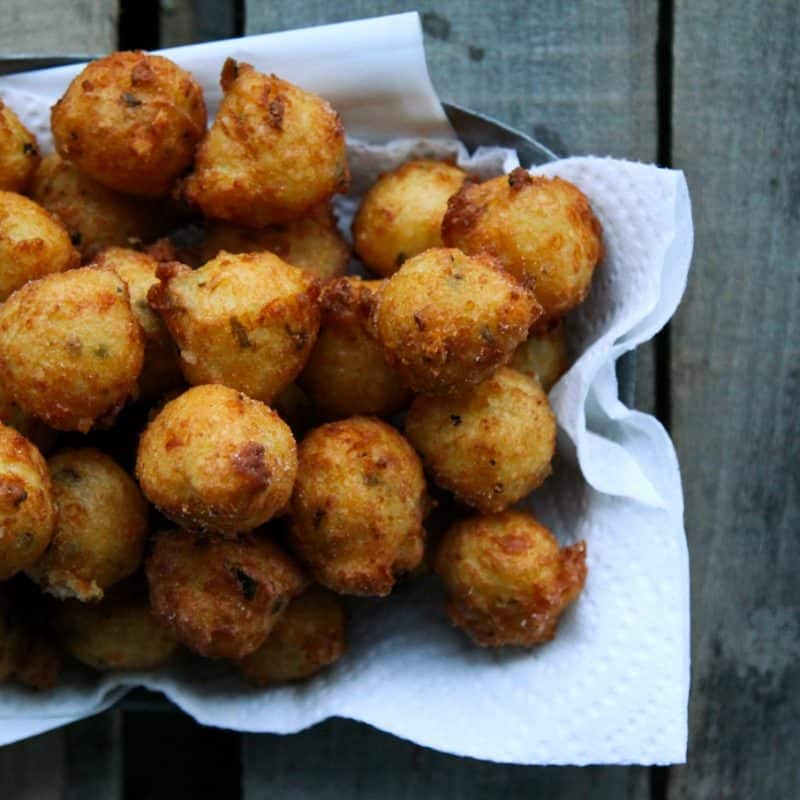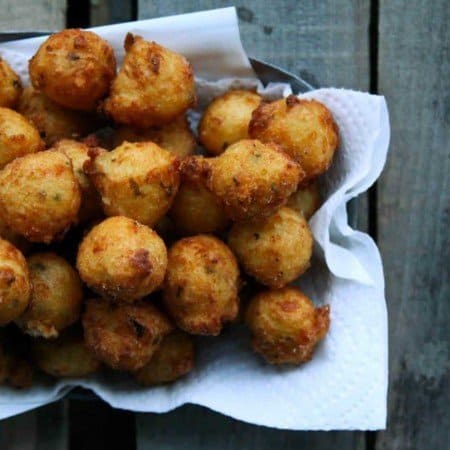 Use the leftover mashed potatoes to make these crunchy, creamy, utterly Golden-Brown-and-Delicious morsels of comfort food. That is the power of the potato, friends.
Ingredients
6

cups

leftover mashed potatoes

cold

1

beaten egg

1 1/4

cups

shredded Monterey Jack or Pepper Jack cheese

3/4

cup

flour

1

fresh jalapeno pepper

stemmed then finely minced

4

green onions

trimmed of the root ends and finely minced

2

to 3 inches of canola or peanut oil in a heavy-bottomed

high-sided pan

salt for sprinkling after frying
Instructions
Mix together the mashed potatoes, beaten egg, grated cheese, flour, jalapeno pepper, and green onions until you have an even mixture. Set aside.

Heat the oil in the pan until shimmery or until it reaches 350°F on a deep-frying thermometer. Carefully drop spoonfuls or use a small cookie scoop to drop small rounds of the batter into the hot oil. Fry for 3 to 5 minutes, or until deep golden brown. Use a slotted spoon to transfer the Cheesy Jalapeno Potato Poppers to a paper-towel lined plate to drain and immediately sprinkle with salt to taste. Repeat with the remaining potato mixture in as many batches as needed.

Serve hot, or chill the leftover, fried Cheesy Jalapeno Potato Poppers on a sheet pan, then freeze until solid and transfer to a resealable zipper top bag.
To Reheat Frozen Cheesy Jalapeno Potato Poppers:
Place desired number of Cheesy Jalapeno Potato Poppers on a foil lined sheet pan in a preheated 400°F. Bake for 10 to 15 minutes, or until hot all the way through.
Nutrition
Calories:
370
kcal
Carbohydrates:
61
g
Protein:
13
g
Fat:
8
g
Saturated Fat:
4
g
Cholesterol:
48
mg
Sodium:
200
mg
Potassium:
726
mg
Fiber:
4
g
Sugar:
2
g
Vitamin A:
325
IU
Vitamin C:
52.9
mg
Calcium:
204
mg
Iron:
1.9
mg
Nutritional information is an estimate and provided to you as a courtesy. You should calculate the nutritional information with the actual ingredients used in your recipe using your preferred nutrition calculator.
Recipe originally published on December 2, 2014. Republished in partnership with the US Potato Board in 2016.