Welcome to Part V -the final installment- of the series of component dishes  to make the transcendent 'Second to Naanwich' that has turned me into a slobbering idiot. I know it took a long time to get the whole series of recipes to you, but good things take time and this is all worth it. (Don't forget to peek at Part I, Candied Jalapenos a.k.a. Cowboy Candy, Part II, Homemade Greek Yogurt and Cucumber Yogurt Salsa [Raita], Part III, Homemade Ghee and Part IV, Homemade Naan! And while you're at it, have a look at the Golden Crunchy Pickled Onion Ring post from eons and eons ago. The onions really elevate this sandwich and they remain one  of our favorite items to can; and eat. )
It's unofficially summer and that means that the unofficial start of 'chicken on the grill' season is here; and unless you're a vegetarian, you're probably pretty keen on it. One of the many reasons grilled chicken is a perennial favorite is its surpassing versatility.
Chicken is a great way to deliver flavors from around the globe in a familiar way. Tandoori chicken -a Punjabi dish, originally- is known for the reddish color imparted by the high quantities of cayenne and curry powder in the marinade and the big flavor that it delivers. I don't happen to have a tandoor oven lying around, so I use my grill to replicate the high heat and closed environment that gives tandoori chicken its signature seared and charred flavors and keeps it moist.
This chicken is basically a dish that I've been making for years (as evidenced by one of my older Record-Eagle columns) and serving with rice or boiled potatoes or whatever suited my fancy. But three weeks ago inspiration struck in the form of the ultimate sandwich -or Naanwich- and the household rejoiced. And soon, if you make these, you'll rejoice right alongside us. I'm begging you. I'm pleading. I'm needling you with my poky, bony elbows in my capacity as the big sister to the whole world; make these soon!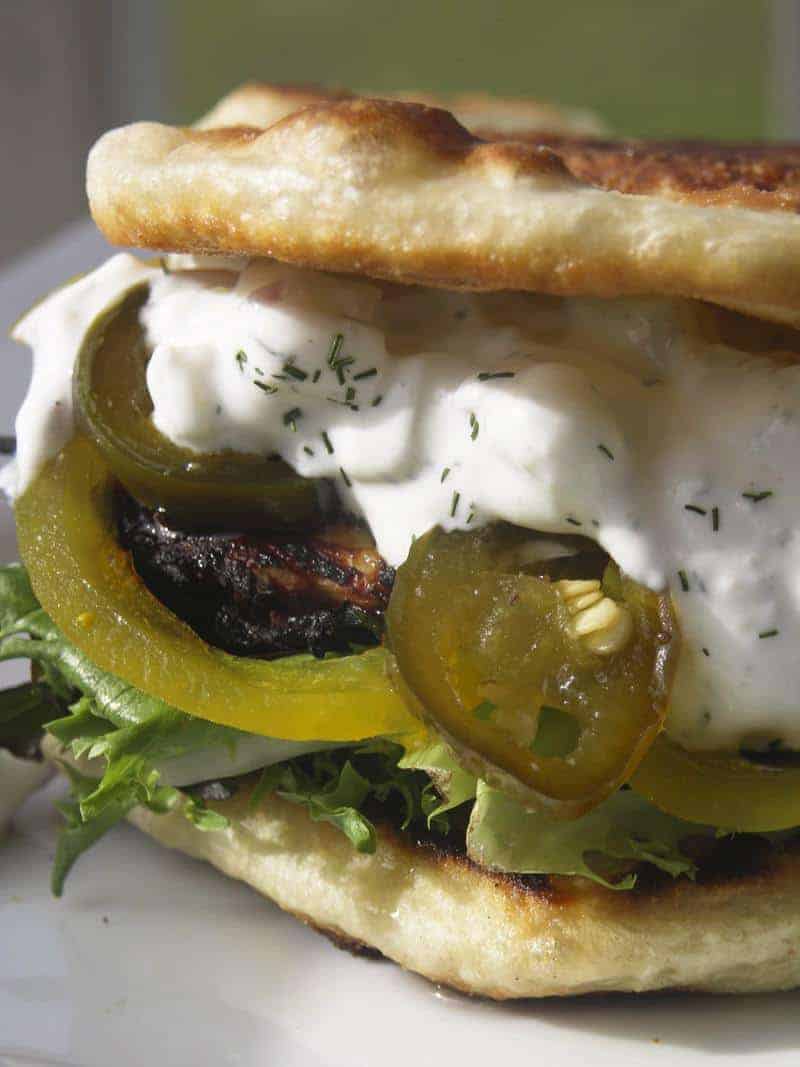 For a photo-free, printer friendly version of the recipes, click here!
Grilled Tandoori Style Chicken and a Second to Naanwich (Tandoori Chicken Sandwich on Naan)
Ingredients:
3 large boneless, skinless chicken breast halves
1/2 cup plain yogurt
1/2 cup buttermilk (Don't forget you can make your own!)
1/3 cup white wine or cider vinegar
¼ cup canola or vegetable oil
3 Tablespoons ground cumin
2 Tablespoons curry powder
2 teaspoons granulated garlic
2 teaspoons Kosher salt
1 teaspoon ground cayenne pepper
1 teaspoon ground ginger (or 1 Tablespoon grated gingerroot)
1/2 teaspoon ground coriander
Pinch ground cinnamon
Add all of the ingredients except the chicken to a zip-top resealable bag (or whisk together in a flat baking dish.)  Set aside. This is your marinade.
Pat the chicken breasts dry with paper towels and lay out flat on a cutting board. Holding a large, sharp knife parallel to the cutting board, cut the down the length of the chicken breast, dividing it into two evenly thick pieces. This is easiest if you press your other hand down flat on the chicken breast to hold it steady. Transfer the chicken breasts to the zip-top bag that contains the marinade. Seal the top and squish the bag around gently to coat all the chicken evenly.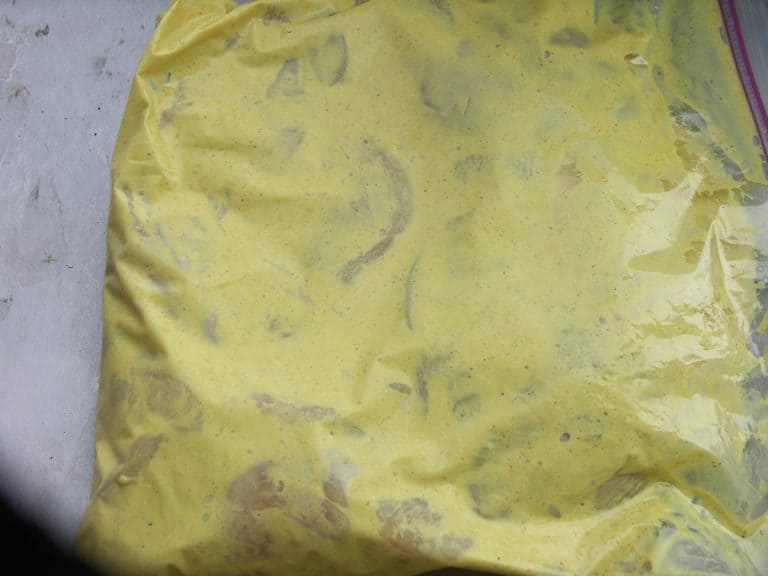 Place the bag in a bowl to catch any leaks and stash in the refrigerator for at least two hours but preferably overnight prior to grilling.
When you're ready to cook the meat you have a couple options. The best option is to grill. You can use a grill pan or hot oven if you don't have a grill at your disposal.
Option A (Grilling):
For a gas grill, preheat the grill, with the cover down, to high. Oil the grill racks very well as the chicken has a tendency to stick. Remove the chicken from the marinade, shake off excess and place on grill racks. Don't move the chicken around once it's on the grill. Give it a chance to develop a nice crust.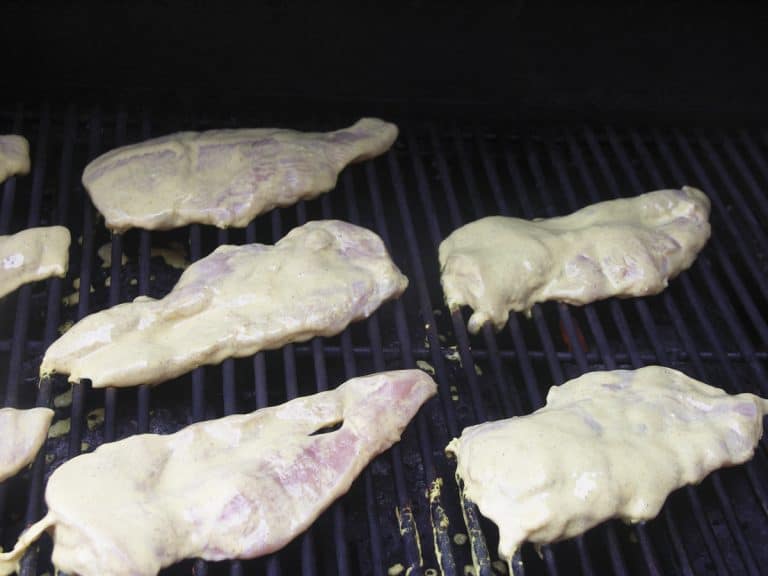 Cook, covered for four minutes, flip the chicken breasts and continue cooking, covered until the internal temperature of the chicken breasts reaches 160°F. It'll have charred bits on it and look much like this.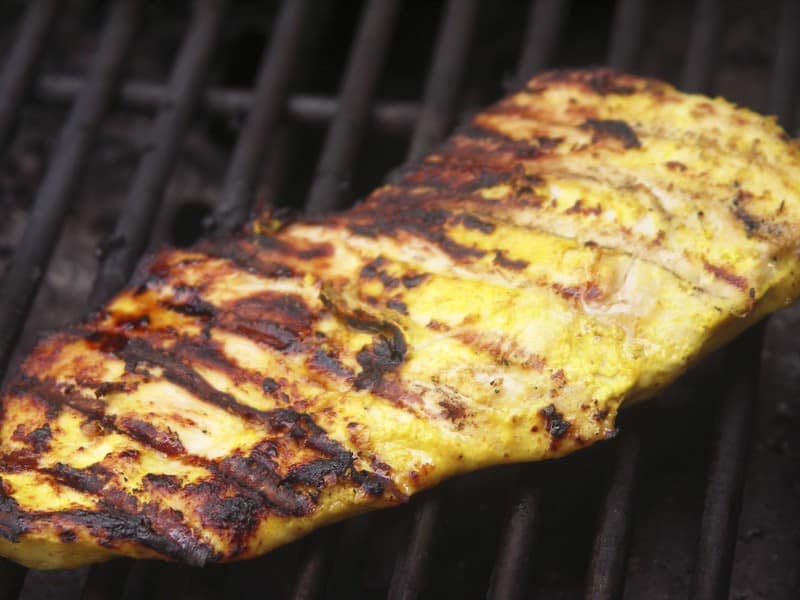 Remove to a plate and tent loosely with foil. Allow to rest for 10 minutes before serving.
For a charcoal grill, prepare a glowing bed of coals. Grill on well oiled racks over a two-zone grill starting on medium hot for four minutes, flip chicken to cook for another four minutes. Move chicken to cooler coals or cooler side of grill and continue cooking in the indirect heat until it measures 160°F.
Option B (Grill pan):
Place a heavy grill pan over high heat. Turn on your oven hood or a fan in a nearby window, this WILL get smoky. When the pan is hot enough that drops of water flung from your fingertips skitter before evaporating, the pan is ready. Oil it generously with a heat-safe brush. Remove the chicken breasts from the marinade, shaking off the excess. Carefully lay the chicken out flat on the hot grill pan. Cook for 4 minutes, flip and continue to cook until the internal temperature of the breasts is 160°F or the juices run clear when you cut into the meat. Remove to a plate and tent loosely with foil. Allow to rest for 10 minutes before serving.
Option C (Hot oven):
Preheat oven to 425°F. Generously oil a cooling rack and place over a greased half sheet pan. Remove chicken from the marinade and shake off the excess. Position the chicken breasts on the rack with space between them. Place in a hot oven and cook for 15 minutes. Carefully flip the pieces and continue to cook until the internal temperature of the chicken is 160°F, about 5-10 more minutes. Remove from the oven and tent loosely with foil for ten minutes before serving.
To Assemble the Sandwich:
Each sandwich needs:
Lay out a Naan. Top with a handful of mixed salad greens and the piece of Grilled Tandoori Style Chicken.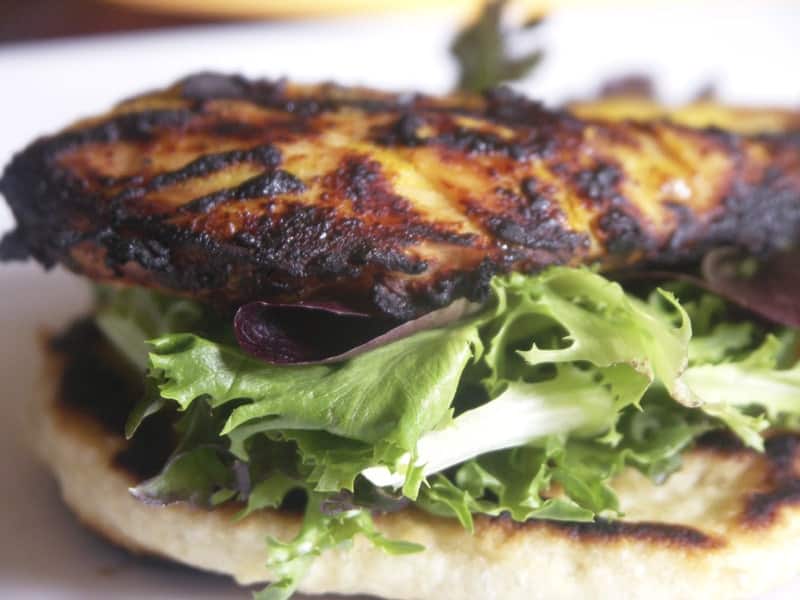 Arrange Candied Jalapenos and Crunchy Pickled Onion Rings over the chicken breast.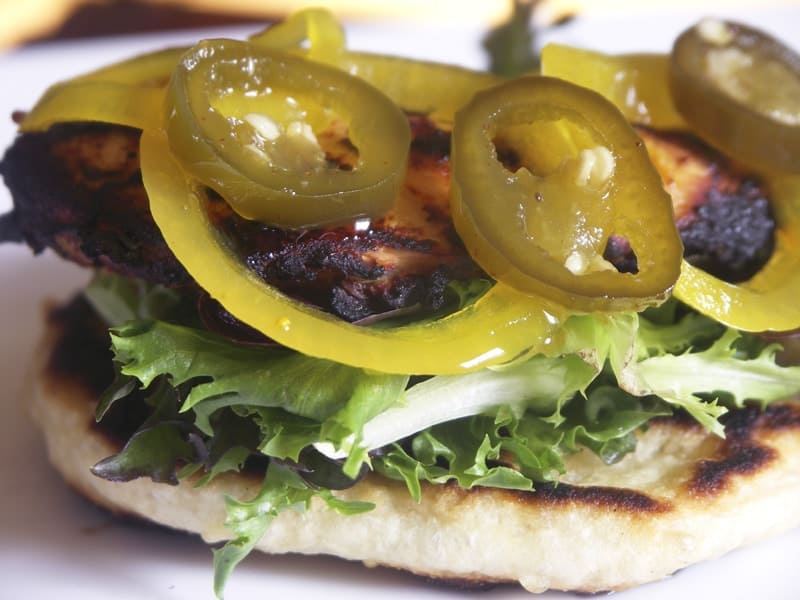 Top with the Cucumber Yogurt Salsa and the remaining Naan. Slice in half to make it easier to eat.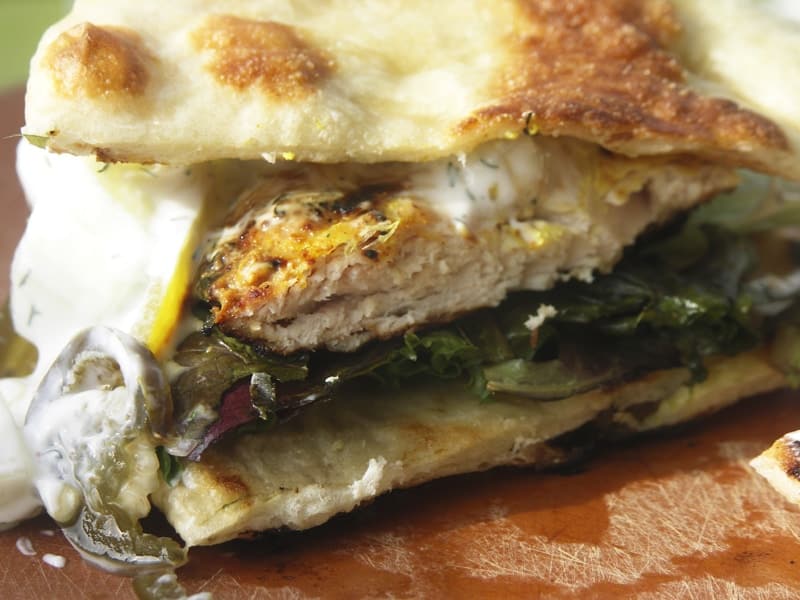 Now, if you feel so moved you can send me a love note but be forewarned; I'm happily taken. I'm just fine with being worshipped from afar, though. But hey. If you're writing me admiring notes, can I have the second half of your sandwich?