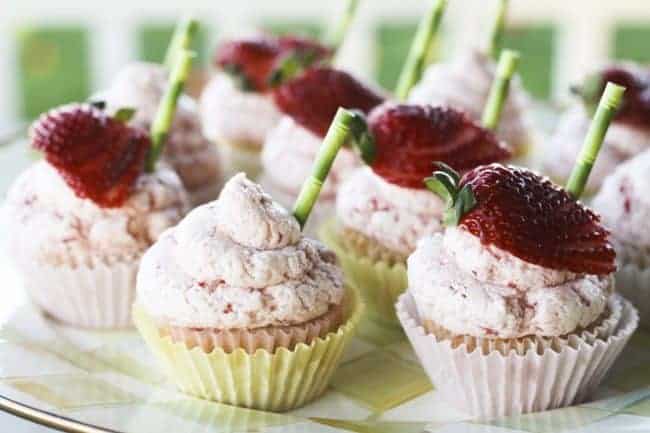 I find Mother's Day a surprisingly difficult subject about which to write. I've started and stopped this post at least five different ways. I'm a mother (of five boys, thankyouverymuch) and I'm a daughter, and we're talking about Strawberry Lemonade Cupcakes, so what's the problem?
The problem is that there as many views on Mother's Day as there are mothers in the world. Besides that, there is a whole group of folks who think Mother's Day is a made up ploy to sell more greeting cards. How do you hit the right note for everyone? Short answer: you can't.
I can't speak for motherhood as a whole, because I'm just one member of the club, so I'll just tell you what this holiday (made up or not) set aside to honour moms means to me.
It means…
…my kids trying REALLY hard to get along. They try so hard, that sometimes they have to yell at their brothers who forgot to try really hard for a minute or two and were caught sitting on the couch.
…tepid herbal tea in bed delivered by a small boy child "who made it himself" with a look of adoration on his face. (My husband usually follows this up with a secret cup of strong black tea. Good man.)
…my husband and sons exhort each other to "WORK HARDER FOR MOM!" while attempting to clean the house with military enthusiasm.
…offers of fishing complete with promises to bait my hooks for me.
…the opportunity to get the first turn at 'Halo' first today, even though I've never played it before.
…baby carrot and dry cereal snacks arranged artfully on plates.
…handmade cards with silly drawings on them and a couple of discreet hearts.
…the remote control is shoved reverentially into my hands after dinner with an encouraging, "Go ahead! You pick what we watch."
I feel loved every day of the year by my husband and sons, but watching their efforts to make me feel extra special on Mother's Day is especially touching. Does it end up being a spa day for me? Oh gosh no, but I figure my imperfect efforts at mothering and their imperfect efforts at showing their appreciation are pretty much the perfect match. This motherhood thing is crazy good.
After many requests for strawberry cake that DIDN'T use strawberry gelatin for pinkness and flavour, I finally got down to business and knocked it out of the park. The solution is thawing frozen strawberries and pressing them through a sieve to release the juices. This strawberry juice is reduced in a pan to make it stronger and then added to a standard white cake recipe. (White cake so no yellow yolks interfere with the gentle pinkness imparted by the strawberry concentrate!) Don't pitch those strawberry solids that were left in the sieve, though! Whip those into the frosting! Granted, you won't have a perfectly smooth frosting, but how can you go wrong with little bits of strawberry laced through your frosting? That all sounds good already, right? I didn't leave it alone, though… I opted to make these cupcakes Strawberry Lemonade by adding lemon extract to both the cake batter AND the frosting. The result was a tender, mildly strawberry and mildly lemon cake with rich strawberry lemon frosting studded with tiny pieces of  REAL strawberry.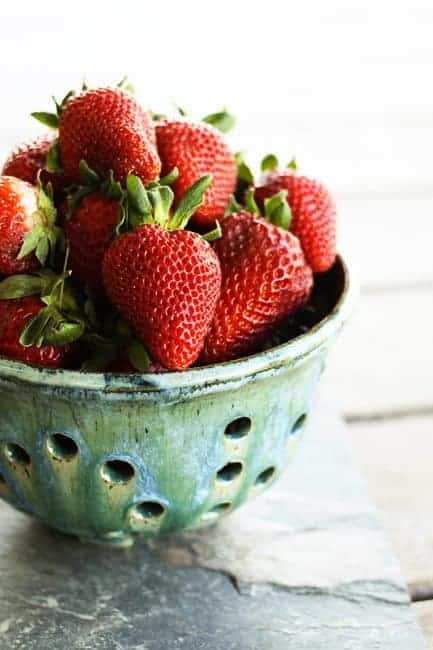 It's not WHIZZBANG strawberry like a cake mix would give you, but then a cake mix rarely tastes like real strawberries and lemonade as these cupcakes do.
Before I drop this most wonderful cupcake recipe in your lap, I want to offer a little prayer for all the mothers out there this weekend.
May you have the vision to enjoy every stage of motherhood.

May you have the chance to unwind, appreciate your blessings, and may a famished rabbit hop by to help you eat all of your baby carrot appetizers.

May the coffee or tea you are served in bed be as strong as the love and admiration your family has for you.

May the hands that offer you a cupcake be covered with honest dirt and not something worse.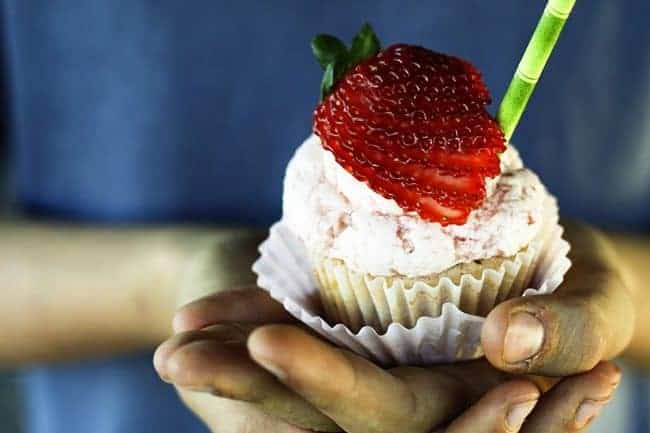 Happy Mother's Day, friends.
XO Rebecca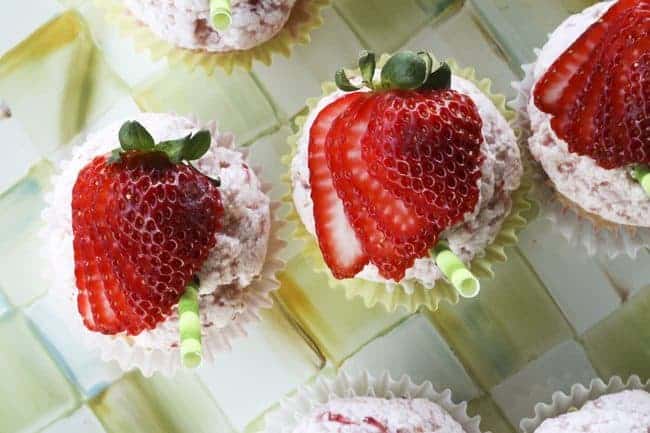 Strawberry Lemonade Cupcakes (Not made with strawberry flavoured gelatin!)
Rate Recipe
These light and fluffy Strawberry Lemonade Cupcakes use only real strawberries (no flavoured gelatin mixes!) to provide the pretty soft pinkness and delicate strawberry flavour they deliver. The strawberry lemon buttercream topping them is studded with real strawberries, too!
Ingredients
For the Cupcakes:
1

pound

frozen strawberries

microwaved just long enough to get them thawed and juicy

16

tablespoons

butter

2 sticks or 8 ounces, by weight, softened to room temperature

1

tablespoon

baking powder

1 3/4

cup

granulated sugar

12 1/4 ounces by weight

3/4

teaspoon

salt

1

tablespoon

lemon extract

5

large egg whites

2 3/4

cups

11 ounces

you can substitute all-purpose flour, if necessary, by weight) cake flour

up to one cup whole milk
For the Strawberry Lemon Frosting:
1

stick butter

8 tablespoons or 4 ounces by weight, softened to room temperature

4

cups

powdered sugar

1 pound, by weight

The strawberry solids left from the cupcake recipe

mashed thoroughly with a potato masher or pastry blender

up to 6 tablespoons of whole milk

2

teaspoons

lemon extract
Optional:
Fresh strawberries for garnish
Instructions
To Make the Strawberry Lemonade Cupcakes:
Put a fine-mesh sieve over a heavy-bottomed saucepan, pour in the strawberries, and press the strawberries to release as much juice as you can. Put the saucepan over medium high heat and bring to a boil. Stirring frequently, reduce the strawberry juices until you have about 1/3 to 1/2 of a cup and it is darkened and thick. Pour those into a liquid measuring cup and add enough whole milk to bring the level to 1 cup. Use a fork or small whisk to combine the two until even. Set aside.

Preheat the oven to 350°F.

In the bowl of a stand mixer fitted with a batter paddle, or in a large mixing bowl with a hand mixer, cream together the butter, baking powder, sugar, salt and lemon extract until light and fluffy. Add one egg white at a time to the butter mixture and beat well after every addition, scraping down the bowl as needed.

Add 1/3 of the flour to the butter mixture. Mix until evenly combined, scrape the sides and bottom of the bowl, then add 1/3 of the strawberry milk and mix until even. Repeat this process until you reach the final addition of strawberry milk, which should be stirred in by hand to prevent overmixing.

Prepare 24 cupcake liners (either free-standing on a pan or in cupcake/muffin tins). Scoop batter into the cupcake liners until each is about 2/3 full. Tap the pan on the counter once or twice to remove any air bubbles. Bake for 18-22 minutes, or until a toothpick inserted in the center of the cupcake comes out clean. Carefully turn the finished cupcakes out onto a wire rack and let cool completely before frosting.
To Prepare the Strawberry Lemon Frosting and Frost the Cupcakes:
In a stand mixer fitted with the whisk attachment (or a mixing bowl with a handheld electric mixer) beat the butter on high until it is light and fluffy. Gradually add in the powdered sugar until incorporated. Then, with the mixer on high, beat in the strawberry solids, lemon extract, and the milk -1 tablespoon at a time- until the buttercream is light and fluffy. Use an offset spatula to smear the buttercream on the cupcakes or load it into a pastry bag with a big tip to pipe on the frosting.

If desired, garnish finished cupcakes with whole or sliced fresh strawberries.

Store leftover cupcakes covered lightly in the refrigerator.
Nutritional information is an estimate and provided to you as a courtesy. You should calculate the nutritional information with the actual ingredients used in your recipe using your preferred nutrition calculator.