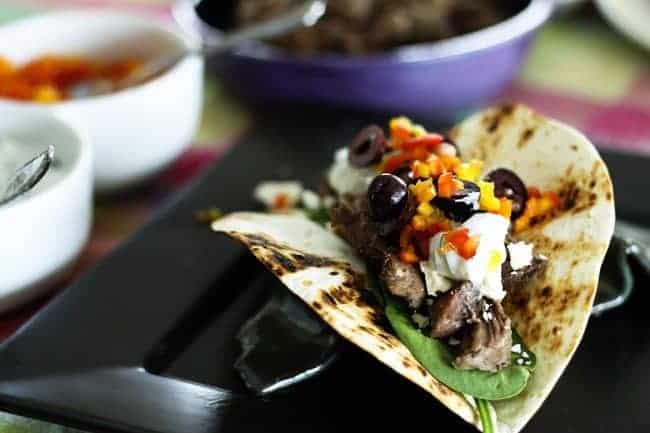 In preparation for the Super Bowl next Sunday, I'm running a three-day Taco series. They're easy, they're delicious, they're customizable, they're crowd-pleasing. In short, they're the perfect game food. Tomorrow, I'll be serving up a vegetarian taco and Wednesday will be the taco no one saw coming. Mwahahahaha!
I've been on a taco kick lately. Okay, truthfully? I've been on a taco kick my entire life. I guess it's just been more pronounced lately. But honest-to-goodness people, what isn't to love about tacos? It's good stuff wrapped in good stuff topped with good stuff then eaten with your hands. Win, win, win, WIN!
Tacos aren't ALL I've been obsessed with lately; I just can't get enough lamb. Mmmmm… tender, succulent, meaty lamb. It's hard to go wrong there, too. It really was just a matter of time before I made a Greek taco, and it all started with a gorgeous leg of lamb that I dropped into my slow-cooker with garlic, lemon and oregano and braised 'til it fell apart.
You with me?
The pan drippings I reduced and poured over the fally-aparty lamb. The juicy, garlicky lamb got dropped onto baby spinach lined charred flour tortillas and topped with feta cheese…
Next up was a cucumber dill yogurt sauce, diced bell peppers, garlic stuffed kalamata olives and a healthy dose of my drool.
I'm sorry. That kind of ruined it, didn't it?
The point is this… The lamb was the easiest part of the dish. I move that we all eat more lamb. (This is selfish, really, because I just want it to be as readily available as beef and chicken in grocery stores what with living in the middle of nowhere and everything. I think my Amish neighbors are tired of me stopping by with a cooler, plaintive expression and "Hey! You're not butchering lamb today, are ya?" questions…)
If you haven't had lamb before, this is a great recipe to try. It is garlicky, lemony and herbed to a high state of fabulousness. There's no tricky preparation, no worry about hitting the perfect temperature and no carving. Since the recipe makes a large amount, it is also a great candidate for Make Ahead Monday. Freeze any leftover lamb with the reduced pan juices in meal-sized portions in freezer bags or freezer safe containers. Then, whenever you need a stiff dose of Greek food, you're only a defrost away from today's Greek tacos or braised lamb on polenta or braised lamb on lemon dill rice… You get the picture. It's good stuff to have on hand!
Speaking of getting the picture… Take a closer look at my taco holder.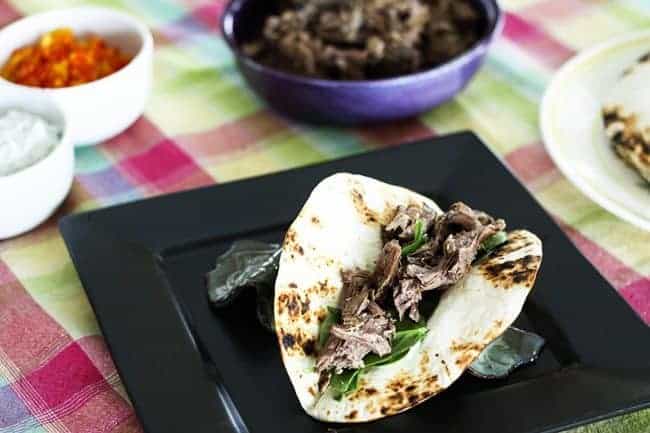 I have a confession. It wasn't sold as a taco holder. It was sold -by my favourite pottery shop- as a business card holder. However, being the girl I am, the instant I saw it, I squealed TACO HOLDER! One of the owners of the shop is a friend of mine and a fellow food fan and she said, "Hey! That's not a bad idea!" So here's the deal. As far as I know, they're the only pottery shop who makes these. And word to the wise? They do custom orders. They do not have a website, but they do have this sign on their door, so I'll share: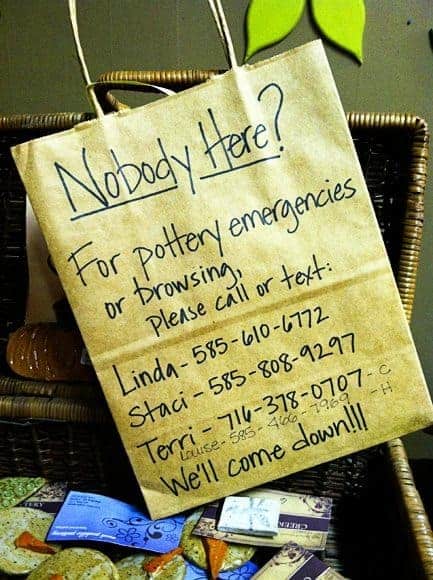 All their pottery is dishwasher, oven, and microwave safe. If that doesn't make it the perfect taco-ware, I just don't know what does. Staci is the taco/business card holder maker (and maker of this cake plate), for the record. And also for the record? This is NOT a sponsored post, I just think the whole word needs to know about this place.
Now. Onto that lamb and those tacos and some drooling. Really, I am sorry. I should stop.
Slow-Cooker Garlicky Lamb and Greek Tacos | Make Ahead Monday
Rate Recipe
Don't be intimidated by lamb. This simple, garlicky, lemony, herbed, succulent lamb braises up beautifully in the slow-cooker. Served over polenta, lemon rice or on these fast, fresh, delicious Greek Tacos, you'll be so glad you made enough for more than one meal! Freezer Friendly for Make Ahead Monday.
Ingredients
For the Slow-Cooker Garlicky Lamb:
1

boneless leg of lamb

4-6 pound, *See Notes regarding using bone-in lamb roasts.

Zest and juice of 1 lemon

8

garlic cloves

peeled

4

tablespoons

extra virgin olive oil

3

tablespoons

dry oregano

generous amounts of freshly ground black pepper and salt
For the Greek Tacos:
2

cups

Greek yogurt

1/2

of a diced English cucumber

seedless

zest and juice of 1 lemon

1/2

of a sweet onion

peeled and diced

2

tablespoons

minced fresh dill weed

1

clove

garlic

peeled and minced or pressed

baby spinach

chopped kalamata or garlic stuffed kalamata olives

finely diced multi-colored bell peppers

crumbled feta cheese

charred or heated flour tortillas
Instructions
To Make the Slow-Cooker Garlicky Lamb:
Place the lamb roast in a slow-cooker and rub it with the black pepper and salt. Add the extra virgin olive oil, on top of the roast and use your hands to rub it around to evenly distribute the oregano and oil. Add the zest and juice of the lemon and scatter the garlic cloves over and around the lamb roast. Cover and cook on high for 4-5 hours, or until it falls apart easily when two forks are inserted into the center of the roast and pulled in opposite directions. Carefully transfer the roast to a cutting board, pour the pan juices through a strainer over a saucepan, and press the contents of the pan to get as much juice (and roasted garlic) into the saucepan as possible. Over a medium high flame, reduce the pan juices by half. While those reduce, use your hands or two forks to pull the lamb into bite-sized pieces. Pile the lamb into a serving bowl and pour the reduced pan juices over before serving.

Portion leftover lamb into meal-sized servings (along with pan juices) and freeze in freezer bags or freezer safe containers for up to 6 months.
To Make Greek Tacos:
Stir together the Greek yogurt, cucumber, zest and juice of the lemon, diced onion, minced fresh dill weed, and minced garlic. Refrigerate until ready to serve.

Pile each tortilla with about 5 or 6 baby spinach leaves, a layer of lamb, feta cheese, yogurt sauce, olives and diced peppers. Serve immediately!
Notes
You can definitely make this with bone-in lamb roasts. It will probably take a bit longer (by an hour or two or even more!), but will be even more flavourful. Use whichever you can find most easily and whichever fits your budget best.
Nutritional information is an estimate and provided to you as a courtesy. You should calculate the nutritional information with the actual ingredients used in your recipe using your preferred nutrition calculator.