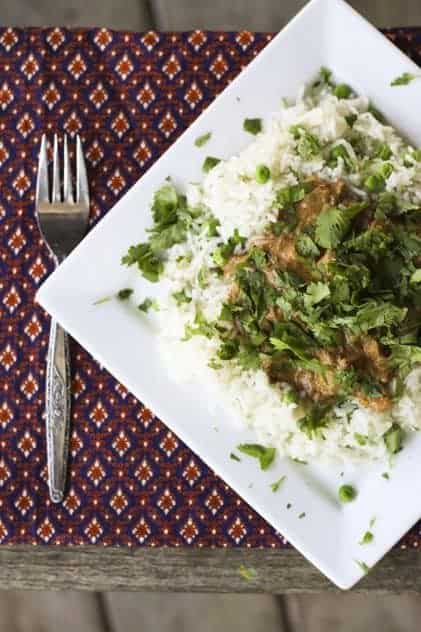 Update with a correction: In the recipe, I accidentally forgot to include the whole jalapeno pepper that I simmered with the sauce. It will be good without it, but it's great with it. I have modified the recipe to reflect the correction.
This plate of Chicken Tikka Masala (because that's what it is) represents a giant victory sixteen years in the making. We are talking about a serious case of I-told-you-so mixed with a pretty solid  I-was-right-and-you-were-wrong combined with a decade long desire for Indian food thwarted by… my husband.
I love that man of mine -love him dearly, bigger than the bay and to the ends of the earth- but he has sworn up one wall and down the other for the duration of the time I have known him that he despises Indian food. He has blamed heartburn from the curry (okay, I can buy that), muddy flavours (that I blame on just plain bad take-out food) and unattractive presentation (because my husband is -and I'll bet you didn't know this- Frank Bruni, New York Times Food Critic. I'm kidding. He's Darth Vader. But anyway.)  Like I said, though, I loves 'im… and you don't deliberately serve food to your loved ones that will make them unhappy, right?
Then I got a good deal on some chicken thighs and I had a thought. I busted out two slow-cookers. In one, I decided, I would make chicken taco meat: easy, delicious, well-loved by the husband. In the other? I was going to be a wild woman, throw caution to the wind and not only make *GASP* Indian food, but I was going to make my own version of the classic Chicken Tikka Masala. When I live dangerously, whew, I do it up right*.
*Look. I have five kids. At the moment? This is living dangerously. Just go with me on it, please, so I don't feel pathetic. Tell me I'm crazy. Now.
I browned the yogurt and spice marinated chicken thighs in a saute pan with butter then tossed it into the slow cooker. Next up, I browned the onions, garlic and ginger, and spices, deglazed with the sauce ingredients then scraped those (minus the cream, which was added at the end to prevent curdling) and let it go for a few hours while the taco chicken cooked in a separate cooker. Simmer, simmer, simmer; that's what the dueling crockpots of chicken did.
When, after a few hours, I stirred the heavy cream into the saucy, fragrant chicken, I was thrilled. It was beautiful, it was delicious, it was done. I tasted it and was *this close* to weeping tears of joy. It wasn't even close to dinner time yet, but I had wanted to get a jump on the evening. There was no way I was going to wait another minute. I piled a giant amount of rice cooked with peas and butter onto the plate. I ladled an enormous amount of the Chicken Tikka Masala over it, and tossed an industrial-sized fistful of chopped cilantro over the top and snapped a picture.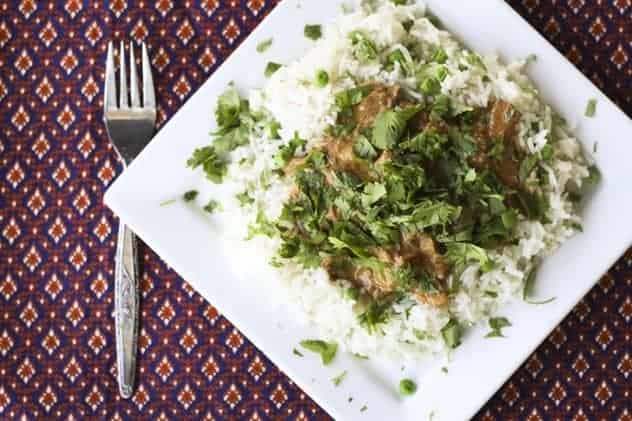 Then I looked into the camera again to snap another. Something was a bit off…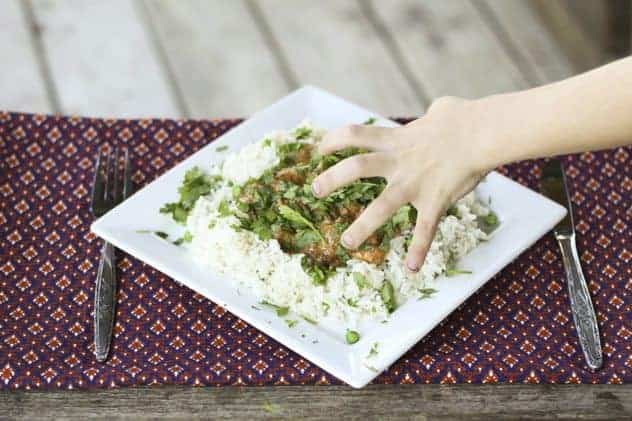 "Hey guys?" I called as I turned around to find three of my sons and one of their friends standing silently at the ready. With forks. "Um, would you guys like to be my guinea pigs?"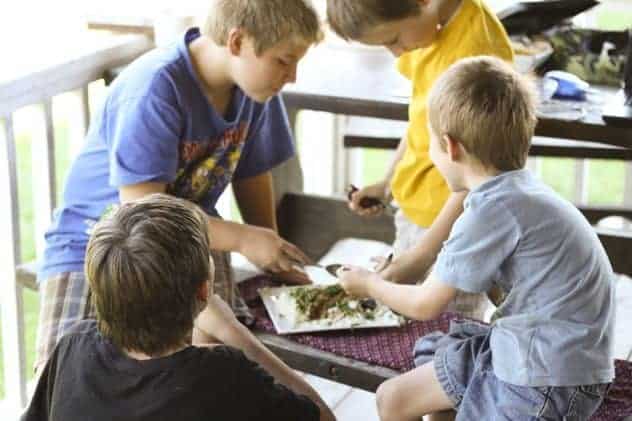 They polished that plate off in short order. They wanted more. My three boys (including one from the no-green-stuff crowd) and their buddy loved it. The buddy asked me to give the recipe to his mom.
That was one obstacle cleared with daylight between me and the hurdle. The big question, however,  remained. What would my Indian cuisine averse beloved think?
I put together the most exquisitely plated dish of Chicken Tikka Masala that I possibly could and stuffed it into his hands while he sat at his computer working on a program. My husband knows better than to question a plate of lovingly offered food whatever the hour may be and he dutifully laid into it.
"If you don't like it, you don't have to eat it. I have taco meat going in another slow-cooker." I disclaimed…
"Mmmm! Sgood!" he said.
"So, you like it?" I asked.
"Yeah! Sreallygood!" he said, mid-bite.
"So, you really like it??" I asked. And then he looked at me funny. Then he looked at the plate and then again at me and said,
"Yeah! Sreallygood. Thank you?"
And I'm sorry to say this, but I am fairly certain I smirked. I am an adult, but I am human. I got a hold of myself before I continued,
"Oh sure, honey. Eat up! If you'd like more, there's plenty." I walked away happy.
Victory. It tastes sweeter when defeat tastes great, too.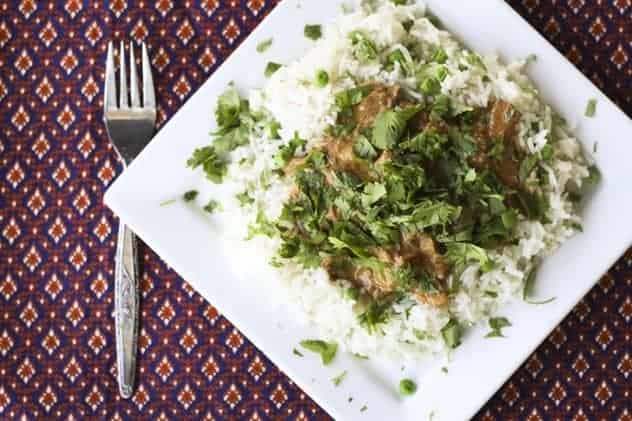 Indian food is known for its aromatic profiles, and this recipe will deliver the goods: tender, seasoned chicken flying high in a creamy sauce of onions, ginger, garlic, and garam masala.
Ingredients
For the Chicken:
9

Boneless, Skinless Chicken Thighs

1

tablespoons

Ground Coriander

1

tablespoon

Ground Cumin

1

teaspoon

kosher salt

1

cup

yogurt

4

tablespoons

butter

1

whole

jalapeno pepper

Stem Removed, Pepper Pierced Several Times With A Sharp Knife
For the Sauce:
4

tablespoons

butter

1

whole

large onion, peeled and diced

6

cloves

garlic, peeled and minced or thinly sliced

1

tablespoon

kosher salt

3

tablespoons

garam masala

1

piece

fresh ginger, about 2-3 inches long, peeled and grated

4

cups

crushed tomatoes

1

tablespoons

raw sugar

can substitute white sugar if needed

2

teaspoons

cornstarch or clearjel

1 1/2

cups

heavy cream
Instructions
Cut the boneless, skinless chicken thighs into 1- 1 1/2 inch pieces. Sprinkle the coriander, cumin and salt over the chicken, then stir in the yogurt until all the pieces are evenly coated. Cover lightly and let sit for 10 minutes before proceeding.

Melt 1 tablespoon the butter in a large saute pan over medium heat. Raise the heat to medium high and quickly brown about 1/4 of the chicken. Transfer browned chicken to the slow cooker as it is finished, using 1 tablespoon of butter per batch, and repeat until the chicken is all in the slow-cooker. Throw the pierced jalapeno in on top of the chicken.

Prepare the sauce. Return the pan to the heat and melt the butter over medium high heat. Add the onions, garlic, and kosher salt, then stir. Cook, stirring frequently, until the onions begin to lightly brown around the edges.

Stir in the garam masala and ginger and cook until fragrant (about 1 minute) before raising the heat to high and adding the crushed tomatoes and raw sugar. Stir well, scraping the caramelized bits from the bottom of the pan, and bring to a boil. Pour over the chicken in the slow-cooker.

Cover and cook on LOW for 5 hours, or until the chicken is very tender.

Use a fork or whisk to stir the cornstarch or cleargel into the heavy cream until smooth. Pour into the slow-cooker and stir gently until the colour is even. Replace the lid and let cook for 10 minutes or until bubbly around the edges.

Serve over hot rice and peas, topped with a generous amount of chopped cilantro.
Nutrition
Calories:
389
kcal
Carbohydrates:
12
g
Protein:
23
g
Fat:
27
g
Saturated Fat:
15
g
Cholesterol:
172
mg
Sodium:
1255
mg
Potassium:
624
mg
Fiber:
2
g
Sugar:
6
g
Vitamin A:
1080
IU
Vitamin C:
11.1
mg
Calcium:
109
mg
Iron:
2.6
mg
Nutritional information is an estimate and provided to you as a courtesy. You should calculate the nutritional information with the actual ingredients used in your recipe using your preferred nutrition calculator.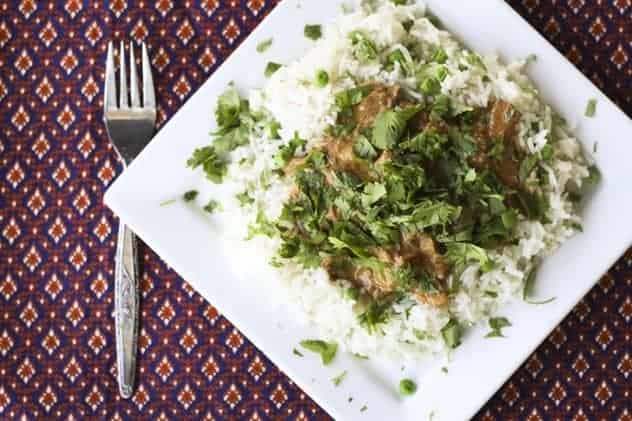 Buttery rice and peas is comfort food at it's easiest. If you want to serve this with Chicken Tikka Masala and make it most authentic, use white basmati rice. If basmati is not easily available, you can substitute another long-grain white rice so long as it is not quick cooking or instant.
Ingredients
2

cups

long grain white rice

4

tablespoons

of butter

4

cups

of water

1

cup

frozen sweet peas
Instructions
To Cook in a Rice Cooker:
Add rice, butter and water to the rice cooker and program for the regular cycle. When it is complete, open the lid, stir in the peas, and let stand for 10 minutes before serving.
To Cook on the Stove top:
In a mid-sized, heavy-bottomed saucepan, combine the butter, water, and rice and bring to a boil over high heat. As soon as the water comes to the boil, cover the pot tightly, and drop the heat to low. Simmer for about 12-15 minutes, or until the water is absorbed and the rice looks fluffy. Fluff the rice with a spoon, stir in the frozen peas, and let sit, partially covered, for 10 minutes before serving.
Nutrition
Calories:
186
kcal
Carbohydrates:
31
g
Protein:
3
g
Fat:
4
g
Saturated Fat:
2
g
Cholesterol:
12
mg
Sodium:
42
mg
Potassium:
77
mg
Fiber:
1
g
Vitamin A:
250
IU
Vitamin C:
5.8
mg
Calcium:
15
mg
Iron:
0.5
mg
Nutritional information is an estimate and provided to you as a courtesy. You should calculate the nutritional information with the actual ingredients used in your recipe using your preferred nutrition calculator.
Save