Classic Shepherd's Pie -buttery mashed potatoes with beef and vegetables in gravy- are wrapped in empanada dough and fried (or baked) to flaky, golden brown perfection. It's comfort food in a hand-held, portable package!
You know those moments when you have a bunch of people coming over and you wonder, "What can I make to feed them?" I find that those circumstances most often yield my most creative cooking. A couple of weeks ago, a friend and her four kids were coming for lunch and I was staring into the refrigerator (in a manner which would cause me to yell, "Are you trying to air condition the house?" at the children) seeking inspiration when a pan full of the previous night's cold Shepherd's Pie called to me.
Figuratively speaking, of course, because if Shepherd's Pie had literally called to me, it would be a cause for concern.
What the Shepherd's pie said was, "FRY ME!" and when food wants to be fried, I listen. I grabbed some of my favourite Goya Discos from the freezer, broke out the fryer, and my friend and I stuffed that lovely mashed potato topped beef, corn, peas, and gravy into the pastry rounds.
We then moistened the edges of the pastry, folded it shut and crimped them firmly, and eased them into the hot oil. We then fended off teeming hoards of hungry children who smelled things frying and were not easily turned away even with the promise of food being done in mere minutes.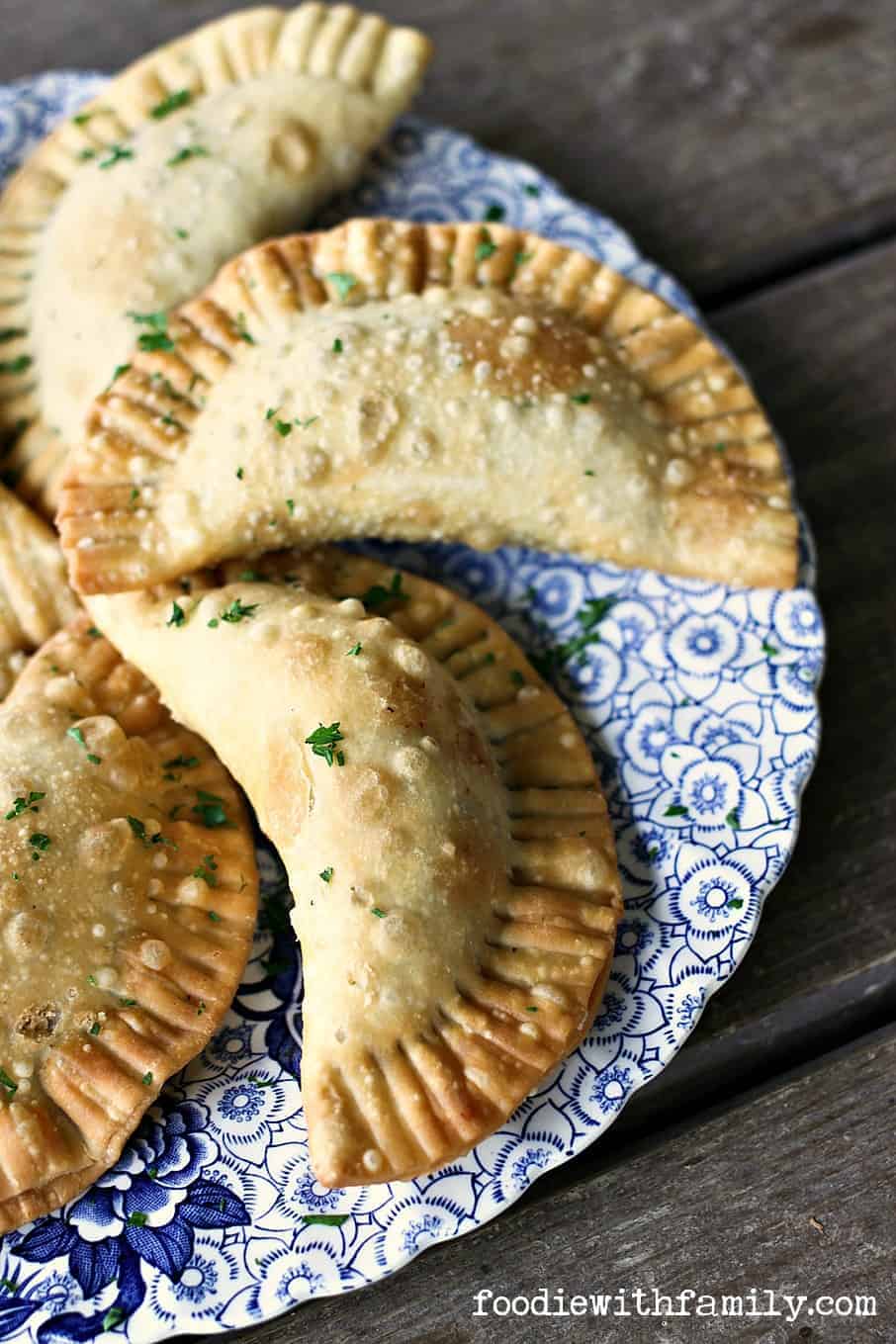 …but there was no power on earth that could've kept them out of the kitchen when these bad boys came out of the fryer. Golden brown, flaky, crunchy crust surrounded piping hot buttery mashed potatoes, gravy laden with brown ground beef, tender peas, and sweet corn. To say the kids liked them was an understatement.
Those empanadas disappeared about as quickly as we could fish them from the hot oil. I had to wrap two in paper towels and put them on a high shelf to make sure my husband got some. Even then, the taller children were sniffing around saying, "Are you SURE they're all gone?"
Because I love you all madly, and know that there are some of you who for a myriad of reasons don't do fryers, I baked a batch to see how they compared. They're good folks -it's hard to go wrong when you stuff pastry with mashed potatoes, beef, gravy, and whatnot- and my husband actually preferred them to the fried ones. I'm firmly on the side of the fried things, but it's definitely a viable option for those who can't or won't fry.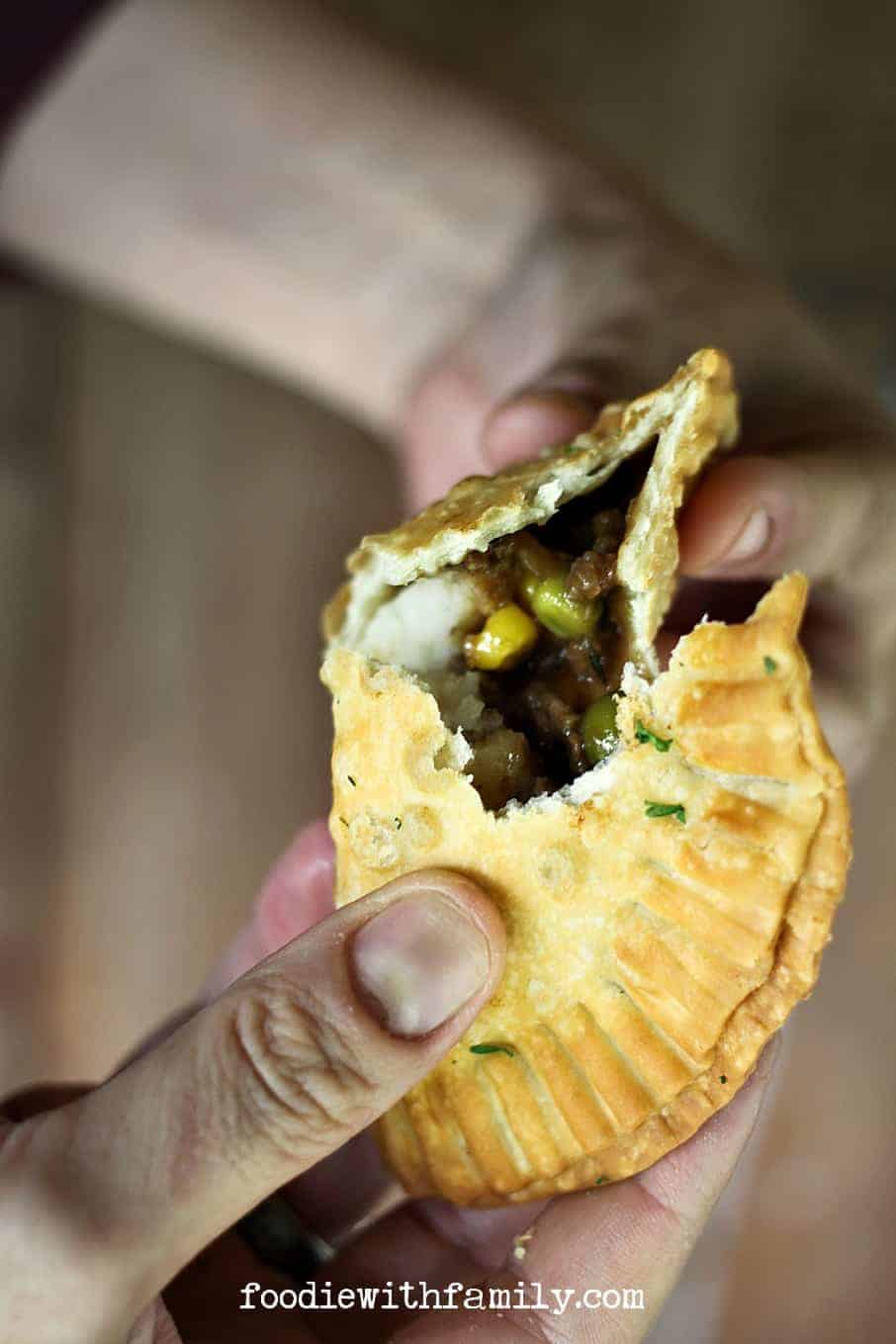 Thanks to my friend, Pamela, for being my food guinea pig and hand model. Friends who trust you enough to eat your food experiments are good to have around.
Cook's Notes
You can ABSOLUTELY use homemade empanada dough in place of the Goya Discos if you prefer. I recommend this dough recipe from my friend Meseidy at TheNoshery.
This process really only works if your shepherd's pie has been allowed to chill thoroughly so that the potatoes are stiff and the gravy/meat/vegetable combo can hold together reasonably well. If it's warm, the mixture should be too slack to pile in the middle of a piece of pastry. Cold and stodgy is the way to go. Don't worry, it'll heat up BEAUTIFULLY in the fryer or oven.
Because you're stuffing these with a gravy laced mixture, they should be plenty saucy and not need any dippables. If you're so inclined, though, additional gravy would be nice, as would a dollop of sour cream.
You can fry these up to two days ahead of time and reheat on a baking sheet in a 350°F oven for entertaining or snacking purposes.
If you opt for baking in lieu of frying (for the original cook) you should be aware that the resulting empanadas will not be quite as crisp as the fried ones. That is FINE. It just is what it is. My husband actually prefers the slightly softer baked version over the fried ones, so choose according to your preference!
Are you looking for great, hot, packable meals for the cooler fall weather? After reheating these, wrap in foil and put in a bag. Shepherd's Pie Empanadas make a great football game or hiking food!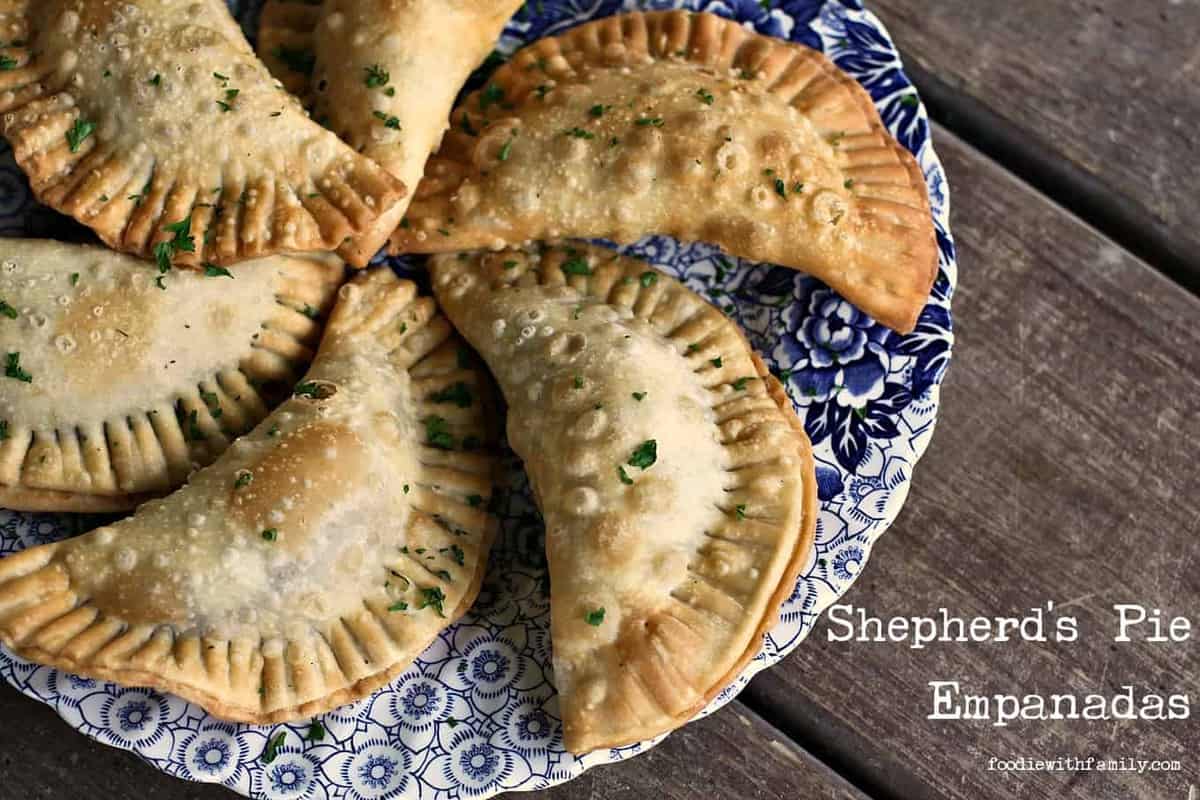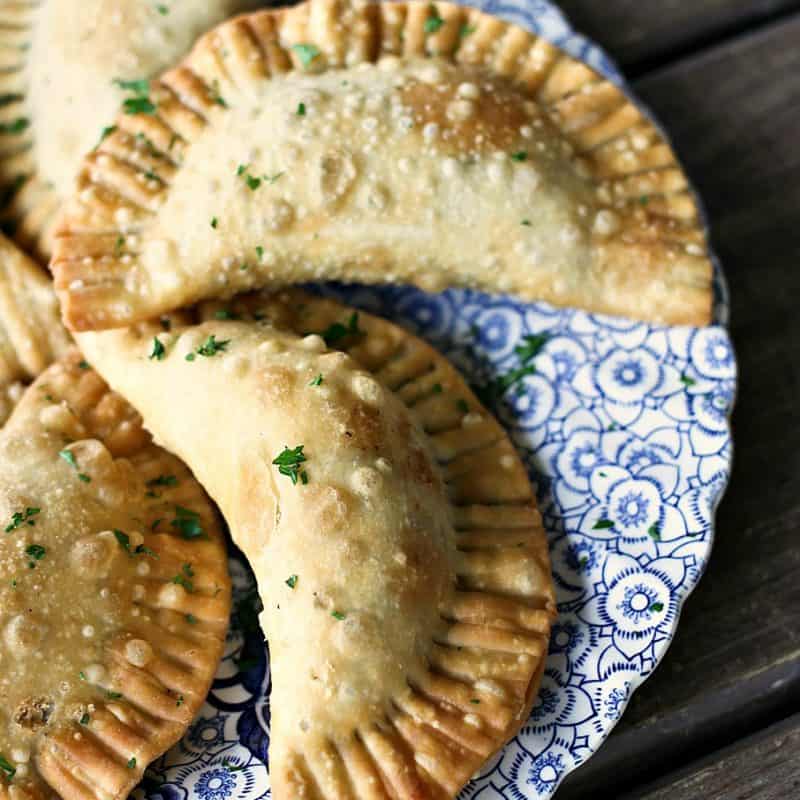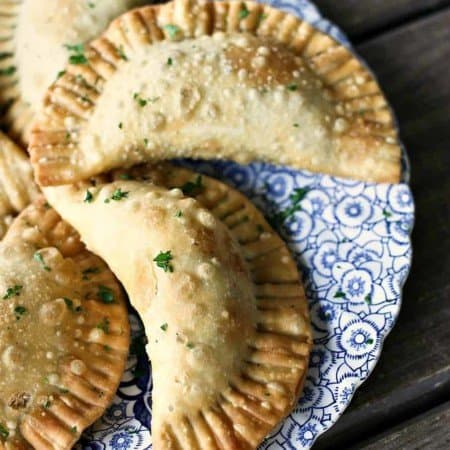 Ingredients
4

cups

of cold

leftover Shepherd's Pie

20-30

empanada wrappers (Goya Discos or Homemade

peanut

or lard, vegetable, or canola oil for frying or brushing before baking
Optional:
fresh parlsey for garnish
Instructions
To Assemble the Shepherd's Pie Empanadas:
Lay an empanada dough round in front of you. Scoop straight down into the Shepherd's Pie, getting about 2 tablespoons combined of the mashed potatoes and meat/vegetables in gravy. Scoop it into the center of the dough round. Dip your finger into a cup of water and moisten the dough around the perimeter of the circle. Bring the edges of the dough up to meet together around the filling and squeeze firmly. Lay on the work surface and use a fork to crimp the edges firmly. Transfer to a plate. Repeat with the remaining dough rounds and Shepherd's Pie.
To Fry the Shepherd's Pie Empanadas:
Heat 2 to 3 inches of your chosen oil to 350°F in a deep fryer or a high-sided, heavy-bottomed pan on a burner. When the oil reaches the correct temperature, ease a couple of the empanadas into the oil gently, taking care not to crowd the pan as they need to be able to move around and expand in the hot oil. Fry the empanadas for 3 to 5 minutes, or until golden brown and bubbly on the surface. Use tongs or a slotted spoon to transfer the finished Shepherd's Pie Empanadas to a paper towel lined plate to rest for at least 3 minutes before serving. Repeat the frying process with the remaining Shepherd's Pie Emanadas.
To Bake the Shepherd's Pie Empanadas:
Preheat your oven to 400°F. Lightly brush a rimmed baking sheet with your chosen oil. Arrange the empanadas with 2 inches of space between them on all sides, brush the empanadas lightly with oil, then bake for 20 to 30 minutes, or until the dough is lightly golden brown on the edges and firm to the touch. Remove the pan from the oven and let rest for 5 minutes before serving.
To Reheat Leftover Shepherd's Pie Empanadas:
Preheat oven to 350°F. Arrange the previously cooked empanadas on a rimmed baking sheet and bake for 10 to 15 minutes, or until heated through.
Nutritional information is an estimate and provided to you as a courtesy. You should calculate the nutritional information with the actual ingredients used in your recipe using your preferred nutrition calculator.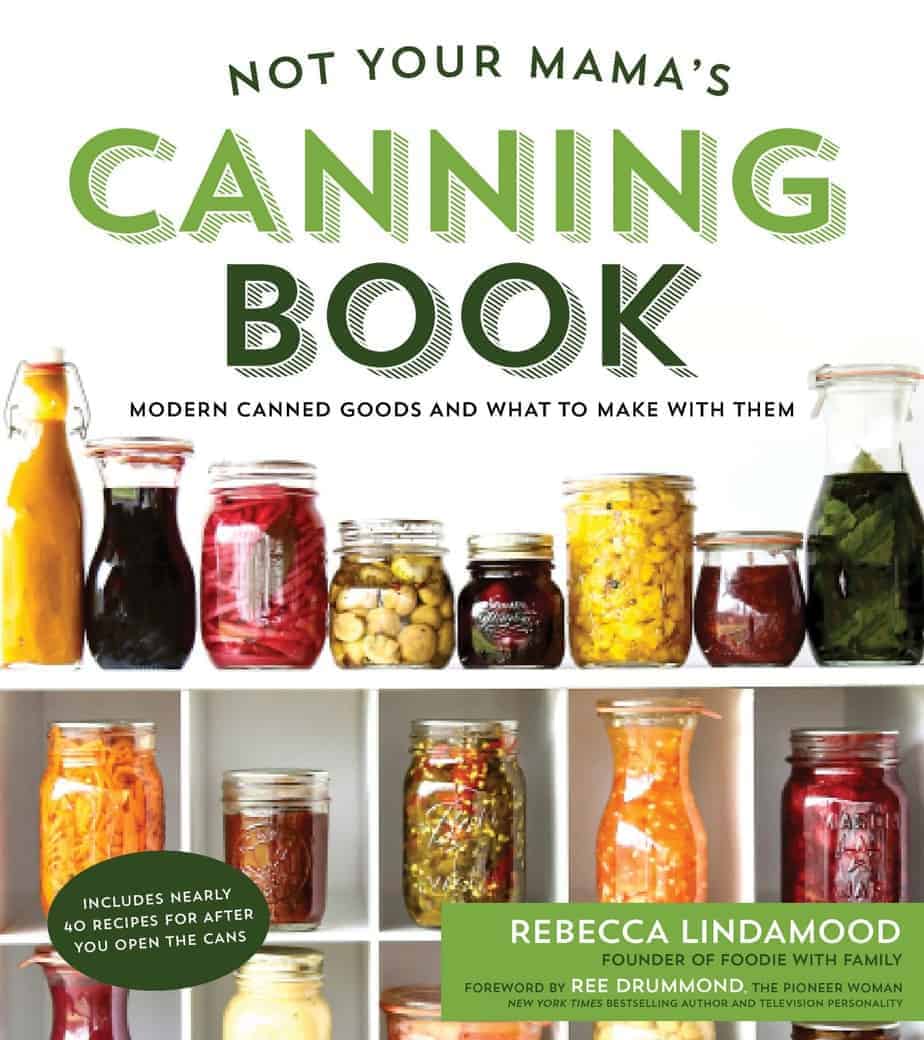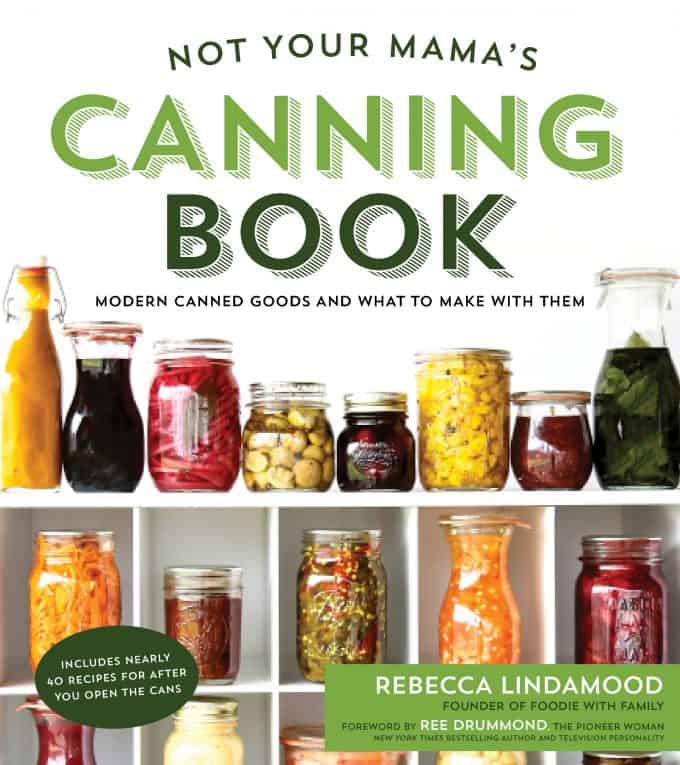 Not Your Mama's Canning Book: Modern Canned Goods and What to Make with Them is available to order through these fine retailers!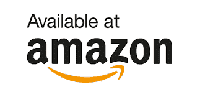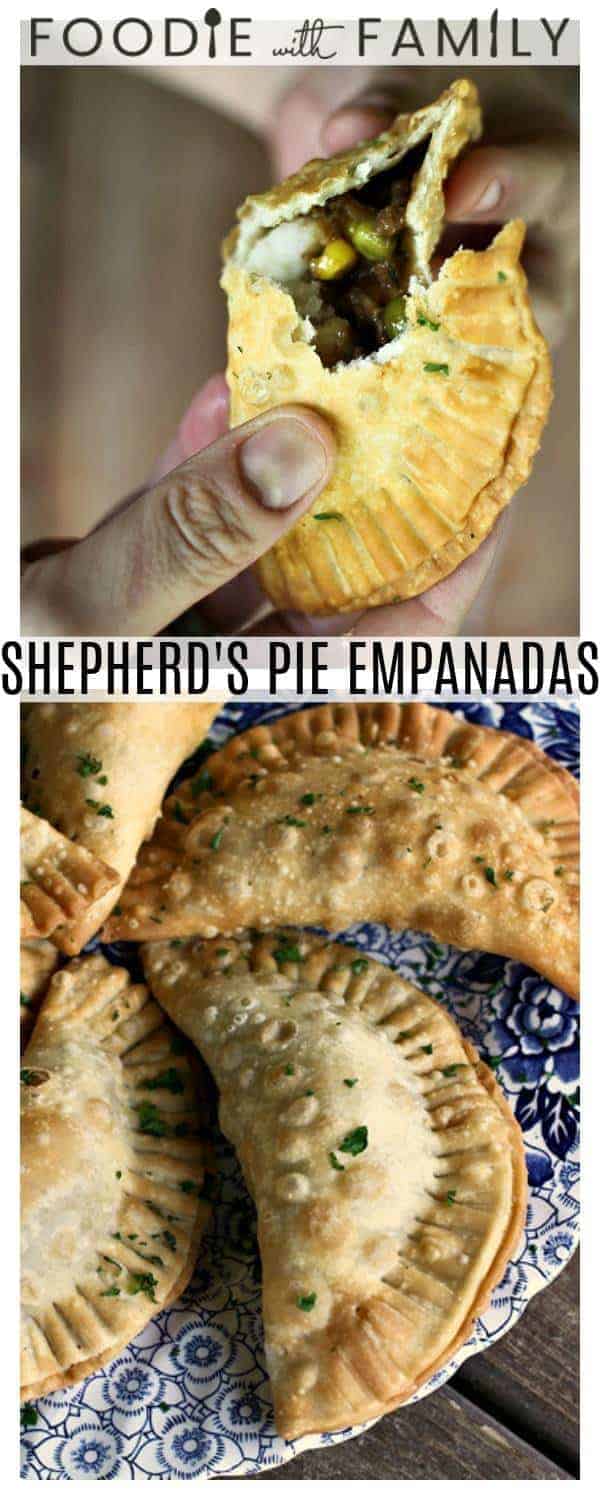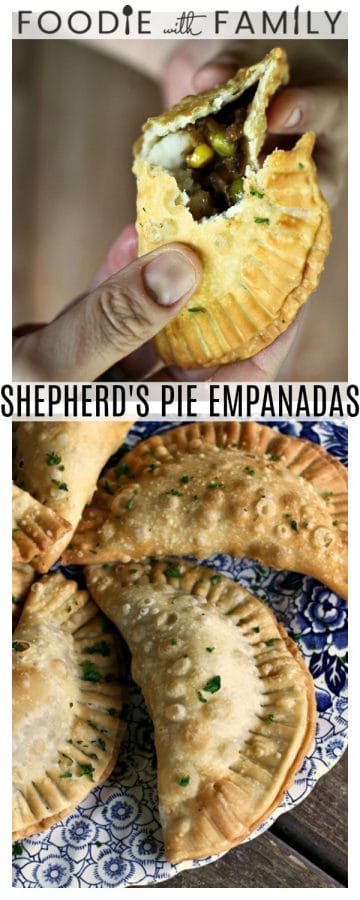 This post was originally published September 3, 2014.