This is swoon-worthy rice we're talking about here today, friends. It's a simple as cooking your favourite rice -be it long-grain, short-grain, white, or brown- as you normally would do. Whether you use my most beloved kitchen friend, the rice cooker, or a heavy-bottomed pan with a tight fitting lid on the stove-top, the next step is what makes this rice the kind you want to pile on your plate in vast quantities; an almost unbelievably simple treatment of herbs, olive oil, garlic, and salt makes the rice fragrant, flavourful, and irresistible.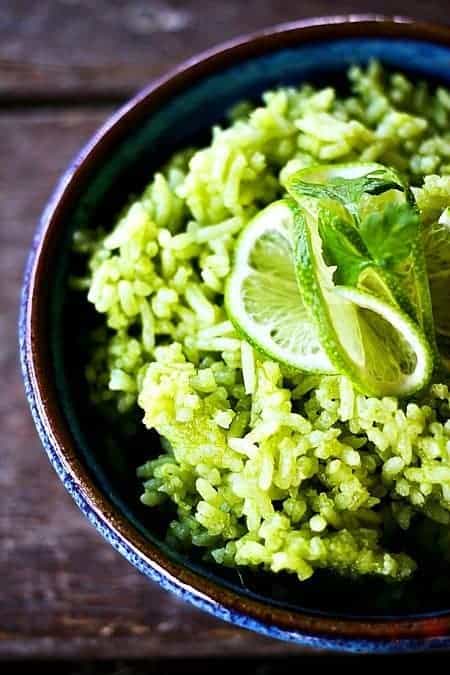 Why is it that the easiest things are sometimes the hardest to remember? Over and over again, I am re-taught that the simplest food combinations are the ones I love with all my heart. Time after time I'm reminded that you really don't have to mess much with food to get the best possible taste out of it.
The truth is that most days in my life, I'd be purely content with a perfectly cooked bowl of rice. It's my soul food. At least three nights a week, my family has rice as an accompaniment to whatever protein I'm cooking.
When I overdid it at my CSA pickup -"Free herbs? YES, THANK YOU! I will take ALL. THE. CILANTRO!"- I found myself faced with the spectre of wasting lovely, fresh herbs. In my brain, this is tantamount to letting cheese decompose; it just isn't done. That night our ubiquitous batch-of-rice was cooking, and fish was ready to broil while the cilantro stared me down yelling, "USE ME!"
That beautious bunch of cilantro got washed, roughly chopped and tossed into my blender with the green tails of some scallions, some garlic, kosher salt, olive oil, lime juice, and a splash of water to get things moving. When my best-beloved rice cooker beeped at me to tell me the rice was done, I poured the vibrant green dressing over the rice, fluffed it, and closed the lid so it could steam through off of the heat for a few minutes. When I opened the lid, the steam powered the ultimate Scallion Cilantro Lime Rice perfume to my nose and about knocked me out with it's headiness. I knew I was in for a treat.
It tasted every bit as wonderful as it smelled: fresh, fragrant, exciting, bright, green, and bold.
Psst… Bonus: This is acceptable for my anti-veg contingent because HEY-O! No visible veggies- just a lovely green colour!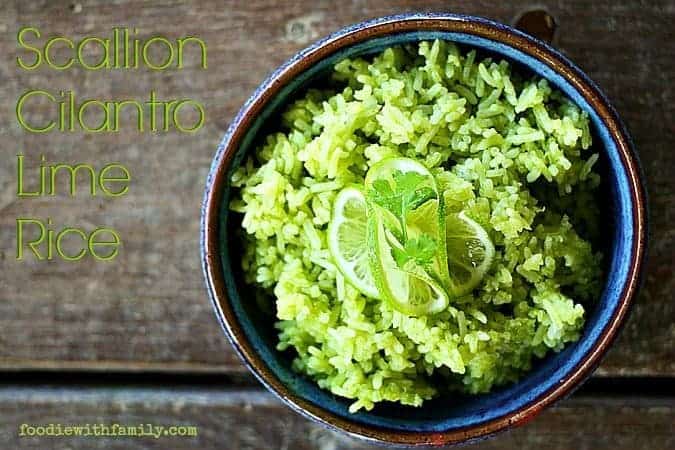 You can absolutely cook rice perfectly in a pan on the stove, but I will always remain partial to my favourite kitchen gadget; the rice cooker. It doesn't have to be a fancy model, but I'm pretty fond of the fuzzy logic one I have because it has a super handy timer feature that lets me make the best porridge for my kids and have it ready when we all wake up. This is my fave (affiliate link):

Cook's Notes:
Whether you cook your rice in a dedicated rice-cooker or in a pan on the stove-top, simply follow the package instructions. My preferences for this dish are white jasmine rice or white sushi rice. I have made it with sweet brown sticky rice and enjoyed it, but there's just something about the way the white rices absorb the flavour of the scallion, cilantro, lime, and garlic that makes me super happy.
It is not strictly necessary to chop the herbs and garlic before adding them to the blender, but the goal is to puree them to a completely smooth state before adding to the rice. The blender introduces heat to the process if it's used for a long period of time, so we want to reduce the amount of time they need to be whirring on high in the blender so that they're still raw when they hit the hot rice. That way, the first heat they see (which causes them to release their fragrance) will be when they hit the hot rice. This saves all that flavour and perfume for the food. Alternatively, if you don't mind visible bits of herbage and garlic in your rice, you can make your herb dressing a little more rustic by just pulsing it until it's a slurry in the blender.
Try to time the preparation of your herb dressing to coincide with the end of the cooking time of the rice. If you're cooking it on the stove-top, scoot the pan onto a cold burner before pouring the dressing over and fluffing the rice. If you're using a rice cooker, simply open the lid, drizzle the dressing over the top and fluff it. Either way, fluff until the rice is a uniform colour. Close the lid (or put the lid back in place) and let the rice steam off of the heat for 10 minutes before serving.
Leftovers, if you have them, can be stored in an airtight container in the refrigerator for up to four days. The rice reheats beautifully in the microwave or in a lidded saucepan with a splash of water over low heat.
Serve this rice with any grilled or roasted meat, fish or vegetables, Mexican or Tex-Mex foods, or Southwestern cuisines. My eldest son loves to have it reheated with a fried egg and hot sauce for breakfast.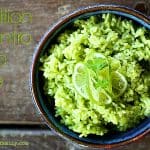 Scallion Cilantro Lime Rice
Ingredients
2

cups

dry rice

prepare according to the package instructions

1

packed cup fresh cilantro leaves and tender stems

4

scallions

greens only

2

cloves

garlic

peeled and minced or pressed

1/4

cup

extra virgin olive oil

juice of half of a fresh lime

1

tablespoon

water

1

teaspoon

kosher salt
Instructions
Just before the rice is finished cooking, wash and roughly chop the cilantro and scallion greens. Add them to the carafe of a blender along with the minced or pressed garlic, extra virgin olive oil, fresh lime juice, water, and kosher salt. Fix the lid in place and blend on HIGH until the mixture is smooth.

When the rice is done, immediately lift the lid, drizzle the scallion cilantro dressing over it, and fluff with a rice paddle or broad spoon until the rice is evenly coloured. Close the lid. (If cooking rice on the stove top, move to a cold burner.) Let the rice steam dry for 10 minutes before serving. The rice can be served hot, warm, room temperature, or cold.

Store leftovers tightly covered in the refrigerator for up to 4 days.