Silky, rich maple frozen custard gets a little dose of meat glitter in the form of candied bacon. Indulgent? Yes. Irresistible? Absolutely.
Ice cream; it's a forever friend. Day in, day out, year long, and decade after decade.
Ice cream remains my go-to when I want a sweet treat. Frozen custard? That's a mega-treat. Have you ever had it? It's like ice cream's super-rich, super-silky cousin.
It's sweet, smooth, and utterly perfect and is most often served closer to a soft-serve rather than hard-dip texture. For years upon years my husband has been asking me to make a great homemade frozen custard.
It's been on his honey-do bucket list: the list of things he wants me to perfect so he can eat them.
This is the same guy who requests a "giant bowl full of bacon" for his birthday meal annually. Nothing more, nothing less… just bacon, please.
I decided to combine his two great culinary loves into one grand project for the National Pork Board. I was going to make my man Maple Frozen Custard with Candied Bacon because what is sweet, delicious and goes with bacon AND custard? Maple syrup, of course!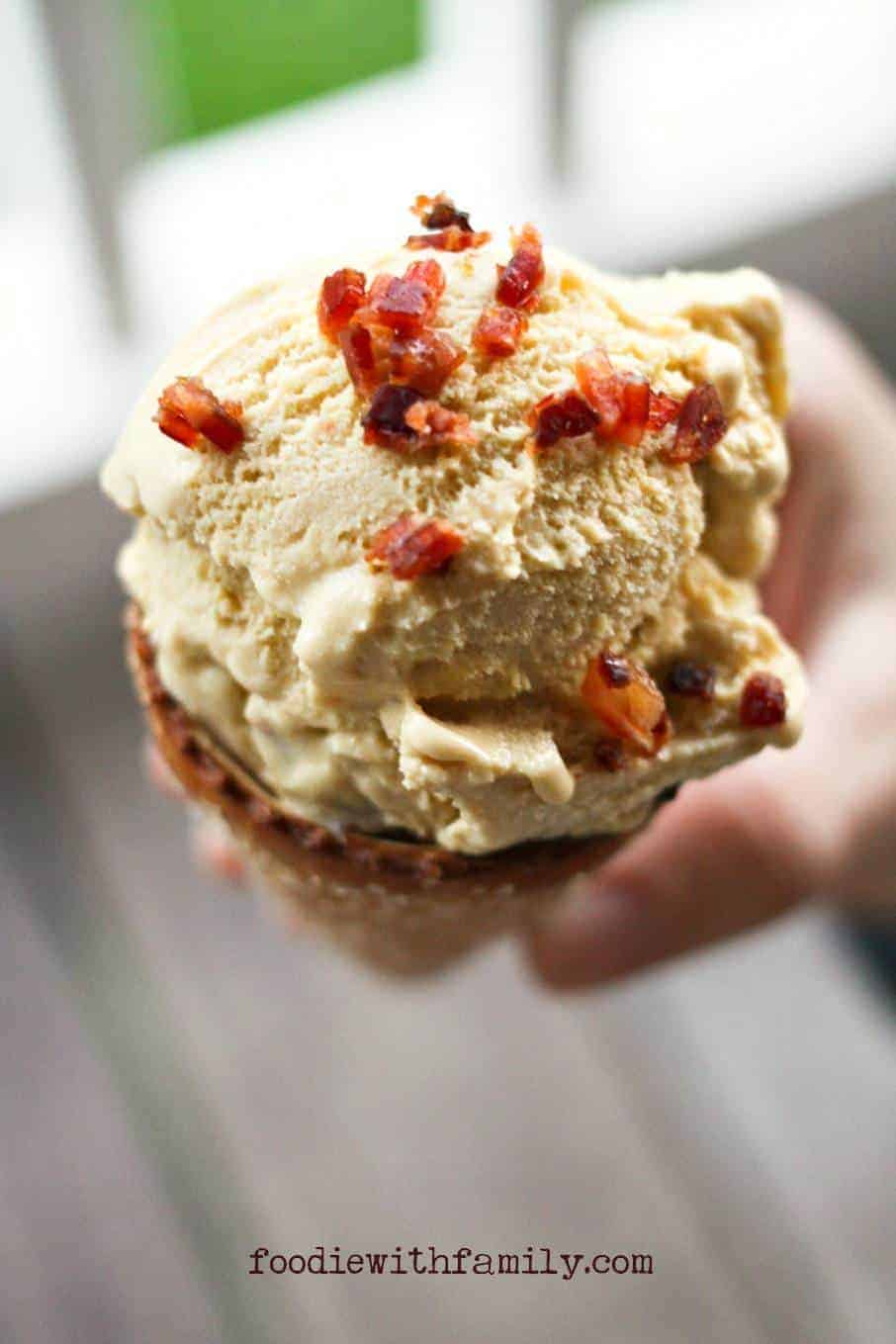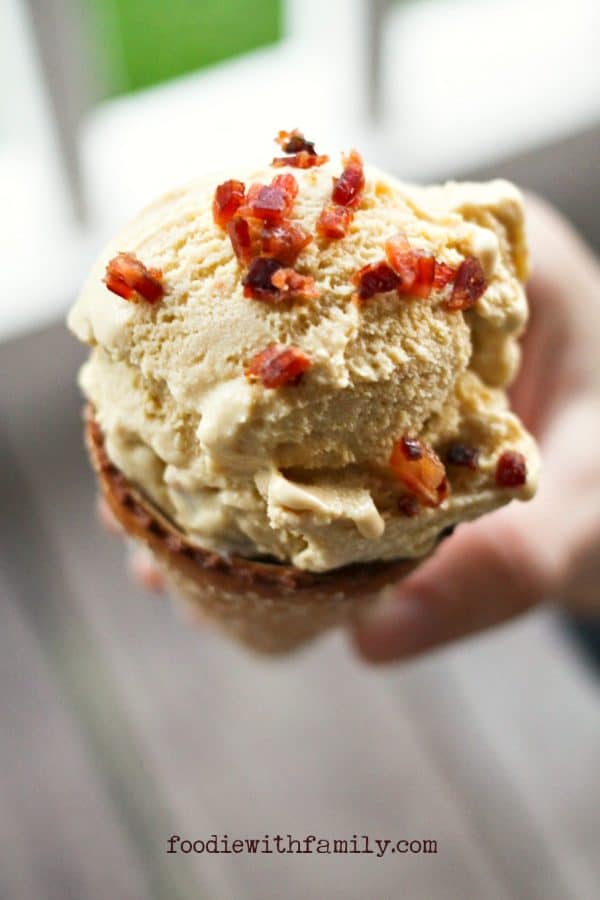 Making a frozen custard instead of hard ice cream is easier than you might think. An extra egg yolk in the custard base gives it the extra silkiness.
The combination of dark maple syrup, maple sugar, and a teensy touch of maple extract made this frozen custard an über-maple-lover's dessert.
The crispy, chewy little bits of sweet and salty candied bacon that were churned in at the last minute turned eating the maple frozen custard into an edible treasure hunt. It was so much better than I had even envisioned it.
I foisted spoons of it onto everyone who came to visit. Two girlfriends came over for a "Psych" finale party; I shoved bowls of this into their hands.
I'm going to assume the eye-rolling was from pleasure and not from "Oh no. Here she goes again" because they also made happy noises.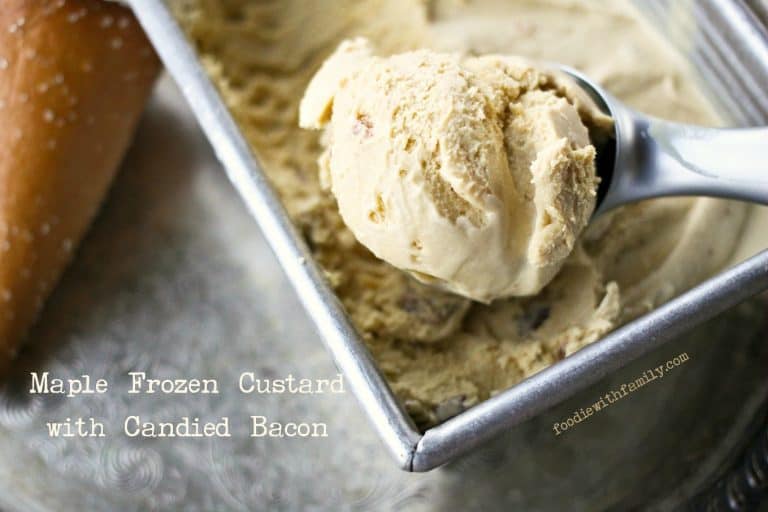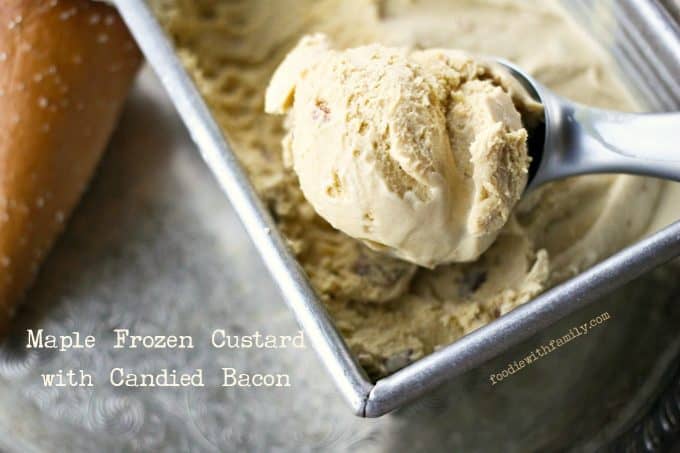 My boys were not content -putting it mildly- with the little ramekins full I allotted them. But you may be wondering about the guy who inspired this whole foray into my #PorkBucketList. How did he like it?
He savoured every. single. bite. He scraped the bowl carefully with his spoon. He licked the bowl and got some in his beard, then turned to me and declared, "This. This is the best ice cream you've ever made. Ever."
I checked Maple Frozen Custard with Candied Bacon off of my #PorkBucketList that day.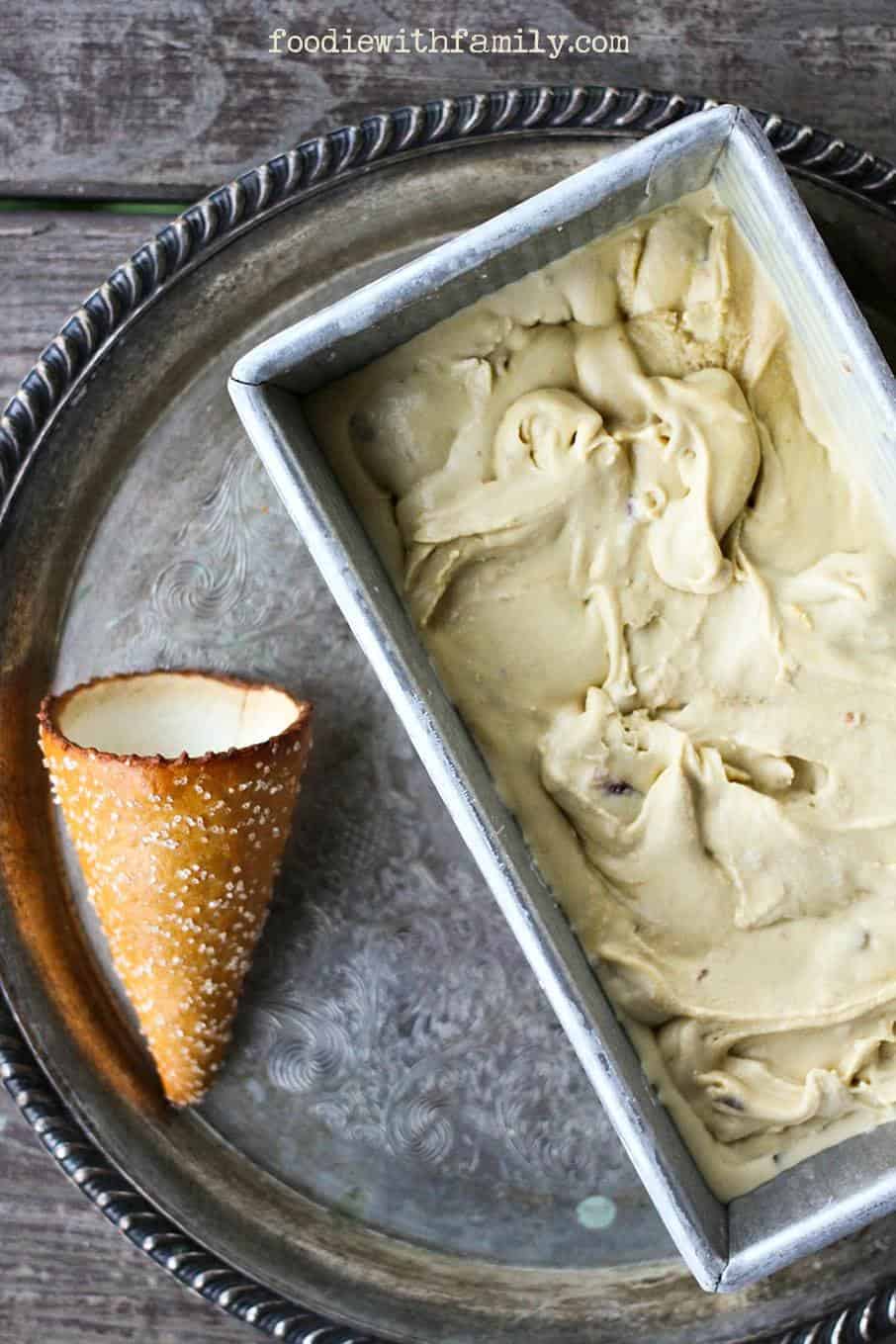 Maple Frozen Custard
Don't bring the custard base to a boil or you'll get, er, scrambled custard. Not so pleasant.
I prefer to make this with real-deal Grade B maple syrup. If you find yourself without it, though, you can make a really delicious brown sugar custard by substituting in an equal amount of our brown sugar homemade pancake syrup.
Even with the best intentions and vigilance, though, you may take your custard base a little too hot. As an insurance policy, I advise pouring your finished custard through a fine-mesh sieve into the bowl you'll use to cool it.
Make sure you chop your candied bacon relatively small. If it's 1/8-inch to 1/4-inch or thereabouts, it'll still be pleasant to eat even when frozen. Any larger and you might find yourself wrangling a difficult to chew piece of frozen bacon.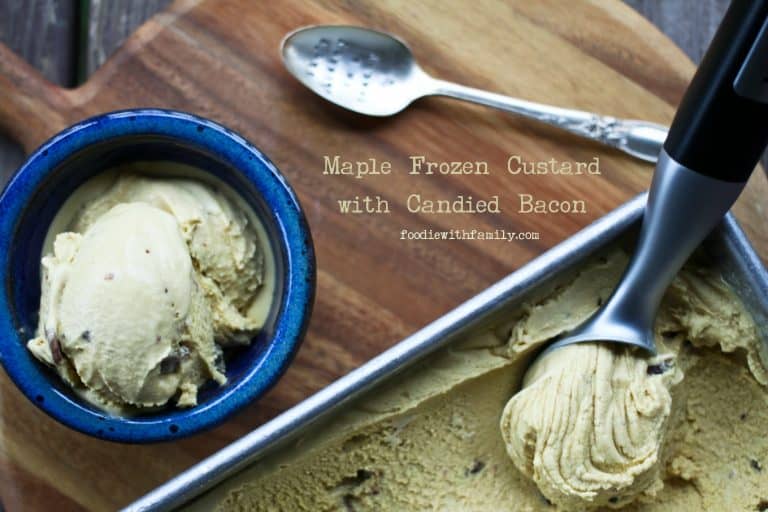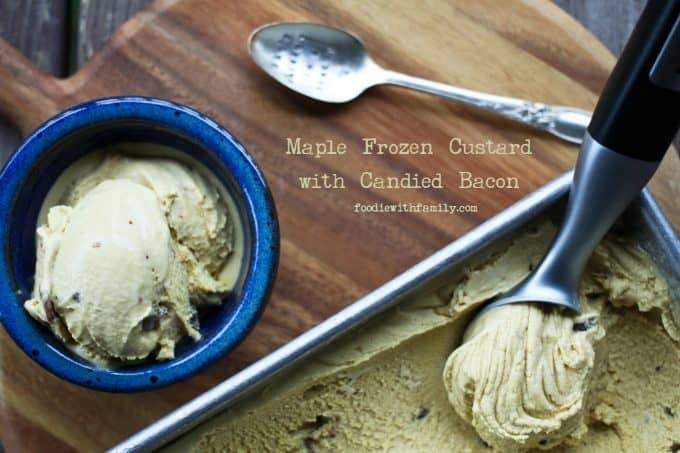 It's best to add the candied bacon toward the end of the churning so it's just mixed through. You don't necessarily want to break it up any further in the ice cream freezer.
For the ultimate soft-serve texture, eat freshly churned like in the photo above. It'll be silky and delicious.
To firm it up a bit more, pack it into a container with a tight fitting lid (or a bread pan with plastic wrap directly on the surface) and freeze several hours or overnight.
This is best eaten within four days of being made. Trust me. That won't be an issue.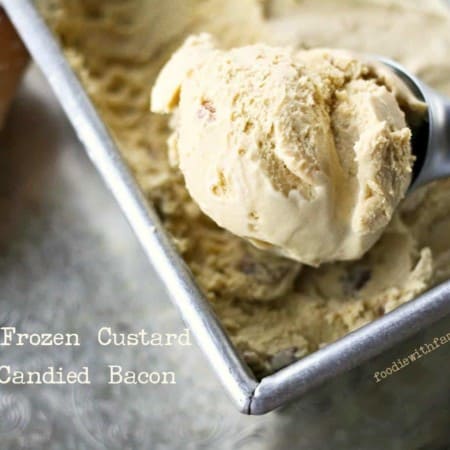 Silky, rich maple frozen custard gets a little dose of meat glitter in the form of candied bacon. Indulgent? Yes. Irresistible? Absolutely.
Ingredients
5

egg yolks

3/4

cup

granulated maple sugar

1/4

cup

dark maple syrup

1 1/2

cups

heavy cream

1

cup

whole milk

1/4

teaspoon

maple extract

or an equal amount of vanilla extract

pinch of salt

6

to 8 strips of candied bacon

chopped finely
Instructions
Whisk together the egg yolks and maple sugar in a heavy-bottomed, 2 quart saucepan until smooth. Whisk in the maple syrup, heavy cream, and milk, and place the pan over medium heat, stirring nearly constantly, until the mixture reaches 170°F on an instant read thermometer. Pour through a fine mesh sieve into a heat-safe bowl. Whisk in the pinch of salt and maple or vanilla extract. Cover the bowl with plastic wrap and refrigerate overnight for best results. If you're in a hurry, you can place the bowl -uncovered- in a larger bowl filled with ice and stir until chilled completely.

Churn the chilled custard base according to your ice cream maker manufacturer's instructions, adding the chopped bacon in the last couple of minutes of churning: just long enough so that the pieces are mixed into the base.

Eat immediately for super soft serve texture or pack into a container with a tight fitting lid, or a bread pan with plastic wrap laid directly on the surface of the ice cream to prevent freezer burn. Stash in the freezer for several hours or overnight. If very firm, you may want to soften on the counter for 10 minutes or so before scooping.
Nutritional information is an estimate and provided to you as a courtesy. You should calculate the nutritional information with the actual ingredients used in your recipe using your preferred nutrition calculator.