I know that today is New Year's Eve. I also know that most of you are probably preparing to get all dressed up and go out on the town to ring in the new year in style, and the last thing on your mind is quite likely economical, nutritious soups and stews.
So what am I preparing to chat up with you? SOUP and STEW! I could argue that starting the year out thinking of healthy, nutritious, budget- and clock- friendly homemade stews is a pretty darned good way to kick it off.
The truth is, though, that I was craving it right now. I really just wanted to find a way to justify talking about the humble sounding Ham Lentil Stew on what is arguably the biggest party day of the year.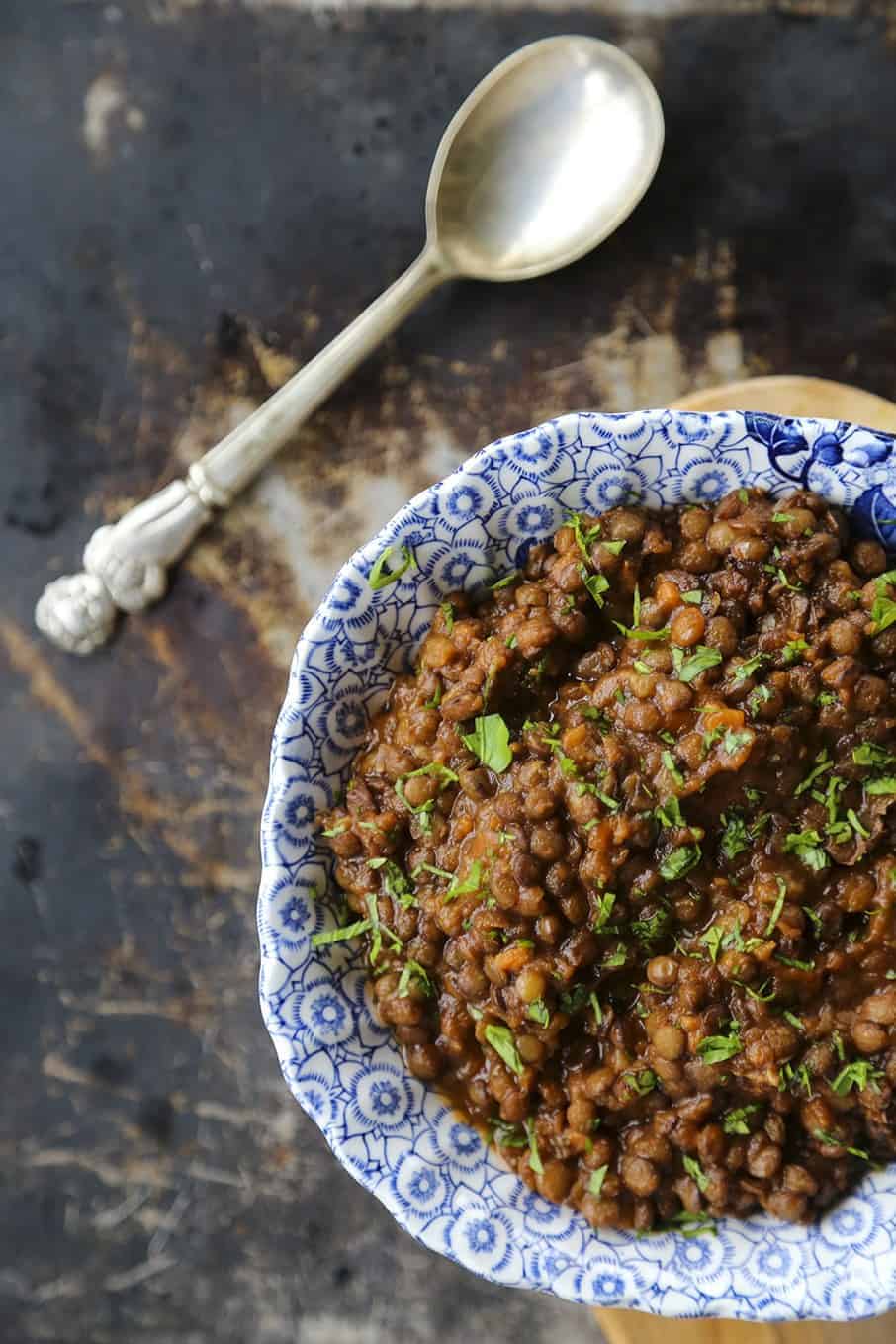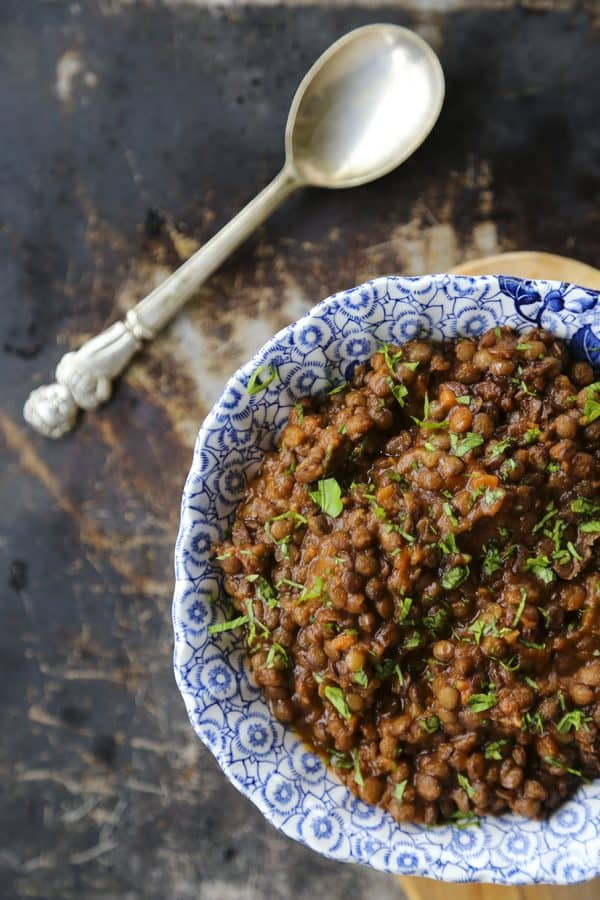 Can you think of a food more comforting than a big, warm bowl of stew cradled in your hands on a cold day? I honestly can't.
I'm hard pressed to think of a stew I dislike, but one of my stand-out favourites is Lentil Stew with ham. I know, it doesn't sound particularly chic, does it?
I mean, most people don't start leaping like Tom Cruise on Oprah's couch when lentils are dangled in front of them. It's a shame, really, because those tiny little legumes are one of the fastest cooking paths to filling your belly with something equally delicious and nutritious.
The beauty of lentils in general is that they don't require any soaking and cook up in an hour or so. Granted, the newest studies show the larger beans don't need any pre-soaking either, but still, lentils take the prize when it comes to beans-cooked-from-dried-the-fastest.
For my hearty, simple Lentil Stew, I prefer to use French lentils. That doesn't mean they're fancy lentils with a Fransh axsahnt, it's just the name for the tiniest lentils of them all.
I'm talking about the lentils that cook up tender almost as fast as rice and hold their shape better than any other lentils. I just plain prefer them.
Since we're talking preferences, let's talk about why I put ham in my Lentil Stew which is a stalwart of vegetarian cuisine. In short, it's because ham and beans are like peas and carrots.
There's something so very perfect about the way the salty, slightly sweet ham pairs with the tender, mineral lentils. They amplify the best flavours in each other.
It's meat and bean symbiosis, man. Of course, you COULD leave the ham and ham base out, but then you'd just have a big old pot of lentils.
Tasty, but not the same thing. In general, why make something without a pork product when you could make it WITH a pork product? Therein lies the best example of why I failed as a vegetarian.
Here's the thing, too… Lentil Stew -like most soups and stews- is great the day it is made, and I have burned the skin out of my mouth more than once impatiently inhaling a bowl of it as soon as the lentils are tender. But -again, like most soups and stews- it improves immeasurably on Days 2 and 3 and even 4.
The flavours deepen and it becomes just that much more soul soothing. If you find yourself unable to eat through a whole pot of Lentil Stew due to unforeseen circumstances, you have a couple of options.
Call me. We'll show up and polish it off for you with the efficacy of Biblical locusts. Problem solved.
Freeze it in individual serving size portions. Lentil Stew freezes like a dream!
So how about it? You wanna party into 2016 with Ham and Lentil Stew and me? Better yet, who's going to make up a batch of this and let it sit in the refrigerator overnight so they can start the first day of 2016 with a bowl full of healthy comforting deliciousness?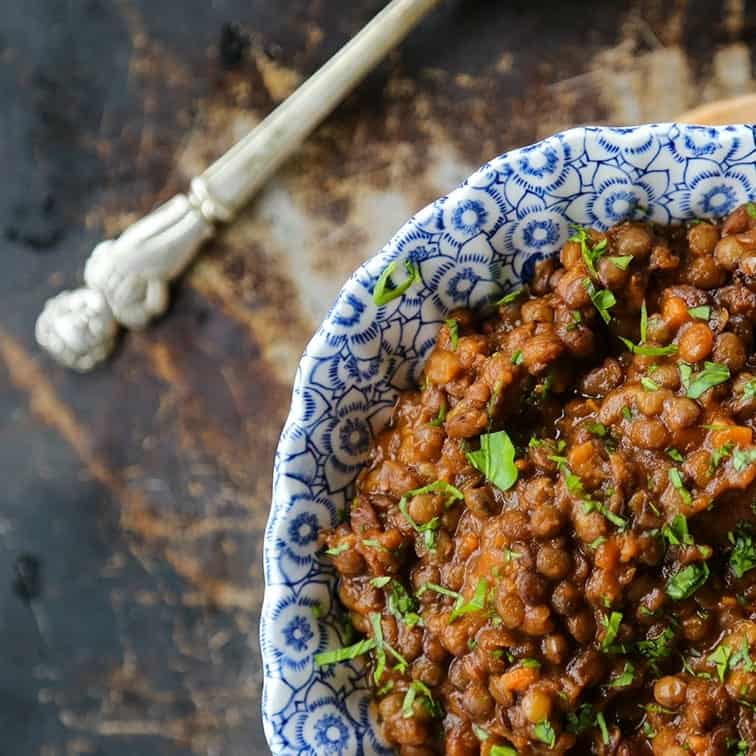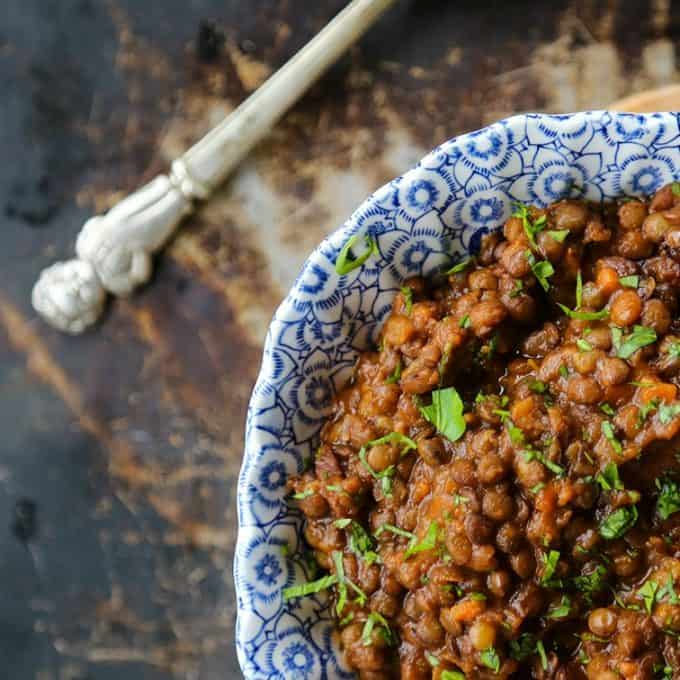 Cook's Notes
This recipe is designed to be made with the French Lentils (a.k.a DuPuy lentils.) If you cannot locate them or want to use regular lentils, you can, but you may end up adding more liquid and will most certainly have to increase the cooking time.How much and how much? Well, I haven't tested the recipe with regular lentils, so my assertion is based on theory and previous experience cooking regular lentils vs. French lentils. If you do it, you'll be in uncharted territory.
Speaking of adding extra liquid, dried beans are an enigma… I've given you the low end of the liquid you'll need in the recipe. There is a chance (and a fair one at that) that you'll end up needing to add more liquid as it cooks.This is normal. Because dried beans are a natural ingredient, there is some intrinsic variation in how much liquid they'll need to rehydrate to the point of tenderness.The best bet here is to keep testing them. If they're getting drier before they get tender, add more liquid, about 1 cup at a time.

Keeping the additions to the 1 cup region will prevent you from over-thinning the stew. This is a hearty, fork-able stew, after all…

And since we've chatted about intrinsic variation, there could be a little give in the time needed to make your lentils tender. The reason for this is that the older the bean is, the longer it will take to rehydrate them to tenderness.
Ham. Yep. If you've made it this far in the post even after I gave my little speech about symbiotic ham stew, you're either a ham eater or an extremely tolerant vegetarian. You can omit it, if you'd like, along with the ham base, and replace the ham base/water combo with vegetable stock. It will -even though I tease- still be delicious.
Now, ham base. Oh my gosh, I love this stuff. It's essentially ham paste that you stir into things to make them hammier.It is ham concentrate. My favourite brand is -far and away- Better Than Bouillon.This is available in better stocked grocery stores and on Amazon.com. If you're itching for Lentil Stew and can't lay your hands on Better Than Bouillon quickly enough, most grocery stores will have some brand of ham base on the shelf near the soups and broths and whatnot.

Sub it in, but for the love of all things good, lay some Better Than Bouillon up in your pantry whenever you can! This is not sponsored, guys, I just really, really love it.

Let's talk about how large your dice should be on your carrots, onions, and celery… The short answer is that you should dice it as finely or coarsely as you'd like, just keeping in mind that you want them all to be roughly the same size so they cook at the same rate.I like to dice mine finely so that they're roughly the same size the cooked lentils will be. When you're working with French lentils, that's pretty small. The lentils will roughly double in size as they rehydrate, so you if you'd like to have your vegetables the same size, you can use that as your benchmark.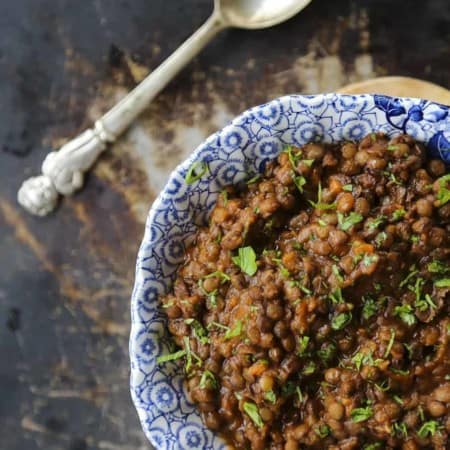 Comforting, soul-soothing lentil stew is full of tender lentils, ham, carrots, celery, in a hearty tomato sauce and so thick it is almost fork-able.
Ingredients
2

tablespoons

extra virgin olive oil

1

cup

diced

fully-cooked, leftover ham

1

large carrot

peeled and diced

2

medium onions

peeled and diced

1

stalk of celery

diced

2

cloves

garlic

minced

1

pound

lentils

rinsed, drained and picked over.

1

can tomato puree

14.5 ounces

6

cups

water

2

tablespoons

ham base

1

teaspoon

dried thyme

or 1 Tablespoon fresh thyme, minced

1/2

teaspoon

dried rosemary

or 1 sprig fresh rosemary, crushed

1

Bay leaf
Instructions
Swirl the extra virgin olive oil into a heavy-bottomed stockpot over medium high heat. Add the ham to the pan and stir, frying the ham until it takes on some colour and is fragrant. Reduce the heat to medium low and add the diced carrots, onions, and celery. Sautee the mixture, stirring from time to time, until the onions become translucent. Stir in the garlic and cook until fragrant. Add the remaining ingredients and raise the heat to high. Stir well to combine and bring to a boil. Partially cover the pot, reduce the heat again to medium low, and simmer until the lentils are tender, about 45 minutes. If the stew begins to dry out too much before the lentils are tender, stir in a little additional water to help loosen it up and add moisture until everything is quite tender.
Nutritional information is an estimate and provided to you as a courtesy. You should calculate the nutritional information with the actual ingredients used in your recipe using your preferred nutrition calculator.